As technology continues to push the boundaries of GPU power such as the mighty RTX 4090, it is essential to find the appropriate PC case to accommodate a flagship card such as the RTX 4090. 
In this article, you will dive into the various intricacies when it comes to selecting a perfect PC case for the RTX 4090 and consider various factors such as cooling, compatibility, aesthetics, build quality as well as additional features. When it comes to a big power-hungry high-performing card such as the  RTX 4090, it will generate significant heat under heavy loads which therefore demands a PC case that offers excellent airflow and efficient cooling solutions. This means you might have to choose a case that accommodates many fans, supports various sizes of AIO radiators, strategically placed vents, and meshed panels to facilitate airflow. Compatibility is another aspect since the RTX 4090 is such a large card, you need to ensure the case has enough GPU clearance.
Whether you're a hardcore gamer or content creator, or simply a PC enthusiast looking for the right case to harness the full potential of the RTX 4090, this article has got you covered with our tried and tested top recommendations.
Best Case for RTX 4090 Summary
Best Case for RTX 4090 At a Glance:
Best Case for RTX 4090 Reviews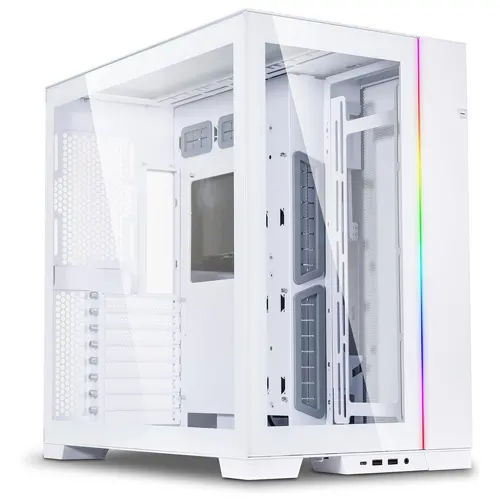 REASONS TO BUY
✓ Aesthetic design
✓ Support radiators at the top, front, or side
✓ Can add two power supplies
✓ Support for nine 2.5-inch or six 3.5-inch drives
✓ Flippable design if you want a left or right-facing PC
REASONS TO AVOID
✗ Bottom dust filter only
The Lian Li O11 Dynamic EVO is an update to the renowned Lian Li O11 Dynamic and introduces several enhancements compared to its predecessor. This updated version comes in three great color options: black, pure white, and harbor gray. One of its notable features is that it is compatible with motherboards of various form factors, accommodating everything from mini-ITX boards to large E-ATX boards. 
The O11D EVO offers exceptional flexibility, allowing users to customize the case in various ways to accommodate the PC components. Known as the "morphing case", users have the choice to change the chassis orientation to enable the placement of the case on the left side to show the various system components since most cases are oriented to be displayed on the right side.
Furthermore, Lian Li provides a wide range of optional accessories that can be purchased separately such as an upright GPU kit, front mesh kit, vertical GPU kit, I/O kits, etc. to customize the case to your specific needs. The O11D EVO also offers extensive cooling options by supporting various radiator sizes. For instance, the top, bottom, or side can all accommodate 240mm, 280mm, or 360mm radiators along with two 140mm fans or three 120mm fans on each side, as well as a single 120mm rear case fan resulting in a total of ten fans for the entire case.
The maximum GPU length supported for this case is 426mm, making it suitable even for the longest RTX 4090. In addition, it has room for nine 2.5-inch drives or six 3.5-inch drives as well as accommodating two ATX-sized power supplies simultaneously if the drive cage is removed.
A built-in ARGB along the edge of the front panel glass can add an aesthetic detail and the I/O ports can be relocated thanks to the independent I/O module. The I/O module is configured with two USB Type-A ports, a USB Type-C port, and a microphone/audio jack. However, a point worth noting is that the case only includes a magnetic dust filter at the bottom of the case.
Overall, the O11D EVO is an excellent choice for water-cooling enthusiasts due to its clean design and flexibility.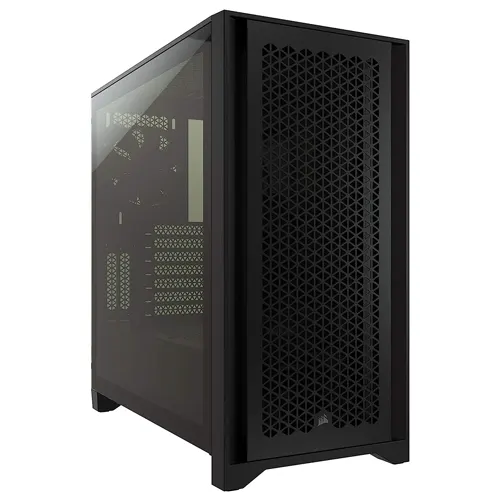 REASONS TO BUY
✓ Sturdy build quality
✓ Spectacular airflow
✓ Dust filters for the top, front, and bottom of the case
✓ Great price point
REASONS TO AVOID
✗ Side panel removal is challenging
✗ Only one USB Type-A port on front I/O
The Corsair 4000D Airflow is an incredibly popular case among the PC building community, and it's easy to see why. It's great build quality and excellent airflow make this case a top choice among users. It offers a minimalistic and sleek design, which is aesthetically pleasing to many. Additionally, it accommodates all motherboard form factors, making it a versatile case choice.
The front I/O panel is rather basic, featuring only a single Type-A and Type-C ports, which would've been preferable to have at least two Type-A ports. The front panel supports either three 120mm fans or two 140mm fans, while the top panel can accommodate either two 120mm or 140mm fans. Unfortunately, this means that a 360mm radiator can't be installed on the top of the case.
The 4000D Airflow comes in two color variants: black or white, where the black color variant features slightly tinted glass providing it with a unique look when illuminated by RGB. Subtle yellow accents can also be found on the case, giving the overall case a premium feel.
Building the PC in the 4000D Airflow is relatively straightforward and supports a maximum GPU length of 360mm, which accommodates most GPUs, including the mighty RTX 4090. However, in some cases, it may be preferable to fit the radiator on the top of the case rather than the front to ensure there is sufficient space for the GPU. Fine mesh dust filters are also included for the front, and top of the case as well as the PSU intake to keep dust away from the interior. However, it's also worth noting that removing the tempered glass panel can be challenging.
The case comes included with two basic 120mm fans and can support vertical GPU mounting as well. It offers ample cable management options with a lot of zip-ties and velcro straps included along with well-placed cutouts. There is also plenty of clearance behind the motherboard for easy and efficient cable management. 
Overall, the Corsair 4000D Airflow is an exceptional case when it comes to airflow performance and aesthetics which meets the likes of a high-end graphics card such as the RTX 4090. Alternatively, if you prefer an even bigger chassis, the 5000D and 7000D are options as well.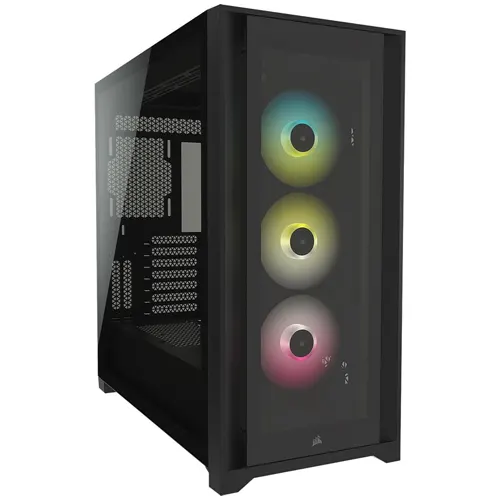 REASONS TO BUY
✓ Fully tempered all-around glass
✓ The gap between the glass for better thermals
✓ Easy to build in
✓ 3 Corsair SP RGB ELITE fans included
✓ Decent airflow
✓ Three USB ports in front panel I/O
REASONS TO AVOID
✗ Needs extra intake fans for the sides
✗ Expensive
✗ Heavy
The Corsair 5000X RGB case is a premium design case with a super clean appearance due to its all-around tempered glass design. The 5000X is a slightly bigger version of the 4000X but has some minor additional features compared to the 4000X. This case is rather heavy due to the number of tempered glass fixed in the front, sides, and top of the case. The front panel and top panels are held by strong magnets and can be removed easily including fully meshed dust filters.
Unlike the 4000D or 4000X, the removal of the side panel is easy as it is held by a hinge-like mechanism. Three 120mmCorsair SP RGB ELITE fans 1 are also installed in the front of the case along with an iCUE Lighting Node RGB and fan controller. For SATA drives, it can fit either two 3.5-inch drives or three 2.5-inch drives on the drive cage included in the case. This case comes in two color variants such as black or white, both of which look aesthetically pleasing.
Building in the 5000X is rather simple and supports a maximum GPU length of 420mm which can accommodate every kind of graphics card, including the longest and largest RTX 4090. It also comes with a pile of velcro straps and zip ties to manage all the cables. There is also a cable bar that does an excellent job of concealing the cables. The top I/O panel consists of two USB Type-A ports, and one USB Type-C port along with a combo audio jack, power, and reset button. This offers a better I/O setup compared to the likes of the Corsair 4000X or 4000D cases.
Additionally, it also includes space for an additional 3 fans on the side of the case other than the top and front of the case. The top, front, and side of the case all support up to 360mm of fans or AIO which provides users with versatile cooling options.
Overall, this case is a solid choice for those that want to accommodate an RTX 4090 due to its elegant, sleek design and flexible cooling configurations.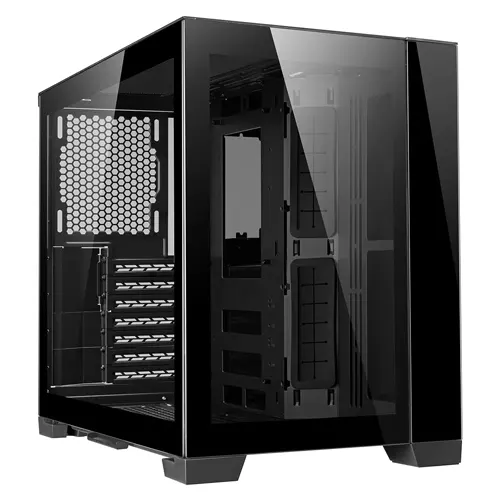 REASONS TO BUY
✓ Solid build quality
✓ Flexible AIO options
✓ Easy to adjust or reconfigure
✓ Reasonable price point
REASONS TO AVOID
✗ Bottom air filter implementation needs work
✗ Acrylic shroud near the power button
The Lian Li O11 Dynamic Mini is the small form factor version of the original O11 Dynamic. Even though it is a small form factor case, it can very much fit an entire ATX-sized motherboard in it.  Aesthetic-wise, it is a sleek and elegant brushed aluminum case with satisfying perforations for airflow and comes in two color variations, black and white. A trim piece is included in the PC case which can lengthen the motherboard tray to accommodate ATX motherboards.
The overall case is well built however, do note that next to the brushed aluminum panel, the I/O is a strip of acrylic which is a bummer since acrylic is prone to scratches quite easily. The I/O is present on the top of the case and consists of the basic configuration with two USB 3.0 ports, a Type-C port, and a mic/audio jack along with a power button. 
In the rear of the case, you'll find space for SFX power supplies along with letting you install either two 2-inch or 3-inch drives. This case also allows you to mount your graphics card vertically but requires the purchase of the optional vertical mounting bracket but does include a PCIe extension cable with the case. It also doesn't come included with any fans as Lian Li expects users to buy their own set of fans anyway.
For cooling configurations, there is quite a lot of flexibility. For instance, the top and bottom of the chassis can fit three 120mm fans or two 140mm cans. On the side mount, you can install two 120mm or 140mm fans or radiators. The maximum GPU length that can be accommodated in this case is 395mm but it is much lesser if you plan to incorporate a pump/reservoir combination in the chassis. Additionally, if you plan on mounting the GPU vertically, you have to ensure that the card is no more than 172mm wide.
Building in the O11D Mini wasn't too challenging as the case offers a lot of space to cram cables into and is overall a fun chassis to build in that offers a lot of creative freedom. It is also decently priced at $100 but the acrylic shroud which makes it an attractive case choice.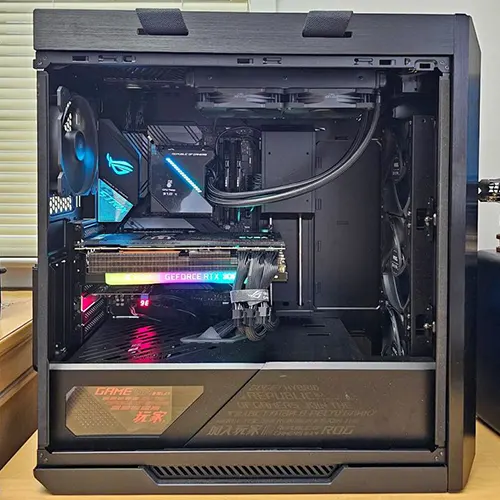 REASONS TO BUY
✓ Solid build quality
✓ Flexible AIO options
✓ Three tempered glass panels
✓ Three tempered glass panels
REASONS TO AVOID
✗ Quite heavy due to being 18Kg
✗ It has a premium price tag to it
The ROG Strix Helios is a mid-tower chassis that is normally pre-equipped with a premium price tag due to the rich features it possesses as well as its aesthetics are on a different level. When taking a look at the design of the case, we can see that it comes with a smoked tempered-glass panel on the side which allows the user to admire and appreciate their components and hardware when viewing through the tempered glass panel. The tempered glass panel also further amplifies the looks of the entire case as it can showcase the RGB of the different components within as well as its own RGB which has been integrated into the front panel. The rest of the case has a fine refined brushed aluminum look coupled with a tempered glass panel for the front side as well as the top side, providing the case with top-notch premium looks.
One of its special features as discussed earlier is the fact that it comes with integrated addressable RGB on the front panel with its unique design which is highlighted as soon as the RGB is turned on. Additionally, the RGB is completely customizable through a dedicated control button that has been placed on the case as well as through the Aura software itself, providing customizability for top-notch RGB bling for users who are interested in styling their builds and trying different themes. The aesthetics of the case are further complemented by the multifunctional cover which can hide all of the cables as well as the power supply behind it. This keeps all of the wirings and their mess as well as the power supply itself hidden from plain view which is provided by the side tempered glass.
In technical specifications, it measures 12 inches x 10.9 inches with support for motherboard form factors up till EATX. It can be equipped in a 4 x 2.5" drive bay configuration or a 2 x 2.5"/3.5" drive bay combo. One of the key benefits of the case is that the permitted graphic card length is around 450mm, allowing for a wide diversity of different graphic cards that can be equipped and can support radiators up to 420mm in length for the front panel and overall support for up to 7 fans in 120/140mm configuration.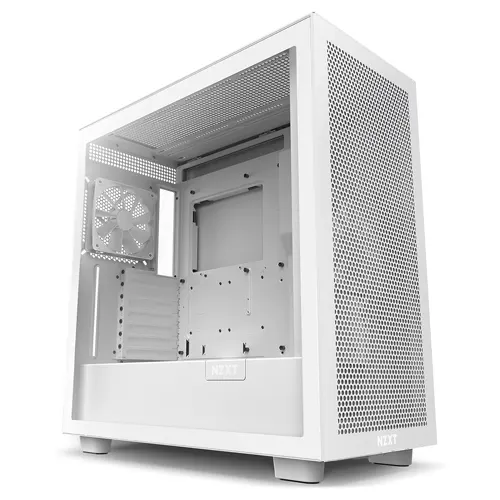 REASONS TO BUY
✓ Solid build quality
✓ Flexible AIO options
✓ Tempered glass panels
✓ Clearance of 400mm for the graphic card
REASONS TO AVOID
✗ It has a premium price tag to it
✗ No integrated lighting hub
The NZXT H7 Flow is a mid-tower chassis that has been designed especially while keeping airflow as its priority as the name "Flow" suggests within the name itself. The NZXT H7 Flow is available in three different color themes, white, black, and black and white. The different available colors provide users with the much-required customizability which allows a user to customize the styling of their PC build according to their chosen theme. The NZXT H7 Flow looks quite elegant and sturdy, featuring a perforated front panel to allow an ample amount of airflow to keep the hardware and components cool while maximizing their performance. Similarly, it has a perforated roof to allow the case to stay ventilated from all different sides, additionally, it even has a tiny segment of perforations on the bottom side, towards the front of the case, overall ensuring plenty of airflow from all different directions to provide a cool ventilated environment inside the case. For aesthetics and purposes, it has a tempered glass panel on the side to allow the user to admire and appreciate their PC build. It allows them to showcase all of their components and hardware installed in the case as well as show off RGB bling, providing cool styling opportunities to those interested.
On the top side, we have the I/O with the power button itself followed by 2 x USB 3.2 Type-A ports and a USB 3.2 Type-C port, and additionally an audio jack which is a standard. The NZXT H7 flow also features integrated pre-equipped F series 120mm fans which can save expenses when it comes to purchasing fans. Technically, the case measures 505mm x 230mm x 480mm with the total weight being around 10.5 Kg. It features decent clearance with the graphic card clearance ranging up to 400mm in length as well as 185mm of clearance for the CPU cooler. It also supports a 360mm radiator at the front as well as the top and 140mm in the rear. It can also equip 3 x 120/140mm fans in the front, and 3 x 120mm/2 x 140mm fans at the top with options ranging from 120mm and 140mm for the rear fan. It can support motherboards of form factors ranging up to ATX, allowing a variety of motherboards to be compatible.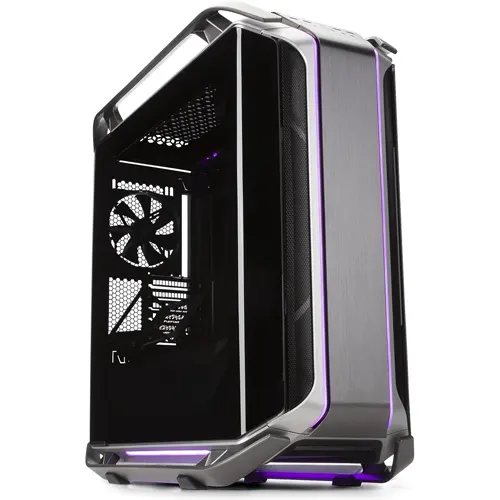 REASONS TO BUY
✓ Sturdy and solid construction
✓ Integrated ARGB and Fan speed button
✓ Curved Tempered glass panel
✓ Clearance of 490mm for the graphic card
REASONS TO AVOID
✗ It has a premium price tag to it
✗ The aluminum handles may not be favored aesthetically
The CoolerMaster C700M is a full tower chassis that carries a premium price tag with it because it is loaded with premium features and unique styling throughout the case. The CoolerMaster C700M is available in three different colors, Grey, Silver & Black, and Silver & White, providing a lot of options for customizability when it comes to styling and choosing a theme with one of the three available colors. Taking a look at the case itself, the body of the case is made up of steel with a special curved tempered-glass panel on the side which provides an incredible view into the build itself, showcasing all of the RGB bling and the aesthetics of different components and hardware.
Looking through the technical aspects of the case, it measures 650mm x 306mm x 651mm in terms of its dimensions with support for motherboards of different form factors ranging from the Mini ITX motherboards to E-ATX-sized motherboards. In terms of storage, it has a 5.25" drive bay with an additional combination of 2.5"/3.5" drive bays with support for up to 4 SSDs which can be installed in the drive bays. The I/O port on the case features USB 3.1 Type-C as well as four USB 3.0 Type-A ports coupled with the traditional 3.5mm headset jack as well as a separate 3.5mm mic jack.
Additionally, one of the key features of the CoolerMaster C700M is that it allows a user to mount their graphic card vertically or horizontally with the bracket itself possessing the capability to be rotated from 0 to 90 degrees. Additionally, a 400mm riser cable is also provided to provide convenience to the user in terms of mounting the graphic card vertically which complements the overall aesthetics of the build and allows the user to showcase their graphic card's design and RGB bling. The CoolerMaster C700M also comes equipped with a button that can be used to control the Fan speed as it comes pre-equipped with 3 x 140mm PWM fans in the front with a pre-installed 140mm PWM fan in the rear. Among all of the features, one of the most essential features is that it can support graphic cards with lengths up to 490mm, making it an ideal case to be paired with Nvidia's RTX 4090 Graphics card.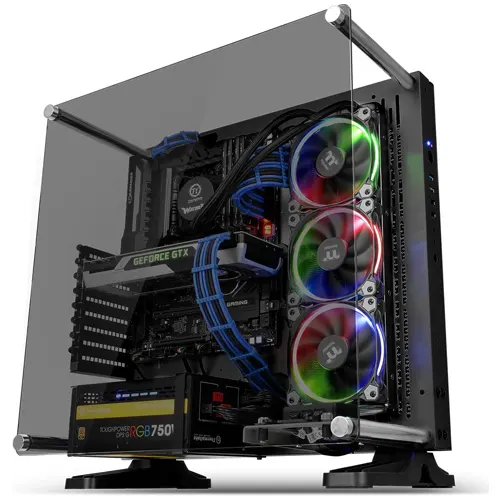 REASONS TO BUY
✓ Beautiful modular open design
✓ 4mm Tempered glass panel
✓ Clearance of 450mm for the graphic card
REASONS TO AVOID
✗ It has a premium price tag to it
✗ The open-modular-design may not be everyone's cup of tea
The Thermaltake Core P3 TG Pro is a beautifully designed mid-tower chassis with dimensions measuring 535mm x 268mm x 500mm and a total weight of around 12.5 Kg. It features an open frame chassis design which is completely modular in design and features rotational PCI-E slots. The Thermaltake Core P3 TG Pro has been redesigned and is considered an upgrade over its predecessor, the Core P3 TG. The Thermaltake core P3 TG Pro was redesigned and upgraded, some of the redesigning includes the compartment which can be found towards the left of the motherboard which has been made more user-friendly to allow better installation of the graphic cards, such as the Nvidia's RTX 4000 series.
The Thermaltake Core P3 TG Pro upgrade features an additional fan bracket that can be placed at the top of the chassis or the front. Overall, users possess the capability to install around three 120mm/140mm fans as well as a 360mm/420mm radiator. One of the key features of the Thermaltake Core P3 TG Pro is that it can be mounted in three different positions thanks to its three-way placement layout. It can be wall mounted or placed vertically or horizontally. The Core P3 TG Pro can be customized according to the needs and requirements of the user and can be adjusted for the best viewing presentation or perhaps phenomenal cooling performance when required. It also features a 4mm thick tempered-glass panel window at the side which provides a stunning view inside the build and helps showcase the beauty of the entire setup as well as showcase their components and their aesthetics.
The Thermaltake Core P3 TG Pro is a mid-tower chassis that can accommodate a variety of different motherboards with different form factors, ranging from the Mini ITX size to the E-ATX size, making the case ideal for a variety of different builds. In terms of its I/O ports, it features a USB 3.2 Type-C port and 2 x USB 3.0 Type-A ports with the traditional HD audio jack. In terms of graphic card clearance, it can accommodate graphic cards up to a total length of 450mm, making it an ideal choice to be paired with a powerhouse like Nvidia's RTX 4090 series graphics card.
Conclusion
We hope that this comprehensive guide for the best-rated PC cases has provided you with valuable insights and recommendations that helped you to make an informed decision to select the best PC case for your RTX 4090. Many factors such as cooling, compatibility, size, aesthetics, build quality, and other additional features were thoroughly discussed to allow you to find the case that perfectly complements your RTX 4090.
Now that you're aware of the different key factors that need to be considered to choose the perfect case for your RTX 4090, you can create a perfect PC build that can allow your RTX 4090 to perform its full potential by avoiding issues such as thermal throttling, etc. due to overheating due to a poorly ventilated case. Additional features such as cable management, expansion slots, and dust filters can also greatly enhance the overall functionality and maintenance of your PC build.
In the end, it is up to you to choose the best PC case for your specific needs, and is indeed a decision that should be made with careful consideration. Do remember that factors such as cooling and compatibility should be prioritized to allow your RTX 4090 to perform as advertised.