The nail-biting competition between AMD and Intel to make increasingly powerful processors has birthed many products that enable gamers to build their ultimate gaming rigs within a reasonable budget. Intel has made a comeback to the processor market with the release of their 13th generation raptor lake processors. The processor we are talking about is their midrange king, the i5 13600K, boasting a promising performance and incredible features.
Intel Core i5 13600K is a midrange processor with a highly reasonable price tag. But don't get fooled by its decent cost and midrange title; this processor is a performance beast and provides bang-for-buck performance that has cemented it as one of the best latest processors in the market. With 14 cores and 20 threads, it is compelling, powerful, and capable enough to deliver outstanding efficiency for many demanding games, content creation, video editing, simulation, modeling, etc.
But with these processors' gradual increase in power, they need reasonable cooling solutions to continue delivering their best performance as they put out more heat when tackling increasingly demanding tasks. Stock coolers are adequate for the regular operations of these processors but limit their potential by not providing the required heat dissipation for heavier processing and overclocking.
Many known PC component manufacturers have been manufacturing CPU coolers for quite some time and have delivered many good products that extract tremendous amounts of heat from the processor to keep it running at optimum temperatures. The i5 13600K can run very hot at a TDP of 125 W, which requires continuous removal to perform smoothly. So, we have compiled a list of worthy CPU coolers for the Core i5 13600K that will provide more than enough heat dissipation. This list includes various products like Air coolers and AIO coolers with much insight into their working, specifications, and highlights.
So, let's look at the list of best CPU coolers for the Core i5 13600K processor.
Best CPU Cooler for i5 13600K Summary
Best CPU Cooler for i5 13600K At a Glance:
Best CPU Cooler for i5 13600K Reviews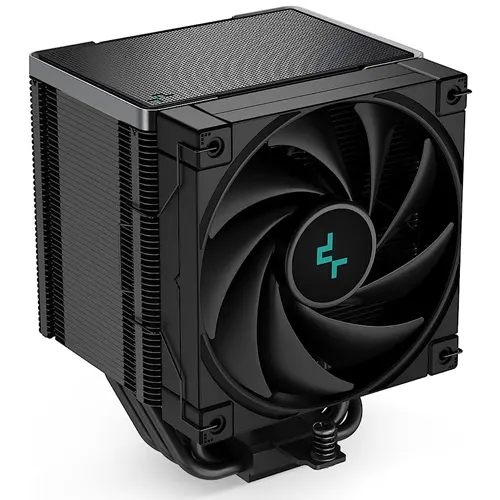 REASONS TO BUY
✓ Good pricing
✓ Easy Installation
✓ Simple design
✓ Good thermal performance
REASONS TO AVOID
✗ Not good at handling overclocking
✗ No RGB
✗ Not a good fit for an aesthetic PC
Our first pick for cooler options is the DEEPCOOL AK500. This brand is known for its expertise in cooling technology. The AK50 model boasts a sleek and simple design, perfect for those who prefer a minimalist look. This budget-friendly cooler is an excellent option for those who want to save money on their PC parts. Despite its lack of flashy RGB lighting or other gamer features, its performance is top-notch.
AK500 may be an underdog compared to its sibling AK620, but its impressive performance and exceptional thermal efficiency make it a standout. Its towering heat sink and pre-fitted 120mm fan ensure optimal heat dissipation, though some users may prefer more than one fan.
This product's single fan has been tested on high-end setups, and despite its singular nature, it still provides good thermal performance and surprising heat dissipation. It operates quietly even under load and reaches a maximum noise level of 31 decibels. It's essential to remove the heat generated by powerful processors during processing, as failure to dissipate the heat efficiently can result in automatic shutdown or even permanent damage to your processor.
This is an exceptional air-cooled CPU cooler that is easy to install. Its radiator housing contains five heat pipes and can reach a maximum fan speed of 1850 RPM. Overall, it is an excellent budget-friendly CPU cooler.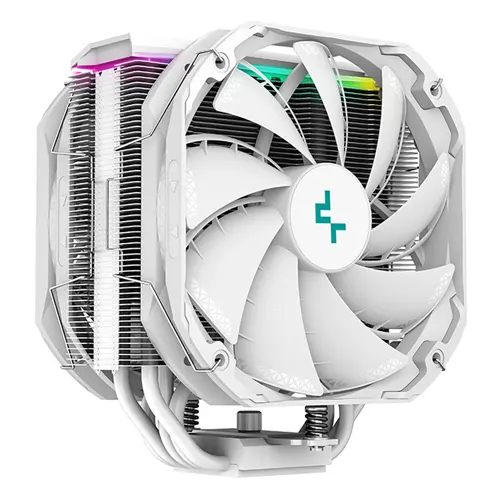 REASONS TO BUY
✓ Attractive design
✓ Premium-white outlook
✓ RGB Lighting
✓ Remarkable performance
✓ Decently priced
REASONS TO AVOID
✗ PC case clearance might be an issue
DEEPCOOL specializes in affordable plus high-quality CPU coolers, and we have one more product from them to add to our list. They have made significant products and have dominated the market with their high-performance coolers. The AS500 delivers excellence with resounding thermal performance enough to handle the heat from i5 13600K.
The DEEPCOOL AS500 comes in a sleek white color with outstanding aesthetics that perfectly fit the contrast of your PC case. It is RGB-ready and features beautiful RGB lights at the top of the cooler tower. The tower is substantially taller than many other Air coolers, which might require some consideration for installation in a pre-bought case.
Although it only features a single tower, its efficiency is comparable to dual-tower air coolers because of its ingenious design. This makes it slimmer than many other robust CPU coolers that require more width consideration for installation. It employs five heat pipes that make their way around the cooler to provide better heat dissipation. These pipes are soldered to the base plate and are made of highly conductive material, further adding to their heat transfer efficiency.
The tower is embedded with 56 aluminum fins that increase the height of the overall cooler. But the 159mm height isn't just a gimmick because these fins allow increased surface area for excellent heat dissipation. Two TF140 PWM fans with a 500 – 1200 RPM spin range are available to provide the needed airflow. These fans are adequately powered, delivering a maximum airflow of almost 71 CFM. Despite having robust fans, they are virtually inaudible even at max loads, with a noise level rating of 29 dBA.
Suppose you are okay with a taller Air cooler that delivers outstanding performance and can fit your PC case without causing clearance issues while looking aesthetically pleasing. In that case, the DEEPCOOL AS500 will satisfy. It is compatible with LGA 1700 socket, which the Core i5 13600K processor is designed for.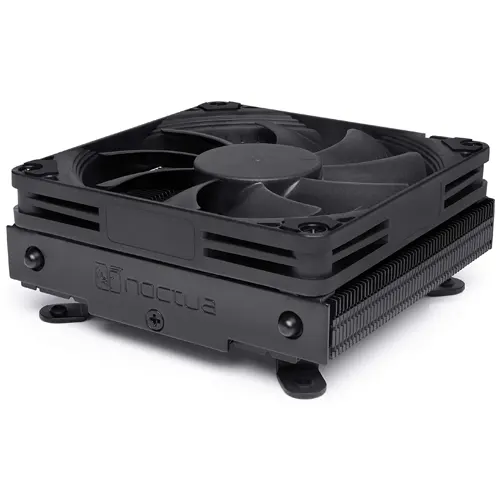 REASONS TO BUY
✓ Low noise output
✓ Great for compact PC builds
✓ Good pricing
✓ Excellent air-cooled thermal performance
REASONS TO AVOID
✗ Not good for overclocking
✗ No RGB
Noctua is a highly esteemed brand that boasts a strong following of loyal customers. Their products are renowned for their exceptional design, particularly their highly regarded thermal offerings. Their Air-cooled CPU cooler products are particularly noteworthy and offer superior performance compared to many other options on the market. The Noctua NH-L9i is a compact, efficient, easy-to-install CPU cooler ideal for mid to high-end budget PC builds. It takes up less space than other coolers and seamlessly integrates into almost any PC case. These coolers are significantly more effective than stock CPU coolers.
The cooler boasts a sleek design with a matte black finish and a single NF-A9x14 fan featuring SSO 2 bearings. Despite its single-fan configuration, this cooler operates quite efficiently, with an RPM range of 650 – 2500. With the help of the SSO2 bearings, the fan can achieve an impressive airflow speed of nearly 58 meters per hour, all while producing a mere 27.5 dBA of noise, resulting in silent operation.
Like others in its line, this particular Noctua cooler includes a noise-reduction adapter that can lower fan speed and decrease noise. However, this has a trade-off: the cooler's performance will decrease as its heat dissipation capability is linked to fan speed. The cooler's radiator has two heat pipes and 55 aluminum alloy fins, an intelligent design choice given the product's limited size.
This cooler has a sleek design and high GPU and RAM installation clearance. Its 6-year warranty is a definite plus, making it a worthy addition to our list. It's a good match for the i5 13600K as a low-profile cooler but unsuitable for overclocking.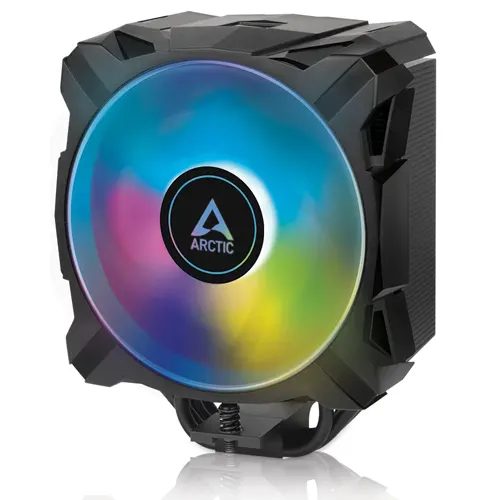 REASONS TO BUY
✓ Good RAM clearance
✓ Decent price tag
✓ Excellent price-to-performance ratio
✓ Aesthetic A-RGB availability
✓ Exceptional thermal performance
REASONS TO AVOID
✗ Not designed for overclocking
Arctic is a highly respected name in the gaming industry, renowned for its CPU coolers, thermal pastes, and PC cases. The brand has established itself as a top seller of premium-grade products with superior quality and a diverse range of colors, features, sizes, and affordable prices.
We focus on the Arctic Freezer i35 A-RGB cooler, the Freezer 35 CPU series. This lineup offers a range of options, including different color schemes, sizes, RGB, and non-RGB CPU coolers. The freezer i35 is a single-fan A-RGB cooler that stands out due to its sleek, pitch-black fins.
The cooler is equipped with 6mm heat pipes that are highly conductive and designed in a U-shape. These pipes run from the base to the top, creating more surface area for the heat sink. The cooler's fins are made of aluminum and have a wider width, allowing for better airflow within the cooler and increasing its heat transfer surface area.
This computer fan is a 120mm Arctic P-series fan with A-RGB lighting. It's highly efficient and provides strong airflow to the cooling system thanks to its fluid dynamic bearings. The fan's shrouded design creates significant pressure, powered by a 4-pin PWM header. Its speed ranges from 200 to 1700 RPM, and it operates quietly with a noise level of just 22.6 dBA. The A-RGB LEDs can be controlled with software, and their colorful glow around the translucent edges gives it an appealing aesthetic. It's an excellent choice for those looking for a high-quality computer fan.
The intentionally asymmetrical design of the cooler allows ample clearance when installing RAM and GPU. Despite its compact size, the cooler's clever design, benefits, and impressive thermal performance make it a top choice for the i5 13600K.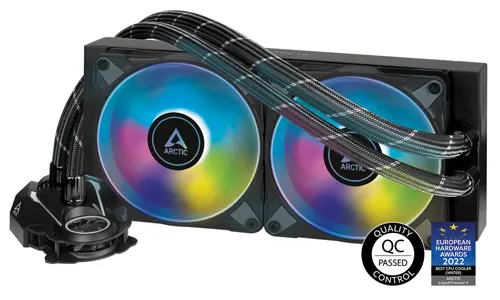 REASONS TO BUY
✓ Good value for money
✓ Six years warranty
✓ Futuristic design
✓ Efficient cooling capability
✓ Integrated cable management
✓ Very quiet
REASONS TO AVOID
✗ Installation is a hassle
Our list now includes the latest addition from the Arctic, an AIO cooler that is truly exceptional. With a unique design that is both affordable and effective, the Liquid Freezer II surpasses many of its more expensive counterparts. Not only does it boast a premium appearance, but it also delivers exceptional thermal performance that is unmatched by many coolers in its class. Get your hands on this product now and experience the ultimate cooling solution.
Arctic stands out from other AIO cooler manufacturers with their unique approach to pump design, giving them an edge in optimizing and customizing for unparalleled compatibility and efficiency. With a maximum speed of 2000 RPM, the pump remains whisper-quiet and compact. Their fans are built to handle high static pressures, ensuring a smooth and effective cooling experience for your CPU. You have the option to adjust the fan speed to your preference, allowing for an even quieter experience if desired.
ARCTIC offers a high-quality cooler that can handle a TDP of 250W. This makes it ideal for users who want to overclock their processors and generate extra heat. The cooler has a thick radiator design that provides ample surface area for efficient heat transfer. The pump is capable of circulating an adequate amount of coolant throughout the radiator. To top it off, the pump includes a 40mm VRM fan that can operate at speeds ranging from 1000 to 3000 RPM.
The ARCTIC ARGB fans, measuring 2x 120mm, boast a maximum speed of 1800 RPM. Thanks to the PWM control feature, you can effortlessly adjust their speed to a lower, nearly silent speed of 200 RPM when not under heavy load. This cooler is priced reasonably and perfectly matches the i5 13600K.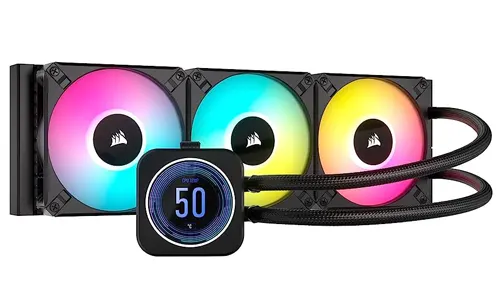 REASONS TO BUY
✓ Built-in 2.1-inch LCD
✓ Five years warranty
✓ 3x ML RGB ELITE fans included
✓ Extraordinary thermal performance
✓ Premium build quality
REASONS TO AVOID
✗ Expensive
If you're into building gaming PCs, you likely know about CORSAIR - a prestigious brand that offers a wide range of computer products. They're well-respected for their high-quality peripherals and computer accessories. Their CPU coolers, such as the CORSAIR iCUE H150i ELITE LCD XT, are very effective and come with a display monitor. Furthermore, their products are compatible with both AMD and Intel processors.
If you're a gamer looking for a stylish and vibrant CPU cooler, this one features RGB ELITE fans. It also includes a 2.1-inch display monitor on the pump, boasting 480×480 resolution and an ultra-bright 600 nits display. You can personalize the display with animated GIFs and team logos or choose from the pre-installed animations and screen profiles to enhance the aesthetics.
Get the most out of your liquid cooling system with the H150i ELITE pump. Experience powerful and efficient performance with a consistently flowing stream of coolant that eliminates hot spots and optimizes flow to the copper baseplate. Not only does it provide superior cooling, but it also adds a touch of style with its captivating RGB ring lights. Whether you have a tempered glass or open-air case, the H150i ELITE pump is the perfect choice for maximizing the potential of your cooling system.
This all-in-one (AIO) cooler boasts three powerful 120mm magnetic levitation fans that optimize airflow to the radiator, preventing potential hot spots. The fans come equipped with 8 LED lights for a stylish touch. They operate automatically, adjusting their speed between 450 and 2000 RPM based on the heating load, with a maximum noise level of approximately 30dB(A). The standout feature of these fans is the Zero RPM cooling profile, which stops all fans at lower temperatures and lighter workloads. Overall, this AIO cooler is a top-performing and visually appealing option for your cooling needs.
Regarding premium products, CORSAIR stands out with its AIO cooler. Although it comes with a higher price tag, its aesthetic, design, and performance are unparalleled by other brands. CORSAIR delivers an experience, not just a product. If you own multiple CORSAIR products, they can easily be synced and work together to create an immersive atmosphere.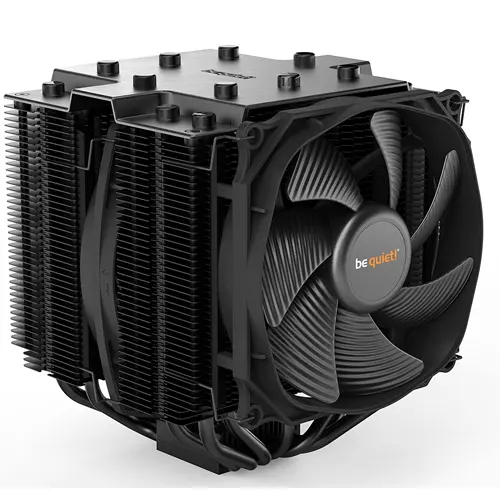 REASONS TO BUY
✓ Exceptional Noise-to-performance ratio
✓ Good build quality
✓ Remarkably efficient thermal performance
✓ Black color design at its best
REASONS TO AVOID
✗ Massive in size
✗ Little RAM clearance
Be Quiet! is a company that strives to create top-notch CPU coolers that operate quietly. Their products feature exceptional design, high-quality build, and impressive performance. Unlike other coolers, their air coolers are ergonomically designed for optimal thermal performance. Their dark rock series includes various products intended for a specific purpose. We have selected the Rock Pro 4 cooler and explain why shortly.
The Dark Pro 4 is an air cooler with a dual tower design and a sleek black finish, except for its base plate. It boasts seven 6mm heat pipes that run from top to bottom, making it a highly versatile product. Despite its impressive performance, this cooler operates quietly at just 22 dBA. Additionally, its heat sinks feature removable tops, ensuring ease of use and maintenance. Thanks to its intelligent dual tower radiator design, it provides excellent heat dissipation surface area, resulting in top-notch thermal performance.
The noise output of this product is at a maximum of 24 dBA, which confirms Be Quiet!'s claims. Additionally, it comes with two fans: 120mm and 150mm, with maximum RPMs of 1200 and 1500, respectively. These fans utilize "Silent wing PWM" technology to achieve lower noise levels that are virtually inaudible. Their different sizes and speeds provide sufficient airflow to and from the radiator. Also, they are equipped with advanced fluid dynamic bearings and 6-pole motors for optimal performance and adequate airflow to promote heat dissipation.
Dark Pro 4 is massive in size, and it is taller than usual air coolers. This size limits its use in many compact cases but should be fine for mid-tower cases. This CPU cooler will be the perfect pick for the i5 13600K.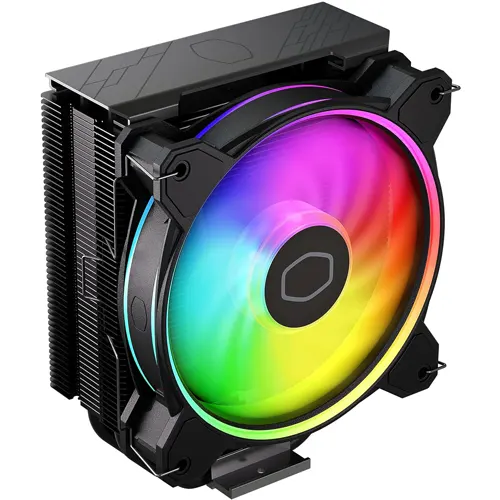 REASONS TO BUY
✓ Good performance
✓ Reasonable size
✓ Aesthetic ARGB
✓ Easy to install
REASONS TO AVOID
✗ Not suitable for overclocking
COOLERMASTER is hailed for its innovative and high-quality products. They are a veteran player in the market of PC components and specialize in power supplies, CPU coolers, and peripherals. They have a range of AIO and air coolers that deliver good performance with excellent build quality and are easily comparable to some of the big names in the CPU cooler market.
The COOLERMASTER HYPER 212 HALO delivers looks and performance with its genius design. It is covered in a highly aesthetic, premium white color and has a clean finish. It also incorporates RGB lights. It features a single 120mm fan with a max speed of 2050 RPM. The peculiar HALO ring design around the fan lights up perfectly with the RGB, delivering an eye-pleasing experience.
The tower is designed from carefully fabricated aluminum with a metal sheet on top. The tower's height is around 150mm, allowing better airflow to its fins for efficient heat dissipation. Moreover, the fan has enough power with an airflow of 52 CFM to provide a decent air volume to the cooler for efficient heat transfer.
It is tranquil at maximum loads with a noise level rating of 27 dBA. Overall, it is a decently priced air CPU cooler with excellent performance compatible with the Core i5 13600K processor.
Conclusion
Selecting and purchasing the right PC parts can be overwhelming, given the vast marketplace with countless options. Building your dream PC requires expertise in PC parts to ensure compatibility and suitability. It's crucial to save money on suitable products. Without prior knowledge, experimenting with your PC build can be costly. We aim to provide articles that guide you in choosing the most suitable PC parts without any hassle.
A separately bought CPU Cooler is essential to your build because stock coolers aren't enough for high-performing processors. Moreover, these CPU coolers provide enhanced heat transfer capabilities with additional features such as RGB lighting, software control, variable fan speeds, etc. A stock cooler might only stunt the performance and overclocking potential of your processor at higher loads which these processors are made to work at.
If you're interested in the Intel i5 13600K, we've got you covered with a list of top CPU coolers that will give you optimal thermal performance. The choice ultimately lies with you and should depend on your budget, PC case size, and specific requirements. However, if you still need to decide which CPU cooler to choose for the i5 13600K, we're happy to make a recommendation for you.
The best CPU cooler compatible with the i5 13600K and churning out the best thermal efficiency on your processor is the Be Quiet! Dark Pro 4. This Dark Pro 4 has the best thermal efficiency, price-to-performance ratio, and exceptional noise-to-performance ratio. It will serve you for a reasonable amount of time with its three years warranty.
The Best budget CPU cooler for the Core i6 13600K processor will be the Noctua NH-L9i CHROMAX.BLACK just because if you are not looking to overclock your processor, it can handsomely manage the heat it generates without ever letting you down.