Due to recent inflation, PC hardware components have become vastly expensive, so the latest PC components are out of reach for many people. Intel Core i5-9600K is three generations old, but still capable in games due to its high single-core performance and unlocked nature. In this article, we will review the best CPU cooler for Core i5-9600K.
The processor provides six cores and six threads, as it comes with Intel Hyper-Threading technology disabled. As the Core i5-9600K is a 'K' variant processor, you can overclock the processor with a good-quality Z-series motherboard, allowing you to use the processor with high-end graphics cards such as RTX 3070 or AMD RX 6700 XT, etc.
Once overclocked, the Core i5-9600K becomes a relatively hot processor, consuming more than 150 watts at load. This makes it difficult to cool it, so many people use high-end cooling solutions with a K-series processor. You can either go with a high-end air cooler or a mid-range AIO cooler with the i5 9600K.
Best CPU Cooler for i5 9600K Summary
Best CPU Cooler for i5 9600K At a Glance:
Best CPU Cooler for i5 9600K Reviews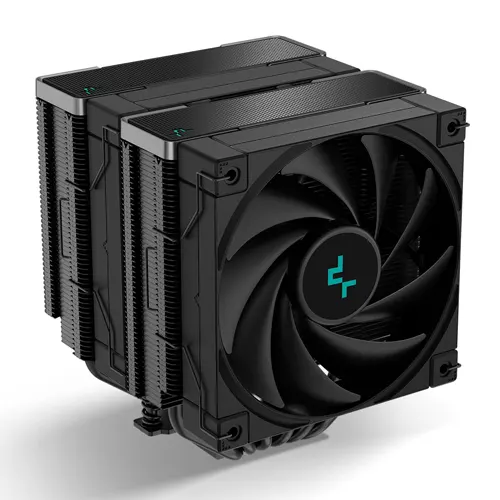 REASONS TO BUY
✓ Excellent price-to-performance ratio
✓ Capable of handling any high-end processor
✓ Modern design
REASONS TO AVOID
✗ Noisy compared to competitors
✗ No lighting
DeepCool has gained a lot of fame in the past couple of years, and the reason is its high-value cooling products. The company has designed a ton of products related to cooling for PCs and its latest offerings are giving tough competition to those products that hold the record for the best in the world. Such a product is DeepCool AK620, which is now considered one of the finest air CPU coolers. 
Noctua NH-D15 has always been considered the gold standard of air cooling solutions by enthusiasts. When AK620 was released at half the price, it immediately got immense success, as it provided nearly the same thermals as those by NH-D15. 
Now, speaking of the design of the CPU cooler, it looks pretty modern compared to other CPU coolers on the market. It provides a boxy look, with a dual-tower heat sink design. There are two fans fitted on the cooler, having an acoustic level of 28 dbA each, and can spin at 500 to 1800 RPM. The fans also have a high static air pressure of 2.19 mmH2O, which we usually see in high-end fans by CORSAIR, NOCTUA, etc. The cooler has 43 mm of RAM clearance, which is why you will be able to fit most high-end RAM kits on the motherboard without any issues. 
The thermal performance of this CPU makes it suitable for literally any mainstream processor available in the market. With a processor like Core i5-9600K, the performance of the processor will be maximum, as there will be no thermal throttling. You can overclock the processor as much as you can, without worrying about frying your processor.
Overall, DeepCool AK620 is one of the finest CPU coolers that provide extreme performance at half the price of its competitors.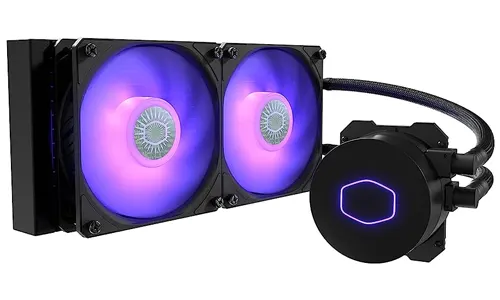 REASONS TO BUY
✓ Very reliable pump
✓ Elegant lighting on the pump and fans
✓ Easy installation
REASONS TO AVOID
✗ The performance could have been better at this price
CoolerMaster has been manufacturing CPU products for decades and has always been known for its price-to-performance ratio due to its excellent pricing compared to competitors. CoolerMasterMasterLiquid ML240L is a great AIO cooler that is available at the price of high-end air coolers. The performance of the CPU cooler is similar to some of the most potent dual-tower air CPU coolers while providing far better looks due to its AIO cooler design.
The design of the MasterLiquid ML240L RGB V2 is rather simplistic with a bit of RGB lighting. The pump is black in color and has sleek RGB lighting on it, while the fans on the radiator are heavily complemented with shocking RGB. There is an ARGB model available by the company as well, which comes at a slightly higher price.
The cooler comes with two Sickleflow 120mm fans, which are amazing with regards to both static air pressure and airflow, having 2.5 mmH2O of air pressure and 62 CFM airflow respectively. The fans have an RPM range of 650 to 1800 RPM, which is similar to other CPU coolers on the market. The radiator of the cooler, as indicated by the name is 240mm in size, thus using two 120 mm fans. 
Overall, CoolerMaster MasterLiquid ML240L RGB V2 is a fabulous CPU cooler for i5 9600K, that provides high performance at low costs.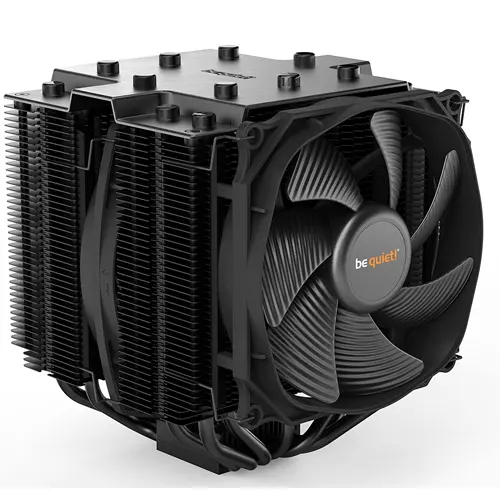 REASONS TO BUY
✓ Top-of-the-line performance
✓ Best acoustic levels
✓ Dark looks feel decent
REASONS TO AVOID
✗ Very bulky
✗ May not be usable with very tall RAM kits
The next CPU cooler that we have on the list is quite unique when we compare it to other CPU Coolers. be quiet! is a company that is dedicated to designing CPU cooling solutions with top-of-the-line acoustic levels, as indicated by the company's name. The Dark Rock Pro 4 is a CPU cooler that matches the performance of Noctua's flagship CPU coolers but provides better acoustic levels and aesthetics. 
It is a dual-tower CPU cooler that comes in black. The size of the cooler is massive and with the front fan, the RAM clearance is 40 mm, which could indicate issues with the tallest RAM kits on the market, but most will still work fine. The cooler uses two large 140 mm Silent Wings PWM fans, which have an acoustic level of 24.3 dB at maximum speeds. This cooler comes with seven copper heat pipes, which is amazing, as there are barely any CPU coolers with this many heat pipes. 
Overall, be quiet! Dark Rock Pro 4 is the best CPU cooler for i5 9600K if you are looking for the lowest-possible acoustic levels.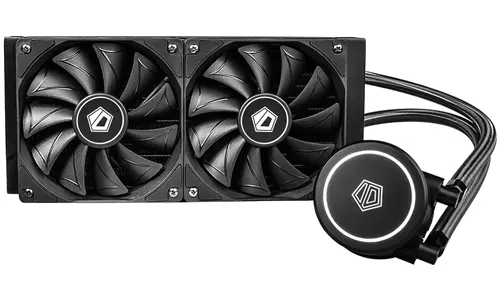 REASONS TO BUY
✓ One of the cheapest AIO coolers
✓ Superb performance for the price
✓ White LED lighting matches most builds
REASONS TO AVOID
✗ No lighting on the fans
✗ Not very well-known
ID-COOLING is a relatively new name compared to competitors, as it was announced in 2023. The company is dedicated to providing enthusiast-grade CPU cooling solutions at the lowest possible prices, which intrigues a lot of customers. ID-COOLING FROSTFLOW X 240 is one such AIO cooler, having immense performance and a price comparable to mid-range air coolers. 
FROSTFLOW X 240 is a 240 mm AIO cooler, with a simplistic look, providing white LED lighting on the pump and no lighting on the fans at all. The pump uses a pure copper base with a micro-fin structure inside. The two 120 mm fans are rated for 700 to 1800 RPM range, which is similar to other CPU fans. The airflow of the fans is rated at 74.5 CFM and the static air pressure is rated at 2.15 mmH2O.
Performance-wise, the cooler is similar to ML240L RGB V2 in thermals, while having a lower price. With an overclocked processor like i5 9600K, you would see temperatures under 80 degrees with CPU-intensive workloads.
Conclusively, ID-COOLING FROSTFLOW X 240 is one of the cheapest AIO coolers for i5 9600K that you can buy instead of buying a mid-range air cooler.
Conclusion
In this article, we talked about some of the best CPU coolers for Core i5 9600K. We listed two air coolers and two AIO coolers for the processor. As it is a mid-range processor, having six cores and six threads, it does not require a top-of-the-line cooling solution, and you would be fine with most mid-range cooling solutions even if you overclock the processor.
DeepCooler AK620 provides top-notch performance while being extremely cheap. CoolerMaster MasterLiquid ML240L is a mid-range AIO cooler that performs similarly to high-end air coolers. be quiet! Dark Rock Pro 4 is a high-end air cooler that can handle even the most powerful CPUs on the market. ID-COOLING FROSTFLOW X 240 is the cheapest AIO cooler that can handle a modern overclocked octa-core processor.