Intel Raptor Lake processors are no joke, and Core i7 13700K is one such processor that packs quite a lot of power and value to offer the best possible, seamless experience a user can get. The 12th generation of processors worked as a warm-up for what Intel would make its signature technique of dealing with normal and super heavy tasks individually with the help of performance and efficiency cores baked into the processor separately. 
The idea worked quite well in the Alder Lake processors, so Intel increased the core/thread count even more in the Raptor Lake ones. Now, the Core i7 13700K comes with a total of 16 cores and 24 threads. Half of the cores are efficiency cores as they say and the rest of the half are performance cores. Both of them operate at different clock speeds to cater to their intended tasks efficiently. 
The processor can eat up to 253W of power when under full load, so it requires a decent and capable cooling solution. Otherwise, it wouldn't be able to reach its limits and deliver the intended performance that Intel wants you to experience. This is why we have picked some of the best budget and premium coolers that can handle the likes of such powerful and hot chips. You would be able to choose from a number of different options according to your preferences as well as your budget. So, let's get to work right away and help you make a sensible choice.
Best CPU Cooler for i7 13700K Summary
Best CPU Cooler for i7 13700K At a Glance:
Best CPU Cooler for i7 13700K Reviews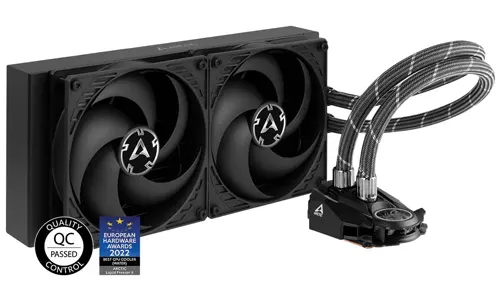 REASONS TO BUY
✓ The cooler has a reasonable MSRP.
✓ Easily blendable in builds.
✓ No compatibility problem.
✓ Cools down the processor nicely.
✓ Dedicated fan for power delivery cooling.
REASONS TO AVOID
✗ Available in one color only.
✗ Lacks any sort of RGB.
Arctic has a long-standing reputation for providing excellent cooling solutions on a budget. They keep making out great stuff, that includes their Liquid Freezer series. It has received positive feedback from the community for its excellent sleek and sneaky design coupled with an impressive thermal performance one could get within the budget. Apparently, the AIO costs $110 and lacks RGB for budget reasons, and RGB has never been the priority of Arctic, so that's a thing worth remembering if you're familiar with Arctic products.
Although the AIO comes in many form factors, we have gone with the 280 mm variant, as it keeps a nice balance between thermal performance and budget. It possesses a 280 mm sturdy-looking radiator that facilitates two 140 mm Arctic PWM fans that pushes air through it to help maintain an optimal temperature. Also, since it doesn't feature any RGB, so you don't have to deal with a cable mess during installation. As for the fan speeds, they ramp up to 1700 RPM and go as low as 200 RPM. So, you can choose whether you want them to be super quiet or do their job and provide cooling for your CPU.
Moreover, the two liquid tubes on the AIO are encased in braided fabric, enhancing the AIO's visual appeal and providing an additional layer of protection to the tubes. Besides, the AIO has been updated right out of the box to support all the latest sockets, such as AM5 or LGA1200/1700. Additionally, the cooling block comes with quite a futuristic design and a dedicated fan to take care of the power delivery to the motherboard. This AIO, in our Cinebench R23 test, kept the Core i7 13700K at around 76C. This is great considering the price and AIO's form factor, so it goes right into our recommendation list.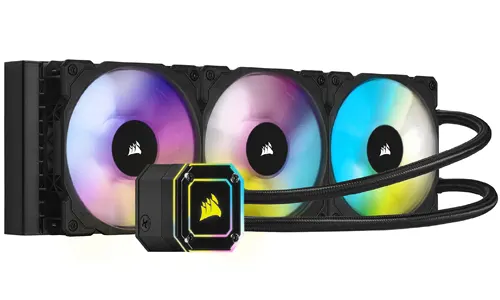 REASONS TO BUY
✓ Amazing ARGB lighting.
✓ Fully customizable.
✓ Interchangeable faceplate.
✓ Thermal performance is praiseworthy.
REASONS TO AVOID
✗ Kinda expensive.
For the second cooler, we're going with the Corsair H150i Elite Capellix. Since it's Corsair, we can expect quality as well as performance from the targeted cooler. The Corsair H150i Elite Capellix comes in 240 mm and 360 mm radiator sizes, but the one we're going to discuss, is the 360 mm variant of this sensational AIO liquid cooling solution. The AIO has an MSRP of $189.99, so it's slightly on the expensive side. 
Keeping the MSRP aside, let's discuss what does it offer to the consumer. The AIO comes with the standard thickness to fit in any 360 mm rad supporting chassis. So you won't have to worry about its compatibility issues with other components. In addition, the AIO is equipped with three of Corsair's ML120 RGB PWM fans, which do a great job of enhancing the overall aesthetics of the build along with doing what they're made for - adequate cooling. 
And if that wasn't enough, there's more RGB over the pump header, which in my opinion, looks amusing and adds to the looks. Moreover, the faceplate of the pump header is interchangeable with a second faceplate already bundled in the package. The speed and RGB LEDs of the fans and the pump header can be controlled through Corsair's very own iCUE software. The Corsair Commander Core Hub is also bundled with the whole package, which alone costs around $70. 
This makes the AIO more compelling and value for money. You can use the Core Hub to connect your radiator and Corsair fans to the motherboard. As far as thermal testing is concerned, the Corsair H150i Elite Capellix holds the Core i7 13700K at 66C in AIDA64. These outcomes are noteworthy and exhibit the capabilities of the H150i Elite Capellix, showing that it is not only adequate for the i7 13700K but also possesses the potential to be a viable option in the future. The cooler does come in two different colors, so you can go with whatever suits your build the most.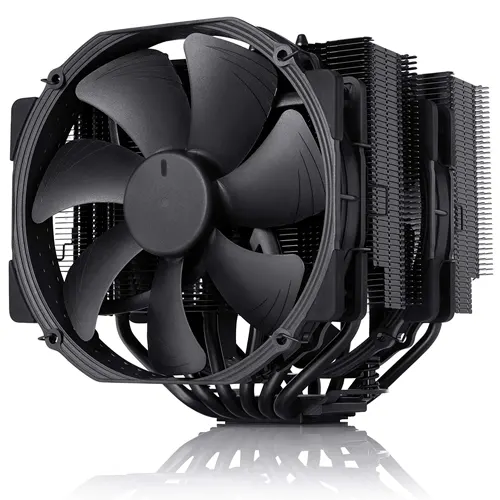 REASONS TO BUY
✓ Two 140 mm Noctua NF-A15 fans.
✓ Compelling cooling results.
✓ Silent operation.
✓ Installation kit already included.
✓ No socket compatibility issue.
REASONS TO AVOID
✗ Doesn't feature RGB.
Proceeding with the reviews, let's change the preference a little and go on with the Noctua NH-D15 air cooler. The air cooler comes from the well-known Austrian manufacturer Noctua and costs roughly $110. This much price for an air cooler seems a little odd but rest assured because the quality and performance that Noctua offers is unmatched. 
The cooler in itself is massive and embodies two big 140 mm Noctua NF-A15 fans. That looks good and works great, both of the fans lack RGB, and the whole cooler stays true to its signature design which avoids the involvement of any RGB light. However, we would love to see what Noctua can do if they try to integrate RGB in one of their coolers. Moreover, both fans are PWM and can be connected into one header using the bundled PWM splitter cable. So you can manage the speed levels more conveniently. Besides that, the cooler has a dual-tower design and incorporates 6 heat pipes for rapid heat dissipation from the CPU. The cooler is capable of handling hot CPUs such as the Intel Core i7 13700K, and that is proven with our very test using AIDA64. The cooler was able to keep the temperatures of the i7 13700K at around 78C during the stress test. The results may vary in your situation because of the differences in case airflow and ambient temperature. 
Furthermore, the cooler creates no significant noise and kept the noise levels at around 20 dB during the AIDA64 stress test. Other than that, the cooler is fully compatible with all new sockets from AMD and Intel. However, since the cooler is quite big, so you better take measurements of your chassis before getting the air cooler. Lastly, if you can live without RGB lights, then this is one of the best air coolers on the market, offering exemplary performance and quality. Don't forget to use the included Noctua NT-H1 thermal paste for optimal thermal results.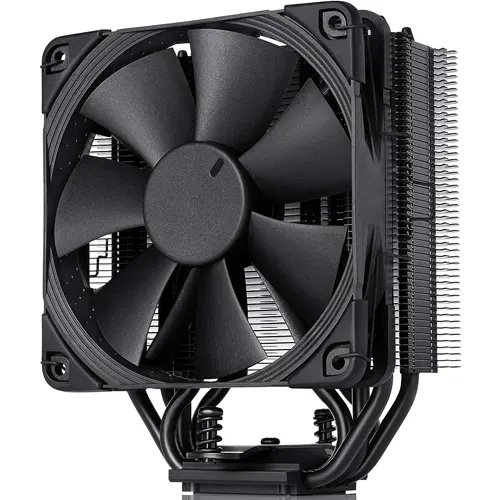 REASONS TO BUY
✓ Seven heat pipes design.
✓ Sneaky black color scheme.
✓ Compelling performance.
✓ Compact form factor.
✓ Installation is straightforward.
REASONS TO AVOID
✗ No use of RGB.
For the next cooler, we're again going with Noctua, because they have another great air cooler on their hands capable of handling powerful CPUs. This time, it is the Noctua NH-U12S chromax.Black, which embraces a more compact design than the Noctua NH-D15. This would be the ideal choice for the micro-ATX builds and comes in at around $90. 
Let us commence with the overall design, which is quite decent and straightforward, akin to the approach adopted by Noctua. What is more, the chromax black color scheme further enhances its appeal. The cooler has a single tower design with a single 120 mm NF-F12 fan up front. This is plenty for adequate performance, but you do get extra clips to attach another one if necessary. On top of that, the 7 heat pipes that are present on the cooler do a great job at handling the temperature level of chips like the i7 13700K. 
The black color scheme makes up for the lack of RGB that we usually find in Noctua coolers. It looks more graceful and blends in nicely within the PC build, whether it's all black or a mix of black and white. Now let's talk a little about what results we got after the AIDA64 stress test. The cooler provides some competitive results as it managed to keep the i7 13700K at 75C. These are some compelling and favorable results, which in fact justifies the premium price tag.
Also, as far as the compatibility is concerned, due to its compact nature, the cooler isn't going to be a problem if you plan to use taller memory kits or even a smaller chassis. Besides that, it comes with the appropriate brackets for LGA1700/LGA1200 and AM5 sockets. So, whether you use it on the latest hardware or the old one, you're going to have no issues whatsoever.  So far, we unquestionably recommend this cooler, especially for the i7 13700K.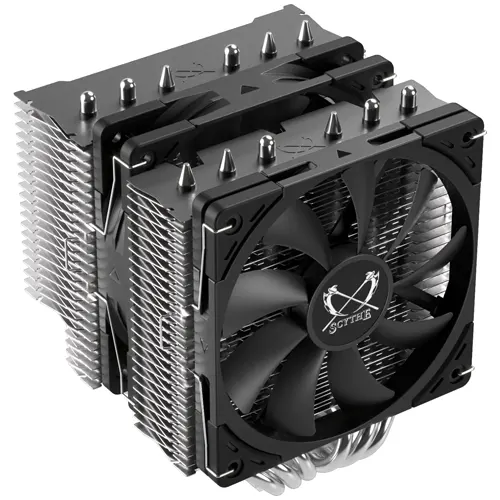 REASONS TO BUY
✓ More powerful fans
✓ Simplistic design.
✓ More compelling performance.
✓ Makes significantly less noise.
✓ Heavily inexpensive.
✓ Cut out for massive VRM heat sinks.
REASONS TO AVOID
✗ Comes without RGB.
Next up we have the Scythe FUMA 2 Rev.B, this company is one of the underdogs when it comes to the PC cooling solution manufacturers. And this cooler is also an exception because of how well it performs and how much thought has been put into it to cater to almost everyone who is looking for a budget cooler. The cooler was launched with a budget-friendly MSRP of $66, which is $6 higher than the original FUMA 2 but nothing major to worry about. 
Scythe chose the old design and worked on it where it was necessary and left the core things as it, which is appreciable because as they say "Don't fix something that isn't broken". It would be nice if more and more companies adapt to this manufacturing principle for their future products. The cooler itself has the same dual-town design as the old one but is pushed slightly to the front for better compatibility with the components. Other than that, Scythe has completely changed both cooling fans with its newer 120 mm Kaze Flex II PWM fans that spin to a maximum of 1500 RPM. 
Moreover, both fans spin in opposite directions for more optimized static pressure. Besides that, Scythe also made a cut-out from the back side to support the motherboards with large and thick cooling blocks. Another noticeable thing is on the front, where the fan is quite slim compared to the other one, this brings the RAM compatibility to a whole new level. This shows how much Scythe has improved its already great cooling solution. 
As for the RGB, unfortunately, with the mid $60 budget, you have to let this one slide for better cooling performance. This can be proven with our AIDA64 stress test, the Scythe FUMA 2 Rev.B was able to control the i7 13700K fairly well with a maximum temperature of 74C. So, all things considered, this cooler is a hard pass if you want to settle for something cheap yet worth getting.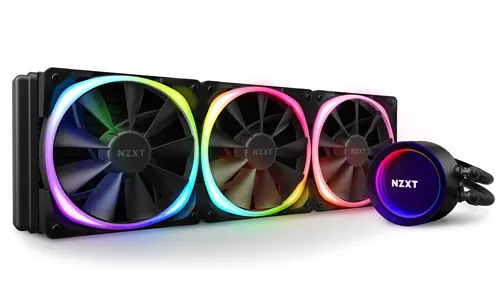 REASONS TO BUY
✓ Strong build.
✓ NZXT's signature design.
✓ Performs really well under load.
✓ Decent pricing.
✓ Compatible with LGA1700
REASONS TO AVOID
✗ RGB is limited to the pump header.
✗ Only available in black color.
NZXT always try to come up with something unique that distinguishes them from the others. And when it comes to the cooling solutions, it is nothing different as NZXT has some unique AIO liquid cooling solutions that stand out among the rest and gives you the performance you expect and paid for. This NZXT Kraken X73 that we're discussing goes for around $159.99 and offers competitive performance in the 360 mm liquid cooling solution category.
The AIO has a 27 mm thick aluminum radiator equipped with 7th-generation Acer cooling technology. Moreover, the radiator has the capacity to hold three 120 mm fans, which it comes with. The fans that are bundled with the cooler are NZXT Aer P PWM fans, which lack RGB but are finely designed to push the much-needed air through the radiator for optimal thermal results. The fans are strong and can spin anywhere from 500 to 2000 RPM. This is good and bad at the same time, as although, at full throttle, they can significantly decrease the temperature levels but can become a bit noisy with acoustic levels reaching up to 39 dB during our testing.
Although, the pump header does feature RGB with NZXT branding in the middle and a hollow effect all around it. This appears to be pleasing to the eye and somewhat enhances the appearance of the AIO. Everything with this AIO liquid cooler is pretty straightforward, and now let's see how well it performs under load. We installed the AIO over an i7 13700 K-based build and ran AIDA64 stability test, which, to our delight, performed reasonably well. And to be specific, we got temperature readings of 71C. So there's that, and to keep everything in control, you do get the connection cables that connect your AIO to the motherboard. After that, you can control the pump RGB, its speed, and the fan speed altogether using the NZXT CAM software.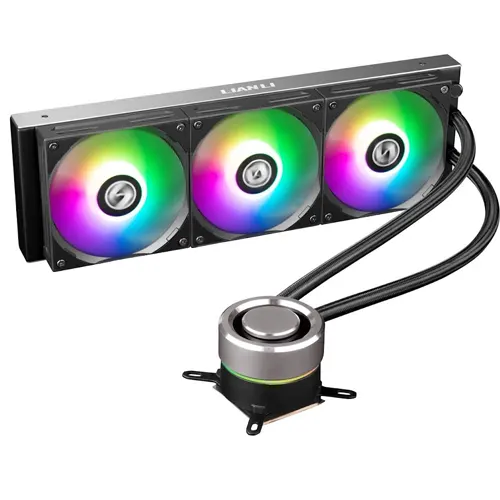 REASONS TO BUY
✓ Filled with RGB uniquely.
✓ Premium and distinct design.
✓ AIO has favorable build quality.
✓ Insured with a 5-year warranty.
✓ Good and reasonable pricing.
REASONS TO AVOID
✗ Can become noisy at higher fan speeds.
Lian Li has a very positive history of providing products with utmost quality and one of their most popular product is the O11 Dynamic chassis with they made in collaboration with the famous overclocking enthusiast DER8AUER. Just like that, Lian Li's AIO cooling solutions are no joke either due to their rich build quality and favorable performance. We have picked the Lian Li Galahad 360 ARGB this time. Which yet again, is a 360 mm AIO, ready to offer admirable thermal performance for a somewhat logical MSRP of $175.
The AIO features a 20 mm thick radiator that is 360 mm long to accommodate the three 120 mm high static pressure Lian Li fans. The radiator is made out of aluminum and is very sturdy if you're worried about its reliability. The fans boast fully addressable RGB lighting on its exterior side - making it look distinctive and appealing. The same kind of RGB is also present over the pump header with interchangeable pump caps like the Corsair H150i Elite Capellix. To top it all off, Lian Li offers 2 years manufacturer warranty for the fans and RGB lighting. As for the core stuff, like the radiator and the pump itself, you are secured with a 5 years warranty coverage. 
So, in case somehow your AIO fails, you're all covered to save you from the loss that you will end up bearing if you go for something without a warranty. Anyhow, let's discuss some test results, the AIO end up giving us a temperature reading of 70C during the AIDA64 stress test when paired with the i7 13700K. If we ramp up the fan speed to 100% which means 1900 RPM, then the temperature drops below 60C. However, such temperature readings come at the cost of high acoustic levels. Which in this case means as high as 45 dB. Keeping that aside, the cooler overall is great and deserves to be on the recommendation list.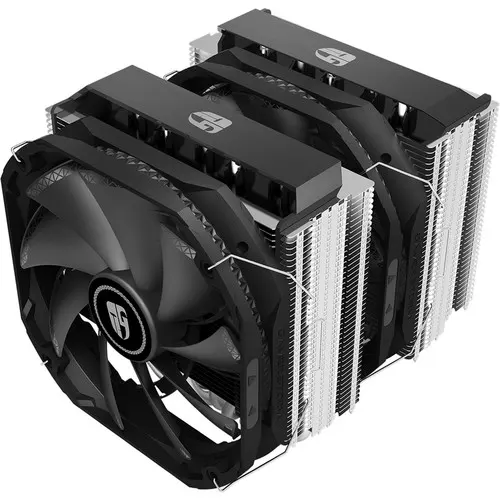 REASONS TO BUY
✓ Minimalistic dual town design.
✓ Excellent performance.
✓ Built with good and strong material.
✓ Acceptable price.
REASONS TO AVOID
✗ RGB LEDs are not present.
DeepCool Assassin III takes a lot of inspiration from the Noctua NH-D15 and tries to be its direct comparison by offering identical thermal performance, better looks, and cheaper pricing. The DeepCool Assassin III cost no more than $100, which is slightly less than the Noctua NH-D15. Do not forget, that big coolers like these do come with some compatibility issues, so you better do your homework to save yourself the extra hassle.
The air cooler comes with a similar dual-tower design as the Noctua NH-D15 with differences in terms of looks only. However, this cooler does one thing better and that is the inclusion of an extra heat pipe - making the total count to seven as opposed to the six heat pipe configuration of the Noctua NH-D15. This gives an edge to the DeepCool Assassin III and would help in producing competitive results when put to the test. And to throw out the heat, it also features two 140 mm DeepCool TF140S PWM fans. 
Both fans are capable of operating at 1400 RPM, although, at such speed, it does become a little noisy and easily audible. DeepCool advertises that this cooler can easily handle up to 280W of CPU power. So, we did our testing as usual, the results turned out to be impressive. In AIDA64, and pairing this cooler with the Intel Core i7 13700K, we end up recording temperatures at 76C. So, in reality, the extra heat pipe did help in delivering better thermals, which was to be expected anyway.
As for the acoustics, we ramp up the cooler fans to their limits and recorded noise levels up to 46 dB. However, in auto mode, the noise was significantly less, and the cooler was almost inaudible. All things considered, if you wish to get a little more out of the CPU, then ramp up the cooler to its full speed. The 46 dB acoustic level isn't terrible and seems like a fair trade-off if you will be going to use headphones nonetheless.
Conclusion
The coolers we've picked will surely meet your requirements, and you'll most likely choose one of the above-mentioned cooling options due to the presence of variety in our selections. We cherry-picked each cooler to meet the needs of a certain individual because not everyone likes the same thing. In total, we reviewed eight CPU coolers, four of them are AIO Liquid Coolers, while the other four are air coolers. So, everyone gets to choose the best for their builds. 
First off, we have something for the folks with a restricted budget, the Scythe FUMA 2 Rev.B is recommended for those with a budget of around $60. This budget-friendly cooler is surprisingly so good at handling the Core i7 13700K. Moreover, the attention to detail that can be seen is just unparalleled at this price. Just like that, if you're keen on getting an air cooler with a higher budget. Then you can pick from DeepCool Assassin III, Noctua NH-U12S chormax.Black, and Noctua NH-D15. All of these coolers exhibit acceptable build quality and the anticipated thermal performance, thereby compensating for their higher price of approximately $100.
However, if you're not too fond of air coolers and looking to jump over to an AIO Liquid Cooler. Then we do have some options for you, those who want to avoid the abundance of RGB; can go with either the Arctic Liquid Freezer II 280 or NZXT Kraken X73 360. Both AIOs give out impressive cooling results and are made out of strong material to withstand extreme conditions. If RGB is something that you prefer to have in your components, then Lian Li Galahad 360 ARGB and Corsair H150i Elite Capellix 360 are the ones to go with. Both of them demonstrate RGB in their own incomparable way, which turns out nicely and looks great inside the rig. Not to mention, both coolers perform equally well, so you're getting the best of both worlds.