Intel, once again, plans to dominate the processor market with the release of its much-anticipated 14th-generation line of processors. Intel has officially and rightfully named its latest processor line-up the "Meteor Lake." Not much information has been disclosed about them from Intel's side. Still, many gaming enthusiasts and leakers have put together enough information to assess one thing, these processors are said to be stupendously powerful, and the Core i9 14900K is believed to outperform AMDs most powerful processor to date quickly, the Ryzen 9 7950X3D. Today we are reviewing the best CPU cooler for i9 14900K and we are going to test multiple products for this task.
Intel was stuck with their 14nm and 10nm for a long-time, giving AMD an edge over them regarding raw performance and faster processing. AMD dominated the processor market by introducing a 7nm process, making increasingly powerful processors each year. Eventually, AMDs processor technology proved superior in power consumption and performance output. But now, Intel is ready to ride the wave of popularity once again with their Meteor Lake processors, as Intel allegedly has a significant performance margin in their i9 14900K processor compared to their AMDs flagship, the Ryzen 9 7950X3D.
As you may know, with high processor power comes the necessity of a powerful CPU cooler. As the CPU's power output increases, its heating-up potential also increases, and because of that simple rule, it is essential to have a good CPU cooler when making a robust PC build. Both CPU and GPU require efficient cooling for them to function without causing a total meltdown. Also, an increase in the temperature of these components with no mode of heat dissipation to a sink causes an exponential drop in performance. GPUs designed by various manufacturers already come with good air- and water-cooling equipment. But processors usually come with company stock coolers, and there isn't much to say about them. Their cooling performance is mediocre at best for a powerful processor, and any sane computer builder or enthusiast doesn't recommend their long-term use.
We have prepared a list of CPU coolers best suited for the much-hyped power behemoth, i9 14900K. They have been adequately tested for similar processors, and this list will help you compare these coolers and decide for yourself. Without further ado, let's jump into the list of CPU coolers for Intel i9 14900K.
Best CPU Cooler for i9 14900K Summary
Best CPU Cooler for i9 14900K At a Glance:
Best CPU Cooler for i9 14900K Reviews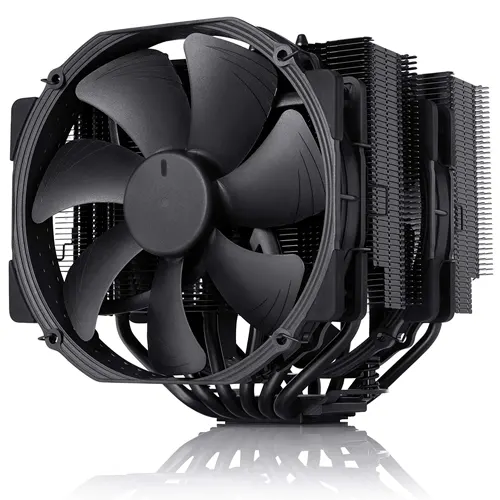 REASONS TO BUY
✓ World-class fans' quality
✓ Similar performance to high-end 360mm AIO coolers
✓ Can be used with Low Noise Adapters for virtually silent operation
REASONS TO AVOID
✗ Quite pricey for an air cooler
✗ Huge size
NOCTUA is a smart company that designs high-quality PC cooling solutions and its products are known specifically for high-end performance along with top-notch acoustic levels. NOCTUA NH-D15 chromax.black is the flagship PC cooler by the company that has won many awards for its performance and is considered the best air cooler by many enthusiasts and content creators. 
The design of the cooler is quite simple. There is no RGB lighting going on here or any display for statistics, like you would find on modern coolers these days. It is a dual-tower air cooler with two NF-A15 fans. The chromax.black variant is the one that comes with an all-black color theme. This theme looks objectively better than the native brown color theme of the company unless you want to build a PC with a wooden theme. 
As for the NF-A15 fans, these are one of the best 140 mm fans that you can find on the market. With extremely low noise and high static air pressure. For reference, the fans are capable of running at 1200 RPM at maximum speed, providing 1.51 mmH2O of static air pressure and around 68 CFM of airflow. 
The cooler installation is super easy, thanks to the SecuFirm2 mounting system. The cooler comes with 2 x Low Noise Adapter (NA-RC7) for the fans, a 4-pin PWM y-cable (YC1),  the mounting system, and NT-H1 thermal compound. It is not the best thermal compound by the company, which is disappointing but still, it gives tough competition to high-end thermal compounds on the market. 
Overall, NOCTUA NH-D15 chromax.black is the best CPU cooler for i9 14900K if you don't want an AIO cooler and don't want to compromise on performance.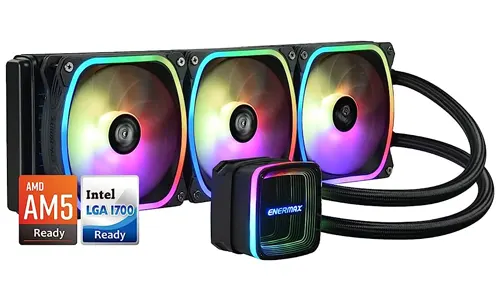 REASONS TO BUY
✓ One of the cheapest 360 mm AIO cooler
✓ Performs very well for the price
✓ Lots of ARGB lighting
REASONS TO AVOID
✗ ARGB cable feels like a nuisance
✗ Some users report sticky buildup with time
ENERMAX is a company that designs power supplies and cooling solutions for PC users. The company is not renowned as the likes of ASUS, MSI, GIGABYTE, etc. but its products are getting a lot of attention due to appealing looks and impressive performance. ENERMAX AQUAFUSION ADV 360 A-RGB is a great 360 mm AIO cooler that is on par with the best-looking AIO coolers on the market in terms of aesthetics.
The design of the cooler is pretty thoughtful. This is one of the only coolers that provide both the ARGB lighting on the fan fins, as well as the ARGB Ring around the fans. The ARGB Ring can also be found on the pump with subsequent ARGB rings inside the pump, called Luminous Aurabelt by the company. It is definitely going to be difficult for competitors to keep up, as this thing is lit in every possible way.
The thermal performance of the cooler is ever so slightly lower than the flagship 360 mm coolers on the market, like the CORSAIR H150i, NZXT Z73, etc. The noise levels, however, are higher than the competition, despite the fans not spinning above 2000 RPM. The ARGB lighting of the cooler connects to the system via a 3-pin interface cable.
The cooler comes with three 120 mm fans of 26 mm thickness. The fins of the fans are translucent, thus capable of providing ARGB lighting. The fans can go as high as 2000 RPM, which is a fine speed for an AIO cooler but these fans are known to be noisier than many aftermarket fans.
Overall, ENERMAX AQUAFUSION ADV 360 A-RGB is a high-performance AIO cooler that is often available at a super-cheap price, and it will be a fantastic cooler for the i9 14900K.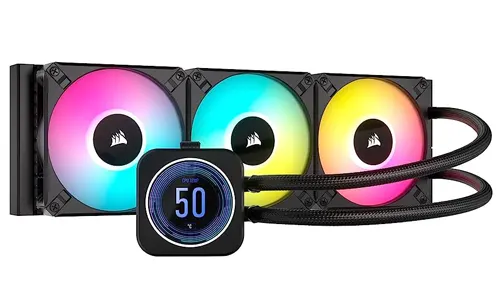 REASONS TO BUY
✓ Comes with a modular LCD panel
✓ The added Commander Core fan controller works wonders
✓ High performance at mediocre noise levels
REASONS TO AVOID
✗ One of the priciest AIO coolers
✗ You can get similar performance with half-priced coolers
CORSAIR needs no introduction, as it is the market-leading manufacturer of PC products. Its cooling solutions are renowned for aesthetically pleasing designs, especially the AIO coolers, and today we are going to look at the flagship of these coolers. CORSAIR iCUE H150i ELITE LCD XT is the latest iteration of the famous H150i AIO cooler that we have been seeing for a decade now. You can use the CORSAIR iCUE software application to customize the stuff you need regarding the cooler.
The latest addition to the cooler is the inclusion of a 24-bit LCD in the pump that can be used to show statistics or even customized graphics. This feature makes the cooler on par with the NZXT Z73, which has been using a display for statistics for a long time now. The ARGB lighting on the fans of this cooler is defused very well, and not many companies have been able to manufacture fans with this good RGB lighting. The cooler comes with Commander Core which can be used to connect six fans in total, although three of these would already be connected with the three fans attached to the radiator. 
The cooler comes with AF RGB ELITE fans that have a high static air pressure of 2.68 mm H2O and an airflow of 65.57 CFM. The RPM range of the cooler is 550 to 2100 RPM, which is more or less the same as other AIO coolers. The thermal performance of the AIO cooler is more than enough to handle a beasty processor like the i9 14900K even when overclocked to its maximum potential.
Overall, CORSAIR H150i ELITE LCD XT is a premium AIO cooler by the company that comes with advanced features like an LCD panel and has amazing performance.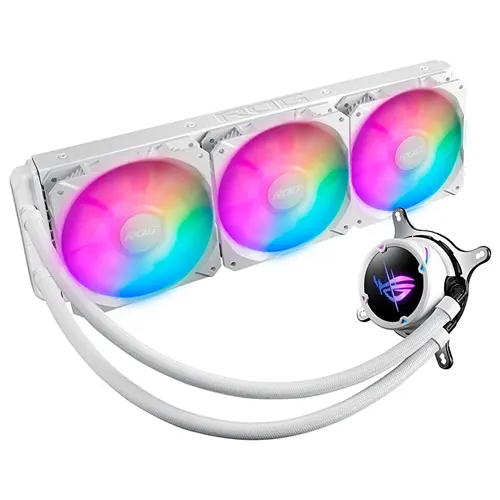 REASONS TO BUY
✓ Pleasant ARGB lighting
✓ High-performance fans
✓ AuraSync support
REASONS TO AVOID
✗ Somewhat on the pricier side
✗ Fans can be noisy at times
ASUS is the king of manufacturers when it comes to PC products, with hundreds of award-winning products. The company recently released the ASUS ROG Strix LC II 360 ARGB White Edition AIO cooler and it got good reception due to its flawless design and impressive performance.
The cooler comes with a 360 mm radiator and ASUS ROG STRIX 12 Model ARGB fans. The ARGB lighting on the fans is pure eye candy, not to mention you won't see high-performing fans like this on the market. The fans are rated for a maximum RPM of 2500 with a static air pressure of 5 mm H2O and airflow of 80.95 CFM. The high speed of the fans makes them noisier than competitors, but it is good to have capable fans that can ramp up if things are going hot.
The pump has a beautiful RGB logo at the center. The lighting of the cooler can be customized using the Armoury Crate software application. It can also take advantage of the ASUS AuraSync technology, allowing you to sync the lighting of various ASUS products on the system. The White Edition of the cooler suits the white cases nicely and the RGB lighting highly complements the color theme.
As for the performance of the AIO cooler goes, it performs somewhat better than other 360 mm AIO coolers if you use the fans at high RPM, although it fairly increases the noise levels.
Overall, ASUS ROG Strix LC II 360 ARGB White Edition is a great 360 mm AIO cooler for white-themed builds, with premium features that you miss on budget AIO coolers.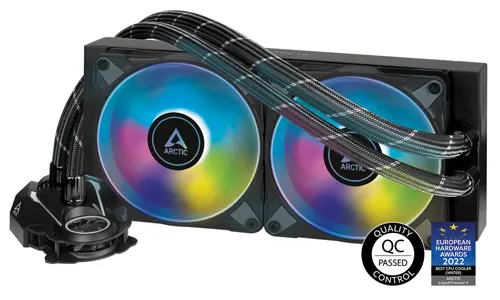 REASONS TO BUY
✓ Best bang for the buck
✓ Extra fan on the pump for added heat dissipation
✓ Available with both RGB lighting and without it
REASONS TO AVOID
✗ None for the price
ARCTIC is a company that is dedicated to designing quality PC cooling solutions. The AIO coolers of the company are its specialization, with ACTIC LIQUID FREEZER II being the latest iteration. ARCTIC LIQUID FREEZER II 240-ARGB is a high-performance AIO cooler that comes with a 240 mm radiator. The smaller radiator size makes it less than a hundred bucks sometimes, which is a steal deal for a high-end cooler like this.
The cooler comes with ARGB lighting, as the name indicates, although there is a model available without any lighting as well. The cooler uses high-performance fans with five thick fins in each fan. The airflow of the fans is estimated to be around 55 CFM and static air pressure at 2.2 mm H2O. The cooler also provides a small fan on the pump, which is useful for dissipating heat efficiently around the processor area.
The performance of the cooler makes it better than almost every 240 mm AIO cooler on the market. Usually, we don't advise going with a 240 mm AIO cooler for a flagship processor like the i9 14900K, but ARCTIC LIQUID COOLER is an exception due to its mind-blowing performance.
If you want a high-performance AIO cooler that is capable of handling an overclocked i9 14900K, ARCTIC Liquid Freezer II 240 ARGB seems to be a nice consideration.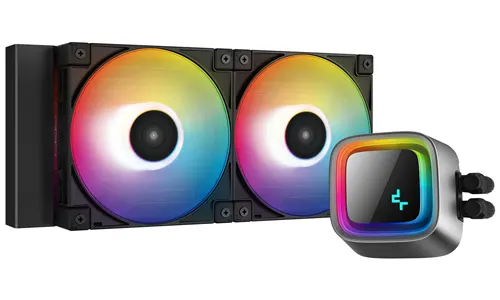 REASONS TO BUY
✓ Customizable graphics on the pump at a low price
✓ Enough performance to handle the i9 14900K
✓ Uses a high-performance pump with up to 3100 RPM
REASONS TO AVOID
✗ Pricey when taking performance into the equation
The last product we are reviewing in this article is DEEPCOOL LS520. DEEPCOOL has gained huge popularity in the past two or three years with its innovative cooling solutions. The company has gotten significant experience in manufacturing AIO coolers and DEEPCOOL LS520 is a fine example of that.
DEEPCOOL LS520 is a mid-range option for the i9 14900K that seems to provide satisfactory performance if you plan to mildly overclock the processor. The design of the cooler feels fantastic, with a silver-colored pump and thick RGB lighting. The Infinity Mirror pump is capable of projecting customizable graphics using light loops which makes the cooler a great alternative to the expensive LCD model AIO coolers on the market.
There are two FC120 A-RGB PWM fans in the box, which have an RPM range of 500 to 2250 MHZ. The airflow of the fans is 85.85 CFM, while the static air pressure is 3.27 mm H2O. The noise levels of the fans are pretty average and nothing that stands out in the crowd of aftermarket fans.
The thermal performance of the cooler puts it slightly lower than the ARCTIC Liquid Freezer II 240, which makes it a good alternative for someone who wants a better-looking AIO cooler Liquid Freezer 240 with close enough performance.
Conclusion
Selecting a compatible and suitable CPU cooler for a powerful processor is a challenging task. It depends on many factors including the TDP, case size, aesthetic design, CPU requirements, etc. For this reason, it might become an overwhelming feeling for many users. After all, you want to have the very best components in your PC when you are spending your time and money on researching, buying, and putting this PC of yours together.
To summarize, we compiled a list of CPU coolers that will be extremely suitable for the upcoming and highly sought-after processor, the Intel i9 14900K. We presented and explained six products to you with their in-detail features. We aim to help you in making an educated decision depending on the features, pros, and cons of various compatible processor coolers with thorough detail into each of their specifications. Anyhow, with this knowledge, you can pick a CPU cooler for yourself from the list without hesitation.
If you still aren't sure what component to pick, then we might have made your decision for you. According to these specifications and the downsides, upsides, and features of all these CPU coolers, we suggest that you go with the "CORSAIR iCUE H150i ELITE LCD XT". It is a highly commendable AIO cooler with a dazzling performance. Its only downside is that it's expensive but if you are going to buy a i9 14900K, which is going to be a flagship processor, then you should go for the best CPU cooler for i9 14900K.