CPU coolers are some of the most ignored components of a computer but only design-wise for obvious reasons.  The CPU cooler whether Air or Liquid keeps the CPU cool under full load otherwise the CPU would heat up – potentially going into a thermal throttling mode which is not favorable for consumers. Nowadays, a CPU cooler not only provides cooling to the CPU but also adds to the aesthetic value of your build too which is why choosing the right balance between performance and looks is very important. We have got the best CPU Cooler for Ryzen 5 5500 that are worth considering in 2023.
The Ryzen 5 5500 is one of the few budget chips that AMD released in Q1 of 22. The processor, like other 5000 series chips, is based on the same Zen 3 architecture and has the same 6C/12T configuration. An interesting thing to note here is that, on paper, the processor seems to perform quite similarly to the Ryzen 5 3600 and also has the same number of Boost and Base clocks which makes it a Ryzen 5 3600 rebranded on a newer architecture. Due to the decent price, the Ryzen 5 5500 is a good choice to consider for folks who are interested in building a budget rig with decent value-for-money components. 
Even though the processor comes with a Wraith Stealth cooler out of the box which keeps the CPU well within the safe temperature levels, however, still, if you're looking to make headroom for a potential upgrade or just want to make your build look better or OC the Ryzen 5 5500 and get a little extra out of it. Then in this regard, we have many budget choices to suggest which include Air coolers as well as AIOs. This article will surely help you out in choosing what's best according to your budget and need of the hour. So, let's kick things off without wasting more time!
How to choose a CPU cooler
In this brief guide, we will discuss with you what you need to know to make an informed decision when buying a CPU cooler for your Ryzen 5 5500 processor. Multiple factors come into play when you are purchasing your CPU cooler. These include your budget, options available in the market, your intended use, compatibility issues, and so on. We will consider these points in greater detail to help you make a more reasoned choice.
Budget
First things first. Your budget and usage are the most important factors that will dictate the kind of CPU cooler you can or should buy. These coolers come in a range of prices that is almost as wide as the variety of prices at which processors themselves come at. The cheapest CPU cooler can be had for roughly $50, while the cooler with the most advanced features from the most prestigious brand, such as Corsair, can retail for as high as $300.
Air Cooling vs. AIO Coolers
Next comes the types of coolers available in the market. Two of the most common options are air coolers and all-in-one coolers. Air coolers simply intake air and directly transfer CPU heat to the air via a heatsink and a small fan. 
In contrast, liquid coolers go the extra mile by transferring the CPU heat to a coolant that circulates via pipes around the system. At the opposite ends of this loop are a pump and a radiator. The pump circulates the liquid while the radiator transfers the heat the coolant absorbs into the air.
Each of these methods has its pros and cons. Let's look at each of them.
Liquid Cooling Pros and Cons
One of the most prominent advantages of using liquid coolers is that they are quieter and are thermally more efficient than air coolers. Even at very high CPU usage, these coolers barely make a sound while keeping CPU temperatures within safe limits. They are also more compact than air coolers since their weight is distributed around the system. This makes them especially suitable for efficient cooling in small form-factor systems.
Their main drawback, however, is that they are relatively more expensive than air coolers but do not offer as significant performance improvements as their increased price warrants. For low-power CPUs, they are often overkill since even air coolers can keep them operating just fine.
Air Cooling Pros and Cons
One of the most attractive aspects of using air coolers is their cheapness. A typical good-quality air cooler can cost $40-100. Air coolers are also relatively simple to install, maintain and replace (although installation for AiO coolers has also become relatively straightforward recently).
The areas where air coolers lag, however, are thermals and acoustics. Since air alone can carry very little heat, the fans of air coolers have to spin faster than liquid coolers to expel the same amount of heat. This increased pressure results in increased noise levels too. As a result, the tradeoff between thermals and acoustics is often stronger in air coolers than AiOs.
Your Specific Use Case
As mentioned earlier, besides your budget, the main deciding factor for your purchase will be what you use your PC for. If you primarily use your system for basic tasks like web browsing and watching movies, you need not buy an external cooling solution, air or liquid, since the included stock cooler should be able to meet your needs just fine.
However, if your workloads are heavy and you need your CPU to operate at maximum speed without overheating and throttling, you need to invest in an external cooler. To check whether you need one, you first need to check your CPU's TDP, which we discuss below.
TDP Rating
TDP stands for Thermal Design Power. It is the theoretical maximum amount of heat energy that your CPU needs to eject to operate properly at its peak performance. It would be best to find a CPU cooler designed for a TDP equal to or higher than the TDP of your CPU. Ideally, the TDP rating of the CPU cooler should be almost twice as high as your CPU's TDP to account for any deviations.
The Ryzen 5 5500 has a TDP of 65W which is considered relatively low power consumption, which is why it also comes with a stock cooler. However, stock coolers get noisy if you operate your CPU at full performance. If you are considering doing just that, you should consider buying an air cooler with a TDP rating of 100W or higher. One such CPU cooler is the be quiet! Pure Rock 2 Black, which costs around $45. With a TDP rating of 150W, it will more than meet your cooling needs while remaining whisper-quiet, something that be quiet! Is quite famous for.
CPU Socket
Once you have decided on your budget and have familiarized yourself with the options available in that budget, you need to make sure your CPU cooler can fit inside your system. To do so, companies specify the CPU socket types their coolers are compatible with. 
For example, if a cooler's description includes LGA 1700, it is compatible with all motherboards with which LGA 1700 processors (Intel 12th and 13th gen processors) are compatible.
The good thing about CPU coolers is that they are compatible with both Intel-based and AMD-based chipset motherboards. You just need to use the appropriate mounting brackets and follow the instructions in the user manual.
Clearance
Clearance is something that is determined both by your motherboard and your PC Case. Motherboards come in multiple sizes. They are Mini-ITX, Micro-ATX, and ATX in increasing order of size. If your motherboard is small, then it is possible that your CPU cooler might get obstructed by other components on your motherboard, such as RAM sticks or PCIe slots. 
The case size is also dictated by motherboard size. You need to ensure that the height of your CPU cooler is significantly lower than the width of your PC case. This needs to be stated on the CPU cooler spec sheet. Instead, you need to directly compare your CPU cooler's dimensions with your PC case's dimensions to check if it can fit inside your system.
Best CPU Cooler for Ryzen 5 5500 Summary
| Award | Image | Model | Price |
| --- | --- | --- | --- |
| Best Budget CPU Cooler for Ryzen 5 5500 | | Cooler Master Hyper 212 RGB Black Edition | See on Amazon |
| Best Mid-Range CPU Cooler for Ryzen 5 5500 | | ID-Cooling SE-914-XT ARGB | See on Amazon |
| Best Air Cooler CPU Cooler for Ryzen 5 5500 | | be quiet! Dark Rock Pro 4 | See on Amazon |
| Best White CPU Cooler for Ryzen 5 5500 | | DeepCool AS500 Plus WH | See on Amazon |
| Best High-End AIO CPU Cooler for Ryzen 5 5500 | | Arctic Liquid Freezer II 240 | See on Amazon |
| Best AIO CPU Cooler for Ryzen 5 5500 | | Cooler Master ML240L V2 RGB | See on Amazon |
Best CPU Cooler for Ryzen 5 5500 At a Glance:
Best CPU Cooler for Ryzen 5 5500 Reviews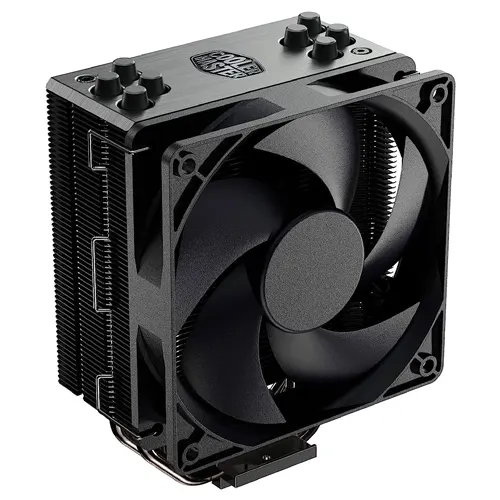 Best Budget CPU Cooler for Ryzen 5 5500
REASONS TO BUY
✓ Quite effective and worthwhile.
✓ No memory clearance problem.
✓ Compatible with the majority of sockets.
✓ ARGB Fan on the front.
✓ Decent size to fit in any case.
✓ Looks are another plus point.
✓ Compatible is high-profile memories.
REASONS TO AVOID
✗ Would struggle if you pair a much more powerful CPU.
Cooler Master Hyper 212 RGB Black Edition is one of the newer revisions of the long-running Hyper 212 cooler series and you can get your hands on this particular variant for a low low price of $49. This is highly affordable but also raises questions about its thermal performance and overall quality. The cooler comes in an all-black theme for a much sleeker look with a single RGB fan upfront unlike the two fans that we see on the LED Turbo.
The cooler has aluminum fins that are attached to four of the copper heat pipes which is the default configuration for the cooler. Also, not just the fins, but the whole cooler from top to bottom is wrapped in black color, and for the accessories, the cooler comes with an extra pair of brackets for a second fan as well as a 4-pin RGB controller. For the performance test, we mounted this best CPU cooler for Ryzen 5 5500 and used a rather cheap thermal paste for the testing to check how it stacks up in the worst possible conditions. 
The cooler kept the processor at around 47°C in an idle state and around 68°C (may vary due to different ambient temps and thermal paste) on full load without doing the manual OC on the processor. As it only has a single fan, it doesn't make any noticeable noise too which is good for the ones concerned with the noise levels of their build. The cooler justifies its price and can easily handle the Ryzen 5 5500 with some room for overclocking still left.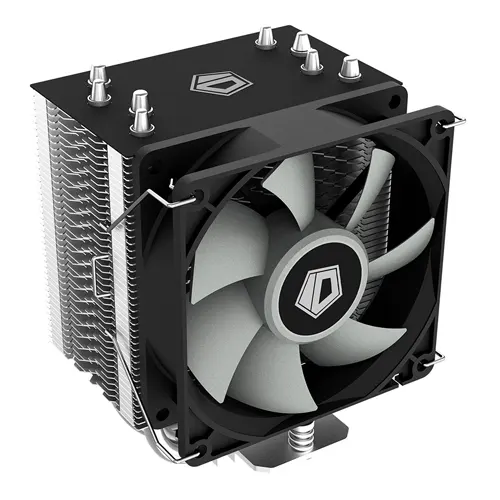 Best Mid-Range CPU Cooler for Ryzen 5 5500
REASONS TO BUY
✓ Steller ARGB implementation.
✓ 92mm size enables maximum RAM clearance.
✓ Performance is highly favorable.
✓ Robust quality and highly affordable.
✓ Thermal paste is already included.
REASONS TO AVOID
✗ Might cause high temperatures with stronger CPUs.
ID-Cooling SE-914-XT is another highly affordable air cooler that is worth buying for a processor like the Ryze 5 5500. The cooler offers great build quality and even more pleasing looks. It costs only $37 currently which is insane value for what it offers the consumer.
Specs-wise, the cooler boasts a 4 copper heat pipe design attached to a bunch of aluminum fins that are the size of a 92mm fan. This configuration is well within the requirements of a 65W TDP chip and can even hold a little bit of overclocking if you don't mind tinkering with the settings a little. To be sure, we tested the best CPU cooler for Ryzen 5 5500 and ran a few tests of our own to stress the CPU and to our surprise, the cooler kept the processor around 68-70°C on full load. As for idle temp, they were between 45-50°C which is excellent for the $37 price tag. 
The cooler as in the name, has an ARGB fan on the front that can be controlled via the already bundled controller to control the fan's RGB as well as the RGB available on the top of the cooler. Since the cooler is smaller in size, you won't have clearance issues with pairing taller memory modules. This cooler is a great choice especially if you're looking to build an mATX or iTX build because of its form factor. In the end, from our side, we will surely recommend this cooler for the Ryzen 5 5500/5600G kind of processor.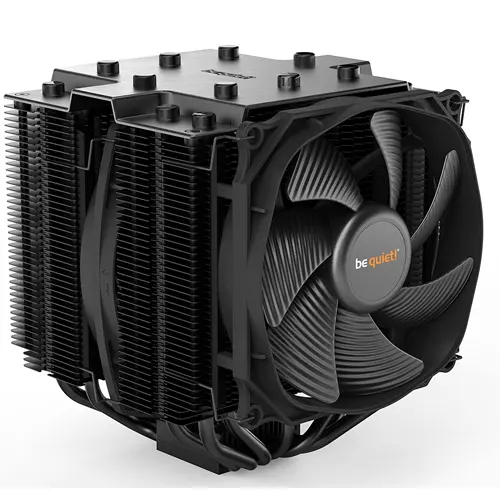 Best Air Cooler CPU Cooler for Ryzen 5 5500
REASONS TO BUY
✓ Excellent thermal performance.
✓ Premium build quality.
✓ Chunky yet well-built form factor.
✓ All-in-one installation package.
✓ Good price for what it offers.
✓ Sneaky design.
REASONS TO AVOID
✗ The installation isn't that easy.
✗ No RGB.
be quiet! has some great cooling solutions up their sleeves and the Dark Rock Pro 4 is surely one of them. Not much has changed design-wise over the Dark Rock Pro 3, however, the newer variant performs better as well as provides us with distinctive enough visuals. The cooler is from the slightly premium category and costs around $89 for possession.
The cooler works using 7 copper heat pipes that are attached to the quite wide fin stacks and can dissipate heat at a much faster rate. On top, the cooler has an aluminum top plate with brushed design and metal caps for the heat pipes, and two holes for mounting the cooler. It still has the 250W TDP capacity like the DRP3 but still outperforms the predecessor.  We tested the cooler with Ryzen 5 5500, and saw idle temps of around 38°C while on full load using AIDA64, we saw a peak of around 61°C which is much lower than the Hyper 212 and many AIOs.
This test was carried out using the stock fan curves which are pretty inaudible and goes to a maximum of 25-26dB. One of the reasons behind this is the use of the Silent Wings PWM fans. The cooler utilizes two of them for cooling, unlike the coolers we suggested above. All this tells us that we can without a doubt, use higher performing chips like the Ryzen 7 5800X3D with a cooler and wouldn't have to worry about temperatures because of the excellent performance that this boy delivers. Not just that, the cooler also comes with a be quiet! thermal paste as well as a long screwdriver so you can get started right away.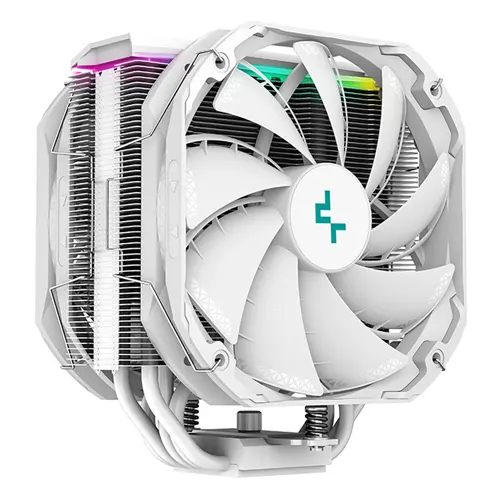 Best White CPU Cooler for Ryzen 5 5500
REASONS TO BUY
✓ Elegant design.
✓ Build quality is pretty superior.
✓ Has no RAM clearance issues.
✓ Minimal RGB looks great.
✓ Impressive thermal performance.
REASONS TO AVOID
✗ Slightly expensive.
DeepCool AS500 Plus is one of the premium air cooler offerings from DeepCool and it seems to target the likes of Dark Rock Pro 4 and Noctua NH-D15. The cooler comes in at around $80 which levels up the expectation bar. Fortunately, the cooler doesn't disappoint whether it's the aesthetics or the thermal performance. It keeps everything well-balanced and the variant we're discussing today is the white, you can also purchase it in black but that is totally up to you.
Looking at the specs, the cooler has a bigger-than-usual form factor like the Noctua NH-D15 because of the two 140mm fans – one on the front and one on the rear. Both of them are non-RGB and are custom designed by DeepCool to blend in nicely with the looks of the cooler. As for the core part, the cooler has 5 nickel-plated copper heat pipes that are effective enough to keep the temperatures within the limit. In our testing with the Ryzen 5 5500, we saw it going to a maximum of 67°C during the CineBench R23. 
This gives a nice idea about how it's going to run in your case because you might get slightly different results due to variance in chassis, airflow, and ambient temperatures. The cooler also has a small touch of RGB on top which can be controlled via the already-bundled controller or through any compatible RGB software on your PC.
Additionally, the cooler also doesn't create any problems in terms of memory clearance and is compatible with many of them. And with all that, this is yet another cooler that we would recommend pairing with the likes of the Ryzen 5 5500.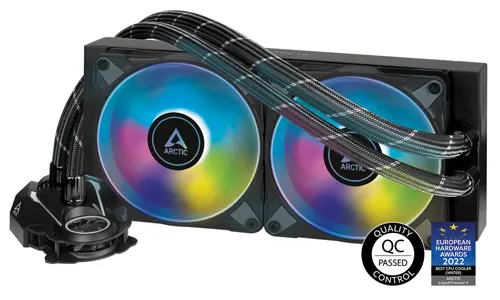 Best High-End AIO CPU Cooler for Ryzen 5 5500
REASONS TO BUY
✓ Impressive enough looks.
✓ Separate fan for VRM cooling.
✓ No problem with memory clearance.
✓ Thermal performance is exceptional.
✓ Includes Arctic's own thermal compound.
✓ Good price for AIO.
REASONS TO AVOID
✗ No RGB.
Arctic Liquid Freezer II 240 AIO is one of those liquid coolers that are highly affordable and effective. This boy right here costs only $99 and can give competition to many high-end coolers out there. The cooler is based on a 240mm size which means the radiator is big enough to accommodate 2x 120mm fans that can keep the processor much cooler than a 120mm AIO or even many air coolers. 
This Arctic cooler also has a separate fan on the pump block which is beneficial for the VRMs available on the motherboard. That fan can spin from 1000RPM to 3000RPM which is fast enough to create a noticeable difference in temperatures. As for the radiator fans, those are 120mm each and spin between 200 to 1800 RPM. Since it's an AIO, you can without a second thought use any memory kit in your motherboard no fan would be blocking the DIMM slot from above. 
Moving over to some real-time tests, we installed this AIO over the Ryzen 5 5500 and ran AIDA64 for a while. Which, in the end, gave us maximum temperatures of around 63- 65°C on full load. Do note though that the test was done on stock settings which boost the processor to only 4.2GHz. As for the noise level, those weren't really noticeable either until you ramp up the fans to their max speed from Auto.
This test is enough evidence that the AIO holds enough thermal power to cool down any high-end chip let alone this budget Ryzen 5 5500 and this is why the cooler is going into our recommendation list for sure.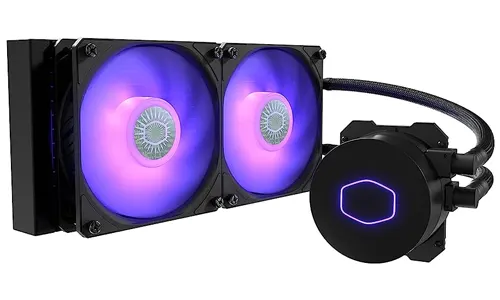 Best AIO CPU Cooler for Ryzen 5 5500
REASONS TO BUY
✓ Simple and appealing looks.
✓ No compromise on performance.
✓ Installation is fairly straightforward.
✓ Reasonable demand for a 240mm AIO.
✓ Good looking RGB lights.
REASONS TO AVOID
✗ A little loud.
Cooler Master ML240L V2 RGB is one of those coolers that do not promise any high-end performance or extremely appealing looks. This cooler costs around $91 currently and can get the job done without costing you a fortune. It's a great alternative over those highly expensive AIOs that costs over $200 yet do not offer any noticeable performance gains. This AIO has quite a simple design that tells it's only here for cooling down the chip with providing aesthetics to some degree. 
The AIO is built in quite a basic way as there's nothing fancy on it, it has a 240mm radiator with 2x 120mm CM sick flow fans installed that are ARGB. The pump is round-shaped and has a CM emblem over it that lits up with the same color the fans have. Cooler Master says that this cooler can withstand chips with 260W TDP which is common for AIOs. So, in our test of CineBench R23, we paired the cooler with Ryzen 5 5500 and ran the benchmark, and in the end, we got temperature readings of around 65°C maximum. 
These are some impressive results considering the price of the AIO, however, the fans can be a little noisy under full load but not too much noticeable if you're using headphones. Moreover, because the cooler is RGB, you can control the pump and fans' light from your computer. But this unit can only show one color at a time, unlike many newer AIOs that allow multiple colors to light up simultaneously. After considering the results and its tempting price, we're putting this one up on the recommended coolers list for the Ryzen 5 5500 and slightly higher chips.
Conclusion
Now that we're done with testing the best CPU cooler for Ryzen 5 5500, and telling you everything. We are confident enough that now you can make a wise decision in terms of your next cooler purchase. We have reviewed all coolers without manual overclock as we think that is the right parameter to test them out because the majority of the consumers wouldn't tinker with the settings at all. The last thing we are going to do here is specify the use cases and budgets so you can pick the right one for yourself. 
Starting with the cheapest of the bunch, if you're struggling with budget and can't afford the expensive coolers. In this situation, you can pick the Cooler Master Hyper 212 RGB Black Edition or ID-Cooling SE-914-XT ARGB for just under $50. These are one of the cheapest and most effective coolers out there and both provide adequate cooling and looks. In the same air cooling category but with a higher budget to get something premium. You can opt for the be quiet! Dark Rock Pro 4 or DeepCool AS500 Plus WH. Color scheme-wise, both are opposite of each other. The DRP4 offers all-black and the AS500 offers all-white color schemes. 
However, the price is quite similar as well as the thermal performance. The DeepCool cooler also features some RGB lighting on top which the DRP4 doesn't, so that's another difference between the two. In case you're thinking of getting an AIO for your build, the Arctic Liquid Freezer II 240 and Cooler Master ML240L V2 RGB are both great options that are affordable because of their under $100 price tag. Both AIOs perform pretty decent for their price and can even match some expensive AIOs from Corsair or other brands.
The only major difference between the two is the absence of RGB from the Arctic cooler available in the Cooler Master ML240L V2 RGB. So, if you're looking for an all-black non-RGB build, I would suggest you go with the Arctic Liquid Freezer II 240, and if the situation is the opposite then ML240L V2 RGB.