AMD's Ryzen 5 7600X is a gaming beast. It gives us more FPS while gaming than its competitor, the Intel i9 12900K, making it a great value-for-money gaming chip. The Ryzen 5 chips have always held a special place in a class of budget CPUs giving insane quality for a fraction of the market price. Even with the expensive shift to the AM5 platform, this chip gives you great playability for the price.
As one of Ryzen's mid-tier CPUs, you wouldn't expect it to need a specialized cooler at first glance. You'd think the stock cooler is good enough. However, with its 7000 series, Ryzen has designed all CPUs to boost upto 95 degrees, and you'll need a cooler to compensate for temperatures. This is the price for Ryzen's newest chip architecture. Although, that's not a huge problem since most of us upgrade from the stock cooler anyway. 
Without adequate cooling, the CPU slows down and could become permanently damaged. It also loses its lifespan. The Ryzen 5 7600X is a great budget CPU from Ryzen. However, the other AM5 upgrades, including expensive motherboards, DDR5 RAMs, and the necessary cooler, make even this budget CPU a huge financial upgrade from its AM4 predecessors. So to protect your valuable investment, you must choose a dependable cooler that fits your needs. 
When choosing your cooler, you must first decide if you want an air cooler or a closed-loop AIO liquid cooler. Both have their pros and cons, but price may be the greatest factor influencing your choice, as air coolers are significantly cheaper than AIO coolers. However, AIO coolers have more customization opportunities and are more trendy. Other things to consider while choosing the right cooler are RAM clearance, tower height or radiator size, aesthetic upgrades like RGB lighting or an LCD, and your budget. 
To help you with your decision, we've compiled a list of products of which one is the best CPU cooler for Ryzen 5 7600X for your specific build. We have both air coolers and appropriate AIO coolers in this buyer's guide for your perusal. Without further ado, here is our list of the best CPU cooler for Ryzen 5 7600X CPU.
How to Choose a CPU Cooler for Ryzen 5 7600X
Some things need to be taken into account while on a shopping spree for your new PC components. That indeed includes the CPU cooler as well, since we do not get one out of the box with the Ryzen 5 7600X.
Clearance
Making sure whether the awaited cooler would be the ideal choice in terms of thermal performance as well as its compatibility with the chassis and other components is a fundamental part of the whole buying process. This simple process can save you from some serious compatibility problems. 
Coolers now are launched in so many shapes and form factors, which does create some serious concerns about their compatibility. Especially when you're working with a compact-sized PC build like a mATX or a mini-ITX build in some instances. 
Both the PC chassis and CPU coolers come listed with the dimensions that they are compatible with. Rendering it to be a relatively hassle-free task to perform and to not run into trouble later down the line. 
Heat pipes
Now this is exclusive to air coolers only since liquid coolers employ a distinct approach to keep the CPU temperatures in check. The more the heat pipes, the better, however, that would also make the cooler more expensive as a whole. 
Copper heat pipes are responsible for absorbing the heat out of the CPU and then sharing it with the aluminum fin stack that dissipates it into the air with the help of cooling fans. Manufacturers offer their coolers with several heat pipes. 
Some iterations come with 4-5 heat pipes and some with 6 or 7. As far as the Ryzen 5 7600X is concerned, you should at least be looking at an air cooler with a beefy heat sink and a minimum of 5 heat pipe configurations. That's the bare minimum for such a powerful chip. 
Radiator Size
For those not specifically interested in settling up with an air cooler for their Ryzen 5 7600X-powered PC setups. And desires to opt for a liquid cooling solution that is a little more fancy. Well, the liquid coolers are quite distinct when you compare them with air coolers. 
You can't measure their cooling capabilities like air coolers and have to guess it by their radiator sizes. Liquid coolers come in various sizes, but the 240 mm radiator size is the least you could think of getting for the Ryzen 5 7600X. Of course, the performance will differ even between the same sized-coolers, but that's inevitable and relies heavily on build quality from manufacturers.
TDP
TDP is another term that relates to air coolers and matters a lot in determining their thermal capabilities. You see air coolers with too many TDPs, which means that each cooler serves a different category of processor with different power requirements. 
The TDP requirement for the Ryzen 5 7600X is 105W peak if we don't engage with its overclocking functionality at all. The 105W TDP also covers the boost clock, which the processor achieves when needed on its own. 
This is why, just to be on the safer side, get a cooler that is capable of handling the Ryzen 5 7600X even with the overclock. This gives you enough headroom and peace of mind that you do not have to replace it. In case you're going for an upgrade or simply trying to overclock the processor.
Audibility
Now let's talk about the noise levels these coolers actively contribute to, this may not seem like a big problem. But some people, especially if you're an audiophile, would prefer a much quieter PC. Inexpensive and not-so-great are usually the main cause of high noise levels inside a PC.
However, if somehow you end up with a cooler that rock fans capable of creating an F16-level noise. Then one thing you can do is to replace them with some quieter fans from the likes of Noctua or be quiet! only if the cooler itself is worth using with the Ryzen 5 7600X.
Otherwise, you're better off buying a cooler that is both quiet and high-performing to make the purchase worth it.
Budget
Finalizing the budget is a thing worthy of your attention, it is imperative to make up your mind on a specific budget that you're willing to spend on the component. Be it a CPU cooler or something else, you can't build a balanced PC without dividing the budget for each of the PC's components. 
Moreover, if we're going to use a Ryzen 5 7600X, and as far as its cooler's budget is concerned. We should be looking at somewhere between the $80-$160 price bracket. This is a handsome budget to procure a high-performance, decent CPU cooler for the likes of the Ryzen 5 7600X.
Best CPU Cooler for Ryzen 5 7600X Summary
Best CPU Cooler for Ryzen 5 7600X At a Glance:
Best CPU Cooler for Ryzen 5 7600X Reviews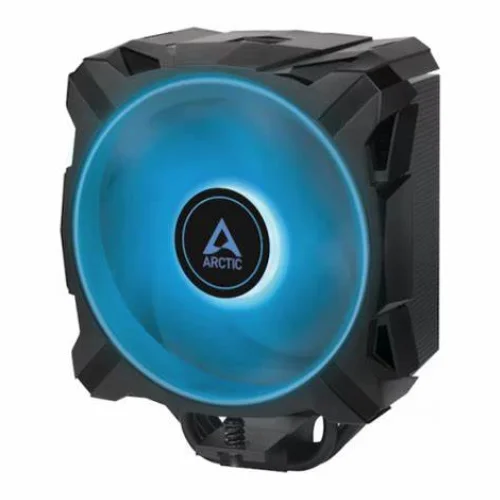 REASONS TO BUY
✓ Stunning ARGB lighting
✓ Straight out-of-the-box AM5 compatibility
✓ Superior cooling performance
REASONS TO AVOID
✗ Heatshield may cause rare clearance issues despite the small size
✗ Average VRM cooling
Arctic's A series of CPU air coolers are the first things that come to mind when thinking of budget-friendly bangers. They are the epitome of quality, affordability, and style. The Arctic always brings something special to the table, so let's take a closer look!
Of course, this CPU air cooler receives no less love than Arctic's AIO regarding its design. This CPU cooler features an impressive 120 mm fan with all the fine points of the Arctic's P12 pressure-optimized fans. With CPU air coolers, their finns create a certain degree of resistance, and the A35 combats that with a continuously focused high-static-pressure stream of air. 
You can rely on a smooth heat transfer between the chip and the cooler thanks to its four heat pipes and ARCTIC's Ultimate Performance thermal paste. Despite this impressive airflow, the lack of noise it produces puts it equal to the Noctua NH-D15 regarding auditory performance but blows it out of the water when it comes to cooling performance.  
Unlike older AM4 CPU air coolers, this CPU air cooler comes with guaranteed AM5 compatibility. Its small form factor makes it ideal for smaller builds and tall RAMs. We can confidently say that this AM4/AM5 air cooler is the most compatible with different types of builds among its direct competitors. 
While there are plainer options in this series, the A35 ARGB comes with a black heatsink casing, giving it a more refined look and additional heat dissipation. The fan is a fluid dynamic bearing ARGB fan. You lose no fan performance choosing the ARGB version over the plain version. The heatsink dissipates heat and hides more visually boring aspects of CPU air coolers while improving air pressure, reducing sound, and looking great. The ARGB isn't only visually pleasing, but it's easy to connect to via 3-pin RGB cables. 
For the price, you're getting too much to ignore all at once with this affordably priced air cooler. Not only is this one of the best-looking options on our list, but it has incredibly high performance with negligible sound, which is great overall.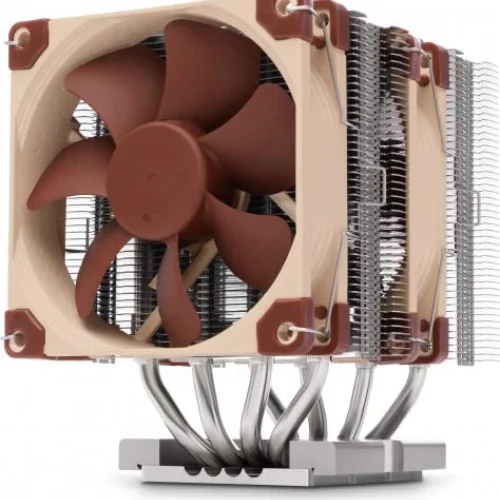 REASONS TO BUY
✓ Dual tower and dual fan
✓ Extremely low noise
✓ Six heat pipes
REASONS TO AVOID
✗ No RGB
✗ Large size
While the Noctua NH-D15 Gen 2 has already debuted, it won't hit markets until the second quarter of 2024. Until then, the original is also a solid option to consider if you're interested in an air cooler. Noctua is known for its attention to detail and quality products. 
This dual-tower double-fan CPU cooler has been around since 2014, and it's still loved by PC enthusiasts worldwide. As the pioneers of the double tower design, Noctua worked hard to perfect this cooler, and now they are about to release an even better version. Both fin towers are made of high-quality aluminum, and the six heat pipes conducting heat from the CPU are made from even more conductive copper
Noctua is known for keeping your system both cool and quiet. Each fan can run as fast as 1500 RPM. That would be low on its own, but with both working together, you can expect a highly impressive result while maintaining low noise levels between 6 -26 dBA.  
This Noctua fan's cream and brown colors have an iconic, nostalgic flair, making this fan instantly recognizable. However, pure black versions are also available if you want the cooler to match the rest of your PC components, coming predominantly in black. This CPU cooler is a big one, and it offers standard RAM clearance. It might not be ideal for small form factor builds.
From the top, it looks plain with no intentional style elements. Without RGB, there's nothing to make this CPU cooler visually stimulating. However, if you are utilitarian at heart, you'll appreciate its simple looks and value its performance more. 
When discussing CPU air coolers, this cooler is well worth its price. It offers top-tier features for a mid-tear price. The quality and ingenuity of its design make it a worth it purchase. While it's a great option, we can't wait for the Noctua NH-D15 Gen 2 to show up.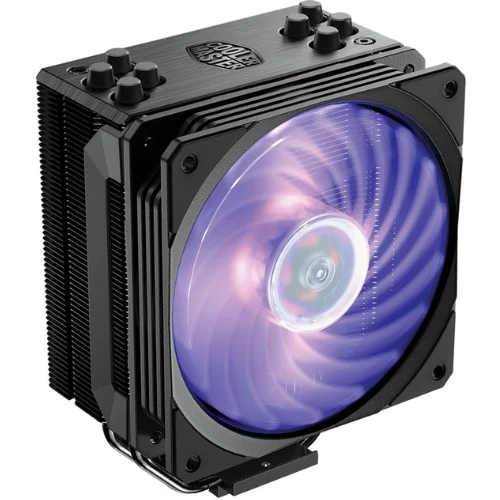 REASONS TO BUY
✓ Affordable
✓ Easy installation
✓ RGB Fan
REASONS TO AVOID
✗ Needs a second fan bought separately
✗ Not suitable for heavy loads
Cooler Master's Hyper 212 has remained a fan favorite for many years, and it's by no means out of the game. You can use it for AMD's AM5 CPUs, like the Ryzen 5 7600X. You know you can count on Cooler Master for a quality computer cooling solution. Let's explore this tower cooler. Cooling capacity
This cooler features a single-fan tower design. The fan may be working alone, but it is a force to be reckoned with. It can run as fast as 2000 RPM, give or take 10%. The cooler consists of four direct contact heat pipes to efficiently conduct heat from the CPU chip, a stacked fin array heatsink to facilitate heat dissipation, and a fan to cool everything faster. The finned are stacked in a strategic way to increase the surface area of the heatsink while not stopping the flow of air at all. 
The fan works great on its own, but we recommend adding a secondary fan in a push-and-pull configuration to cool your CPU more effectively. A good thing to note is that even considering the price of an additional fan, the cooler is a great budget option. It's capable of providing 2.1 mmH2O of air pressure while remaining silent like an assassin between 8 -30 dBA. 
Understanding that installing and removing CPU coolers feel like such a hassle, the Hyper 212 comes with an intuitive snap-in fan bracket design, making installation a breeze. Since CPU air coolers are most efficient when they are free from dust, this makes removal for cleaning easier. 
Aesthetically we are pleased with the black anodized aluminum body with a brushed aluminum finish. The finishing gives it a refined, intentionally stylized look resembling black denim. On top, we can see the Cooler Master logo and circular decoration above and below it. While the overall CPU cooler looks cool, the real magic is felt when it starts running. 
The RGB fan comes with an RGB controller if you don't have an RGB-ready motherboard. By customizing the light's color and effects, you can make your PC reflect your personality. You can also control everything from the fan and pump speed to what shows up on the LCD in one convenient place, MSI Center.
To sum everything up, this is a great air cooler if you want something sturdy and affordable with RGB lighting. If you aren't going to be pushing your CPU too far, this is a great upgrade from the stock fan.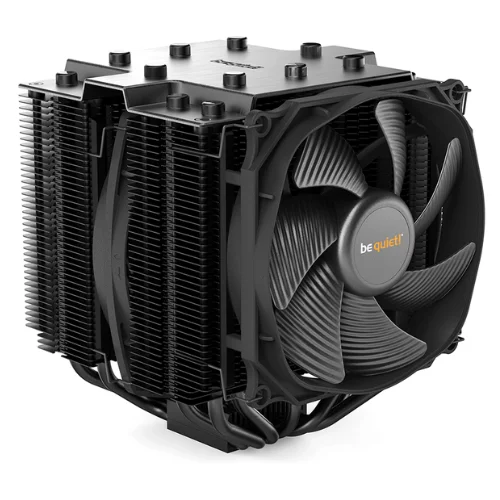 REASONS TO BUY
✓ Dual Tower design
✓ Optional triple fan configuration
✓ Silent
✓ Seven Heat Pipes
REASONS TO AVOID
✗ Large size
✗ No RGB
The last air cooler on our list is definitely a banger! Introducing the Dark Rock Pro 4 from Be Quite, a stylish dual tower air cooler with both cooling and auditory performance perfection. 
As a dual tower cooler, this is one of the more powerful air coolers around. Both aluminum heatsinks are optimized for heat dissipation and airflow. Not only are the fines strategically placed, but they have holes in them for better airflow. Two fans come pre-installed, but you can go ahead and add even a third 120 mm fan if the room, in your case, allows for it. With seven 6mm heat pipes, It can efficiently collect heat from the CPU and transfer it to the ample fined heatsinks, which are cooled by two and possibly three fans. Regarding cooling capacity, this one is a dependable air cooler that will tame your PC well. 
This cooler isn't quite just by name. It has an incredible performance-to-silence ratio, handling loads as large as 250W TDP while remaining whisper is silent. You can rest assured that you won't be disturbed even when overclocking your PC. While it's a large cooler, it has strategic cutouts to ensure ample ram clearance. As an air cooler, it can cool the VRM, M.02 slots, and other sensitive equipment around the CPU without even trying. 
As the name suggests, the Dark Rock is fully blacked out for an edgy industrial look. The Be quiet! logo can be seen in the center of each fan with a pop of orange font. The top is brushed with aluminum for added style, and even the brackets you install it with are black, going for an all-black look. If you have a black motherboard, this foreboding piece of machinery will look cool, blending in the background. You get all these high-end cooler features at a reasonable price, making this a great value-for-money purchase.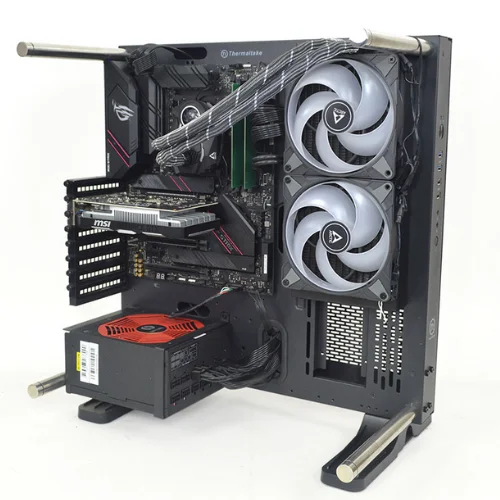 REASONS TO BUY
✓ VRM fan
✓ A-RGB lights
✓ Proprietary pump
REASONS TO AVOID
✗ No cooling block lighting
✗ No LCD
Arctic's CPU air cooler was impressive, but the Liquid Freezer series is legendary. If you want an AIO that can take the heat during heavy loads for extended periods of time. The Liquid Freezer two marries quality and ingenuity with style. 
While the Liquid Freezer II comes in a triple fan 360mm version, we believe the dual fan 280 mm version is more than enough to keep your Ryzen 5 7600X tame. As we know, the Arctic P series fans are optimized for increased static pressure. Both radiator fans can reach upto 1900 RPM, providing 2 mm H2O of static pressure and 68.9 cfm airflow. 
The cold plate has been optimized for offset mounting on Ryzen chips specifically. The Chips modular design creates a hot spot, and the Arctic Liquid Freezer II's multi-finned copper cold plate aligns with the hot spot centered, cooling it faster. 
With AM5 and expensive DDR5 RAM and M.02 slots, you want to ensure the VRAM is adequately cooled, not just the CPU. While air coolers can accomplish that without fuss, AIOs only cool the chip their cold plate comes in contact with. The Liquid Freezer II solves that problem with its ingenious VRM fan mounted on the cooling block, providing 360 degrees of airflow to the components surrounding the CPU. 
Another thing to consider is while most AIOs use Asetek pumps, Arctic uses its own proprietary pump technology. The latest generation of Arctic's PWM-controlled pumps is optimized for faster speeds and quieter performance. 
Aesthetically, the cooling block combines style elements from German sports cars and sci-fi technology while displaying their prized VRM fan. The radiator fans come with and without customizable ARGB lighting. There is a negligible performance trade-off with the lit fans. So far, this cooler is a win if you desire performance and style. 
It comes with an ARGB controller if your motherboard can't handle RGB connectivity. However, to ensure the best cooling performance, ensure that it supports PWM profiles for the cooling pump. This is one of the most highly recommended coolers on our list and worth every penny of its moderate to high price.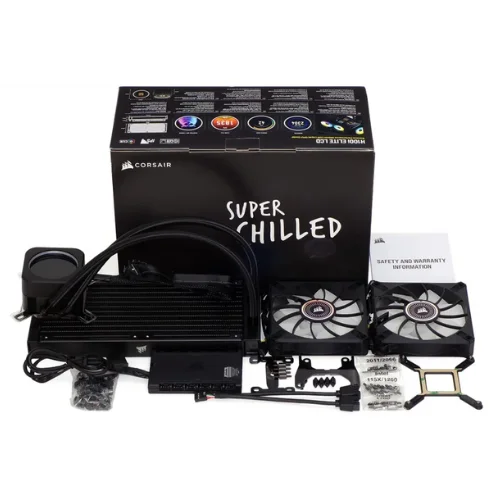 REASONS TO BUY
✓ LCD screen
✓ RGB lights
✓ Can control additional fans
REASONS TO AVOID
✗ No VRM fan
✗ Expensive
Corsair is a pretty big name in the PC peripheral world, so it's no surprise their coolers made it on the list. The iCUE H100i LCD is a great CPU cooler with the right balance of style and functionality. Let's dive right in and get a closer look at it.
To start off, this CPU cooler bears two CORSAIR ML RGB ELITE magnetic levitation fans. The magnetic bearings mean less friction and, therefore, less noise, along with a longer lifespan than traditional bearing fans. Each fan has eight RGB LEDs for more freedom in customizing colors and effects. 
The fans are capable of speeds upto RPM 2000 RPM. With two of these bad boys, you can easily tame mid-tier CPUs like the Ryzen 5 7600X. Another cool thing is that the CPU cooler comes with a six RGB fan controller. That means you can add upto four additional CORSAIR ML RGB ELITE fans to your build, turning your plain case into a smart one. Not only that, but they are designed to shut off once the CPU is cool enough for complete silence whenever possible. 
The cooling block has the latest Asetek pump and features an IPS LCD display. The 2.1-inch display can be used to showcase your favorite picture, animated GIF, or even monitor hardware. Another thing that makes Corsair's cooling block unique is its split-flow copper cold plate. The cold plate has 128 micro-skived fins per inch to ensure seamless heat transfer from the hot chip. 
 With their iCUE software, Corsair gently nudges users to get several of their components on a build to sync them all together. Using the software, you can not only sync your circular LCD screen with both the radiator fans or the additional four fans attached to the AIO fan header, but you can also sync it with any other RGB-enabled Corsair hardware like the graphics card or RAM for an entirely synced smart set-up. So if you have any other Corsair peripherals, this cooler is a great idea. 
This AIO CPU cooler is a great choice if you want reliable technology and love customizable RGB lights. If you feel like this is out of your budget, you can find models without the screen as well. Overall, this is a great choice for a closed-loop liquid CPU cooler so you can game or run heavy media-related software without any worries.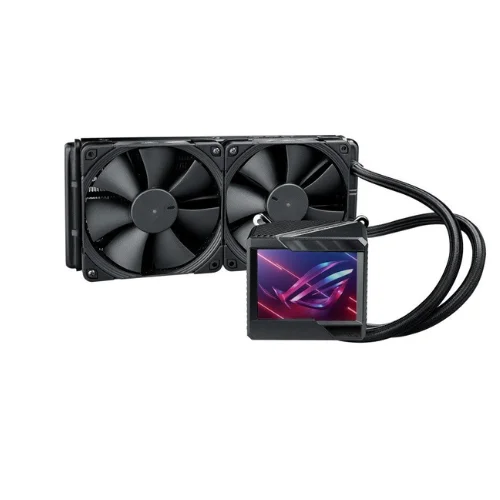 REASONS TO BUY
✓ VRM fan
✓ LCD Screen
✓ A-RGB fans
REASONS TO AVOID
✗ Expensive
Can a list of computer components be complete without mentioning our buddy ASUS? The ROG RYUJIN II series is incredibly popular. Let's see what all the hype's about. 
The ROG RYUJIN II series features two of ASUS's ROG AF 12S ARGB fans capable of running at 2200 RPMs which is insane. The fans can provide a staggering 3.88 mm H2O air pressure and 70.07 CFM of airflow. Just by the numbers alone, we can see these fans are impressive; their performance makes it hard to believe they light up too!
Pump-wise, we've got the latest seventh-generation Asetek pump technology, but that isn't all for the cooling block. It also has an embedded fan to cool the VRM and M.02 slots, a growing necessity with the AM5 platform. This way, you can invest in superior CPU cooling with an AIO without compromising cooling the VRM and surrounding components. 
If you thought that was all, you're mistaken. The cooling block also features the height of fashion in CPU coolers nowadays, an LCD screen. At 3.5 inches, this is one of the biggest on the market. If you have a screen to play custom animations or monitor system hardware and software with the one-year free AIDA 64 Extreme subscription, you get your brand new ASUS ROG RYUJIN II 240 mm AIO CPU cooler. This cooler comes with an AIO fan controller capable of connecting upto four PWM fans and four RGB connections for those fans. That means you can add two more RGB fans to your build.
So far, this AIO CPU cooler lives up to being an "All-in-one" cooler as it offers us all the popular trends in the CPU cooler market, including VRM fans, A-RGB lights, and an LCD. This cooler is the best choice for both style and performance but at a price. Its presence will make your system the envy of all your friends and peers if you can afford it.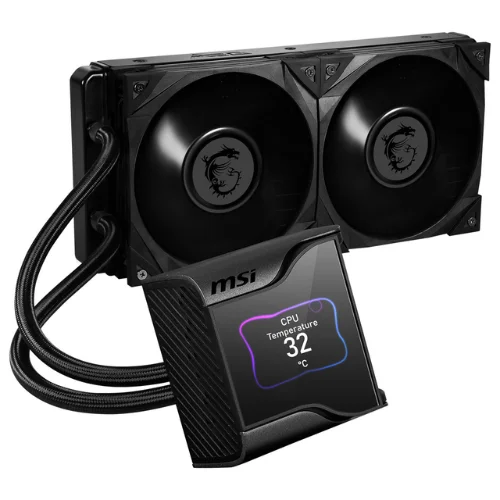 REASONS TO BUY
✓ LCD
✓ VRM fan
✓ Super silent
REASONS TO AVOID
✗ No RGB
✗ Expensive
We know and love MSI for their motherboards, laptops, and graphic cards, so of course, we'll love their AIO CPU coolers too! The MAG CoreLiquid claims to be the most silent cooler on the market. Let's find out if that's true. 
This is a dual fan AIO cooler featuring MSI's pride, the MEG SILENT GALE P12 140 mm fans. These fans can reach impressive speeds, providing an equally impressive 82.27 CFM airflow. The fans are modified for static airflow, which is more efficient for cooling. These ninja silent fans are built to last with about 50,000 hours of expected lifetime. If you plan to game for days on end, their not going to let you down. 
This CPU cooler uses seventh-generation Asetek pump technology and also has its own LCD. The PWM-controlled pump can reach up to 2800 RPM. With that speed, the cooled water cycles the loop faster, cooling your CPU faster. This cooling block is not all show and no tell. It hides an embedded VRM fan to cool components around the CPU, like the M.02 slot along with the CPU, completely diminishing the need to rely on an air cooler in its place. When MSI tells you that you can't hear this cooler coming, they aren't lying. The fans make virtually no noise. You'll only be able to hear the pump, and if you close the panel of your case, you won't even hear that. If fan noise pisses you off, this is the remedy. 
Aesthetically, we are given new liberties with the IPS display at our disposal. We can play our favorite images or animated GIFs or view system diagnostics from within the PC's glass panel. Monitoring hardware with style will appeal to many users who constantly check their system stats. Unfortunately, the MEG SILENT GALE P12 fans aren't RGB enabled. However, that's not that huge a bummer since we have the screen to help make your PC match your personality. 
If you don't care for RGB lights and appreciate the silence and ingenuity of the fan's design, this CPU cooler is the one for you! In fact, if your budget doesn't constrain you, you may as well get the full 360mm triple fan version for even more cooling potential.
Conclusion
That was our list of the best CPU cooler for Ryzen 5 7600X. Most coolers can easily tame 95 degrees, so you can rest assured all the coolers in this list are compatible with your new Ryzen 5 7600X. Even the air coolers are great for overclocking; however, if you're going to run your chip on high loads constantly, you might want to go for an AIO cooler. 
The cooler you choose will depend on the form factor of your motherboard and case, the height of your rams, and your overall budget. If you're looking for great features at an even greater price, we recommend seriously considering the Noctua NH D-15 or the Be Quite! Dark Rock Pro 4. They are the best of their class as dual tower multiple fan air coolers. 
However, if you've got an ample budget and want something flashy, try going for an AIO cooler with RGB lights or even an LCD screen. If you're going the AIO route, we recommend going with one that has an embedded VRM fan to cool components around the CPU, as AM5's M.02 slots are known to get a little warm. 
If you're not sure which one to choose, we highly recommend the Corsair H100i Elite; it comes with your choice of Capellix lighting or an LCD on the cooling block, has two super silent and powerful fans, and a plethora of cool features thanks to its iCUE software. While it doesn't have a VRM fan, you can add four additional RGB fans to its AIO fan controller and turn your case into a chilled one, cooling the VRM and most other components at once. However, if you want the screen, RGB fans, superior auditory and thermal performance, along with a VRM fan, you can consider the ASUS ROG RYUJIN II 240 ARGB.