AMD has always catered to the needs of the budget gamer, and they proved that yet again with the release of the Gen 3 Ryzen 5 5600G in early 2021. A good motherboard can get you a lot of performance out of this budget processor that's why we've picked the Best Graphics Card for Ryzen 5 5600G for you in 2023.
The Ryzen 5 5600G is great for running non-gaming tasks involving processor-heavy applications like Photoshop or premiere pro, but let's be real, this thing was built from the ground up with gamers in mind.
While any discrete GPU, even a couple of generations older, combined with a second-hand processor, could out-perform the APU alone in modern AAA Games. This technology is perfect for gamers who want to wait out the GPU drought, do not wish to buy second-hand gear or require a scalable gaming solution with plans to upgrade soon.
 As AMD promised, it provides a spectacular performance running popular games like Dota 2, Fortnight, Counter-Strike: Global Offensive, League of Legends, and F1 2020 at high FPS rates on its iGPU alone using its advanced Vega architecture. That performance alone leaves similarly priced Intel CPUs like the Intel Core i7 11700 dead in the water.
However, for hardcore gaming enthusiasts with modern AAA games on their minds, running it in tandem with a graphics card will create an unbeatable gaming experience. If you're looking to make that upgrade, you've come to the right place!
Choosing the right GPU to pair with this processor is a tough choice. However, this buyer's guide will contain all the information necessary to turn your PC into the high-performance beast you deserve. Without much ado, let's get into it.
Best Graphics Card for Ryzen 5 5600G Summary
Best Graphics Card for Ryzen 5 5600G At a Glance:
Best Graphics Card for Ryzen 5 5600G Reviews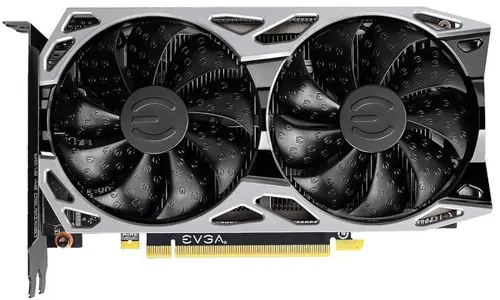 REASONS TO BUY
✓ Solid 1080p gaming performance
✓ Compact design
✓ Dual Fan Cooling
✓ Economical Price
REASONS TO AVOID
✗ Cannot run 1440p games well
✗ Lack of Ray Tracing Support
Let's start strong with one of the most budget-friendly options, a mid-range card from the NVIDA's Turing architecture lineup, the EVGA GeForce GTX 1650 Super SC Ultra Gaming. Gamers who are using the 5600G as a stopgap while waiting to buy a graphic card might want a card they can save up for quickly. In that case, this is a great upgrade enabling you to play most modern games on more playable refresh rates on medium to high graphic settings without breaking the bank.
Its price-to-performance ratio is impressive as a huge improvement on its predecessor, the GTX 1650. It features 1280 CUDA cores, 4 GBs of GDDR6 memory, and a 1755MHz boost clock speed. Its revolutionary Turing Architecture allows you to immerse in the game due to features like:
Ray Tracing for better lighting and shadows
Faster GDDR6 memory for higher-resolution gaming
Tensor Cores for better image quality
Variable Rate Shading for better allocation of image rendering
All these features are available in a compact design that can fit inside most setups, including a home theatre gaming console. The card boasts a dual fan design with 80mm to 90 mm two axial fans working together to drive heat to the aluminum heat sink. The fans have customizable fan speed and curve settings giving you complete control of their performance and noise.
Aesthetically, at first glance, it's much better than its chunkier predecessor. As far as overclocking goes, it's been known to provide substantially enhanced performance through various methods implemented by gamers. As a cheaper card, you may be more likely to overclock it with less guilt. At the price, it does not come with any integrated RGB lighting, however.
Combining the GTX 1650 Super SC Ultra Gaming with the Ryzen 5 5600G will give you a significant performance boost, and you can play most modern games at decent refresh rates. Overall, a prudent option for penny-pinching gamers to make AAA games playable on 1080p screens.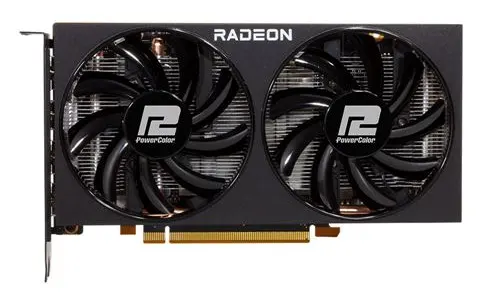 REASONS TO BUY
✓ Supports Ray Tracing
✓ Good for all titles on 1080p and some on 1440p
✓ Compact design, less noise
✓ Good temperature
✓ Affordable mid-range card
REASONS TO AVOID
✗ Sufficient but less impressive cooler
✗ No backplate
✗ No factory overclock
✗ Limited supply
AMD always comes out with something that shakes the mid-range graphic card market. Let's review PowerColor Fighter AMD Radeon RX 6600 Graphics Card balancing budget and performance like never before.
While it does not have some features like dedicated AI-based technology like the EVGA GeForce GTX 1650 Super SC Ultra Gaming, it's still able to perform better because it's more powerful.
It has twice the GDDR6 memory, 8GB to be exact, enabling better image quality and more realistic rendering. Based on AMD's RDNA 2 Architecture, the card has an improved compute unit design and can achieve higher clocking speeds. Empowered with AMD's infinity cache, the card improves bandwidth frequency and reduces memory latency at once for quicker performance. 
The PowerColor Fighter AMD Radeon RX 6600 is equipped with FidelityFX Super Resolution or FSR. This is responsible for converting low-quality images into high-resolution ones in real time, making you run games on higher refresh rates without sacrificing visual quality. With Ray Tracing and Variable Rate Shading, you can feel like you've been sucked into the game while playing due to such realistic renders. 
If you choose to pair this AMD card with AMD Ryzen 5 5600G, you can take advantage of its Smart Access Memory, or SAM for short. SAM allows the CPU to directly access all the GPU memory, dramatically reducing memory latency. 
Aesthetically, the card doesn't light up or have any fancy trimmings. It's a dual-slot design with dual axial fans with an aluminum heatsink but no back plate. This card is the best on the market for 1080p gaming but can also support most titles in medium to high settings on a 1440p resolution. So if you are planning to upgrade your monitor, you'd still be able to run most of your games with this APU and GPU combination. 
If you want an impressive and moderately cost-effective GPU from AMD so you can take advantage of the architectural compatibility it has with the Ryzen 5 5600G, then the PowerColor Fighter AMD Radeon RX 6600 Graphics Card is a great idea.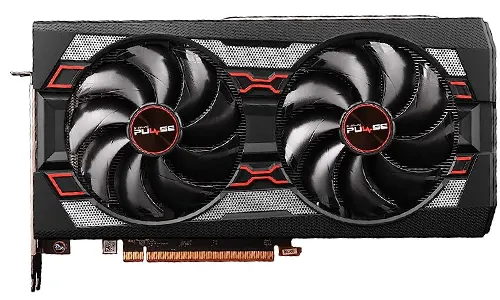 REASONS TO BUY
✓ The best price-to-performance ratio in the price range
✓ Efficient cooling systems
✓ Radeon boost and anti-lag for smooth, high-resolution visuals
REASONS TO AVOID
✗ Not that impressive Ray Tracing capabilities
NVIDIA currently saturated its market with four graphic cards aimed at 1080p users. However, this card from AMD beats them all at a lower price point. If you want a card to make your PC an absolute beast, this card is perfect for running all titles in 1080p and most titles with medium to high settings in 1440p. 
SAPPHIRE  Radeon Pulse RX 5600 XT has 6GBs of GDDR6 memory, 192-bit bus width, an ADM Navi 10 processor with 2304 cores, and is capable of 1750 MHzn boost clock speed. When it comes to raw performance-to-price ratios, the Radeon pulse blows its competing NVIDIA cards out of the water with higher FPS rates and better visuals. Surprisingly it also performs better than some more expensive cards in the competition.
Equipped with Ray tracing and Deep Learning Super Sampling for more immersive lighting rendering, making the game much more enjoyable to play. However, when it comes to ray tracing optimization, it does not match NVIDIA. 
Choosing this card means you're prioritizing raw performance over ray tracing. However, it is equipped with new software enhancements, including a Radeon boost to compete with cards better optimized for ray tracing.
This, combined with Radeon anti-lag capabilities, produces stunning performance and that makes us to put it on best graphics card for Ryzen 5 5600G list.
Its powerful GPU, ample memory, VR headset compatibility, VR optimization, and VR Certification ensure that it is perfect for a smooth VR gaming or content-creating experience. 
After NVIDIA lowered the price of its RTX 2060, AMD released a V-bios update to all its aftermarket partners. This card already performs amazing out of the box, but after the update, it completely smashes all competition in its current price range. 
Together all these cooling features are successful at maintaining stable temperatures with minimal noise. The Dual-X fans work together to blow heat away from sensitive circuitry towards the heatsink; heat pipes are in direct contact with the GPU, also moving heat to the heatsink. The heatsink is composed of several fins that are more efficient at dissipating heat. While the back plate provides structural integrity, it also functions in reducing temperature. 
Overall, this mid-range offering from SAPHIRE destroys its competition with this compact, noiseless pure, performance monster. It also looks the part aesthetically with a clean geometric design featuring grey and red details on a black card. This is great for beginner 1080p gamers looking to upgrade to a 1440p screen later on. You can run a decent amount of ray tracing without relying on a more expensive NVIDIA card.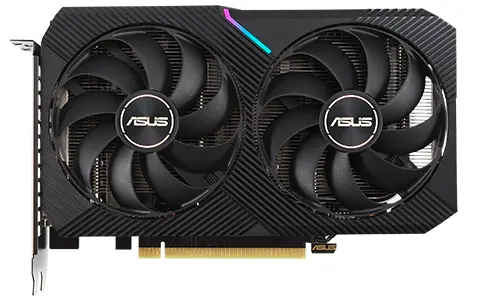 REASONS TO BUY
✓ Good Ray Tracing for Price
✓ DLSS
✓ Boosted Factory Overclock
✓ More economical than RTX 2050 and RTX 3060
✓ Impressive memory
REASONS TO AVOID
✗ Much more expensive than the last generation 50 series card
If you're in the market for a GPU with 8GB GDDR6 Memory offering Ray Tracing and DLSS, you've found it. 
This is the first time NVIDIA has put RTX in a 50 series card, making things a lot more interesting. ASUS brings us a compact card with a GA106 Processor with 2560 cores and a 128-bit bus width. Now it's time to answer the question on everyone's mind. How great can a 50 series card equipped with Ray Tracing be? Regarding stats, this card is pretty similar to the Rx 6600 with slower clock speeds, a 1550MHz base clock, and 1807MHz boost clock speeds. 
Compared to its predecessors, it's a completely different league, confusing the market. With 80 tensor cores helping with Ray Tracing, get ready to get lost in epically rendered visuals. Along with AMD Ryzen 5 5600, its FPS is nearly doubled. The 2-slot compact GPU also boasts two Axial-Tech fans with longer blades and increased downward pressure capabilities to push heat to the heatsink. 
You can get superior playability with this card on all titles in an incredible price bracket. So why not go with one of the most popular card manufacturers out there?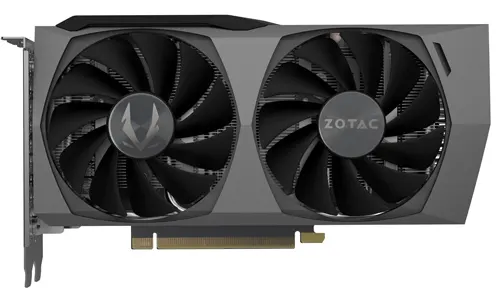 REASONS TO BUY
✓ 5-year warranty
✓ Silent Gaming
✓ Impressive Performance at Price
REASONS TO AVOID
✗ Consumes a lot of power
✗ Small Factory overclock
If you're looking for an economical and compact graphic card that can provide Ray Tracing on all AAA Game titles at 1440p, then brace yourself for this monster. The ZOTAC GAMING GeForce RTX 3060 Ti Twin Edge is equipped with a GA104 graphics processor with a whopping 4864 cores, 8GB GDDR6 Memory, with 256-bit bus width.
NVIDIA claims that this card beats its $700 predecessor and is designed to be used in the same situations. If that's true, then what a time it is to be a gamer! The card has NVIDIA's GeForce Ampere architecture with 2nd generation RTX technology. The best choice for the true Ray Tracing enthusiast. If you want to lose yourself in the beautifully rendered game, this is the card for you. Not only can it run all titles on 1440p, but you can also run e-sports games on incredibly high refresh rates on 1080p for competitive gamers. 
With this GPU, you get more than just a bang for your buck; you get a whole explosion since this card is compatible with 4k technology. With GPUs advancing at an incredible pace, who knows what we'll see from NVIDIA next? 
The compact card is nearly noiseless even though it has two powerful axial fans and a back plate for a structurally sound graphic card with good temperatures. It doesn't have any RGB lights or frills, but at the end of the day, you're staring at a screen, not through your PC glass all day. 
In today's tumultuous gaming markets, if you want a 2k ray tracing experience, this is the one for you! Don't miss out on this all-rounder offering from ASUS allowing you to upgrade your set-up with time. With a budget-friendly processor, this graphics card can give you enough performance that's why we've put this on the best graphics card for Ryzen 5 5600G list.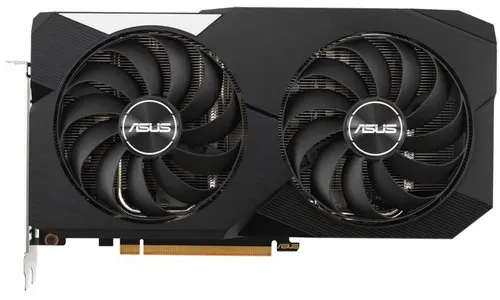 REASONS TO BUY
✓ Excellent 1080p performance
✓ Low Power
✓ Reasonably affordable compared to the competition
REASONS TO AVOID
✗ Playable on limited titles at 1440p
Another midrange RDNA2 card to team up with your Ryzen 5 5600G to create the ultimate beginner gaming experience. The ASUS Dual AMD Radeon RX 6600 Graphics Card is equipped with 1792 stream processors and 28 compute units and 32 MB of Infinity Cache. 
This card is a cut-down version of the RDNA 2; you could fit four of them in a 3800 XT with room to spare. Compared to the 5700XT and the NVIDIA 3060 Ti, this GPU is much improved and pretty close to NVIDIA's stats.
As a compact card, it features two axial-tech 80 mm to 100 mm fans that efficiently blow any heat produced in the GPU to the heatsink. The fans automatically shut down when the GPU reaches temps lower than 52 degrees Celsius for quieter gaming, and the dual ball fan bearings ensure the fans last longer. The card does not compromise on cooling or noise with its smaller size. The card has a back plate and a stainless steel mounting plate making it structurally very strong. The back plate has a GPU bracket to further improve cooling and distribute pressure equally. 
This card is very capable of playing titles on 1440p even though it's only advertised for 1080p screens. If you like to control every aspect of your GPU, ASUS has you covered. The TWEAK II technology allows you to control everything down to the voltage, memory frequency, and core clocks. Enabled with the most up to date in card Radeon software, the card has features like Radeon boost, anti-lag, and more to make your favorite games run smoothly. 
When you pair this GPY with any of the Ryzen 5000 series, like the Ryzen 5 5600G, you can take advantage of its SAM, making memory retrieval from the CPU to GPU seamless, and lag becomes nearly non-existent. 
While there are more powerful cards on the market, you may end up creating a bottleneck with your processor. Remember that if your GPU is capable of more than your CPU can handle, you'll waste your money adding it to your build. While you can always opt for more expensive cards with flashier builds, RGB, and three fan designs, this card is more than enough for 1080p to 1440p gaming needs. This is a cheaper option than the NVIDIA 3060 Ti, with nearly similar stats. It can be the perfect option to play raytracing on a budget.
Conclusion
The Ryzen 5 5600G is known as a great stopgap solution for gamers on a budget to play some great games with a decent refresh rate. However, everyone deserves an upgrade. If you're ready to play all major AAA titles on a 1080p or even 1440p monitor, we've listed the best graphics card for Ryzen 5 5600G. 
With a compendium of choices at your disposal, choosing the right card may seem a near-impossible task. When choosing a GPU, you must consider things like price, availability, memory, performance, and features. 
I've included my recommendations for the best GPUs for the Ryzen 5 5600G in this list to facilitate your choice. Depending on what you prioritize the most, you can choose the best card for your situation from our list. 
However, if you're still on the fence about your decision but have a generous budget, I'd suggest the ZOTAC GAMING GeForce RTX 3060 Ti Twin Edge.
It's a great 4k enabled dual-slot card allowing you to run all AAA titles on 1440p on medium to high settings. It's got features like ray tracing and enhanced shading thanks to its 2nd generation RX cores. Its 3rd generation tensor cores make it run AI technology effectively. Combined with its 8GB of GDDR6 VRAM and 256-bit memory interface, these features can handle intense gaming sessions. 
It's a solid card with a backplate and two fans blowing heat away from sensitive components, maintaining optimal temperatures and a five-year warranty. It's a performance beast and a smart investment, making gaming fantastic to experience or view.