AMD won the hearts of gamers all around when they announced that this graphic card would be sold directly to the consumer. Changing the video game market forever with its retail release, the Rysen 5700G is a CPU with integrated graphics, also known as an APU. Here we are going to discuss the best GPU for Ryzen 7 5700G that are worth considering in 2023.
Released in 2021, This APU has 8 cores hyperthreaded, giving us 16 threads on Ryzen's Zen 3 architecture. That means we benefit from Ryzen's 5000 series CPUS with its integrated graphics capabilities. The APU has a 3.8 GHz base clock going to 4.6 GHz on the boost clock. It's a huge improvement over the previous 4000 series APU, especially because it has double the L3 cache or what AMD calls "game cache."
The APU has Twenty-four PCIe Gen 3.0 lanes, of which sixteen go to the GPU, four to the first M.2 slot, and four to the chipset. The X series has Gen 4 lanes but no integrated Radeon Vega 8 Graphics by AMD. It comes with a cooler in the box, but we all know an upgrade is necessary once we know the APU is unlocked for overclocking.
While some titles are playable on 1080p with its integrated graphics alone, 720p is where this and most APUs of its generation shine. On 720p, this APU will get you 53.9 fps on Horizon Zero Dawn, 50 fps with Red Dead Redemption 2, 164 fps on Fortnight, 76 fos in Crisis Remastered, and 215 fps for Valorant. However, gamers who wish to play competitively on 1080p screens and enjoy 4k rendering will need an additional graphics card. 
Choosing the right graphics card to go with this APU is a hard decision. You must ensure no bottlenecks stop you from enjoying the best possible gaming experience. For your benefit, I've listed the best graphics card for the Ryzen 7 5700G in this buyer's guide. Without further ado, here are the best graphic cards for this beast of an AM4 APU.
Best GPU for Ryzen 7 5700G Summary
Best GPU for Ryzen 7 5700G At a Glance:
Best GPU for Ryzen 7 5700G Reviews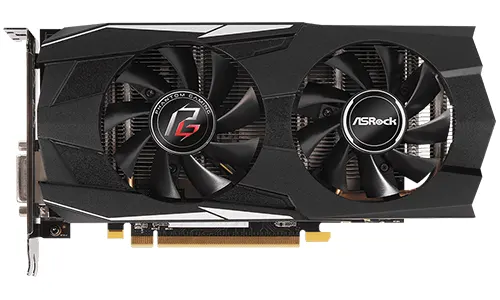 REASONS TO BUY
✓ Good cooling
✓ Affordable
✓ Great 1080p performance
REASONS TO AVOID
✗ Entry level specs
✗ DDR5 instead of DDR6
Starting with a GPU from AMD for all AMD build enthusiasts, we have the ASRock Phantom Gaming D Radeon RX 570, a great card for value for money and budget builds. 
Featuring the RX570 Chipset, the card has 2048 cores, a max clock speed of 1168 MHz, and a boosted clock speed of 1244 MHz. The CPU has 4 GB GDDR5 video memory or VRAM, which is impressive for the price. Compared to the other cards of its generation, this may not have been a top choice, but it remains a competitive option due to its price. 
This GPU can handle up to five displays. It has one Dual-link DVi-D port, one HDMI 2.0 port, and 3 1.4 DisplayPort connections available. 
The card has two massive double-ball-bearing axial fans. Due to their reduced friction, they have a fifty to a hundred thousand hours lifespan. Below the fans lies an anodized heatsink and aluminium alloy heat pipes that further cool the card effectively. Each component is well thought out. The composite heatpipe and fin-type heatsinks work well with the fans to dissipate most of the heat generated by the card. Using Phantom Gaming Tweak options, you can adjust fan speed and other things manually or choose one of the silent, OC, or default modes available. 
With a power consumption of 150 watts and most motherboards will accommodate it well. 
This card can run most AAA titles with a refresh rate higher than 70 fps in 1080p. You can also run it on 1440p screens, but you will sacrifice the refresh rate a bit. It will have a playable performance for some games, and some games will not run as smoothly. For a budget build, it is a great mid-to-high-tier graphics solution.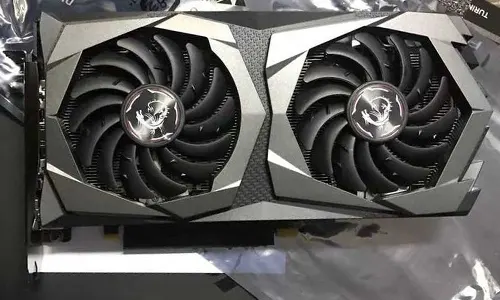 REASONS TO BUY
✓ Affordable
✓ High-end cooling solution
✓ Impressive overclocking
✓ Attractive RGB design
REASONS TO AVOID
✗ No Ray Tracing or DLSS
✗ Not efficient for 1440p gaming
MSI's always been middle of the pack but a reliable and affordable brand. We always include them in our lists because they are always a great choice-making gaming accessible to everyone. The MSI GeForce GTX 1660 Gaming X Super is a great mid-to-high-tier gaming option to pair with the Ryzen 7 5700G APU.
Based on NVDIA's Turin architecture, the card offers real-time Ray Tracing, AI features, and improved performance per watt. It's got the GTX 1660 Super chipset with 1408 CUDA cores for efficient graphic rendering. Also, the GeForce GTX 1660 Gaming X Super has an impressive 6GB DDR6 VRAM. Its base clock speed is 1530 MHz, and its boost clock speed is 1830MHz
This GPU is decked out with the Twin Frozr 7 thermal cooling design, a huge heatsink, and Zero Frozr technology. The fan stops when the card is at a low temperature, making gaming a noiseless, serene affair. The GPU features two TORX 3.0 fans which have a dual dispersion fan blade and traditional fan blade design for efficient cooling, 
Capable of running four displays simultaneously, this card lives up to the hype. It offers a maximum resolution of 7680×4320 or 8k for an immersive visual experience. It supports one HDMI port and three DisplayPort connections, which you can use simultaneously. This card may not be the most premium offering, but it still features RGB LDEs for an expensive look.
You'll get a healthy 90+ fps refresh rate across all major titles on 1080p. If you aren't that ambitious and want nothing more, this is enough for you.  
This muscly card packs a punch but isn't that power-hungry at just 125 Watts. As far as price is concerned, this is a solid mid-range offering that's cheaper than most flagship offerings. This is the board made for you if you're a gamer looking for the highest features-to-cost ratio.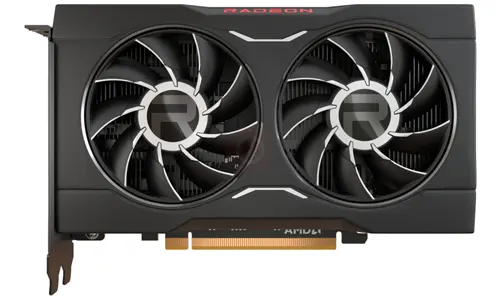 REASONS TO BUY
✓ RDNA 2.0 architecture
✓ GDDR6
✓ Solid 1080p performance across all AAA titles
REASONS TO AVOID
✗ Not as impressive as Ray Tracing's performance
✗ Not remarkably improved from the last gen GPU
AMD is well known for its processors, but Radeon GPUs have yet to steal the limelight truly. That remains true for the Radeon RX 6650 XT, which has been underrated as a great affordable option against the 3060 Ti. 
Based on the Navi 23 graphics processor, the card supports DirectX 12 and all its associated technologies. This GPU from AMD uses the RDNA 2.0 architecture, meaning it has goodies like Ray tracing and variable rate shading. While these look good on paper, their playability has had mixed reviews.
The RX 6650 has a sizable 8 GB of GDDR6 memory along with 32 MB of AMD's infinity cache technology. Infinity cache makes AMD's cards much faster as the information needed by the GPU is always readily available. The base clock speed is 2055 MHz, and the boost clock is 2635MHz. 
The card is 4k enabled, and While it's possible to turn on Ray Tracing with the card enabled, it can't beat NVIDIA's 3060 or 3060 ti. In fact, it may not even have a playable experience in 1080p with ray tracing enabled. If ray tracing is absolutely essential for you, this isn't for you. However, if you want a solid 1080p performance and a memory clock superior to the 3060, this is the card to choose. The 6650 XT can run a maximum of two monitors simultaneously, one with an HDMI port and the other with a DisplayPort. 
The Radeon RX 6650 XT draws a maximum of 176 Watts of power from one 8-pin power connector. This can be powered by most standard motherboards easily. Unless you really want NVIDIA's feature set, this is a great affordable option with nearly the same fps rates. 
For the gamer looking to make an affordable all-AMD build, this is a great contender to consider. It's an all-rounder with some rough edges that you could learn to love.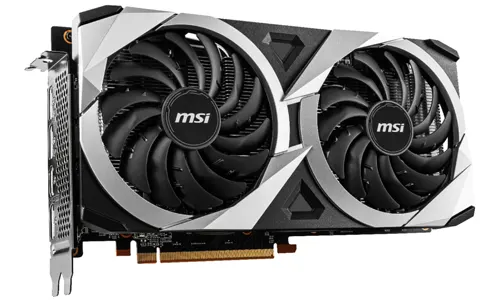 REASONS TO BUY
✓ Solid 1080p and 1440p gaming experience
✓ Impressive cooling solutions
✓ VR compatible
REASONS TO AVOID
✗ Fans get loud under pressure
✗ No RGB
MSI always finds a way to thrill gamers with every new launch. Another powerful mid-level to top-tier MSI offering is the MSI Radeon RX 6700 XT mech. A GPU that can knock out any game.  
This animal has 2500 stream processors and boasts an impressive 12 GB of GDDR6 memory. It's able to achieve Game clock speeds of 2474 MHz. This card offers great value for both 1080p and 1440p gaming experiences. 
Is it getting hot in here? With such high performance comes high temperatures. To combat and keep the card at stable thermals, MSI chose to give it two fans using their award-winning TORX Fan 3.0 design, which features two types of fan blades working in tandem with each other. Having such awesome fans able to keep the card cool, MSI shows off with their Zero Frozr technology which automatically shuts the fans off when the GPU runs below a safe temperature. This allows you to enjoy absolute silence and focus on winning. Thermal padding, a custom PCB and techs like Dragon Center and AFterburner only make your experience even better. 
The Mech can handle a maximum of four monitors at once with a maximum digital resolution of 7680×4320 or 8k resolution. If you want to render fabulous graphics for intense gaming sessions, this is the card for you. It supports VR games for a smoother experience using your VR headset and gear. There are three DisplayPort C1.4 connections available and one HDMI 2.1 port. You can run all of them at once. 
This beast of a GPU needs to be well-fed to give you the best gaming experience. It's no surprise it has not one but two 8-pin power connectors capable of fueling it with the 230 Watts it needs to thrive. It's best to invest in a motherboard with a VRM capable of feeding your GPU smoothly without hitches or interruption. 
If you want a low-key beast with impressive cooling, ray tracing, and fast clock speeds this will be the best graphics card for Ryzen 7 5700G for you in 2023.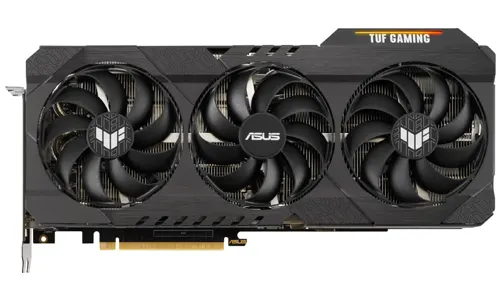 REASONS TO BUY
✓ High-Quality Build
✓ RGB LED
✓ OC out of the box
REASONS TO AVOID
✗ No Cooling Pads
✗ High power consumption
ASUS always has some of the most impressive offerings in the gaming market. It doesn't matter if it's from the ROG lineup or not; ASUS has great GPUS at all price points. We recommend the Tuf Gaming RTX 3070, a tough GPU to upgrade your current APU with and rock your world. 
Based on Ampere architecture, the card has a powerful combination of CUDA cores, RT cores, and Tensor cores to power things like Ray tracing, variable rate shading, and AI DLSS. This card is on steroids with 5888 CUDA cores for super efficient graphics rendering and supports DirectX 12 Ultimate features. The VRAM is 8 GB of GDDR6 memory, running with a 14 Gbps memory speed. 
The ASUS edition is taller, wider, and heavier than the founder's edition, mainly due to its three-fan design. ASUS used three Axiel-tech fans with shrouds made of aluminum. Since there are three fans, the outer fans have their rotation reversed to promote better airflow. There is a stop fan feature that turns it off when the GPU is below 50 degrees for silent gaming. The heatsink shares the heavy burden of cooling both the GPU and half the VRAM. There is a back plate for stability, but it plays no role in cooling as it lacks cooling pads. 
This CPU runs a maximum of four monitors at once with a max resolution of 8k and can run AAA titles easily on 1440p with high refresh rates. The TUF Gaming RTX 3070 has a 10+2 power phase design with two 8-pin power connectors. It draws a max of 220 watts, expected from such a monster of a machine. 
A true 1440p gaming experience can be enjoyed with this card, and it boasts impressive performance on 1080p with ray tracing enabled. It's not one you should ignore in your consideration. The only downside is the size; it might be too long for your rig.
Conclusion
Whether you bought your Ryzen 7 5700G a while ago and are finally upgrading or building a PC from scratch, choosing the best graphics card for Ryzen 7 5700G is a difficult choice. There are so many options available that most gamers are left scratching their heads. 
Only you can know what the perfect GPU would be according to the games you want to play, the resolution you want to play them at, how much your value features like Ray Tracing, and how much price matters. How much power the GPU draws and if it's compatible with your PC rig also matters a lot. Only you can figure out what card fits all these requirements. 
However, even after considering all those factors you can't seem to decide, and money is no issue, we suggest the ASUS RTX 3090 for an amazing experience. You will not be disappointed with the gorgeous Ray Tracing visuals, RGB lighting, super fast memory, and NVIDIA's premium features that this card has to offer.  
This is definitely the king-of-the-hill GPU, at least for our list. If you are on an extremely tight budget, you can opt for the MSI GeForce GTX 1660 Gaming X Super. It's more affordable than NVIDIA's premium GPUs but benefits from their Turing architecture, giving gamers a solid 1080p performance and great 1440p performance on a handful of titles.