Graphics cards have been one of the crucial components of a production or gaming rig. They enable you to do more than just web surfing or solving equations. Just one and a half decades ago, graphics cards were small and efficient; fast forward to now, we're seeing highly power-hungry and humongous graphics cards everywhere. As newer generations of GPUs have been released, the high power draw has become necessary as more performance results in a large power draw. Today, we are looking at the best GPU for Ryzen 7 5800X3D in 2023 and upcoming years.
The Ryzen 7 5800X3D is one of the most powerful CPU out there. It was released in Q1 of 2022 and beat out all of Intel's 12th Gen Core processor when it comes to gaming performance while being substantially cheaper than the i9 12900k. The processor can't be overclocked due to its 3D V-cache technology, which delivers exceptional performance and efficiency. The boost clock maxes out at 4.5GHz while consuming a TDP of 105W at max, which increases the performance of the CPU.
Such a processor does need a partner that works head-to-head with it and doesn't try to hold it off from reaching its full potential, which we call a bottleneck. AMD and Nvidia are competing with each other over who earns the larger slice of the market share by producing new GPUs every year, and right now, in 2023, we have many agile and great options to choose from.
The latest generation best GPUs like the Nvidia GeForce RTX 4080 and AMD RX 7900 XTX are a few names that we're going to be taking a look at, as well as cards like the RX 6950 XT from previous generations because of the massive decline in their prices that makes them a worthwhile choice in many instances. We've also reviewed a few Ryzen 7 5800X3d processor memory kits last week, so don't forget to check them out.
So, without any more time, let's get right into it to help you with what kind of graphics card you would be fine to stick with.
Best GPU for AMD Ryzen 7 5800X3D Summary
Best GPU for Ryzen 7 5800X3D At a Glance:
Best GPU for Ryzen 7 5800X3D Reviews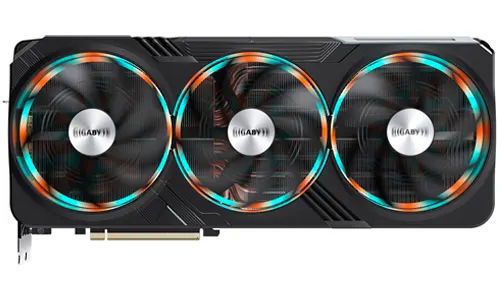 REASONS TO BUY
✓ Uses a vapor chamber cooling design.
✓ Fan rings are RGB-lit.
✓ Large form factor with triple fan config.
✓ Large enough 16GB VRAM.
✓ DLSS-3 and improved RT.
✓ Utilizes PCIe 4.0.
REASONS TO AVOID
✗ Not cheap.
✗ Ugly-looking 16-pin power adapter.
The GeForce RTX 4080 brings many changes and improvements over its last-gen predecessor RTX 3080 and delivers performance much better than the RTX 3090 Ti. This is a great step up in terms of performance and makes it a true next-gen product. The variant we're going with today is the Gigabyte Gaming OC, which retails for around $1161, and yes, that's slightly cheaper than the MSRP of the RTX 4080. 
The Gigabyte RTX 4080 Gaming OC has a massive vapor chamber cooling solution covered within quite a large case with a triple fan setup to keep pushing the heat out of the heat sink and keep the temperatures in check. Also, to further optimize the card's cooling, the backplate has a huge cut-out for better airflow throughout the heatsink. Aesthetics-wise, the card follows the old Gaming OC design pattern with some tweaks to make it stand out among the old ones. The card also has an RGB ring around each fan that provides the much-needed visual fidelity and almost makes it look like the AORUS variant of the graphics cards. 
Things get interesting, and it seems like Nvidia heard the criticism over the limited 10GB VRAM of the RTX 3080 and now has assigned the RTX 4080 a 16GB GDDR6X VRAM pack to make it seem more reasonable to be used on high-resolution monitors with games' settings cranked to a much higher degree as well. It also comes with an anti-sag bracket that helps to some extent straight out of the box. The card also draws significantly less power than an RTX 3090 Ti and peaks at around 320W, which is also the TDP of its predecessor, but delivers better performance than the RTX 3090 Ti in RAW and with RT mode. This card would be a nice fit to pair with the Ryzen 7 5800X3D as it's agile and future-proof.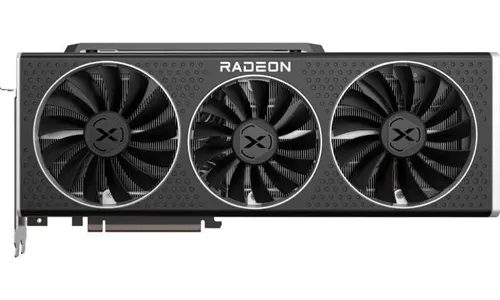 REASONS TO BUY
✓ 16GB blazing-fast GDDR6 VRAM.
✓ Unique and pleasing design.
✓ A price that is hard to ignore.
✓ I can do ray tracing, unlike the 5000 series.
✓ Based on PCIe 4.0.
✓ Power efficient than its counterpart.
REASONS TO AVOID
✗ RT isn't as powerful as Nvidia GPUs.
The RX 6950 XT was the final nail in the coffin and the last and fastest GPU of the RX 6000 series lineup from AMD. Fast forward to today, the card's price has dropped substantially, and now it costs around $646 for a brand new last-gen flagship graphics card, which seems like an insane value considering the current market situation of the box-packed graphics cards. 
The XFX Speedster MERC 319 is an easily available variant at the new discounted price. This specific model has a unique subtle design that seems appealing to the eyes and houses a massive cooler inside to cool down the RDNA2-based chip with 16GB of GDDR6 VRAM at 256 bus rate. The card boosts up to 2368MHz from the base clock 2009MHz and still has room for further improvements. Not to mention, the black and white aesthetics of the card leaves an impact on the build.
The card has enough horsepower to push 60 or close to 60fps at 4K resolution while only consuming 335W at a maximum, which does not happen in real-time unless you slide the power limit to max. In our testing, the card barely touches 300W, which also makes it pretty power-efficient. You can do ray tracing this time, too, but since it's the first time for AMD, the RT performance is inferior to its Nvidia counterparts. The card has enough guts to keep up with the Ryzen 7 5800X3D, so there's that.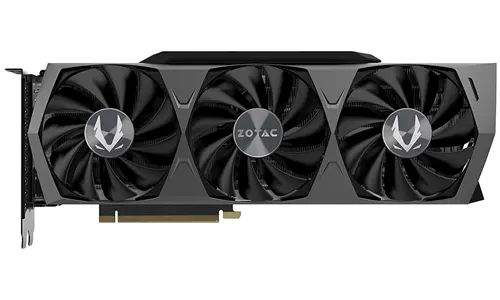 REASONS TO BUY
✓ Has ARGB on top and backplate.
✓ Performs better than its counterpart.
✓ Has improved RT and tensor cores.
✓ Looks great and exceptional.
✓ Thermal performance is good enough.
REASONS TO AVOID
✗ Price isn't its best ally.
✗ 8GB is kind of less.
The RTX 3070 Ti wasn't an expected card Nvidia released, but consumers still welcomed it, meaning it sold well. The card promises to deliver better performance than the RX 6750 XT from AMD. Its price for new isn't the best as it still costs around $520 for the Zotac 3x fan variant. Another thing to note is that it consumes more power to achieve such performance gains over the normal RTX 3070.
The graphics card comes with only 8GB of VRAM is less because newer games have started to eat up video memory on higher resolutions, even though it can game on 1440p resolution due to its VRAM limitation. You should stick with 1080p gaming for a much more fluid experience. The 2nd generation of RT cores also helps it to perform miles better than its Team Red counterpart. 
Other than that, this specific Zotac variant has an edgy design with an even greater-looking ARGB emblem on top and also on the metal backplate that provides cooling and looks both for this graphics card. Not to mention the thermals are also good because of the large heatsink attached to it that has to cool down a chip that peaks at 290W on full load. As for the Ryzen 7 5800X3D will work fine with this graphics card if you do not wish to game on much higher resolutions. We've also recommended this graphics card in our Ryzen 7 5800X graphics card roundup so don't forget to check it out.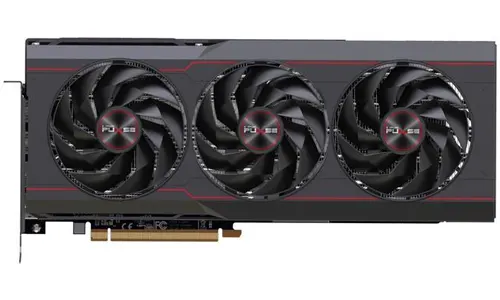 REASONS TO BUY
✓ Sleek-looking red and black-themed design.
✓ Offers a massive 20GB VRAM.
✓ No proprietary connector requirement.
✓ Performance tries to catch up with RTX 4080.
✓ Can easily handle 4K.
✓ More efficient than its predecessor.
✓ Good revised pricing.
REASONS TO AVOID
✗ No RGB or static light.
The Sapphire AMD RX 7900 XT Pulse is the second most powerful graphics card AMD has offered, which you can pair with Ryzen 7000 CPUs. The card is even cheaper like the RTX 4070 Ti, which raises questions about its performance even though it has been given the flagship title. This card is available for $820 and has some surprises inside. 
Firstly, the card brings a massive 20GB of VRAM with a 320-bit bus rate for the specs, making it more future-proof due to the increasing VRAM demand for newer titles. The card is based on the RDNA3 successor to RDNA 2 architecture. It is more powerful than its previous versions and offers much more performance in Ray Tracing situations with its dedicated 84 RT cores. It also only takes power from two 8-pin connectors, unlike Nvidia counterparts, and consumes up to 300W, which is not too much because it is slightly weaker than the RTX 4080 and performs better than the RTX 4070 Ti in many instances. 
As for its design, the card looks similar to the previous Sapphire Pulse editions, with some minor changes in fans and the overall shape. The card has the new Sapphire's Angular Velocity Fan Blades for optimized airflow throughout the well-designed heat sink. It's one of the best overall graphics cards for the Ryzen 7 5800X3D to look after due to its larger VRAM capacity, efficiency, and price-to-performance ratio, and it would work great.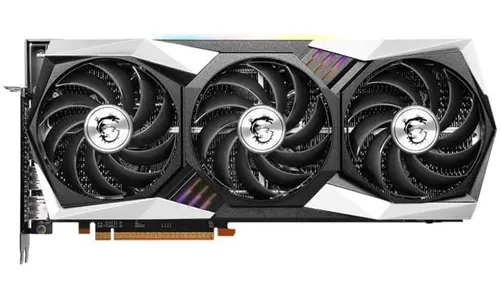 REASONS TO BUY
✓ Elegant design as expected.
✓ Massive 16G of VRAM.
✓ Anti-bending bracket already installed.
✓ Has ARGB lights.
✓ Great 1440p performer.
✓ Eats less power than RTX 3080.
✓ Better value.
REASONS TO AVOID
✗ Slightly weaker RT performance.
The AMD Radeon RX 6800 XT Gaming Z Trio is a beauty and beast that does both jobs simultaneously. Like its bigger brother, the 6800 XT has also received a price reduction, and now it's available for $550, which seems like a great value considering that the RTX 3070 once was around that budget. The MSI variant we have here is one of the best versions of the RX 6800 XT, as it runs cool as a cucumber, looks attractive, and performs damn well on 1440p resolution. 
The card offers 16GB of VRAM with a 256-bit bus rate, making those 1% and 0.1% lows almost non-existent because of enough memory available to accommodate all the coming assets, which the RTX 3080 fails to do. This variant, like any other, uses a quite large heatsink with some exclusive design choices to cool down the GPU and their own custom-designed TORX FAN 4.0 to help with the heat expulsion. 
The placement of RGB lights is quite similar to the Gaming Pro variant of Palit cards, but MSI tuned it much better, in my opinion. Furthermore, the card also consumes less power than the RTX 3080, which peaks at 320W, while this one only goes up to 300W when the power slider is maxed out. If you're looking for a card to match your Ryzen 7 5800X3D for 1440p, this is one of the better value options you need to consider.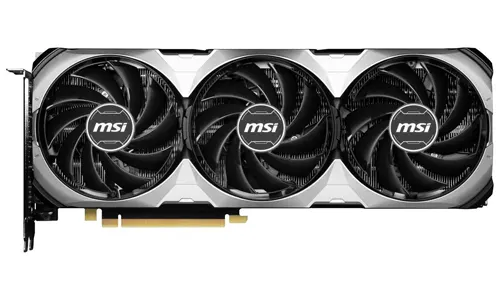 REASONS TO BUY
✓ Highly efficient GPU.
✓ Performs slightly better than RTX 3080.
✓ 12GB is a nice addition.
✓ Cool as a cucumber.
✓ Simple and subtle design.
✓ DLSS 3.0 and improved performance in RT.
REASONS TO AVOID
✗ Not the best price.
The RTX 4070 is the latest addition to the 4000 series family, and this one, being from the 70 class card, is the replacement for the last gen's 80 class card – the RTX 3080, more precisely. And this time, the card even takes 20W less power than an RTX 3070 but performs better than an RTX 3080. This efficient card can work fine with a dual fan cooler design, but this VENTUS variant has 3x fans and bigger heat sinks, which implies much better cooling and temperatures.
Nvidia has finally addressed the problem of assigning less VRAM to mid-range and high-end cards, and that's the reason this RTX 4070 comes with 12GB at a 192-bit bus rate t, makingt decent enough to load high textures at 1440p resolution. Since it's based on the new Ada Lovelace architecture, the card uses the 3rd generation RT cores – 46 in total and can pull out better frames in ray tracing mode than the RTX 3080. 
The card costs $599, which is $100 higher than the RTX 3070, but it was expected as Nvidia has priced every 4000 series card quite oddly. However, its exclusive features, like the DLSS-3, better productivity performance, and much more, make it a considerable GPU a better choice than the RTX 3080 for CPUs like the Ryzen 7 5800X3D. The combo would be suitable for 1440p resolution whether you've planned it for gaming or productivity and content creation.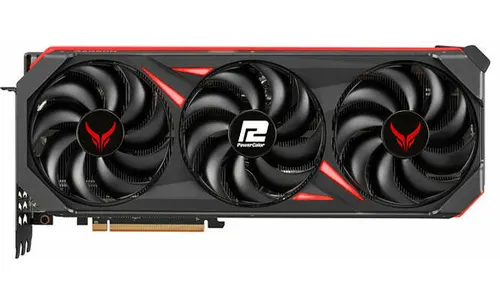 REASONS TO BUY
✓ Insanely high 24GB VRAM.
✓ Cheaper than the RTX 4080.
✓ Works with the standard 8-pin connectors.
✓ Targets 2160p gaming.
✓ Better performance per watt.
✓ Good value.
✓ Design that stands out from the rest.
REASONS TO AVOID
✗ Little weaker ray tracing performance.
RX 7900 XTX is AMD's fastest GPU this generation, and it doesn't compete with the Nvidia RTX 4090 but rather with the 2nd most powerful GPU, the RTX 4080, as AMD thinks this much power is more than enough for a while. Today's variant we will look at is the Power Color's RX 7900 XTX Red Devil edition, its top-of-the-line model for their graphics cards. The card is massive and has a gigantic heat sink attached to its GPU die, but it is smaller than any RTX 4080 out there and costs $1099. 
The card is based on the all-new RDNA3 architecture and comes with 24GB of VRAM, which is 4GB more than the XT model and 8GB more than the RTX 4080 to make it more secure in these bad PC port days of gaming where gaming is eating as much as 21GB of VRAM. The card also has 12 more RT cores, which takes the total count to 96 and is highly beneficial when RT is on.
As for the Red Devil variant itself, as in the name, it's covered in red LEDs and a matt black finish to give it a pleasant look, and there's an anti-bending bracket also installed on top to keep the bending risk minimum. The card requires 3x 8-pin connectors and a 900W rated power supply to consume a total of 335W at max. This card can be used with Ryzen 7 5800X3D and even more powerful chips than this one.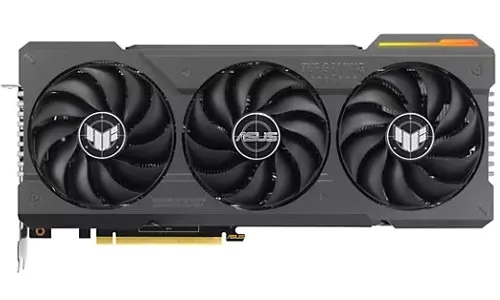 REASONS TO BUY
✓ Iconic TUF design but more refined.
✓ Has bare-minimum 12 gigs of VRAM.
✓ Robust build quality and cooling system.
✓ More powerful RT performance.
✓ PCIe-4 supported.
✓ Power efficient than its counterpart.
REASONS TO AVOID
✗ The pricing could've been a little better.
Nvidia's new RTX 4000 series is on the run of delivering more performance and efficiency simultaneously, and this is the case with its new RTX 4070 Ti. The variant we will discuss today is the ASUS TUF RTX 4070 Ti. The card is being sold for around $850, which is slightly higher than its MSRP, but since it's a 3rd party variant, it was inevitable. Still, the card performs as intended and replaces the RTX 3090, which consumes 350W of power. This is more than the 285W power requirement of the RTX 4070 Ti. 
The ASUS TUF variant of this RTX 4070 Ti is based on the patent TUF design but more refined as usual, giving it a more pleasing and finished look with a little ARGB light on the corner. The card uses a massive heat sink that assists the GPU chip to run under bearable temperatures. It features 12 gigs of VRAM with a 192-bit bus rate and 3rd-generation RT and 4th-generation tensor cores that make a difference in agility when the game or software utilizes RT.
Not to forget that this $850 graphics card also benefits from the all-new DLSS 3.0, which can help it maintain serviceable frame rates at 4K resolution when used with a processor like the Ryzen 7 5800X3D. If only the pricing on this one were a little better, then it would have been a much greater value than it already is, but still, it is the best overall GPU you can pick for this processor. Because the Ryzen 7 5800X3D still doesn't bottleneck with this graphics card, you can enjoy its potential.
Final Words for Ryzen 7 5800X3D Graphics Cards
We have seen quite strange behavior in games in such a short period. Their requirements have increased tremendously, giving gaming PC users with budget builds a hard time trying to play those games at favorable frame rates. This article includes my choices of graphics cards available that would fit with the Ryzen 7 5800X3D in all three popular resolutions and the budget. 
Starting with the lowest 1080p resolution, which is still a highly in-use resolution by millions of gamers. For this one, I've picked the RTX 3070 Ti, which holds 8GB of VRAM and would work well on that resolution and do 1440p med-high settings, depending on the games you're playing. As we advance to 1440p, I recommend picking either the RX 6800 XT, which costs around $550, or the all-new RTX 4070, which costs $50 more than the 6800 XT and also has 4GB less VRAM and pretty identical performance but stands out when RT is being utilized. We can also include a few graphics cards like RTX 3060 or similar offerings from AMD, but those GPU bottlenecks Ryzen 7 5800X3D. That's why we've made our list limited to these. 
Now that we're done with both, let me tell you which cards would be best suited and better value for the 4K resolution. This time, I'll recommend the RTX 4080 and RX 7900 XTX for their top-of-the-line performance, which means a seamless experience at 4K. And if you're fine with a little cut out on the performance to save some bucks, then RX 6950 XT is the one to go with, and if you spend slightly higher, then the RTX 4070 Ti and RX 7900 XT would fit well, too. These are the best graphics cards for Ryzen 7 5800X3D, having enough horsepower and VRAM to give you a smooth 4K gaming experience.