Ryzen 7 7700X is AMD's addition to its much-respected 7000 series of processors. Released in September of 2022, the 7700X wasn't received that well by the community due to its more-than-usual price tag. But recent price drops and increased availability make it a viable option for a high-end PC build. With its eight cores and 4.5 GHz of frequency, which can boost up to 5.4 GHz, the processor has tremendous gaming and content creation performance. In unison with a good GPU, it can perform exceptionally well, allowing you to do gaming at 4K resolution, and have excellent creative efficiency. We've got a few best graphics card for Ryzen 7 7700X that covers some mid-range and high-end options and we will figure out what options are considerable in 2023.
The choice of an ultimate GPU depends on your requirement. Many GPUs in the marketplace match well with the 7700X. Nvidia's graphics cards are very performative and allow users to enable their latest features on games and apps that support them. Raytracing, GeForce experience, G-sync, and Low Latency are some of Nvidia's key features that come with most of their GPUs. Similarly, AMD graphics cards are known for their considerable cost and raw performance. They provide unique features such as Radeon Boost, Anti-Lag, Surface Optimization, etc. Both companies and their graphics cards offer excellent parts and have their pros and cons.
This article aims to help you navigate the cluttered marketplace of graphics cards. We have made a list of compatible GPU options for your Ryzen 7 7700X build. These GPUs have been benchmarked for many games and will perform best when paired with the processor, as these components have no generational gaps.
So, let's find out which GPUs will help you maximize your PC performance with a Ryzen 7 7700X build.
Best Graphics Card for Ryzen 7 7700X Summary
Best Graphics Card for Ryzen 7 7700X At a Glance:
Best Graphics Card for Ryzen 7 7700X Reviews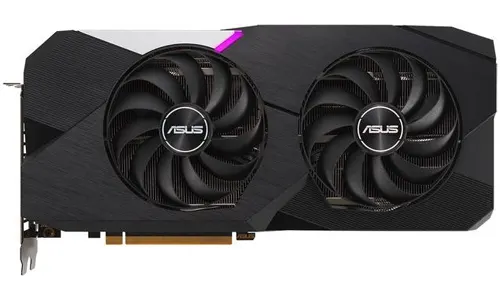 REASONS TO BUY
✓ Impressive gaming performance at 1440p resolution
✓ Great temperature readings
✓ High clock rate
✓ Powerful VRAM capacity
REASONS TO AVOID
✗ 6700XT provides better price-to-performance ratio
✗ 192-bit memory interface seems underpowered at this price
✗ High power consumption with respect to performance
To start our list, we have the ASUS DUAL Radeon RX 6750XT OC Edition 12GB GDDR6. A powerful yet pocket-friendly GPU which can dish out beautiful graphics at 1440p resolution with a decent refresh rate. ASUS variant includes a minimalistic design with a dual-fan configuration, Auto-extreme technology, and an OC mode allowing good performance. This GPU wasn't much recognized at its release due to its lack of driver support and comparatively higher price than previous-generation AMD graphics cards. Fast forward to 2023, these GPUs offer a good bargain, as their prices have dropped significantly. You can build an excellent mid-end, high-powered PC with this GPU and a Ryzen 7 7700X.
When it comes to specifications, RX 6750 XT provides 12 GB of GDDR6 VRAM coupled with a 192-bit memory interface. The overall memory bandwidth of the graphics card is 436 GB/s, as the effective memory clock is 18 Gbps. As for the core, the graphics card comes with 2560 shader processing units, 160 Texture Mapping Units, and 64 Render Output Units. There are 40 RT cores in the graphics card as well, just like all the other RDNA2 cards. The graphics card is perfect for 1440P gaming and will definitely last you a couple of years before you need to upgrade, although don't consider the graphics card for 4K gaming at all, especially if you want to play modern AAA games.
Ray accelerators and RDNA 2.0 architecture support real-time raytracing and good visual fidelity for many games. However, the latest RDNA 3.0 architecture, present in newer AMD cards such as the RX 7000 series, provides far better performance.
To investigate its in-game performance, we have some benchmarks to show you. FAR CRY 6 at 1080p resolution and Ultra settings run at an average frame rate of 110 frames per second. CYBERPUNK 2077 runs at an average frame rate of 76 frames per second, while at 1080p resolution and Ultra settings. Our last game, "SHADOW of THE TOMB RAIDER," runs at an average framerate of 100 frames per second while at 1440p resolution and Ultra settings. These benchmarks were performed without any Ray Tracing.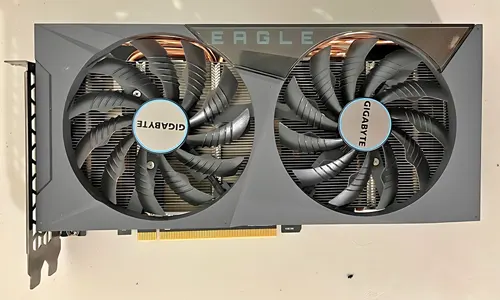 REASONS TO BUY
✓ Exceptionally good for 1080p and 1440p gaming
✓ DLSS 2.0 with fairly decent raytracing
✓ Tensor cores can be useful for compute workloads
✓ Runs quietly with moderate temperatures
REASONS TO AVOID
✗ Relative costs are quite high
✗ AMD counterparts have better raw performance
✗ Struggles with demanding AAA titles at 1440P resolution
GIGABYTE GeForce RTX 3060Ti Gaming OC 8GB is another great mid-range GPU for the Ryzen 7 7700X. This GPU can put out an excellent performance that is on par with a flagship GPU. GIGABYTE shines with its impeccable design. It has a three-fan configuration, RBG ready, protective metal backplate, and its WINDFORCE 3X cooling system ensures great thermals with stable performance while gaming for extended periods. It outperforms and outclasses many GPUs in its league, and it has been considered by many as the best mid-range graphics card. 
The RTX 3060 Ti comes with 4864 CUDA cores and runs at a boost clock rate of 1665 MHz. With a configuration of 152 Texture Mapping Units and 80 Render Output Units, the GPU is more than capable of running the latest titles at 1440P resolution with stable FPS. The TDP of the graphics card is 200 watts, which is similar to RX 6750 XT, although some variants would run at higher wattage due to factory overclock. 
It has remarkable raytracing performance due to its 2nd generation RT cores and puts its competitors to shame. Nowadays, it provides more value for its cost because, with the release of the RTX 4000 series, their prices have dropped enough to consider it as the best-range option.
For in-game benchmarks, WARZONE 2.0 gave an average FPS of 107 at Ultra 1440P. Also, FAR CRY 6 results in an average FPS of 93 at ultra settings with 1440P resolution. In GOD of WAR at 1440P and Max settings, we saw an average of around 70 FPS.
This GPU offers a fantastic 1080p and decent 1440p gaming experience for its mid-range price tag. It has also been hailed for its creative performance. Its only issue is its 8GB VRAM which might require an upgrade. But it depends highly on your usage and requirement; if your workflow and gaming needs are satiated with this GPU, it will surely cater to you for a reasonable amount of time.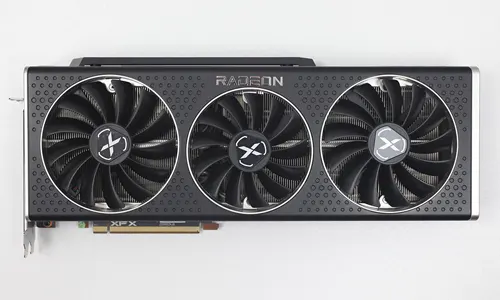 REASONS TO BUY
✓ Defining 1440P gaming performance, with good 4K potential
✓ Massive cooling solution
✓ Amazing VRAM capacity of 16 GB
✓ Highly overclockable
✓ Costs less than an RTX 3080
REASONS TO AVOID
✗ Needs a powerful PSU
✗ Ray Tracing performance is subpar
✗ May not suit 4K gaming in upcoming games
XFX speedster MERC 319 AMD Radeon RX 6800XT BLACK is a high-end graphics card that AMD released in late 2020. It was AMD's direct competitor to the RTX 3080 with a slightly lower price tag. This GPU performs reasonably well in many games than its competition. XFX offers a beautiful design with a triple-fan configuration and a capable cooling solution. While RX 6800XT had slightly better performance than the RTX 3080, the RTX 3080Ti has better overall performance than both of them, and many people who were ready to spend for a powerful GPU gravitated towards the 3080Ti. However, today RX 6800XT provides comparatively more value for its money as it has gotten much cheaper due to price drops and the release of new generation graphics cards.
RX 6800 XT has a gigantic 16GB Video memory; can attain speeds of nearly 2300MHz, and GDDR6 memory. With the help of its 72 raytracing acceleration cores, this GPU offers better raytracing capabilities than previous RX series GPUs. It is also available with a non-XT version for more budget-conscious gamers. The simple RX 6800 allows good performance with some compromises in its clock speed and Shader processing units.
In-game benchmarks, such as AC VALHALLA at 1440p and ultra settings, show promising results, running at an average framerate of 90 Fps. Likewise, HORIZON ZERO DAWN has 136 Fps framerate with 1440p and Ultra in-game graphics. Finally, METRO EXODUS at 1440p and Highest graphics settings run at 141 Fps.
AMD also offers its signature driver and software support with features such as Radeon Boost technology, Anti-lag, Free-sync, etc. You will be able to game at 1440p easily for many years. It is not highly recommended for 4K gaming as its performance at that resolution is questionable and doesn't consistently provide a 4K 60+ Fps experience. RX 6800XT is a sound graphics card with considerable potential for a Ryzen 7 7700X build.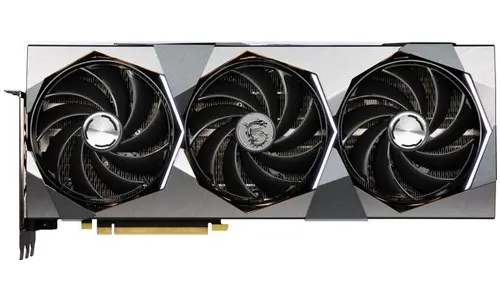 REASONS TO BUY
✓ Generally improved than previous-gen RTX GPUs
✓ Has better DLSS upscaling with 3.0 and raytracing
✓ Very efficient cooling solution
✓ Perfect 1440P gaming experience
✓ Capable of 4K gaming with Frame Generation
REASONS TO AVOID
✗ Costs a lot more than previous-generation graphics cards
✗ Much more expensive than its forerunners
✗ Only 12 Gigabytes of VRAM is not in accordance with its high price
✗ A 2.0 Display port would be a nice addition
MSI GeForce RTX 4070Ti SUPRIM X 12G is one of Nvidia's latest GPUs. With the release of the RTX 4000 series, Nvidia introduced some new features and more powerful hardware into their GPUs. The RTX 4070Ti has access to all the latest features Nvidia offers. MSI has been known for its trustworthiness with its designs and overall gorgeous GPU variants. MSI provides a polygonal brushed metal design with their latest iteration of "TORX FAN 5.0" technology which optimizes airflow to the GPUs core for more efficient processing and efficient heat dissipation.
The RTX 4070 Ti is a very promising graphics card, thanks to Frame Generation. This has led the graphics card to even lead the flagship graphics cards like RTX 3090 Ti in some games. The GPU comes with a high boost clock rate of 2610 MHz while featuring 7680 shader processing units. Moreover, there are 240 Texture Mapping Units and 80 Render Output Units in this graphics card. The Ray Tracing performance of the graphics card is quite impressive too, as it offers 60 RT cores. 
The memory of the graphics card is not the best in 2023, featuring 12 GB of GDDR6X VRAM, coupled with a 192-bit interface, with an overall memory bandwidth of 502 GB/s. The gaming performance of the graphics card without Frame Generation is comparable to RTX 3090 Ti, but once we use Frame Generation, the GPU blows all the older GPUs, providing much better performance. This makes it a great graphics card for 4K gaming.
Here are some in-game benchmarks for further reference; RDR2 runs at 1440p, maximum settings, and the average FPS  achieved was 92. In FAR CRY 6 at 1440p and Ultra settings with RT enabled, the average frame rate achieved was 114. In DYING LIGHT 2 at 1440p, maximum settings with DLSS and RT on, the average frame rate achieved was 82.
RTX 4070Ti is, in fact, a no-compromise product, as it is heavy on your budget, but its powerful performance and great potential for 4K 60+ Fps gaming make it a choice to consider. However, if you are trying to stay on the lower side of your budget for this build, consider a GPU from the previous generation. Another problem is that with this spending, one should buy a GPU with more VRAM because newer titles are more demanding, and more than 12GB of VRAM might be needed.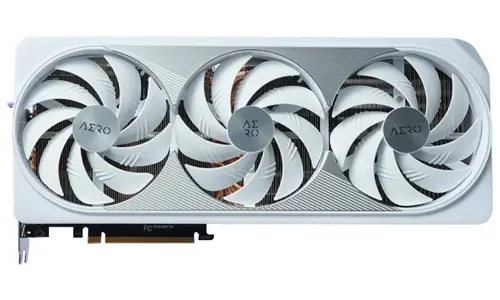 REASONS TO BUY
✓ Ample VRAM
✓ Outstanding gaming performance up to 4K resolution
✓ Exquisite RT performance
✓ Immaculate upscaling with DLSS
✓ Latest Architecture support
✓ Power efficient
REASONS TO AVOID
✗ Overpriced
✗ Chunkier size and heavy
✗ Performance Heavily relies on DLSS 3.0 at 4K Ultra
GIGABYTE GeForce RTX 4080 16GB AERO OC is a flagship Nvidia GPU that delivers high-powered performance and framerates. This graphics card enables you to game and do creative tasking with the best hardware efficiency. GIGABYTE offers a unique design for this variant with a silvery white finish and their latest WINDFORCE configuration and composite copper heat pipes for optimum temperature control and thermal performance. It is a beast with high-end specs with a hefty price tag.
The RTX 4080 is equipped with a heavy 16GB of GDDR6X VRAM, around 10000 SPUs. It runs at around 2500 MHz and has a high PSU requirement of 850 watts. It also has Nvidia's latest ADA Lovelace multiprocessors, 4th Gen Tensor cores, and 3rd Gen Raytracing cores with 76 dedicated RT cores. The 4080 delivers a top-notch 1440p and 4K gaming experience with these features. You don't have to compromise on raytracing in your games because its 3rd generation technology enables higher efficiency without straining the graphics and processing power of the system.
In-game benchmarks are as follows; we saw an average FPS of 110 in RDR2 at 1440P Ultra. With FAR CRY 6, we witnessed a whopping 134 average FPS at 1440P max settings with Ray Tracing enabled. In Dying 2, we saw a high average FPS of 122 at 1440P ultra graphics settings.
RTX 4080 delivers a complete and nearly perfect gaming experience, and DLSS 3.0 dispatches splendid performance with games that support it. It increases the overall quality and framerate of the game while the strain on your graphics processing is not affected at all. RTX 4080 is undoubtedly one of the best GPUs that money can buy. But it is essential to know that this GPU is huge and heavy, and some people have had problems fitting it in their pre-bought cases because of its sheer size.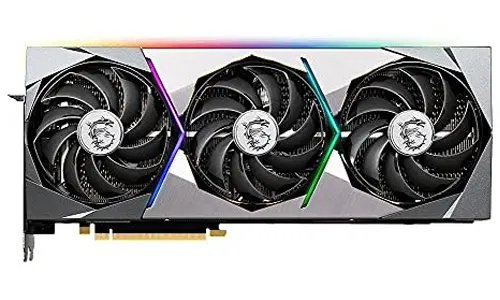 REASONS TO BUY
✓ Close to RTX 3090 in performance
✓ Capable of 4K gaming
✓ Powerful cooling solution ensures great thermals
✓ RT doesn't hinder much performance
✓ DLSS support
REASONS TO AVOID
✗ Expensive for what it offers in 2023
✗ No Frame Generation at this price seems absurd
✗ Power hungry
The MSI RTX 3080 Ti SUPRIM X is a no-compromise option for people with bigger wallets. MSI's signature TORX fan design and carefully fabricated metallic body ensure a generous amount of airflow, which helps it perform well under stress. Upon its release, it was considered the best GPU, with excellent value for money. This GPU packs some serious horsepower.
This graphics card has a significant power supply requirement of 850 Watts. This might be undesirable for many people, but peak performance comes at the cost of more consumption. It has a substantial performance boost with its high number of CUDA cores, around 10240, to be precise, and it is fitted with 12 GB of Video memory. Moreover, it has a clock speed of 1830 MHz and performs similarly to an RTX 3090, which beats it by a slight margin. The only advantage that the RTX 3090 has is that its VRAM is 24GB, which is overkill for most games. From another perspective, having extra VRAM for those future titles can be beneficial because each new AAA game is usually more demanding than the last one.
In-game benchmarks show interesting results; FAR CRY 6 runs at 110 frames, at 2160p maximum settings. CYBERPUNK 2077 runs at 4K Ultra settings, providing an average frame rate of 57. RED DEAD REDEMPTION 2 runs at 4K maximum settings, with an average of 82 Fps. Hence, an exceptionally smooth gaming experience can be seen in every game with this GPU.
Although this GPU was expensive, recent price dips can help you get a sweet deal. It still provides the best value for money and is on par with many GPUs of its cadence. These benchmarks are evidence of its powerful performance.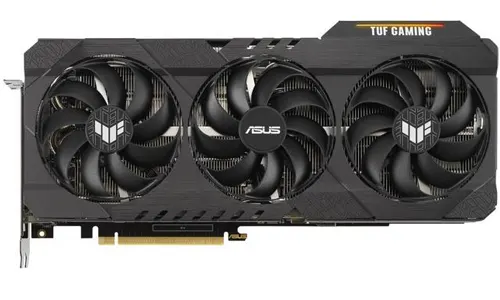 REASONS TO BUY
✓ Nvidia's top GPU for DLSS 2.0 and raytracing
✓ Ideal for gaming at 1440P resolution
✓ Capable of 4K gaming in older titles
✓ Stays thermally sound without overheating
REASONS TO AVOID
✗ 750 Watts PSU requirement is a little excessive
✗ Only Slightly cheaper compared to a 3080
✗ 8 GB VRAM causes stutters in recent AAA titles
ASUS TUF GAMING GeForce RTX 3070Ti OC Edition is a high-end, performance GPU by Nvidia. ASUS provides a familiar thermally optimized design and perfectly configured graphics card with a matte-black look. This GPU is a generation older than the RTX 4000 series but is a powerful performer, nonetheless.
Fitted with an 8GB of GDDR6X VRAM, over 6000 CUDA cores, and around 1800 MHz clock rate, it requires a recommended reliable 750W PSU. It is perfect for both 1080p and 1440p gaming, along with content creation. 4K gaming is not a piece of cake because of its 8GB VRAM. However, it displays remarkable performance for gaming at up to 1440P. It is surprisingly better at handling other graphic-intensive tasks than the RTX 3060Ti. At release, MSRP was a lot higher. Now it can be acquired at a lower price value due to the release of newer generation GPUs and thanks to AMD, who's putting with the competition of releasing new GPUs whenever Nvidia does.
We have some in-game benchmarks to show its performance; AC VALHALLA runs at 4K maximum settings, and the average frame rate achieved was 61. ELDEN RING runs at 4K maximum settings, and the average frame rate was 51.
It has impressive benchmark scores. This GPU is performance-wise superior to its predecessors, but that margin could be better. Besides, you might get a good deal on last-generation cards.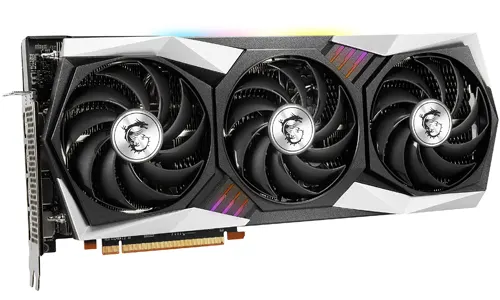 REASONS TO BUY
✓ A high video memory of 16 GB
✓ Enhanced integration for Ryzen 5000 and newer processors
✓ Easy overclocking
✓ Low noise level during workload
✓ Provide superior value than an RTX 3090
REASONS TO AVOID
✗ Relatively costly
✗ 6800XT isn't far behind in performance
✗ Inferior raytracing performance compared to Nvidia
MSI Radeon RX 6900XT GAMING TRIO PLUS 16G presents a high-end AMD graphics card with peak performance and raw power. MSI excels with its signature design: a sturdy and robust base plate and integrated core pipes with TORX FAN 4.0. Its performance is equal to the RTX 3090 but it is more compatible with the Ryzen 7 7700X.
The graphics card is quite similar to RX 6800 XT in memory, as both of them share a 256-bit memory interface, with an overall memory bandwidth of 512 GB/s. There are 5120 shader processing units in the graphics card and the boost clock rate of the graphics card is 2250 MHz. The TMU and ROP configuration of the graphics card is 320 and 128 respectively, which sums up to a pixel rate of 288.0 GP/s and a texture rate of 720 GT/s. The Ray Tracing performance is notably better than other graphics cards in the series, as it comes with 80 RT cores.
In comparison, It lacks good raytracing performance, and AMD still hasn't introduced a technology like Frame Generation. But it makes up for it with a lower cost.
FAR CRY 6, HORIZON ZERO DAWN, and GOD of WAR run at 69, 74, and 63 FPS respectively, with every graphics setting enabled and 4K resolution.
It has good performance benchmarks but still lags in 4K gaming; Nvidia's equivalent GPUs perform way better. People who want an excellent gaming experience without being over budget can consider this GPU an option. It provides good performance with a higher value for money compared to RTX 3090.
This article contains eight products suitable for your Ryzen 7 7700X. Our purpose was to familiarize you with the world of GPUs and where they lie in the marketplace. However, the choice of the GPU entirely depends on you. It depends on your usage and your requirement for gaming, content creation, or other creative purposes that you want a PC built.
We ensured all these GPUs were compatible with the processor of interest and had correct benchmark results. It is imperative to know that incompatibility between these two components can cause bottlenecking, hindering your PC's performance, and is very frustrating.
So, with that in mind, the GPUs with the best value for money and best performance are as follows.
Best value for money: XFX speedster MERC 319 AMD Radeon RX 6800XT BLACK
Best performance: GIGABYTE GeForce RTX 4080 16GB AERO OC