In such a short period of time, we have seen some massive improvements in PC performance and the quality of their components. The motherboard is one such component that has received a complete overhaul over the years and is now more bulky and even more powerful with a lot of great features to offer. However, that also increased the cost of those motherboards which is why the cut-down version of those motherboards exists at a much cheaper price tag. We are going to review a few best motherboard for RTX 3090 Ti graphics card that can handle the power of this graphics card.
RTX 3090 Ti is a monster of a graphics card that wasn't needed but still got released and is a welcomed addition to the RTX 3000 family of graphics cards. The graphics card packs 24 Gigs of GDDR6X video memory and 256 more cuda cores and high clocks than the standard RTX 3090. To achieve those numbers, it also consumes 100W more power than the standard RTX 3090.
And to accommodate such a monstrosity, a powerful motherboard is required to let the card spread its wings. Intel and AMD both have some powerful chipsets up their sleeves like Z790 and X670E. Both chipsets are from the high-end category and come with the latest and lightning-fast Gen5 PCIe lanes. All these fancy features cost as much as $700 at times which is out of reach for so many and some just wouldn't want to spend that much for other reasons. 
This is why manufacturers also give you the option to buy slightly less powerful chipsets like the B650 or you can simply pick a flagship chipset of the old platform like we AM4-based X570 for instance. To help you choose according to your budget and preferences, we will be taking a look at all of these popular chipsets and would evaluate accordingly. Without further ado, let's jump straight into it.
Best Motherboard for RTX 3090 Ti Summary
Best Motherboard for RTX 3090 Ti At a Glance:
Best Motherboard for RTX 3090 Ti Reviews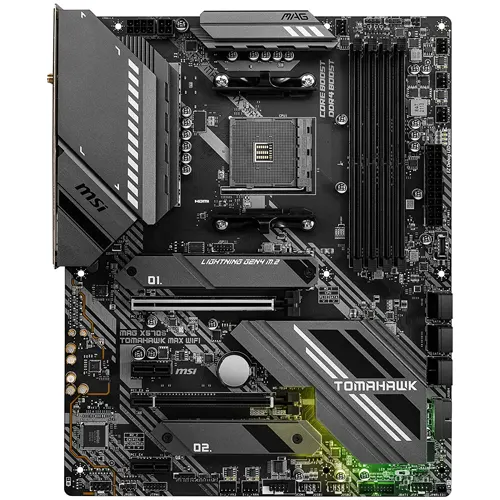 REASONS TO BUY
✓ A real bargain of a price.
✓ Better WIFI module than a non-Max variant.
✓ Higher memory overclocking support.
✓ Silent operation due to no fan.
✓ More subtle and grounded look than its predecessor.
REASONS TO AVOID
✗ Just a touch of RGB around the chip heatsink.
The MSI X570S TOMAHAWK MAX WIFI is one hell of a bargain category motherboard when you look at the prices of new AM5-platform motherboards. This contender provides everything you need at a compelling price of just 229$. The motherboard addresses the shortcomings of the predecessor while costing about the same which makes it its plus point. 
On the technical side of things, previously, on non-Max variants of the motherboard, you could only reach up to the 4.6GHz mark for the memories. However, this time around, the new motherboard allows you to squeeze the eligible memories more and run stably at 5.1GHz. This is beneficial to gamers and productive users both. Secondly, MSI left the power delivery design exactly the same here as the X570 TOMAHAWK – which has 14 phases in a 12+2 configuration. This old config is already great and was more than enough for the kind of processors that are available for it. 
Jumping on the feature train, we get to see a few improvements here as well. For instance, the motherboard now boasts a WiFi 6E module instead of the standard WiFi 6 which gives a nice bump in speed and consistency. Moreover, other connectivity ports are pretty much the same, like having 2x Gen4 NVMe expansion slots as well as 10 and 5Gbps USB Type A & C ports that come in real handy for those who connect a lot of devices with their PCs simultaneously. Not to mention, the motherboard would suit the Ryzen 5800X3D paired with something powerful like RTX 3090 Ti, this deadly combo is such a great value that you'll be fine for at least the next 3-4 years without the need for a major upgrade.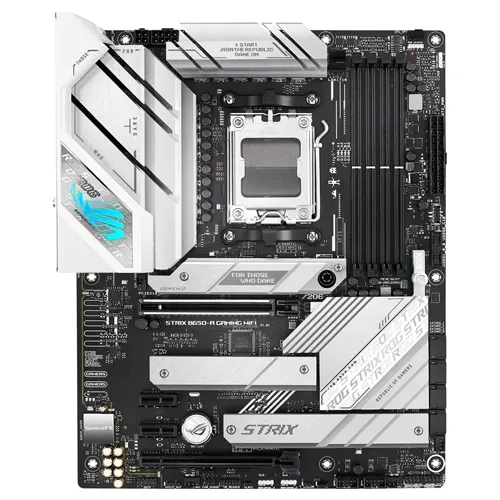 REASONS TO BUY
✓ The white color scheme stands out among the rest.
✓ A substantial amount of headroom for overclocking.
✓ Faster RAM support like many x670 chipsets.
✓ Custom GPU release solution.
✓ 5th and 4th gen NVMe expansion slots.
✓ Not too expensive.
REASONS TO AVOID
✗ No debug LEDs.
The B650 chipsets like its predecessor are of the more affordable segment that allows the masses to upgrade more easily. The ROG STRIX B650-A GAMING WIFI is no exception, the aforementioned motherboard comes at a midrange price of $289. Which is pretty affordable if one looks at the exorbitant prices of the X670E chipset iterations. 
The motherboard features one of the most famous and commonly used ALC4080 Audio Codecs that supports 7.1 surround sound right out of the box to let you enjoy media and games significantly better. The motherboard also benefits from faster memory which is a plus side for a midrange budget segment. You can easily use memories and tune them up to over 6.4GHz. The same is the case with the CPU that can be OC'ed with the 12+2 VRM design. 
Aesthetic-wise, the motherboard is drowned in white-themed heat spreaders along with an RGB-lit emblem. As for the USB ports, it provides you with a lot of them. You can use 9 ports from the rear and 7 from the front side that contains a mix of Gen1 and 2 Type A&C ports for maximum compatibility. All in all, the motherboard is of great value for those who would be going with the X3D variants of the Ryzen 7000 series processors, and with a GPU like the RTX 3090 Ti, it would be a great machine to handle anything.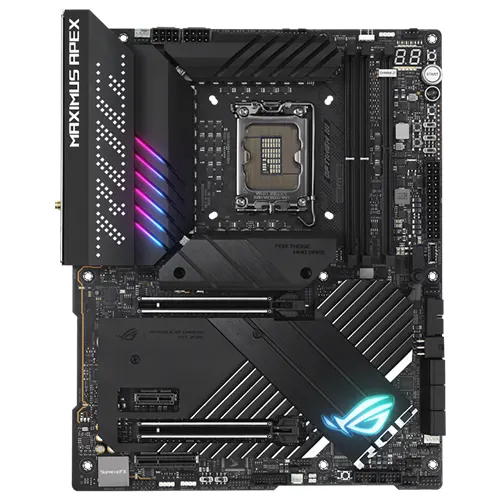 REASONS TO BUY
✓ Has great potential for the overclocking bit.
✓ Looks and feels premium to make up for the price.
✓ Beefy cooling for the motherboard components.
✓ PCI-e Gen5 NVMe and GPU expansion slots.
✓ Has a power LED indicator.
✓ Physical power button.
REASONS TO AVOID
✗ Costs quite a lot.
✗ Only two memory slots.
The ASUS ROG Maximus Z690 APEX is one of its own kind of motherboard that is easily distinguishable due to its unique approach for providing a highly fast NVMe expansion slot as well as other premium features. The motherboard costs around $720, which is like a whole gaming PC budget for many out there. The motherboard is built for the enthusiastic class who would willingly pay for such premium stuff with no questions asked. However, from an average gamer's point of view, it's really not that much worth it at such a high price point.
Motherboard comes jampacked with 24 power stages which is what impresses overclocking lovers the most. The said motherboard can withstand some serious amount of OC because not only that it has some of the best power stages design but also features equally beefy heat spreads to let the motherboard provide power to the CPU without burning or throttling. As for the memory, you get only two slots which is a little disappointing considering the higher price tag. The reason why this was done was to let you fit another Gen5 NVMe drive with the help of the expansion card that comes bundled with the motherboard.
The rear I/O is quite rich because of many Type A&C ports that provide speeds ranging from 5Gbps to 10Gbps. Not to forget, you get not one but two expansion cards that can house NVMe drives to let you fill the motherboard with maximum numbers of fast storage like none other. This motherboard would only make sense with the likes of Intel i9 12700K or the i7 13700k kind of processors and an RTX 3090 Ti at the very least, which is still the second most powerful graphics card after the RTX 4090.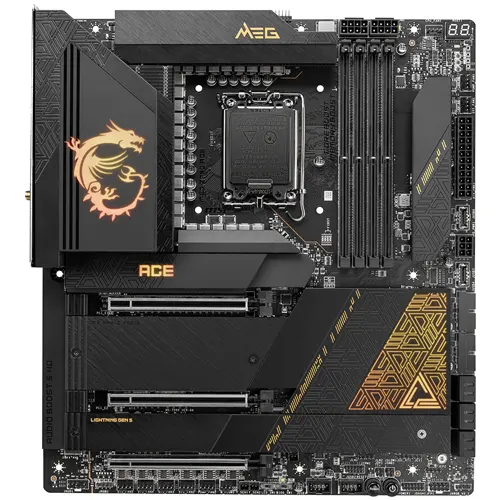 REASONS TO BUY
✓ Convincingly better OC support than Z690 APEX.
✓ Two of the 2.5 Gigabit Ethernet ports.
✓ A number of impressive I/O ports.
✓ Pretty fast Gen5 storage solution.
✓ Power consumption indication LCD.
REASONS TO AVOID
✗ Wouldn't fit in a small chassis.
✗ No upgrade path.
MSI MEG Z790 ACE is one of the best high-end motherboards out there that improves on almost everything in comparison with the old chipset motherboards. The Z790 ACE can be bought for $609 roughly, which seems like a lot but is significantly less than a Z690 APEX. On the plus side, you get a more powerful chipset instead of a little weak and expensive. 
It has a 24+1+2 power phase design and an equally powerful memory side. The motherboard can perform extreme levels of OC without indulging itself in problems. For memory, maximum 7800MHz is achievable with the right settings and memory kit. 
Enough of the technical stuff, let's discuss the features and i/o connectivity. The motherboard boasts useful ports like Thunderbolt and Gen2 USB ports for the fastest data transfers possible. It also gives you the option to connect 2x 2.5 Gigabits supported ethernet cables into the RJ45 ports. Not only this, but the motherboard also enables you to install Gen5 NVMe drives as well as sets you up for the future with the Gen5 GPU expansion slots. The motherboard looks great, performs great, and would be best suited for the i7 13700k or i9 13900K with a graphics card like the RTX 3090 Ti – an absolute monster.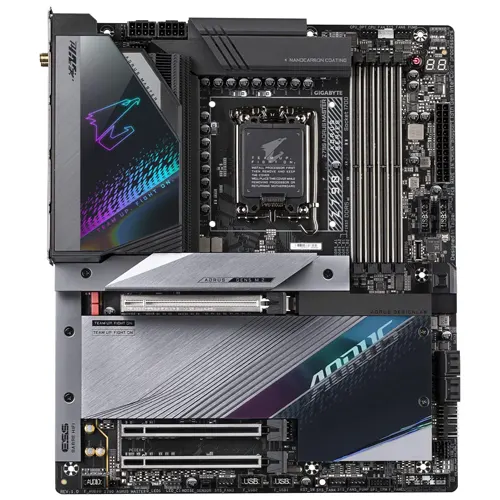 REASONS TO BUY
✓ One of the best motherboard designs to date.
✓ Fastest memory support in its league.
✓ DAC supported Audio Codec.
✓ Ethernet with 10Gbps connection support.
✓ Thunderbolt on rear and front both.
✓ Significantly cheaper than its competition.
✓ Great thermal design for the VRMs.
REASONS TO AVOID
✗ OC potential is slightly less.
GIGABYTE Z790 AORUS Master is an impressive motherboard to look at both visually and performance-wise. The motherboard costs just under $500 and rivals the likes of $600-ish motherboards. The motherboard has a chunky set of heatsinks all over the place that helps it to maintain adequate VRM thermals and run stably during harsh times like when the PC is under full load or going through the OC phase. 
A 20+1+2 Digital VRM solution has been embedded into the motherboard that allows for a substantial increase in the processing performance of the CPU, only if the OP uses an unlocked chip with this motherboard. As for the RAM, Gigabyte has outperformed many here by enabling you to go as high as a full 8000MHz speed limit. Which is highly beneficial for tasks that depend on faster memories. 
Not only this, but the motherboard also gives you not one but two 20Gbps supported Type C ports for extra convenience. And talking about speeds, one can't ignore the fact that this motherboard features a 10Gbps Lan port that is comparatively faster than many others that only come with a 2.5Gbps one. The motherboard also shines in the audio department, as it DAC supported Audio Codec to simulate high-quality audio for the audiophiles out there. It would be best with an i7 13700K and an RTX 3090 Ti if you ask me.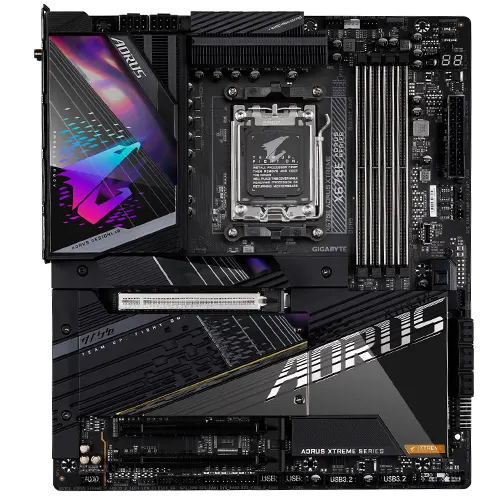 REASONS TO BUY
✓ Has an animated display.
✓ Powerful and sturdy VRM solution.
✓ Full of Gen5 expansion slots.
✓ Dedicated buttons to use without a case.
✓ 20Gbps Type C on both sides.
✓ 10Gbps Lan.
✓ DAC-supported audio like other AORUS offerings.
REASONS TO AVOID
✗ Isn't cheap by any means.
GIGABYTE X670E AORUS Xtreme is the top-of-the-line variant of the AORUS family and maxes out on everything that the other two AORUS iterations make sacrifices on. The VRM and NVMe drives cooling is excellent and doesn't look redundant on the board instead looks like a core part of it. The board costs around $689 but it's pretty much just as it's from the high-end lineup of motherboards.
X670E AORUS Xtreme houses a powerful VRM design that in numbers consists of 18+2+2 phases which is more than enough for high-tier overclocking and beyond in case you get the silicon lottery with your processor. Also, since it's the first generation of DDR5 motherboards, so we won't be seeing 7 or 8GHz achievable speed for the memory modules but rather get to a 6.6GHz which is still remarkable. 
The board also features the same audio codec as the AORUS Master which is capable of creating some high-definition audio for an enhanced media and gaming experience. You also get the same 10Gbps Lan for stable and fast internet use. Speaking of fast, the board does come with 20Gbps Type-C connectivity which makes the data transfer highly efficient and time-saving. Not to mention, the animated display is the talk of the town which provides the extra premium touch to this behemoth. The inclusion of four PCIe Gen5 M.2 drive options is a welcomed addition that is only possible at such a high-value motherboard. It would be a shame if this motherboard doesn't get paired with something like the Ryzen 9 7900x and an RTX 3090 Ti for maximum performance and visual fidelity.
Conclusion
This is some of the best times for PC upgrading whether going for old or new platforms. Each has its own pros and cons, which is why we opted for a universal approach and listed down all three highly in-demand platforms which include AM4, AM5, and LGA 1700. The AM4 socket is for those who are looking for the best bang-for-buck PC build and don't really want to spend much on the new DDR5 platforms. X570S TOMAHAWK MAX WIFI is one of those AM4-based motherboards, that cost less and give more. This motherboard suits the budget-conscious peeps more who are looking for the cheapest yet most effective upgrade over their old obsolete hardware. 
Since not everyone is fond of staying on the old tech and would prefer to go with the time. So, in that case, Strix B650-A for AMD and Z790 AORUS Master for intel are a few mesmerizing options to take a look at. Both are great performing chipsets for what they cost. Although, the Z790 is somewhat more expensive than the B650 but justifies its higher price because of the extra features that it puts on the table. 
For high-end users, X670E AORUS Xtreme, MSI Z790 ACE, and ROG Z690 APEX are viable choices. The trio comes from the premium budget segment and gives more features than a budget or mid-range unit, hence the extra cost. Where most motherboards only give one or two Gen5 NVMe drive slots, the likes of X670E AORUS Xtreme goes all out on that bit and end up giving you not one or two but four PCIe-5 NVMe slots to get the most out of it. The APEX also has a unique way to let you expand the storage on it, however, the Z790 focuses on the performance factor and gives the highest possibility of overclocking with its 24 phases VRM design. All of the motherboards serve their purpose in an excellent way and would be the best companion for cards like the RTX 3090 Ti.