Usually, you will find better and more detailed guides and articles on more powerful and high-end processors as they cater to a broader audience and gaming enthusiasts who are into overclocking and pushing their PC components to their limit. However, many newer low-end, entry-level processors are being released to serve more casual users and are suitable for entry-level gaming PC builds. Both Intel and AMD make such processors because many people aren't into ultimate gaming and want to build a PC for casual tasking and maybe for a lighter gaming experience.
AMD's Ryzen 3 3100 targets the same demographic described above. It is an efficient processor that offers good features for an entry-level processor, and it handsomely tackles the computing needs of a casual user. Based on the Zen 3 architecture, this processor comes with 4-cores and 8-threads with a clock speed of 3.9 GHz, making it a competent processor for its modest price tag. A compatible motherboard is the most crucial part of a computer build besides the processor. The Ryzen 3 3100 supports a socket of the AM4 platform, and several motherboards are very suitable for it.
Many AM4 motherboard options are available in today's market that offer a variety of features at different prices. We put together a list of the most suitable motherboards for the Ryzen 3 3100 processor that will use this processor's full potential while delivering various attributes. These motherboards have been thoroughly tested with several processors to understand their performance and efficiency better. We have packed enough information in this article to provide you with the best possible knowledge on these motherboards.
So, without wasting any more time, let's jump into the list of the most suitable processors for the Ryzen 3 3100.
Best Motherboard for Ryzen 3 3100 Summary
Best Motherboard for Ryzen 3 3100 At a Glance:
Best Motherboard for Ryzen 3 3100 Reviews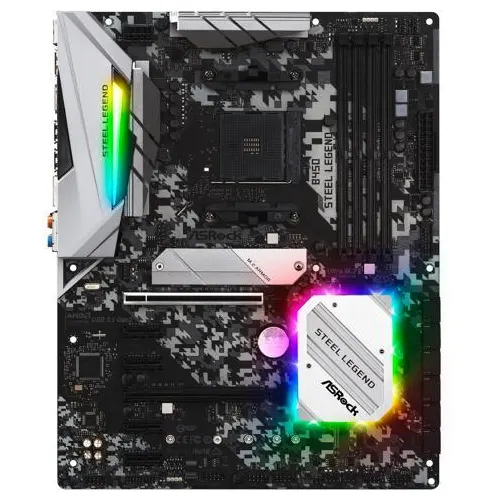 REASONS TO BUY
✓ Exceptionally good pricing
✓ Good performance
✓ High-quality heat sinks
✓ Modernistic and Sleek design
REASONS TO AVOID
✗ Older generation
✗ The software is dated.
Let's start with an ASRock motherboard. ASRock is a manufacturer of computer products, including monitors, PC cases, and motherboards. They are popular in the gaming community for their affordable prices. While using an older chipset, the ASRock B450M STEEL LEGEND motherboard is still compatible with our processor.
The STEEL LEGEND B450M boasts a stylish camo design in contrasting shades of grey, black, and white. Its customizable RGB lighting, powered by the RGB Polychrome software, features numerous programmable LEDs to create a unique color scheme tailored to your liking. The STEEL LEGEND is also built with high-quality "super alloy" heat sinks for enhanced protection and heat dissipation.
This motherboard is highly efficient for overclocking applications, as it has been extensively tested and proven to provide excellent stability during such processes. Although its audio support may need to be better with newer models due to the ALC892 chip, it can still deliver 7.1 surround sound. It boasts a 2x USB 3.2 Gen 1 port, a 6x USB 3.1 Gen 1 port, and a single Ultra M2 slot and SATA M2. Additionally, it has 4x DIMM DDR4 slots that can accommodate up to 64GB of memory and Realtek Gigabit LAN for reliable network connectivity.
While it may not include the latest features or be as upgradeable as some competitors, this motherboard still offers incredible value for its affordable price. It's an excellent choice for those on a budget, and its performance when it comes to gaming and thermal performance is just exceptional. So if you're looking for a budget-friendly option that won't disappoint you, this motherboard might be the perfect choice.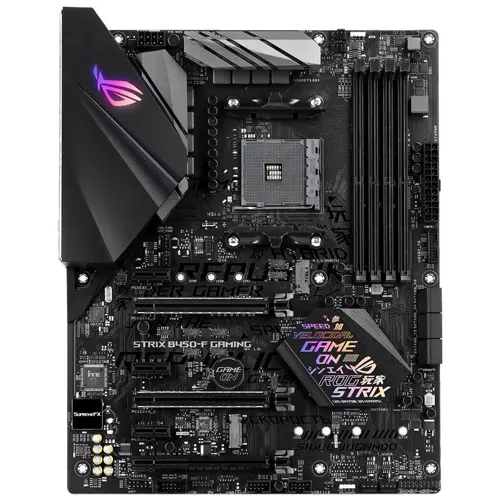 REASONS TO BUY
✓ Excellent Audio Quality
✓ Onboard display ports
✓ Supports Xbox One controller
✓ Lightweight and compact
✓ High DDR4 memory speed support
REASONS TO AVOID
✗ No wireless connectivity option
✗ A bit expensive
If you're looking for quality PC components, ASUS is a reliable brand that offers both high-end and budget-friendly options. Their motherboards, in particular, are exceptional, with the ASUS ROG STRIX B450F GAMING II being an excellent choice for a mid-level gaming setup. With its many features and compatibility, you can't go wrong with this option.
The black design of the motherboard is not only stylish but also effective in keeping the system cool. Additionally, the NVMe heatsinks are well-designed and contribute to the smooth operation of the motherboard.
It is designed for the AM4 socket and exclusively caters to AMD Ryzen processors of the same chipset. Its most notable feature is its onboard audio support, which can support 24-bit/94kHz audio, that is comparable to many entry-level premium speakers. Additionally, it boasts an exceptional microphone that utilizes AI noise-cancellation technology to provide clear and crisp vocal input.
This motherboard is optimized for high-end gaming with its DDR4 memory support of up to 4400 MHz. It also features standard storage support, two NVMe slots, and USB 3.2 Gen 2 Type A and Type C slots on its I/O shield, compatible with both Gen 1 and 2 devices. The I/O shield offers a range of connectivity options, including HDMI 2.0 and Display port 1.2 output, ensuring seamless connectivity for optimal gaming experience.
The compact and sturdy design of this motherboard is imposing, and it has the potential to become even more outstanding with the addition of RGB features.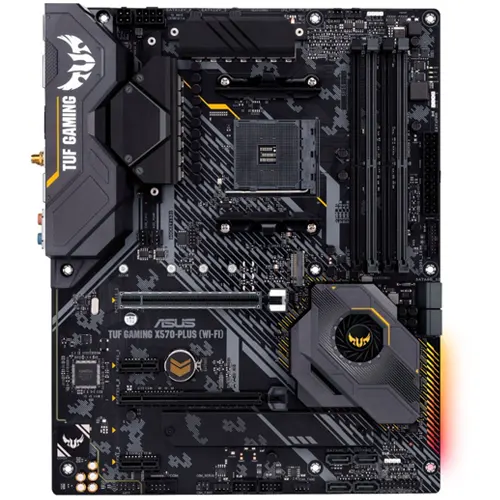 REASONS TO BUY
✓ Excellent pricing
✓ USB 3.1 Gen 2 Type-C
✓ WiFi Included
✓ Debug LED
✓ Good thermals
REASONS TO AVOID
✗ No front Panel USB 3.1 Gen 2
ASUS has yet again released another impressive addition to their lineup - one of their top-notch X570 motherboards. ASUS is renowned for its exceptional motherboard builds and unparalleled features, making their products the top choice for many users. The ASUS AM4 TUF GAMING X570 PLUS proves to be no exception, as it offers a highly efficient and remarkable option for an AMD AM4-based processor.
The design of the Asus motherboard is absolutely stunning, with RGB Aura Sync lighting that adds an extra touch of style to your PC build. Its cooling system is top-of-the-line, featuring multiple fans, hybrid fan headers, and multi-component heatsinks. Additionally, it's built with military-grade components that ensure maximum durability for the long haul.
Experience the full potential of your system with PCIe 4.0, unlocking the capabilities of high-performance graphics cards and overclocking. Effortlessly expand your storage with two M2 NVMe slots and over 12 SATA ports. Enjoy crystal-clear audio quality thanks to the Realtek S1200 codec's impressive SNR margins.
It includes six Gen 1 USB 3.1 ports, featuring Type-C, HDMI, and display ports for ultimate connectivity. Additionally, the TUF LANGuard and TurboLAN technologies work together to drastically minimize online gaming latency and lag, ensuring optimal network performance.
If you're looking to build a powerful gaming rig, this motherboard is an excellent choice. Its compatibility with Intel processors ensures smooth performance, while its impressive features make for a robust and reliable setup.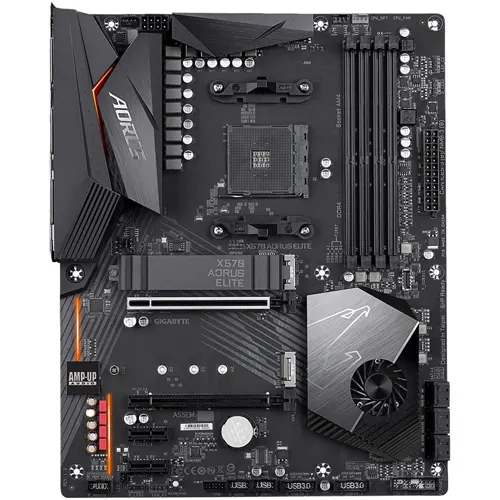 REASONS TO BUY
✓ Good thermals
✓ Affordable pricing
✓ Heatsinks for M2
✓ Integrated I/O panel
REASONS TO AVOID
✗ No type-C on rear
✗ No debugging LED
Looking for top-quality PC components, look no further than GIGABYTE. This renowned manufacturer offers a wide range of products at different price points, from affordable to premium. Their products are highly regarded for their durability and efficiency, and they're particularly dominant in the market for motherboards, GPU variants, and other computer accessories. The GIGABYTE AORUS Elite is a standout product that boasts a range of exceptional features.
The AORUS motherboard is designed to perfection with an elegant black finish and an RGB strip that can be customized to your liking. Its cutting-edge GIGABYTE Advanced Thermal Design and Enlarged Heatsink guarantee exceptional thermal performance, which means your components can work to their fullest potential without any worries of overheating.
This one is a great option if you're looking for a compatible motherboard for your Ryzen 5000 series processors. It supports the AM4 socket compatibility and ensures a smooth performance. Additionally, the audio quality is top-notch with the Realtek ALC1200 codec that provides 7.1 surround sound. The noise guard technology also reduces static noise levels, ensuring a crisp and clear output. Overall, this motherboard is a reliable choice for your computing needs.
It has 4 DIMM slots capable of holding up to 128GB of DDR4 memory, using dual-channel memory architecture. Additionally, it includes two M2 NVMe slots with built-in heatsinks, USB 3.1 and USB 3.0 connectivity options, type C for the front panel, and HDMI 2.0.
Rest assured that this motherboard is fully equipped to support AMD processors with Zen+ architecture and guarantee top-notch performance thanks to its advanced heat sinks and fans.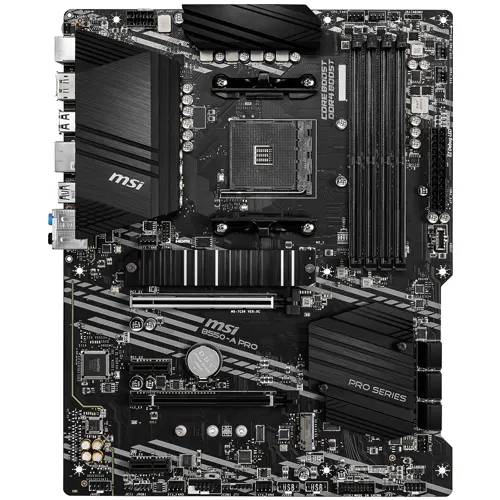 REASONS TO BUY
✓ Excellent thermal performance
✓ USB 3.2 Gen 1 on the front panel
✓ Good power delivery
REASONS TO AVOID
✗ No WiFi
✗ Only six USB ports
✗ Expensive
For the gaming community, MSI is a renowned brand that is dedicated to delivering top-quality PC components. Their graphics card variants, power supplies, motherboards, and monitors are all exceptional. Among their line of products, the MSI PRO ProSeries motherboard stands out as an outstanding choice with remarkable features.
B550A PRO is the perfect motherboard for gamers of all levels, with its lightweight design and powerful heat sinks. It's built to handle the most intense gaming sessions while also providing plenty of room for upgrades and customization. Whether you're a hardcore gamer or just starting out, this motherboard has everything you need to take your gaming to the next level.
The motherboard boasts a sleek black design without any RGB lighting. Its high-end audio quality is powered by a top-of-the-line ALC892 audio codec, supporting Dolby Atmos and 7.1 surround sound. With 4x DIMM slots, up to 128GB DDR4 memory is available. The motherboard also includes two M2 NVMe slots, 3x USB 3.2 Gen 1, and 6x SATA III connectors. Thanks to the Creator Genie software, updating the BIOS is simple. Additionally, an embedded power delivery controller provides a consistent amount of current to the components. Even under heavy loads, thermal pads work to keep the motherboard cool.
With its exceptional premium features, B550A PRO boasts remarkable compatibility with both AM4 AMD and the latest 7th-generation Intel processors, making it an unparalleled choice.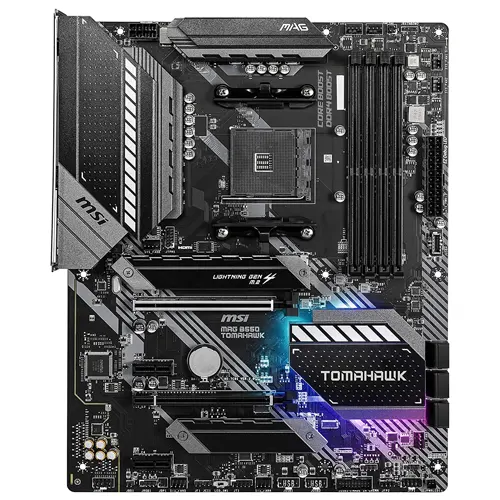 REASONS TO BUY
✓ Sleek and modernistic design
✓ Good build quality
✓ Excellent thermal performance
✓ Very lightweight
✓ USB 3.2 Gen 2, Type-C + Type-A support
REASONS TO AVOID
✗ Expensive
✗ No WiFi
We have another addition from MSI. MSI provides top-notch PC components that are gaming-ready and deliver exceptional performance. The MSI MAG TOMAHAWK motherboard is specifically designed to cater to gaming and daily tasks, making it an ideal choice for hardcore gamers.
Upon unboxing, you will be greeted with a motherboard showcasing a cutting-edge design and the ability to customize your RGB lighting. Its sleek black finish and compact, lightweight build exude modernity. Additionally, it boasts exceptional thermal solutions with two rear fan headers and superior heat sinks for both the processor and storage drives.
The motherboard is equipped with advanced PCIe 4.0 technology, which helps to enhance network speeds. Additionally, it features 2 LAN ports that include optical and RJ45 functionality. You can also benefit from 2 USB 3.2 Gen 2 ports and 1 USB 3.1 Gen 1 port. Furthermore, the Realtek ALC1200 codec helps to ensure that your audio input is free from any unwanted noise.
Experience the power of Mystic RGB as it illuminates your device with vivid colors that perfectly sync with your commands. With 4 DIMM DDR4 slots and 2 M.2 slots, this device is equipped to handle all your needs. Its removable aluminum covers make maintenance a breeze, giving you more time to focus on gaming or tasking.
The MAG B550 motherboard has been designed to be compatible with processors that utilize the AM4 socket, including both AMD and Intel. It offers a plethora of desirable features that make it a top choice for many AMD processors.
Conclusion
The motherboard is the most critical part of a computer, as it houses all the major components, providing them with power and enabling them to work together for the best possible performance. When selecting a motherboard compatible with your processor, it is crucial to conduct thorough research and have knowledge of computer components. It should support the same socket that the processor is designed for and, most importantly, be upgradeable for future use as more powerful processors are introduced to the market with newer generations and features.
The longevity of an integral computer part is imperative. You can very easily upgrade a graphics card or a processor on your PC only if your motherboard is suited to house it. Because of this reason, the ideal choice of a motherboard is one that offers the latest features so that you will have a generational advantage when it comes to upgrading your components. For example, we haven't included the A320m series of motherboards, despite being compatible with the AM4 platform. It is older and limits the user experience by not offering enough compatibility options that one should always get for their money.
Having a solid understanding of compatibility and performance is essential when it comes to buying computer parts. That's why we offer education and resources for avid gamers and enthusiasts who are keen on creating their own customized PCs.
Your choice of motherboard solely depends on your requirements and budget. With a processor like Ryzen 3 3100, there are numerous great motherboards available in the market. We have meticulously compiled a list of suitable motherboards along with crucial information about their features, pros, and cons to ensure that you make an informed decision.
The best motherboard for the Ryzen 3 3100 processor will be the MSI MAG B550 TOMAHAWK because, at a reasonable price, this product boasts exceptional features and allows for easy upgrades while maintaining top-notch thermal stability.
However, if you are a bit budget conscious, the best budget pick for the Ryzen 3 3100 processor will be the ASRock B450M STEEL LEGEND. It is comparatively a bit older and features fewer attributes, but it still has good performance, looks, and compatibility for its very modest cost.