AMD has just released its newest processors, but it differs from what you might think. Lately, AMD has dominated the processor market with its tremendously powerful gaming processors for both mid-end and high-end gaming builds. Their offerings are genuinely unique because they have kept their promise of delivering exceptional quality processors, and they don't overprice their products unless they are very high-performing. Amidst this trend of putting out powerful processors in the market, they have surprised everyone with the release of the Ryzen 3 5100. Today our topic is the best motherboard for Ryzen 3 5100 and other processors.
The Ryzen 3 5100 is based on Zen 3 architecture, unlike their newer Zen 4-based processor, and offers a low-end and modest experience targeted at very casual users. It has four cores and eight threads and supports AM4 sockets, unlike the newer AM5 sockets. It is also based on their Cezanne architecture which also supports integrated graphics. This processor was considered an OEM or released only for other brands and not for retail. But recent events have pointed towards the opposite as it is confirmed to be released for retail and will be available in the market.
A motherboard is a crucial part of any PC build as it houses all the major components needed, including the processor. For this reason, we have decided to compile a list of the best motherboards that offer support for AM4 Chipsets and will be a perfect match for the Ryzen 3 5100. These motherboards have been stress tested with many compatible processors to provide you with unbiased information on all of them, along with their notable specifications and attributes.
So without further ado, let's jump into the list of best motherboards for the Ryzen 3 5100 processor.
Best Motherboard for Ryzen 3 5100 Summary
Best Motherboard for Ryzen 3 5100 At a Glance:
Best Motherboard for Ryzen 3 5100 Reviews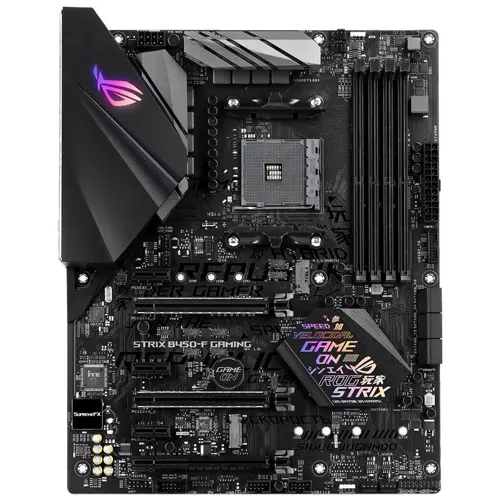 REASONS TO BUY
✓ Excellent Audio Quality
✓ Onboard display ports
✓ Supports Xbox One controller
✓ Lightweight and compact
✓ High DDR4 memory speed support
REASONS TO AVOID
✗ No wireless connectivity option
✗ A bit expensive
ASUS is one of the most prominent PC component manufacturers. Their products are primarily top-tier with a premium price tag, but they release some budget-friendly products occasionally. They are among the best motherboard manufacturers and have been doing for quite some time. The ASUS ROG STRIX B450F GAMING II is an exceptional motherboard for a mid-end gaming rig with a lot to offer with its features and ranged compatibility.
It is a very well-designed motherboard that doesn't go over the top with its looks. It's primarily covered in black, with an aesthetic outlook. Also, the thermals on this motherboard are pretty good, as it has enough space for adequate airflow and manages a cooler environment for all of its accommodated components with good heatsinks for NVMe.
 It is made explicitly for the AM4 socket, catering solely to AMD Ryzen processors of the same chipset. Its most notable feature is its onboard audio support. It supports a 24bit/94KHz audio that is on par with many entry-level premium speakers. Moreover, it also features an exceptional microphone that utilizes AI noise cancellation to provide crisp and clean vocal input.
This motherboard supports DDR4 memory up to 4400 MHz, which is handy for higher-end gaming rigs. It also has relatively standard storage support and comes with two NVMe slots. It also has USB 3.2 Gen 2 Type A and Type C slots on its I/O shield, which are compatible with Gen 1 and Gen 2 USB devices. The I/O shield features a plethora of connectivity options, such as HDMI 2.0 and Display port 1.2 output.
Overall, it is a compact motherboard that offers a range of features. It doesn't have any RGB options but still provides an aesthetic aura with its black theme and excellent build quality.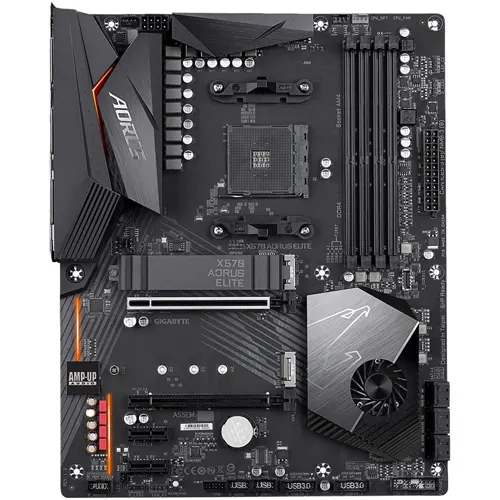 REASONS TO BUY
✓ Good thermals
✓ Affordable pricing
✓ Heatsinks for M2
✓ Integrated I/O panel
REASONS TO AVOID
✗ No type-C on rear
✗ No debugging LED
GIGABYTE is a much-reputed PC component manufacturer that has released several products that range from affordable to premium. Their products are known for their robust build and efficiency, and they have been dominating in this domain with their motherboards, GPU variants, and other ancillaries for computer builds. The GIGABYTE X570 AORUS Elite is a work of excellence, and it features a few attributes that make it stand out.
The X570 AORUS has a robust build, and the motherboard is covered in black. Its looks are industry-defining for a motherboard, including a customizable RGB strip on its front. The thermals on it are also exceptional, with GIGABYTE's Advanced thermal design and Enlarged heatsink ensuring a more prominent heat dissipation while keeping the components at desirable temperatures so they can deliver optimally.
It supports AM4 socket-based processors such as the Ryzen 5000 series, making it exclusively desirable for that range of processors. Its audio is also perfect, including the Realtek ALC1200 audio codec that supports 7.1 surround sound. Noise guard helps reduce static noise levels for a cleaner audio output.
It features 4x DIMM slots that can house up to 128GB of high-speed DDR4 memory while based on dual-channel memory architecture. Moreover, it has two M2 NVMe slots with built-in heatsinks and connectivity options USB 3.1 and USB 3.0 with a type C for the front panel and HDMI 2.0.
This motherboard is a good pick for AMD processors and supports Zen+ architecture that further complements the processor's performance with advanced heat sinks and fans.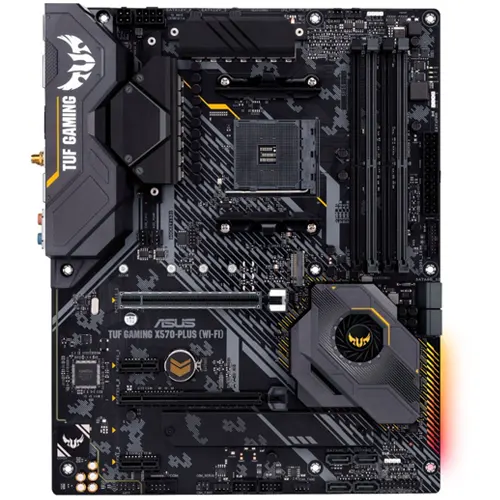 REASONS TO BUY
✓ Excellent pricing
✓ USB 3.1 Gen 2 Type-C
✓ WiFi Included
✓ Debug LED
✓ Good thermals
REASONS TO AVOID
✗ No front Panel USB 3.1 Gen 2
We have another addition by ASUS, but this time, it is one of their X570 motherboards. ASUS provides exceptionally built motherboards with outstanding features all across. They include some of the most sought-after features that make their products highly favorable for many users. The ASUS AM4 TUF GAMING X570 PLUS is no exception, as it provides a suitable option for an AMD AM4-based processor with greater efficiency and some fantastic properties.
It is a beautifully designed motherboard with Asus's RGB Aura Sync RGB lighting that perfectly adds to the aesthetic of your PC build. It offers comprehensive cooling with its capability of housing multiple fans, multi-component heatsinks, and hybrid fan headers. Moreover, it features military-grade components in its build that are bound to serve you for a long-time.
It supports PCIe 4.0, which offers good upgradability and potential for installing high-powered graphics cards and can handle their overclocking. It offers not only two M2 NVMe slots but also hefty storage expansion options, as it has more than 12 SATA ports. Moreover, its audio quality is pristine, as it supports the Realtek S1200 codec with high SNR margins.
Its I/O panel comprises six Gen 1 USB 3.1 ports with Type-C, HDMI, and display ports. Its network connectivity is unfathomably excellent because of the TUF LANGuard and TurboLAN technology, which deliver lower latency for online gaming and reduces lag by a good margin.
This motherboard is very diverse in its application and compatible with Intel's processor. Overall it is a great option to consider for an AMD build because it offers excellent features that are very desirable, and it is a very capable motherboard for a robust gaming rig.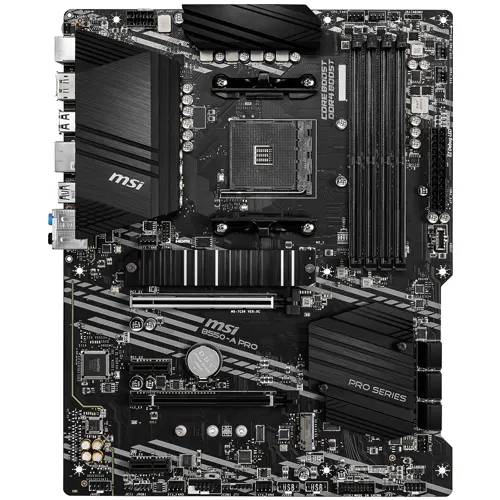 REASONS TO BUY
✓ Excellent thermal performance
✓ USB 3.2 Gen 1 on the front panel
✓ Good power delivery
REASONS TO AVOID
✗ No WiFi
✗ Only six USB ports
✗ Expensive
MSI excels in providing the gaming community with high-quality PC components such as graphics card variants, power supplies, motherboards, monitors, etc. They have a substantial following and have been in this business longer than many other brands. The MSI B550A PRO ProSeries is an excellent motherboard with outstanding qualities.
B550A PRO has a sleek and slim design that makes gaming easier. It is a very lightweight board with many compatibility options. It features robust heat sinks and packs enough power to support your gaming. It is made to cater to hardcore and casual gamers as it offers better suitability for overclocking and a high margin of upgradeability as it supports a wide range of AMD and Intel processors.
It is a beautiful motherboard, fully laced in black but with no RGB. It is fitted with top-notch audio components as it has an ALC892 audio codec which offers premium sound quality and supports Dolby Atmos and 7.1 surround. It has 4x DIMM slots supporting up to 4400 MHz and 128GB DDR4 memory, along with two M2 NVMe slots, 3x USB 3.2 Gen 1, and 6x SATA III connectors. Its BIOS can be easily updated with the Creator Genie software and contains an embedded power delivery controller that delivers an optimum and stable amount of current to its components. Moreover, the thermal pads on this motherboard keep it cool under heavy loads.
Nevertheless, B550A PRO is a great motherboard with many premium features and is highly compatible with AM4 AMD processors and 7th-generation Intel processors, making it an excellent and worthy choice.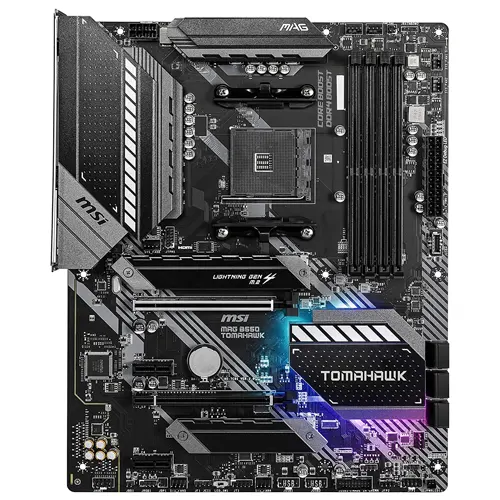 REASONS TO BUY
✓ Sleek and modernistic design
✓ Good build quality
✓ Excellent thermal performance
✓ Very lightweight
✓ USB 3.2 Gen 2, Type-C + Type-A support
REASONS TO AVOID
✗ Expensive
✗ No WiFi
We have another addition from MSI. They offer gaming-ready designs on their PC components that deliver a powerful performance. The MSI MAG B550 TOMAHAWK is a powerful motherboard that caters handsomely to your gaming and daily tasking needs.
Right out of the box, you are greeted with a robust, sleek, beautifully designed motherboard with onboard customizable RGB that provides a perfect aesthetic to the gaming rig. The motherboard itself is lightweight and compact sized and covered in black color. It offers modest thermal solutions in the form of two rear fan headers and heat sinks for the processor and storage drives.
The motherboard is fitted with the latest PCIe 4.0 interface, efficiently delivering faster network speeds to your PC and reducing input lag. It has two LAN ports which are classified as optical and RJ45 ports. Also, it is equipped with 2 USB 3.2 Gen 2 and a single USB 3.1 Gen 1 port. With Realtek ALC1200 codec, this board manages a noise-free audio input.
Thanks to Mystic RGB, it is an aesthetic king that provides vibrant lighting that can be synced and controlled with the included software. It also features 4x DIMM DDR4 slots and 2x M2 slots, and removable Aluminum covers that make its cleaning easy.
The MAG B550 is highly compatible with AM4 socket-based AMD and Intel processors. It is an excellent motherboard with many desirable features, making it the best motherboard for many AMD processors.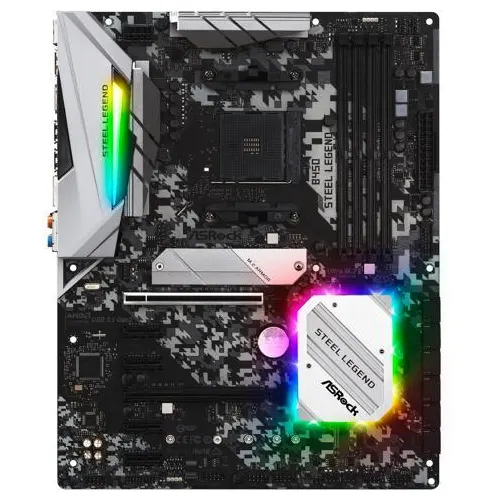 REASONS TO BUY
✓ Exceptionally good pricing
✓ Good performance
✓ High-quality heat sinks
✓ Modernistic and Sleek design
REASONS TO AVOID
✗ Older generation
✗ The software is dated.
ASRock is a dated manufacturer of select computer products, and they rose to fame with their well-designed products like monitors, PC cases, motherboards, etc. They have a reputed following in the gaming community and have always delivered with a pocket-friendly price tag. The ASRock B450M STEEL LEGEND is a change of pace from our other listed motherboards because it is a relatively older chipset, but it is good enough for our processor.
The B450M STEEL LEGEND is covered in contrasting grey, black, and white colours. The camouflage style with RGB lighting delivers a highly aesthetic look, and the RGB is fully customizable with the RGB Polychrome software. A hefty number of LEDs are fitted to provide a combined RGB effect, and these LEDs are programmable to display a variation of colours that perfectly suits you. It has excellent build quality and features high-quality heat sinks made from "super alloy" for more intensive protection and heat dissipation.
It can be used for overclocking applications very efficiently because it has been tested to show good stability while attempting such processes. However, its audio support is somewhat compromised because the ALC892 chip isn't as nearly good as the newer ones but still is capable of 7.1 surround.  It features 2x USB 3.2 Gen 1 ports and 6x USB 3.1 Gen 1 ports, along with a single Ultra M2 slot and SATA M2. It also consists of 4x DIMM DDR4 slots which can be equipped with up to 64GB and Realtek Gigabit LAN.
Comparatively speaking, its features aren't impressive in the shadow of other motherboards on this list. It doesn't offer the latest perks, and its upgradability is almost diminished with the consistent release of newer AMD processors. But this motherboard offers outstanding value for money with its highly modest price tag. It is perfect for AM4 processors and can fit any budget, while its output for gaming and thermals is just outstanding, making it a desirable budget pick.
Conclusion
The motherboard is the most essential part of a computer as it houses all of your major components. It gives each component the required power and enables them to work collectively to achieve the best possible performance. A motherboard compatible with your processor, such as the Ryzen 3 5100, requires thorough research and knowledge of computer parts. It should support the same socket support that the processor is made for, and most importantly, it should be upgradeable for the future as more powerful processors hit the market with newer generations and features.
Selection and buying of computer parts can take much work. It requires a good understanding of these parts and knowledge of their compatibility and adequate performance output once combined. With articles like these, we aim to educate and inform avid gamers or computer enthusiasts who want to build their PCs independently for ultimate performance and satisfaction.
The choice of motherboard depends on your requirements and budget. Many good Mobos are present and abundantly available in the market for a processor like the Ryzen 3 5100. With this list of suitable motherboards, we provide all the necessary information to help you decide. We have thoroughly explained their features, pros, and cons so that you can decide for yourself. But if you still haven't decided, we can decide.
The best motherboard for the Ryzen 3 5100 processor will be the MSI MAG B550 TOMAHAWK because it delivers nearly unmatched attributes with a reasonable price tag and offers a good margin for upgradability while being thermally stable.