Motherboards are the key parts of every PC build and without them, nothing would work. As time passed, motherboards kept getting better and better. Motherboards nowadays are stronger and richer in terms of quality and features. One of the core reasons for doing so is to let other components work at their full potential and beyond with each passing generation. However, keep in mind that such luxury also comes at a higher cost. We have got a few best motherboard for Ryzen 7 5700X and testing out which one stands first on the list.
The Ryzen 7 5700x was released back in Q1 of 2022 at the retail price of $299, which was significantly better than the nearly $400 price tag of the i7 10700K. The Ryzen 7 5700x packs the good old 8C/16T config and manages to beat the likes of the i7 10700K without any OC. Now that one year has passed, the price has also declined substantially – you can get one for as low as $192, which is a great bargain for the amount of performance that it offers in both productivity and gaming. 
Such kind of performance can only be extracted if the motherboard is capable of handling such power uninterruptedly. Hindrance in the flow of power toward the CPU can cause it to underperform, which one wouldn't want. Many capable chipsets are available like the B450, B550, and X570, which would let the chip operate at its maximum power. The chipset name isn't the only thing that matters, but which variant of it you choose also does. Many 3rd party vendors manufacture several variants of the same chipset so anyone can buy as per their respective budgets. 
AORUS Master, AORUS Xtreme, ROG Strix, MSI ACE, and ASRock Steel Legends are a few renowned names that come to mind when one thinks of a quality motherboard. But which one would suit you best? That's the question that we're going to answer today! Let's get right into it.
Best Motherboard for Ryzen 7 5700X Summary
Best Motherboard for Ryzen 7 5700X At a Glance:
Best Motherboard for Ryzen 7 5700X Reviews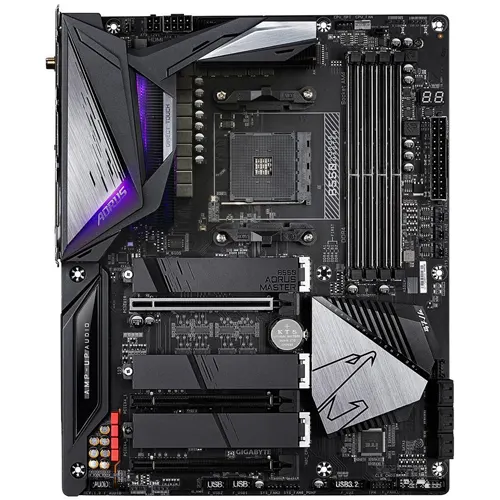 REASONS TO BUY
✓ Eye-catching design.
✓ Excellent RAM and CPU OC capacity.
✓ Onboard WiFi 6 capability.
✓ The price isn't absurd.
✓ Offers 2.5Gb Lan.
✓ Comes with PCI-E Gen4.
REASONS TO AVOID
✗ Compatibility ends with 5000 series processors.
The B550 AORUS MASTER is one of the very few motherboards based on the B550 chipset that gives you a premium feel while staying true to the budget. The motherboard comes in at around $260 currently. Which when paired with the $192 Ryzen 7 5700x, would become a deadly combo together. The new AM5 motherboards are somewhat overpriced right now which makes these AM4 motherboards an even more enticing option to consider. 
This specific motherboard is all wrapped up in heat spreaders whose design looks inspired by diamonds and has RGB lighting on the I/O cover. Now let's take a look at the real thing, which is its VRM design – the motherboard houses 16 phases of digital VRMs which are sufficient for overclocking the Ryzen 7 5700x or even the Ryzen 9 5900x. This tells a lot about its capabilities, beside this, the board also lets you crank the memory speeds to a maximum of 5.4GHz. 
Moreover, the B550 AORUS MASTER also boasts an onboard WiFi 6 module along with the latest 2nd generation of USB Type A & C ports – 1st Gen Type As are also present for the additional convenience of the user. As for the onboard storage solution, it gives you the option to add 1x PCIe Gen4 and 2x PCIe Gen3 NVMe drives to help you eliminate the extra space that the standard hard drives and SSDs take. It's a great motherboard, in general, whether the reason is the Ryzen 7 5700x or the value-for-money tag that most people look for before purchasing anything that doesn't cost pennies.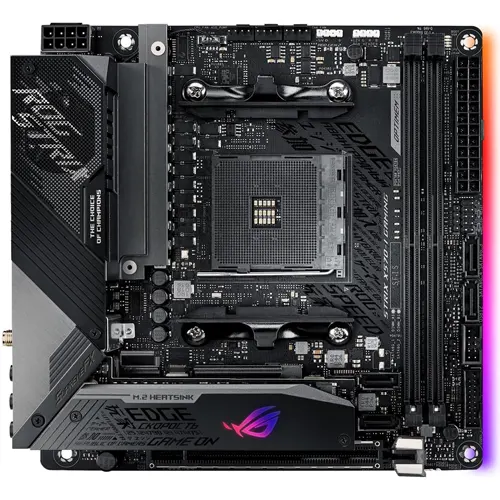 REASONS TO BUY
✓ Is compatible with any chassis.
✓ Adequate OC even though it's compact.
✓ ARGB lighting is still present.
✓ Fast 6th gen WiFi.
✓ 4th generation PCIe x16 expansion.
✓ Decently priced considering its form factor.
REASONS TO AVOID
✗ 2 ram slots might become an issue for some developers.
Every chipset has at least one iTX form factor variant for those in need or they are just fans of mini-iTX builds. Usually, the mini iTX boards are more expensive when it comes to pricing, the same is the case with most mini-iTX cases. This ASUS ROG Strix X570-I is no exception as it comes at the price of $280. The price does seem a little high to a normal user but is almost acceptable to the mini-iTX enthusiasts. 
This iTX board has two DIMM slots like the others to qualify for the iTX form factor category and can only support up to 64 GB of memory at a maximum speed of 4800MHz after enabling the XMP OC profile. Not just the memory OC that is impressive – as it's the same for the CPU too with its 8+2 phase power delivery design that can help you pull some convincing performance out of it with a chip like the Ryzen 7 5700x. Besides that, all of those VRMs are adequately cooled for the longevity and stability of the board.
Being smaller in size doesn't mean less in features because this board right here is almost as dense as micro-ATX or ATX boards in terms of the rear I/O and onboard storage. Four of the latest Gen2 USB 3.2 ports have been incorporated alongside four of the same Gen1 ports and 1x Gen4 PCIe x4 NVMe drive slot on this X570-I Strix. This gives you a handsome amount of room for attaching multiple devices to the PC. This board sure is a thing of beauty and performance and would make a great base to use the Ryzen 7 5700x on.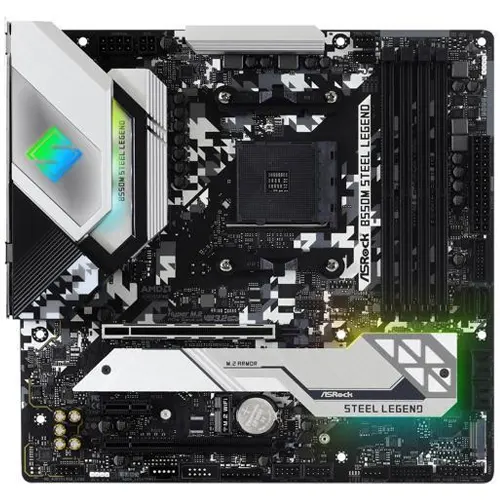 REASONS TO BUY
✓ mATX form factor allows for better compatibility.
✓ Offers decent OC headroom.
✓ Highly affordable pricing.
✓ PCIe 4 x16 is present for the GPU.
✓ 2x PCIe x4 for faster storage.
✓ 2.5 Gigabit LAN.
REASONS TO AVOID
✗ No Bluetooth and WiFi.
mATX is one of the most common form factors for the motherboards as it can fit in pretty much any motherboard except for the iTX cases. The ASRock B550M Steel Legend is one such motherboard that keeps the price and features balanced. The motherboard comes at the cost of $138, which is very much affordable. But such affordability was only achieved by cutting some corners like the expulsion of built-in Bluetooth and WiFi modules. However, that wouldn't be a big problem for many as most use the Lan port for consistent ping and speed.
Making the motherboard more affordable also means making it less potent than its bigger brothers. This is why we get 10 phases of VRM (Dr. MOS variant) instead of the 16 phases that the ATX variant of this same board comes with. Not much to worry about because these 10 phases are adequate for OC chips like the Ryzen 7 5700x to a considerable level. And yes, I can't forget talking about memory when the discussion is about overclocking. Fortunately, the motherboard also allows up to 4733MHz and more speed for the memory thanks to the adequate VRM solution. 
Lastly, for the features the motherboard has all the basic I/O ports like fast Gen2 and Gen1 Type C&As that can hit 10Gbps consistently. The same can be said for the included RJ45 (LAN) port which is eligible to handle speeds up to 2.5Gbps. Since we're talking about fast transfers – we can't ignore the storage support or can we? Well, here we get 2x PCIe x4 slots for NVMe storage drives, one of which works on Gen4 technology while the other is stuck on the Gen3 and is still great for a secondary storage drive. The motherboard is a great budget pick for the Ryzen 7 5700x for those looking to build a small mATX build.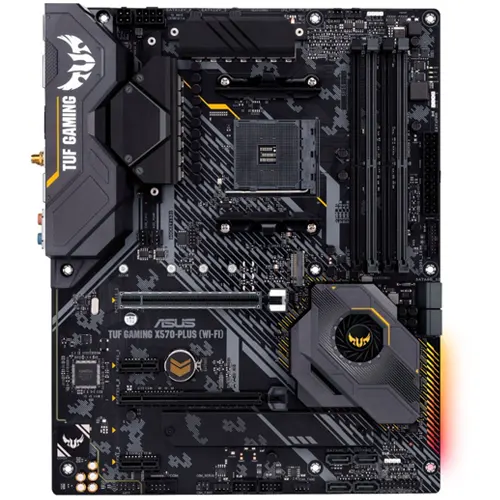 REASONS TO BUY
✓ Armory-themed looks.
✓ Available VRMs are good enough for high OC.
✓ The price is fair and square.
✓ Latest BT5 and WiFi6.
✓ PCIe 4.0 storage and GPU.
✓ Dual RGB headers.
REASONS TO AVOID
✗ Lan only goes up to 95MB/s.
ASUS TUF GAMING X570-PLUS WIFI is one of many mid-range beauties one could get their hands on without paying a hefty sum. This motherboard is being sold for $210 currently which sounds like a decent price for a flagship chipset with impressive enough features. The only lackluster thing in this motherboard is the absence of a 2.5Gbps LAN port. Otherwise, everything else is worth appreciating and counts as its pros. 
As usual, the VRM design is robust and has an ample amount of cooling over it. Still, if talking about in numbers, we get 12+2 phases of digital VRMs in total which helps big time to overclock the processor to a substantial level. Furthermore, the motherboard shines in terms of memory by letting you go as fast as 5.1GHz on all four DIMMs. The motherboard is based on ATX form factor which wouldn't be compatible with iTX or mATX cases so you have to be a bit skeptical while making a chassis purchase.  
Feature-wise, the motherboard has many, one of which is the embedded ARGB headers to sync your RGB fans, cooler, and everything according to your preferences. Other than that, we get two Gen4 PCIe x4 slots to use faster and more responsive storage drives and the Gen4 x16 slot for the newer graphics cards that require PCIe Gen4 for maximum compatibility and performance. This motherboard is an excellent choice as it looks great and works well and would be a great home for the Ryzen 7 5700x.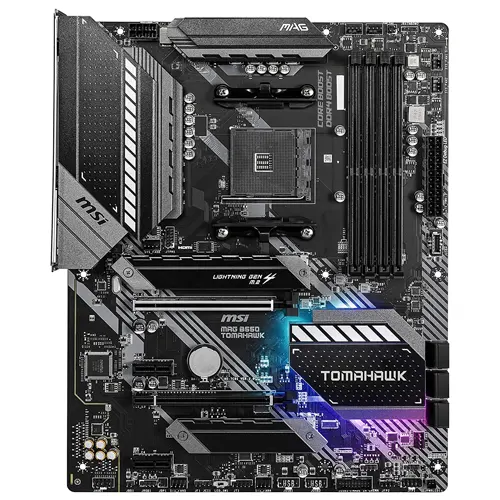 REASONS TO BUY
✓ Excellent VRM module.
✓ The same thermal solution as the more expensive Unify variant.
✓ Excellent value for money board.
✓ Good enough PCB for PCIe 4.0 compatibility.
✓ Fast 2.5 Gbps LAN.
✓ Lots of Gen2 and Gen1 ports.
✓ CPU flashback button.
REASONS TO AVOID
✗ WiFi is not an option here.
MSI MAG as everyone is aware comes in the budget category for gaming builds. This B550 variant of the MSI TOMAHAWK is one of the best boards manufactured by MSI. The reason is that it comes at an entry-level price of $170 and is built with a sheer focus on quality. One of the things that it lacks is WiFi and Bluetooth is absent from it due to budget constraints and it's understandable. 
The MSI MAG B550 TOMAHAWK's PCB is built with 6 layers which makes it sufficient enough for the PCIe Gen4 technology otherwise it would come to a point where the board starts to die off like the MPG Gaming Plus variant of the same chipset. VRM-wise, the board boasts 12 of the 60AMPs phases that are more than enough to overclock the likes of Ryzen 7 5700x. As for its cooling, the VRMs are cooled with the same cooling solution as the more expensive Unify variant. For memory, the motherboard says to reach 5.1GHz but that is only possible with a single stick of RAM stocked in. In the case of the dual channel, the memory can only run at 4GHz maximum.
Moving towards other features like what kind of audio codec is present here, well, we get a mid-range ALC1200 Audio Codec which is a bit rare to see in such price ranges but it's a welcomed addition to the motherboard and would provide a seamless music experience. Other things are new and many Gen2 and Gen1 Type A and C are also here for time-saving reasons. All these things conclude this motherboard is one of the greatest choices in the under $200 motherboard categories for CPUs like the Ryzen 7 5700x and higher.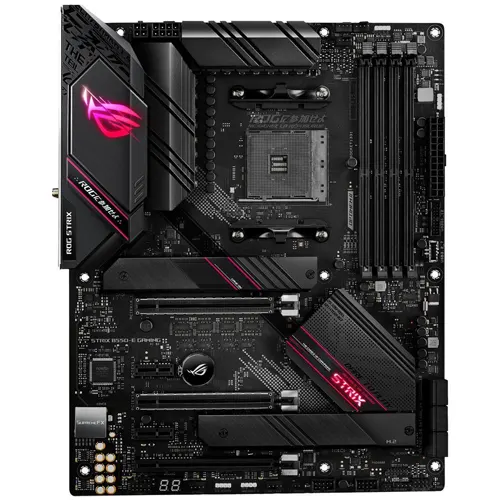 REASONS TO BUY
✓ Top-of-the-line power delivery solution.
✓ Enhanced PS and choke cooling.
✓ Over 4GHz speed on all 4 memory slots.
✓ Sturdy build to give benefit to the PCIe4.
✓ Rapid LAN port with 2.5Gbps.
✓ Many swift Type A and C plugs.
✓ BIOS flashback button.
REASONS TO AVOID
✗ A little expensive.
ASUS ROG STRIX B550-E GAMING is no less than a premium motherboard, and with a price tag of around $335, we expect a lot more from it. Just like many other mid-rangers, this one also features a 2.5Gbps Lan as well as a WiFi 6 module for fast internet usage whether wired or wireless.
Now let's start with the obvious which is the state of its power stages, we here get monstrous 16 50 amps power stages that can withstand some of the highest levels of overclocking because 7 of them are dedicated towards CPU only and also with the help of the more improved extended cooling system for the chokes and power phases. Because of such a rich VRM system, it suffices to say that we can hit 4GHz on the memory all DIMM plugged in which is an achievement as most of the motherboards don't allow it to reach such a high level if more than one memory is installed in the motherboard. 
Going further and dissecting the motherboard even more, we get to see a Type C audio port which helps us to get a better and isolated headset sound experience.  Also, the present S1220A audio codec would benefit from the 6-layered PCB as both channels are located in different layers so they wouldn't interfere with each other and hence deliver the best that they have to offer. So, that's pretty much about and we would recommend this motherboard if you have plans to upgrade your Ryzen 7 5700x to a high-end Ryzen 9 5950x or something like that because of its higher price tag but that doesn't mean it's not meant to use with the aforementioned Ryzen 7 5700x.
Conclusion
A lot of options in the market are available and make one's head go north while looking at them and thinking which one to pick. To make that bit easy for you we picked some of the best options for several budget cases so you don't have to do the hard part yourself. These 6 motherboards work in the best way possible with the Ryzen 7 5700x and other similar Ryzen processors. 
Let us summarise it for you and organize them budget-wise. Starting with the cheapest possible quality motherboard, you can go for the ASRock B550M Steel Legend, this board comes at around $138 which is highly affordable, or can pick yourself MSI MAG B550 TOMAHAWK which is slightly more expensive coming at around $170, and provides more performance than the Steel Legend. 
If you're okay to spend over $200, then you can choose from ASUS TUF GAMING X570-PLUS WIFI ($210), GIGABYTE B550 AORUS MASTER ($260), and the ASUS ROG Strix X570I-Gaming ($280). All three motherboards are quite powerful and can be bought between $200-300 budget. All of these boards deliver excellent performance, aesthetics, and features. 
But still, if you want to go all premium to get the most out of your processor or want to build a future-proof system, then ASUS ROG STRIX B550-E GAMING is the one to go for at around $335. This behemoth has the most powerful VRMs and sturdy build quality of the bunch as well as a much better audio solution for those who care. Either of the reviewed motherboards would provide an enjoyable gaming experience when paired with the right components. Hopefully, this will be enough explanation and now you will no longer think for hours before finalizing your next motherboard.