The motherboard, which serves as a hub to link all the components with one another, is the fundamental building block of a computer. You cannot picture a functioning computer without it, and throughout the years, motherboards have seen significant improvements in both power and aesthetics. Nevertheless, all of this was quite obvious due to swift improvements in technology. Making it work on an old motherboard comes with the possibility of bottlenecking a newer CPU that is far stronger than its predecessor and hence, a more powerful and newer model is needed to house that new beast. There is a lot more that we will discuss some other time but for today we are going to shed some light on the best motherboard for Ryzen 7 7800X3D in 2023.
One such beast is the all-new Ryzen 7 7800X3D which was launched in Q1 of 2023 and is based on the same Zen4 architecture having the same core/threads but a massive increase in its L3 cache because of AMD's V-Cache technology that was also present in one of their 5000 series processor – Ryzen 7 5800X3D more precisely. This newer CPU, which costs around $450, has performance comparable to the Intel Core i9 13900K while using only 50% of the power. This makes it one of the most efficient gaming processors to date but you lose the overclocking potential because of limitations needed in the V-cache method so there's that.
A processor this powerful surely needs a similarly stronger motherboard, wouldn't it? Well, many renowned manufacturers have released quite a handful of budget and premium that would work just with the Ryzen 7 7800X3D so let's jump right into and find you the right motherboard based on your requirements and budget.
Best Motherboard for Ryzen 7 7800X3D Summary
Best Motherboard for Ryzen 7 7800X3D At a Glance:
Best Motherboard for Ryzen 7 7800X3D Reviews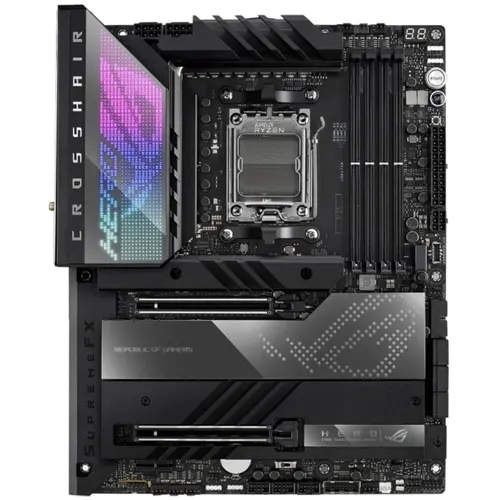 REASONS TO BUY
✓ Animated LCD over the heat sink.
✓ Compelling power stages.
✓ Pre-installed I/O plate.
✓ A handful of ARGB headers.
✓ Effective VRM cooling.
✓ Thunderbolt ports.
✓ Extra mount for additional PCIe5 storage.
✓ Features PCIe 5.0 expansion slots.
REASONS TO AVOID
✗ Expensive.
The ASUS ROG Crosshair X670E Hero is from the higher tier of motherboards that ASUS offers itself and these are far more versatile and expensive than the Strix lineup. The Hero is the least expensive of the Crosshair lineup and costs around $657 after the recent price cut from the $700 MSRP. Starting with the obvious, the motherboard has 8 PCB layers for improved PCIe5 signal insulation and to withstand the kind of overclocking this motherboard is capable of. 
Apparently, the motherboard has a richer VRM solution consisting of 110A rated 22 power stages. These are slightly beefed up from the Strix X670E-E motherboard meaning that this boy can do some wonders. However, since we're dealing with a Ryzen 7 7800X3D, we do not need this much power because of the absence of overclocking feature on the processor. But it's still a decent investment for future CPU upgrades. And to help with the cooling of those VRMs, ASUS provided premium copper pipe-linked cooling blocks.
Moreover, the motherboard benefits from relatively faster memory which tops out at 6.8 GHz and a total of 128GB in its four DIMM slots. This is not as fast as the newer Z790 motherboards but are still more than enough to stay competitive. The Crosshair Hero also features the Gen5 technology and both of the x16 slots are purely PCIe 5.0 compliant along with two of the x4 slots for NVMe storage.
The rest of the two x4 slots are PCIe 4.0 compliant and ASUS also packs an extra mount for an additional full-sized PCIe 5.0 M.2 SSD. And if that's not enough, the motherboard also comes with two Type-C ports that are capable of swapping data at 40Gb/s which is a thunderbolt port without the name.
These were some of the main highlights of the motherboard and the rest of the stuff includes a rich back I/O featuring multiple fast USB plugs as well as 2.5 Gb/s Ethernet and the most recent WiFi 6E. We suggest this motherboard only if you're going to stick with the platform for an extended period so the money doesn't get wasted.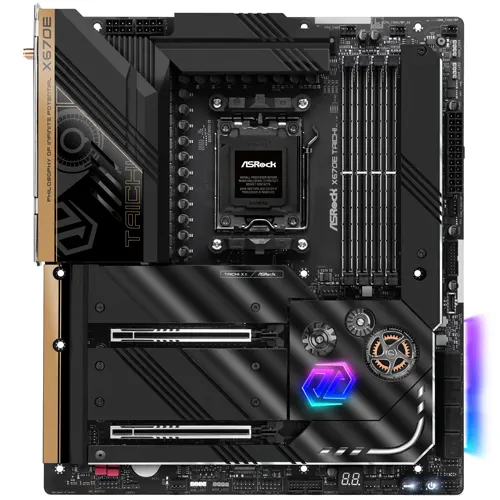 REASONS TO BUY
✓ Likeable design choice.
✓ Recommended for high-level overclocking.
✓ Benefits from PCIe 5.0 slots.
✓ A lot of USB ports are present.
✓ An active cooling solution for the main NVMe drive.
✓ Type C with 40Gb/s speed.
REASONS TO AVOID
✗ Lags behind in providing several Gen5 slots.
The Taichi series from ASRock is a direct competitor for the likes of Strix, Crosshair, and AORUS motherboards. It takes about $400 out of your wallet and comes with some great features along with some compromises that we will be discussing here. First of all, the clockwork design on this one is very much likable and leaves quite an impression on the viewer. 
Not only the design is impressive on this motherboard but also the power that it possesses. The ASRock X670E Taichi has a PCB that sports 8 layers for improved signal insulation of the all-new PCIe Gen5 slots. Additionally, it has 26 105A-rated power stages that power the CPU and RAM, which is like a dream come true for overclocking fanatics. For optimal reduction in VRM temps, ASRock forged very dense cooling blocks with a double contact design to better deal with the MOSFETs and chokes. 
While it's far superior in the VRM section, it lags a little behind on the memory side as this motherboard allows up to 6.6 GHz in comparison with the 6.8 GHz of the X670E Crosshair Hero. Furthermore, the board is full of rich I/O ports including two of the fastest available USB4 Type-Cs that offer 40Gb/s speed for data transfers and are eligible to be used as display-outs. For storage, the motherboard features a PCIe 5.0 M.2 SSD slot that has an active cooling heat sink bundled with the motherboard.
This is also one of the downsides that we only get one PCIe 5.0-enabled M.2 whereas the rest of the three slots are PCIe 4.0. However, on the flip side, we get two x16 expansion slots with PCIe 5.0 goodness. This will come in handy to expand your PCIe 5.0-compliant storage if can get your hands on one of the Gen5-compatible M.2 mounts.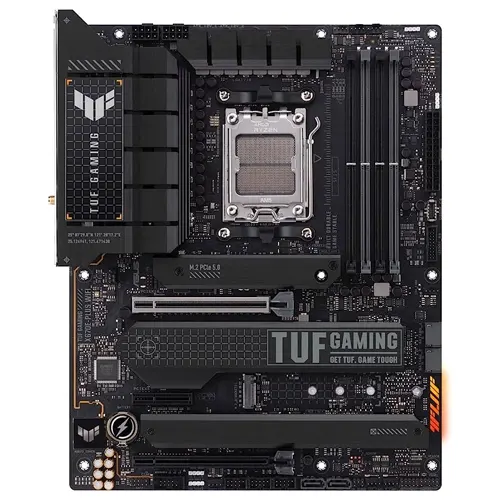 REASONS TO BUY
✓ The aggressive looks of the board are great.
✓ A reasonable amount of OC support.
✓ 8 PCB layer design on a budget.
✓ Versatile motherboard.
✓ PCIe 5.0 M.2 SSD slot.
REASONS TO AVOID
✗ The absence of RGB is one of the compromises.
The all-new ASUS TUF X670E-PLUS WiFi is a treat for budget builders. This is because ASUS made some big changes in terms of what it can offer while staying true to the budget-friendly rule. First and the most notable difference that we can notice is the PCB layer design, this X670E variant has been given an 8-layer PCB design which used to be a 6-layer in all the previous TUF series motherboards. So, this is a welcomed addition as in the end, this move is in the favor of the consumer anyway because the motherboard will last much longer than before. 
Not to mention, we get 70A-rated 16 power stages, which isn't the finest in the world but still, it makes it the best motherboard for Ryzen 7 7800X3D because we all know it lacks support for manual overclocking. However, the VRMs still assist the processor to hit the boost clocks more consistently by continuously providing the required juice to reach those numbers. The memory on this motherboard tops out at 6.4 GHz which is less than both the aforementioned motherboards but makes sense for the $300 MSRP.
If we take a look at the storage side, we still score four SATA ports for the good old SATA HDDs and SSDs along with the four more mainstream M.2 slots. Do note though, that all of the slots are different, one of them is based on PCIe 5.0 technology while two of them are utilizing PCIe 4.0, and the last one is limited to the PCIe 3.0 standard.
The motherboard doesn't feature any sort of high-speed thunderbolt, instead, we get a 20Gb/s capable Type-C port on the rear I/O. The motherboard also shines in the audio department by coming with an S1220A audio codec which delivers a seamless audio experience. This is one of the best value motherboards that we recommend as it can save some decent bucks in exchange for some bearable compromises.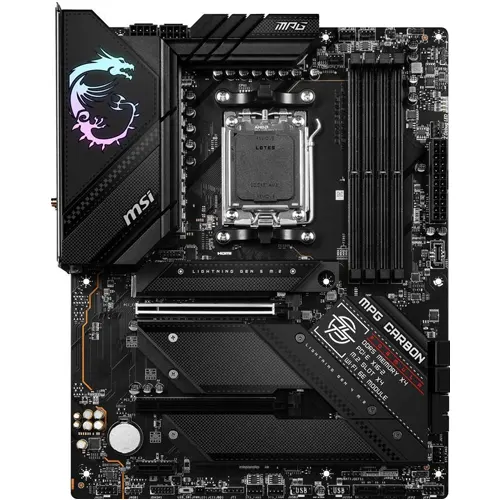 REASONS TO BUY
✓ Inexpensive unit.
✓ Good enough for OC.
✓ Copper heat pipe for better VRM temperature.
✓ Fully lit with RGB.
✓ Dedicated water-pump header.
✓ Debug LEDs are helpful.
✓ PCIe 5.0 compliant NVMe slots.
REASONS TO AVOID
✗ Only 1 Gen5 NVMe slot.
This MSI B650 is arguably one of the best bang-for-the-buck motherboards you can get your hands on for a mere $250 only. At this price, several compromises have to be made which were done but MSI kept a nice balance to deliver a stunning and powerful motherboard to the market. One of the highlights is that this motherboard has a 6-layered PCB to cut down costs and be as economical as possible. 
Now onto the performance, MSI didn't specifically make any major cutbacks here and integrated a 19 power stages VRM solution to favour the ones interested in overclocking while keeping cost to a minimum. Moreover, the VRM cooling solution is also well thought out and is fairly sophisticated so you do not have to worry about frying up your motherboard VRMs during overclocking sessions. 
It is not uncommon and not something unexpected that MSI ensured the utilization of high-speed DDR5 memories on this motherboard. Therefore, using the XMP and EXPO overclocking settings on this board, achieving 6 GHz and more isn't problematic. Additionally, we can surpass those statistics with some custom tweaking given that the motherboard incorporates some of the strongest VRMs around a $250 budget. 
MSI didn't ignore the need for faster storage and to keep costs and performance balanced, they incorporated one NVMe slot with PCIe 5 goodness and the rest of the three with PICe 4. This was a move well done from MSI's side and it only adds to the value of the motherboard in the end. As for the rear I/O, we have several fast USB ports along with complimentary 20Gb/s supported Type-C. Next up, the audio ports are powered by the Realtek ALC4080 Audio CODEC to deliver undistorted quality sound to your ears. So, after all this, it suffices to say that it's one of our recommendations in the budget category.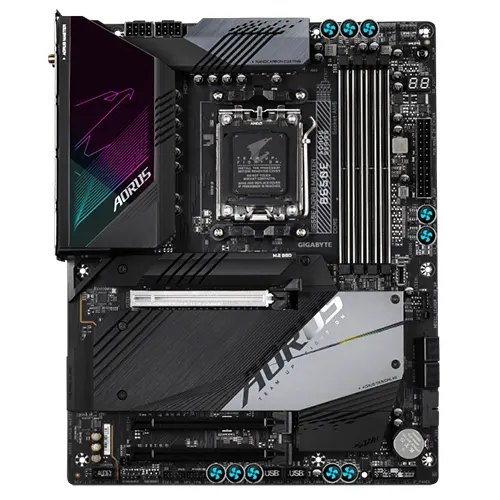 REASONS TO BUY
✓ The $350 price is intriguing.
✓ Impressive power delivery.
✓ Plethora of PCIe 5.0 slots.
✓ Robust PCB quality.
✓ Agile USB ports.
✓ High-quality Audio CODEC.
✓ Dedicated Q-Flash and Clear CMOS button.
REASONS TO AVOID
✗ Has only one Type-C at the back.
GIGABYTE B650E AORUS MASTER is one such motherboard that offers quality and expensive features while costing not so much. And by not so much we're talking about an MSRP of roughly $350. At this price, we usually get a motherboard with 6 PCB layers whereas, in B650E AORUS MASTER's case, it's different instead, we get a motherboard with 8 PCB layers which ultimately adds to the longevity factor and better PCI-E 5.0 signal insulation as well as better survival rate during CPU overclocking. 
This design comes in real handy due to the VRM solution that this motherboard comes with. Which consists of 105A-rated 20 power stages and are passively cooled by relatively big cooling blocks with a heat pipe that does a terrific job in keeping temps in check. More importantly, with such an advanced VRM design, the motherboard is capable of hitting 6.6 GHz on the all-new DDR5 memory when either XMP or EXPO is selected in the BIOS.
The ingenious design of this motherboard is also worth appreciating because it looks inside the PC. However, the most impressive thing about this motherboard is the integration of four M.2 SSD slots that are all PCI-E 5.0 compliant and this isn't limited to just SSD slots but also on the x16 expansion slots too, doing this isn't cheap and requires higher costing to do so.
The only thing which seems like a drawback here is the availability of only one Type-C port at the rear. Other than that, the rear I/O is serviceable because of ports like 2.5 Gbps Ethernet, 2nd and 1st Gen USB Type-As as well as dedicated Q-Flash and Clear CMOS buttons. It's a complete package at a reasonable and would match nicely with something like the Ryzen 7 7800X3D.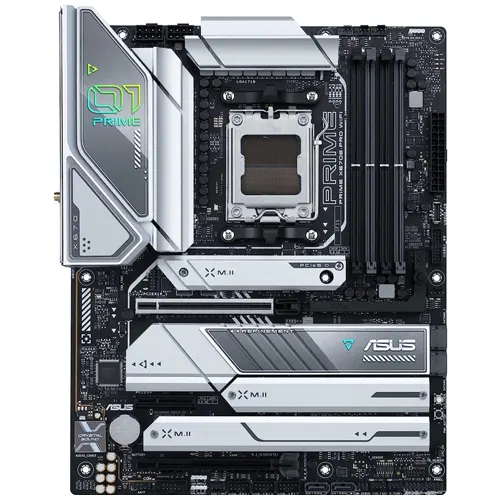 REASONS TO BUY
✓ Quite an affordable option.
✓ Serviceable overclocking experience.
✓ Robust cooling solution for power stages.
✓ Several ARGB headers.
✓ Supports fast memory.
REASONS TO AVOID
✗ You're losing integrated RGB.
✗ No built-in WiFi or BT.
ASUS steps down from the premium category and focuses on a light on the wallet motherboard. This points toward the PRIME series, it's the cheapest of the bunch and packs enough power and features to please the budget builders. However, the one we have here is the ASUS PRIME X670 P which costs $242 currently and would easily fit in the budget of many.
Some notable compromises have been made here to meet the low MSRP. This affects the power delivery of the motherboard heavily and we get a total of 60A rated 14 Dr MOS power stages which aren't the best in its class but surely serviceable enough for locked processors like the Ryzen 7 7800X3D. 
Even though most of the parts on the PCB are exposed to cut down the cost, it still has jacked-up heat sinks to keep the motherboard running nice and quiet. Additionally, like all other X670-based motherboards, the chipset here is also split into two separate bridges and each chip consumes 7W of power. This method is highly effective and saves it from the need for an active cooling solution like its predecessor. 
Since the motherboard is based on the ATX form factor, we're getting four DDR5-compliant RAM slots. Interestingly enough, we're limited to slow memory speeds and can easily reach 6.4 GHz without a problem. Another part where ASUS cheaps out is the storage as the motherboard gets three M.2 SSD slots with only one being PCIE 5.0 along with a heat spreader while the rest of the slots are limited to PCIE 4.0 standards and do not feature cooling as well. 
In terms of the back I/O, it has some nice and fast USB ports with an additional 20 Gbps supported Type-C. Moreover, a 2.5 Gbps Lan is also present and the thing missing here is the integrated WiFi and Bluetooth module. Despite all these compromises, the motherboard is still a great deal for $242 if you're not into overclocking and all that fancy stuff.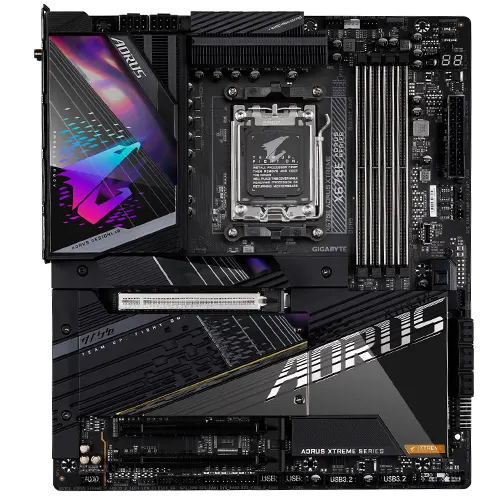 REASONS TO BUY
✓ An LCD with several animations.
✓ Easily one of the best overclocker boards.
✓ A lot of PCIe 5 slots to use.
✓ Dual channel Type-Cs.
✓ Extremely fast 10 Gbps RJ45 port.
REASONS TO AVOID
✗ Expensive board.
Coming from a premium that's out of reach for so many but those who can afford such luxurious motherboards also expect a lot more in return to make their purchase worth it. This X670E AORUS XTREME is the top dog of GIGABYTE and has an MSRP of $690 which by no means is pocket friendly.
But are we getting the premium goodness in exchange? Absolutely yes! The motherboard is filled with so many features and potential that it would be enough for the next 2-3 generations of Ryzen processors. Let's start with how robust the PCB is, well this motherboard comes with 8-PCB which seems fair enough at this price point but a 10-layer PCB would have been better.
Now let's move toward the indispensable part of the motherboard, which is the power delivery design. Here we're getting 105A-rated 22 digital VRMs that can do wonders with the right processor combined. Nevertheless, let me tell you about its cooling as well which is excellent because of the enormous heat sinks that play a major role in keeping the motherboard from frying up. Moreover, the motherboard also offers RAM speeds of up to 6.6 GHz and beyond.
Fortunately, the motherboard also features several fan and water pump headers to help you build your PC however you like. Next up is the storage and this motherboard allows us to install four M.2 SSDs and all four slots are PCI-E 5.0 so you're not missing out on the fastest storage that is currently available.
Besides that, a 10 Gbps Lan port, the most current WiFi6E module, and some of the fastest USB plugs have also been carved right into it, making the online gaming and working experience seamless. So, in conclusion, it's one of those motherboards that make sense only when you're going to stick with it for a while, and pairing it up with Ryzen 7 7800X3D would create no problem whatsoever.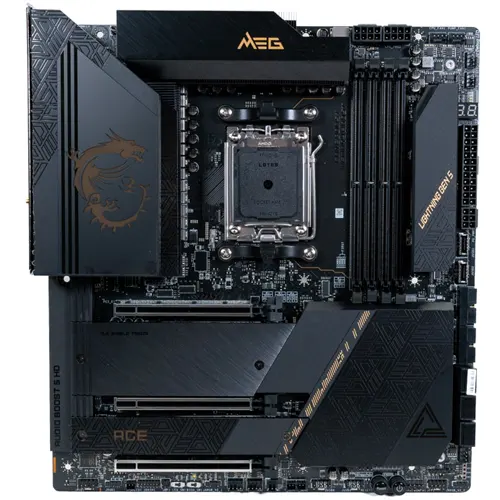 REASONS TO BUY
✓ Insanely powerful VRMs.
✓ A 10Gbps Ethernet port.
✓ 8-layer PCB design.
✓ A total of six M.2 SSD can be installed.
✓ Compelling VRM cooling solution.
✓ 20Gb/s USB with 60W power output.
✓ Worthwhile audio processor.
REASONS TO AVOID
✗ Expensive.
✗ Doesn't have the fastest memory support.
MSI MEG X670E is yet another premium motherboard made to compete with the likes of AORUS XTREME and ASUS Crosshair. This motherboard charges a premium of $699 and sets the expectations bar high for the buyers. It's not entirely perfect but it does have some unique features that make it stand out and somewhat justify the higher cost. First of all, the PCB is built with 8 PCB layers which makes it sturdy enough to bear the intense load that you can put on this.  
Moreover, the VRMs on this motherboard are one of the reasons why it needs an 8-layered PCB. The motherboard has 90A-rated 25 VRMs which makes it more powerful than what's available on the X670E AORUS XTREME. Besides the actual power of this beast, the VRM cooling is equally superior due to the abundance of huge cooling blocks all over the power delivery area.
However, even after having such a sophisticated power delivery design, the motherboard lags behind the likes of many similar budget motherboards in providing the fastest possible memory speed support. Nevertheless, the already present 6GHz speed support is still fast enough to get the job done.
To make up for it, the motherboard provides you with the option to install six NVMe drives simultaneously, four directly on the board and two via the bundled M.2 Xpander card. One thing to note is that three slots on the board are limited to PCIe 4 while the remaining one and two present on the Xpander are PCIe 5, so you're geared up nicely here.
Like the X670E AORUS XTREME, this motherboard also has a 10Gb/s ethernet on the rear as well as two 20Gbps USB Type-C ports that can output up to 60W of power. The board is expensive but yes, it's the best motherboard for Ryzen 7 7800X3D if it comes under your budget.
Conclusion
Just like every other review, it's time to wrap this list of best motherboard for Ryzen 7 7800X3D one up as well and give two cents for the last time. This article has motherboards from three distinctive price brackets and you can choose accordingly each motherboard isn't perfect and has imperfections in one way or another but that doesn't mean they're all bad because their pros overshadow the cons. Now let's make things more clear for you. 
Have the least budget remaining to spend on the motherboard but do not want to end up with a motherboard that lacks the core features and is a bad product overall. Well, then you can go with the ASUS PRIME X670 P or the MSI MPG B650 CARBON WIFI. Both of these cost around $250 and the B650 offers a value than X670 so pick whatever fits your case. However, if you can stretch your budget to $300-400, then you're in for a treat. The ASRock X670E Taichi, ASUS TUF X670E-PLUS WIFI, or the GIGABYTE B650E AORUS MASTER should be the ideal choice as all three of them falls under the $300-400 price segment. 
Still, if that's not enough and you're looking for something extraordinary and premium, then I've something even better. The ASUS ROG Crosshair X670E Hero, GIGABYTE X670E AORUS XTREME, and MSI MEG X670E ACE are the ones you should be looking forward to as they pack a lot of intriguing features and more importantly – power and reliability. I hope this explanation is enough and would help you make a better decision regarding your motherboard purchase.