The AMD Ryzen 7 5800X3D is one of AMD's newest additions to their much-coveted line of processors. The Ryzen processors have been dominating the gaming industry for quite some time. With the release of their newer X3D variants, they have managed to bump up the gaming performance of these processors even further. AMD has broken down the gaming performance formula to its core while spending little time and resources on the specifications of its processors. Instead, they tweak their performance by adding specific attributes to enhance the processing power. Today, in this article, we will shed some light on the best RAM for Ryzen 7 5800X3D in 2023 and the upcoming years.
The Ryzen 7 5800X3D CPU is based on AMD's Zen architecture and AM4 platform. It competes directly with Intel's Alder Lake, 12th Generation processors, specifically, the i9 12900K processor. Equipped with eight cores and 16 threads on the surface, the 5800X3D doesn't offer something you haven't seen before. But this CPU does provide better gaming benchmarks than its predecessors due to its L3 cache. AMD has increased the size of its processors' L3 cache, which makes it one of the best gaming processor of that time.  5800X3D is AMD's great offering that has 96 MB of L3 cache. Moreover, it is highly power efficient with a TDP of 105 watts only. This enables better CPU cooling and doesn't require an over-the-top CPU cooler for efficient heat dissipation.
RAM is a highly significant part of any PC build, and good RAM selection is necessary for better performance. Many RAMs are available in the market, each offering several advantages. A suitable and compatible RAM goes a long way and provides an excellent gaming experience. Most RAM module are good for years to come and don't require upgrades very often. That is why RAM kit selection should be made with a thorough knowledge of your requirements.
The criteria for RAM selection are straightforward. Factors like RAM speed, Memory die, Latency, and capacity must be considered. Hence, in this article, we have compiled a list of the compatible, market-available gaming RAM for Ryzen CPUs that offer various capabilities with Latency options that will fit like a glove with your Ryzen 7 58003XD processor. This RAM stick offer a range of varieties, from RGB to variable frequencies.
Best RAM for AMD Ryzen 7 5800X3D Summary
Best RAM for AMD Ryzen 7 5800X3D At a Glance:
Best RAM for AMD Ryzen 7 5800X3D Reviews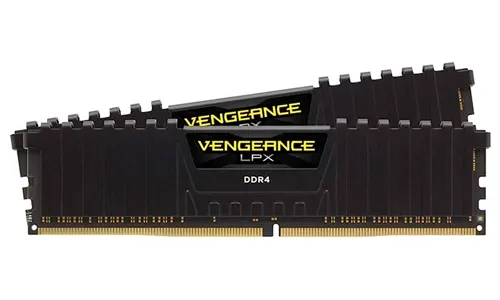 REASONS TO BUY
✓ Highly Affordable
✓ Low profile build
✓ Good performance output
REASONS TO AVOID
✗ No RGB
CORSAIR is a household brand for many gamers. They provide high-quality peripherals and PC components such as CPU coolers, RAMs, etc. We are starting our list with a budget-friendly RAM option that will be compatible and suitable for the AMD Ryzen 7 5800X3D processor. It is a high-end, high-power processor that competes with Intel's i9 12900K. It packs lots of raw power, which makes it an excellent yet expensive processor. So, you might be looking to save money on buying PC parts for this build.
The LPX RAMs provide you with excellent value for money, and it is cheap RAM to buy for a high-end processor. This RAM has a DDR4 memory die and a 32 GB memory kit. It has an extraordinary memory speed of 3600 MHz, enough for decent gaming performance.
This RAM only requires 1.35V to run. This voltage is not low by any standard, and users don't need to overclock their RAM. This translates to better enhancement potential of clock speed, Latency, and input voltage for those looking to extract every ounce of its performance. Combined with its low Latency, this RAM delivers a good gaming experience.
It can handle gaming loads very efficiently. With its custom Corsair PCB design and premium quality Aluminum heat spreaders, this RAM doesn't have the problem of thermal throttling and can tackle high loads remarkably well. You can also go with the Corsair Vengeance RGB Pro if you can spend a bit more on the memory kit, but we are suggesting this as a budget-friendly option. 
However, it comes in simple looks. It doesn't support any RGB, which might be a no-no for people looking for an aesthetic build, but overall, it is a solid RAM option if you want to get the most out of your games while not being over budget.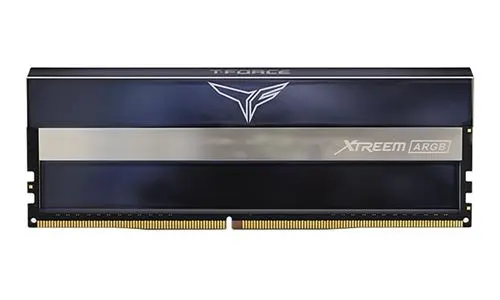 REASONS TO BUY
✓ Low Latency
✓ Good heat dissipation
✓ Software synchronization support
✓ ARGB
✓ Lifetime Warranty
REASONS TO AVOID
✗ The RGB color scheme isn't bright enough.
TEAMGROUP's products have been critically received by many in the community. They are a new name in the PC community and have poured lots of research into their products to provide high-quality and awesome-performing components. Many tech influencers have highly regarded their RAMs for their exemplary performance and excellent heat dissipation capabilities.
TEAMGROUP T-Force Xtreem ARGB has a DDR4 memory die with 8×2 GB memory capacity, making it great to pair with the Ryzen 7 5800x or 5800X3d. This memory stick offers low Latency with CL14, requires 1.45V, and has a clock speed of 3600MHz, which is suitable for excellent RAM. It is also minimal in size, so it will not cause any clearance issues upon installation.
The ARGB on these RAMs offers various colors that will add to your PC build's aesthetic. Moreover, it is embedded with Aluminum alloy heat sinks. These heat sinks are highly efficient at discarding heavier heat loads, which translates to better performance under load. In short, these RAMs will provide you with the best possible gaming attributes for highly demanding games when paired with a Ryzen 5800X3D.
Nevertheless, T-Force RAMs provide good value for money and can outweigh most of their competition with their performance, sleek design, compact size, and better thermal capabilities. They add to your computer's aesthetic with ARGB, high compatibility with the Ryzen 7 5800X3D, and a lifetime warranty, making them a worthy option.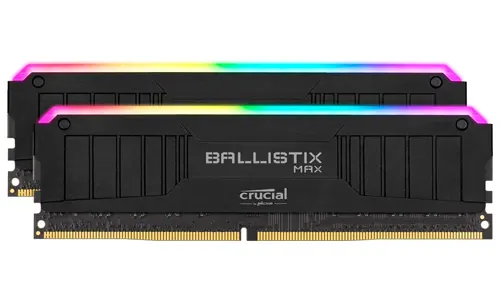 REASONS TO BUY
✓ Low Latency
✓ Good overclocking potential
✓ Excellent price to performance
✓ Low Profile Build
REASONS TO AVOID
✗ It doesn't perform well on a few motherboards
CRUCIAL has a good reputation for its phenomenal quality computer products. They majorly focus on the manufacturing of memory modules, and their SSDs have been considered by many to be the best in business. They have been pushing out high-quality memory modules for at least 25 years, and they still release up-to-date products with the release of every new generation of processors.
The BALLISTIX RGB 32GB RAM kit has exceptional performance. It offers 3200 MHz memory speed with CL16 latency. This RAM is CRUCIAL's best-performing memory module yet. They have carefully fabricated its body with anodized aluminum, and its high heat conductivity translates to better thermal performance. The RAM is designed with a low-profile form factor, enabling its use in more compact cases without worrying about clearance for graphics cards.
The BALLISTIX lineup of RAMs is available in three different colors, and its RGB lighting puts out an eye-soothing color scheme. The various colors are possible due to 16 LEDs located on eight sites on the RAM.
It performs exceptionally well despite its relatively higher Latency and low memory speed. But there is enough headroom for overclocking RAM with XMP profile support and good heat-discarding capabilities. This RAM is highly optimized to get the best performance, and with a powerful processor, it can run many high-demanding games and tasks efficiently.
The BALLISTIX RGB 32GB offers great compatibility with the Ryzen 5800X3D, but its compatibility with different motherboards isn't that great. It is a very affordable option with RGB. Nevertheless, it has a good combination of great attributes like performance, thermal efficiency, and overclocking potential, and it is one of the best RAM for the Ryzen 7 5800X3d to consider in 2023.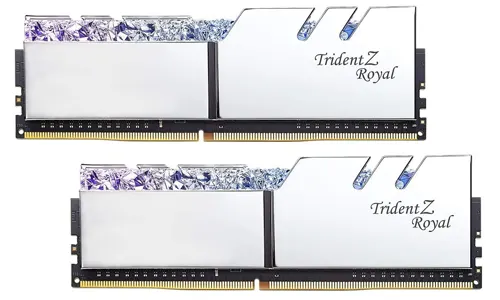 REASONS TO BUY
✓ Lifetime Warranty
✓ Unique RGB design
✓ Phenomenal Speed
REASONS TO AVOID
✗ Expensive
✗ The glossy heatsink is a dust-catcher.
G SKILL is a Taiwanese company, and it is dedicated to making excellent quality computer products. They have released several good products in the market. They have many employees, and their research and development primarily focuses on improving their products. The Trident Z Royal series is a powerful RAM with many great attributes. It has a unique crystalline design with RGB. This design is elegant and aesthetic as it spreads the RGB in its crystalline texture, delivering a beautiful aura of colors to your computer.
The Trident Z Royal series is a premium RAM. It is relatively expensive, but its performance justifies its hefty price tag. It is incredibly compact, and its clock speed is 4400 MHz. It only requires 1.35V to run, which unlocks excellent potential for overclocking. Its Latency, however, is on the higher side, CL18. But despite its higher Latency, it is known to perform very well for high-demand games, and its performance is in a league of its own. The enhanced gaming experience that it provides is due to its hefty 4400 MHz memory speed, which is not what you will see in many standard DDR4 RAMs.
If you are an enthusiastic gamer with a habit of overclocking, this RAM will serve you well. Its thermal performance is phenomenal, providing good heat dissipation with its premium quality heat sinks and avoiding thermal shocks altogether.
The Trident Z Royal series will be an excellent addition to your build with the AMD Ryzen 7 5800X3D CPU. These RAMs are highly efficient, and the 16 GB kit will be very efficient for many heavy-duty tasks and games. Its compatibility, pleasing design, and good performance make it worthwhile. This RAM is compatible with most of the AM4 motherboards, giving you great memory overclocking options.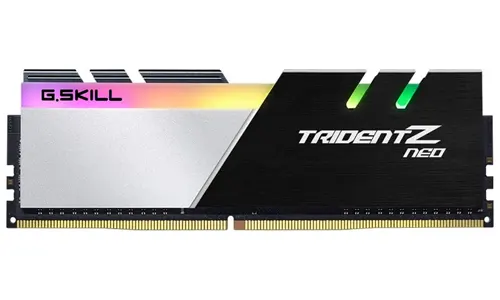 REASONS TO BUY
✓ Good RBG Lighting effects
✓ Nice Appearance
✓ Highly Compatible with AMD motherboards
✓ Good Post-sale Support
REASONS TO AVOID
✗ Inconsistent Overclocking ceiling
We have another product from G SKILL to add to our list. G SKILL's products are phenomenal in their performance and design. They provide competitive market prices, and their wide variety of features makes them a considerable choice for everyone. G SKILL RAM's design and performance have dominated the market, and their ingenious design with better efficiency does provide them with an edge over other manufacturers.
The G.SKILL Trident Z Neo Series is their other addition to the Trident series, and if you are a fan of this series, you will surely prefer this one over many other RAM options. The Neo RAMs are perfectly fabricated with an Aluminum body. Its eye-catching build incorporates a Silver finish on one end and a brushed black finish on the other. It is RGB-ready with a plethora of color schemes at its disposal.
We are specifically talking about its 32 GB kit. The AMD systems are known to have better efficiency on Dual-channel or Quad-channel configurations. This RAM has a 3600MHz memory speed with a 1.35V requirement and CL16 Latency. Although this Latency type is slower than CL14, it provides enough wiggle room to boost or overclock, and its remarkable heat dissipation efficiency supports these kinds of tweaks.
The Trident Z Neo series has extraordinary RGB lighting with excellent performance, and its 32GB memory kit will be highly compatible with the Ryzen 7 5800X3D. Moreover, it will provide you with the best gaming performance and enable better and more responsive frame times, which are highly desirable. Its affordable pricing, along with all of its features, make it a worthy option to consider for the Ryzen 7 5800X3D.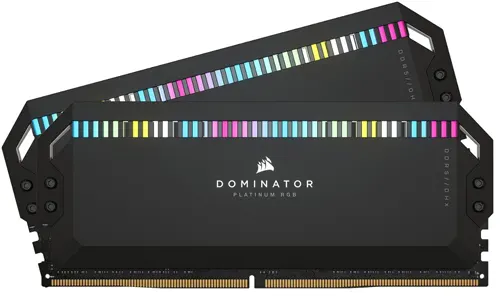 REASONS TO BUY
✓ Good RBG Lighting effects
✓ iCUE software for lighting control
✓ Good XMP performance
REASONS TO AVOID
✗ Expensive
We have another addition by CORSAIR to this list, but this time, it is a pricier option. As mentioned before, CORSAIR is a premium brand with high-quality products, and they have been specializing in developing RAMs for quite some time. You can trace back their RAMs to when DDR2 memory was standard. CORSAIR Dominator Platinum is the best RAM for Ryzen 7 5800X3D, and we are specifically talking about their 64 GB kit.
It is laced with RGB for a more pleasing, aesthetic design with exceptional thermal performance. The RGB lighting is supported by 12 LEDs for better range and control over its color scheme. A white aluminum heat sink on its top keeps heat dissipation in check, which is exceptionally conductive and provides considerable heat dissipation under heavier loads. RGB can be controlled with CORSAIR's iCUE software. It is the perfect hardware for avid gamers because it provides good gaming efficiency and overall performance.
It has a DDR4 memory die with CL16 latency and 3600MHz memory speed. It has a good margin for overclocking with its excellent thermals, and its XMP (Extreme Memory Profiles) performance is phenomenal as its memory speed has been tested to cap at 4300 MHz on multiple settings.
However, its 64 GB capacity is a bit overkill in gaming, as most games use less RAM. But we included this option for those who want to go all out on their build and make it as future-proof as possible, and the processor in discussion does afford and use this kind of memory amount very well. It is the best 64 GB option to consider if you want the best RAM for Ryzen 7 5800X3D, as it will undoubtedly provide exceptional performance.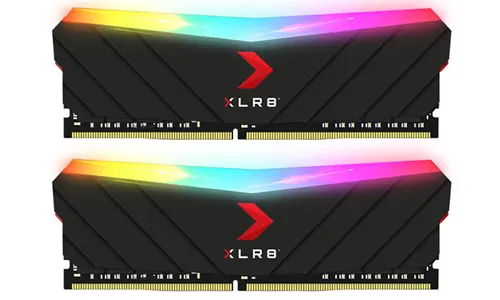 REASONS TO BUY
✓ Smooth performance
✓ Dual-sided RGB
✓ Wide variety of motherboard support
✓ Excellent thermal capabilities
REASONS TO AVOID
✗ RGB is not bright enough
✗ RGB lights have a short lifespan
PNY is dedicated to delivering high-quality products with better performance metrics and credibility. Their RAMs can withstand higher loads and provide excellent game performance with lower latencies and high clock speed. The PNY XLR8 Gaming is no exception.
XLR8 has a 3200 MHz clock speed, CL16 latency, and a 32 GB memory kit. It requires 1.35V to run and is highly efficient at handling heavier tasks, including high-demanding games. It is relatively small and lightweight and wouldn't cause any clearance issues for CPU coolers. It has remarkable gaming performance, and it doesn't compromise on its features or efficiency. It has been tested in many systems, and each time, the performance output has been phenomenal for gaming and content creation purposes.
It has eye-catching RGB lighting, which adds to the aesthetic. The RGB is supported by several LEDs, making them customizable. The 1.35V requirement leaves lots of headroom for overclocking, and its exceptional heat dissipation supports these endeavors. The heat dissipation is enhanced by its thermally viable design.
We are specifically talking about the PNY XLR8 32 GB kit because of its added performance and better compatibility with the Ryzen 7 5800X3D. This memory size will be more than enough for many games and demanding tasks. Nevertheless, Low Latency, compatibility, better affordability, and exceptional performance make the PNY XLR8 a neat package with a Ryzen 7 5800X3D processor.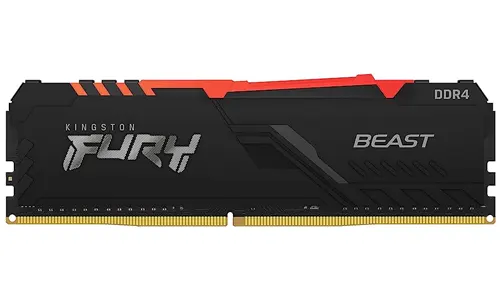 REASONS TO BUY
✓ Great looks
✓ Excellent Value for money
✓ Lifetime warranty
✓ Any software can control RGB
✓ High overclock ceiling.
REASONS TO AVOID
✗ Zero Premium Feel
KINGSTON is an aged manufacturer of memory modules, and everyone, occasionally, has heard or peeked at one of their products with intrigue. They manufacture robust memory modules and have been making them for quite some time. Their products are highly affordable and have been present in the RAM space since the invention of DDR3.
KINGSTON FURY BEAST 32GB RGB memory kit has an exceptional mechanical design. It is robust and sturdy, with good performance metrics. The RAM is a DDR4 with a slightly higher latency of CL18. It has an overall aesthetic design with RGB lighting to support it. It has a memory speed of 3600MHz and does provide decent performance when paired with a powerful processor.
The RGB Lighting on this RAM is minimal embedded in its mechanical heat sink. The heat sink is highly efficient in discarding heat and works overtime to support overclocking and higher demanding tasks like running triple-A games. The RAM is encased in a black shell, providing a degree of aestheticism. It is made to run for overclocking out of the box and supports XMP profiles. Moreover, these modules come in different colors with a range of RGB variety to fit better for a more theme-focused build.
The KINGSTON FURY does seem odd in the list with all these premium quality RAMs. Still, we have included this RAM because it meets the minimum specifications and does perform extraordinarily well with the Ryzen 7 processors. It has a good balance of latency and memory speeds, an excellent overclocking ceiling, and high affordability. This RAM is perfect to set and forget as it is known for its sturdiness and provides a high performance-to-price ratio. This will be the best RAM for Ryzen 7 5800X3d and a decent match for other similar processors.
Final Words for AMD Ryzen 7 5800X3D RAM Compatibility
Like RAM, selecting PC parts requires thorough consideration and knowledge about them and their working. The compatibility of these components with your processor or motherboard is of utmost importance. A better and more compatible component will provide you with efficient performance. A non-compatible PC part can cause problems, decrease the chances of its future use, and compromise your system's performance. A good selection will serve you for a reasonable amount of time and give you a better probability of future-proofing.
Articles like these are our way of helping the community better understand the workings of different computer components. We aim to provide you with enough information to make an educated decision based on PC components' features, advantages, disadvantages, and working while buying RAM. In this list of RAMs for Ryzen 7 5800X3D, we tabulated a list of the most compatible RAMs that will be suitable and perform well when paired with the processor. The information and specifications of various suitable RAMs for your PC in this list will be enough to decide for yourself.
However, if you ask for our recommendation if you still can't decide on the best RAM modules for your 5800X3D CPU, based on the acquired knowledge, the following will be the best RAMs to pair up with the Ryzen 7 5800X3D.
The best RAM for Ryzen 7 5800X3D will be the G.SKILL Trident Z Royal series. It is the best premium quality RAM for ultimate performance and an excellent premium look.
The best budget RAM for the Ryzen 7 5800X3D will be the KINGSTON FURY BEAST 32GB RGB as it delivers good performance and a higher performance-to-cost ratio and has good build quality.