Everyone wanted to get their hands on the 4090s as soon as they launched. Despite the huge prices, they were globally sold out and remain difficult to obtain. However, not everyone can afford a 4090. While the price drop is not that huge, the 25% cheaper new RTX 4080 is more accessible to many gamers. With the RTX 4080, you get 70% of the performance as the RTX 4090 at 75% of the price. While that may not sound like the best deal on the planet, NVIDIA maintains superiority over the GPU market and thus has complete freedom while setting prices. 
Quite unlike the CPU market, where Intel and AMD beat each other bloody, resulting in great deals for us. Putting the market aside, once you get your hands on a 40 series card like the 4080 that is about the same size as the 4090, you want to get the appropriate computer case for it. 
For a large GPU like the RTX 4080, you need a case that has enough gpu clearance in it, for starters. The best way to showcase your GPU is to mount it vertically, so you'll want to look for that as well. The case should have enough airflow to keep your GPU cool. Along with all these factors, you'll want to make sure the case is compatible with your decided motherboard, looks good to you, and is within your allocated budget. 
Thinking about all this at once could make the best of us dizzy. That is why we have carefully picked out the most appropriate cases and made you a list of the best case for RTX 4080. Anyone from this list will work well with your new card. We have ensured to include the perfect case for every kind of build. You can compare the necessary information of each case and decide which one is best to house your beast of a card. Without further ado, here's our list of options for the best case for RTX 4080.
Best Case for RTX 4080 Summary
Best Case for RTX 4080 At a Glance:
Best Case for RTX 4080 Reviews
REASONS TO BUY
✓ Three tempered glass panels
✓ Four pre-installed fans
✓ Versatile GPU support
✓ Custom water cooling friendly
REASONS TO AVOID
✗ Pricey
✗ No bottom fan or radiator support
You didn't think the first ROG chassis wouldn't find its way to this list, did you? The ROG Strix Helios is a feature-heavy, roomy mid-tower, capable of holding up to EATX form factor motherboards. 
The Helios is cooled straight out of the box with three preinstalled 140mm fans in the front and one 140mm fan in the back acting as an exhaust. Additionally, you can add three 120mm or two 140mm fans on top for more efficient cooling. Of course, such an advanced PC case would have nothing but the most decked-out front I/O. You get a USB 3.1 Gen 2 Type-C™ port, four USB 3.0 ports, an RGB-lighting control button, and a fan-speed control button, along with the power button. 
Now let's get down to the really important stuff. This roomy case has a whopping 450 mm of GPU clearance. Talk about future proof. That's more than enough room for the 4080. Now you can install three cards in this case, the conventional way and two vertically, given you have a riser cable longer than 200mm. Additionally, there are GPU braces for even more support. This is the kind of GPU support versatility we're looking for! 
When you're deciding how to cool this bad boy, the broad chassis gives you many options. There's 420 mm of front radiator support, 360mm on top, and 140mm in the back. Meaning you can easily opt for the most top-of-the-line AIO out there. The roomy interior and tempered glass exterior make this a great case for custom water cooling as well, and with 190mm CPU cooler clearance, no air cooler can elude you. 
You know ASUS never lets you down in the aesthetics department. This case is all black with a refined-looking brushed aluminium frame. The build features not one or two but three smoked-out tempered glass panels, making it the ultimate case for showcasing your build. The front panel has beautiful integrated RGB lighting, which you can sync to the rest of your lights through ASUS Aura Sync lighting. So far, it's ticking all our boxes and the black fabric straps in a zigzag pattern on top of the case is a nice touch, making it easy to carry around. Cases like this cost a pretty penny, but they also look great on your desk!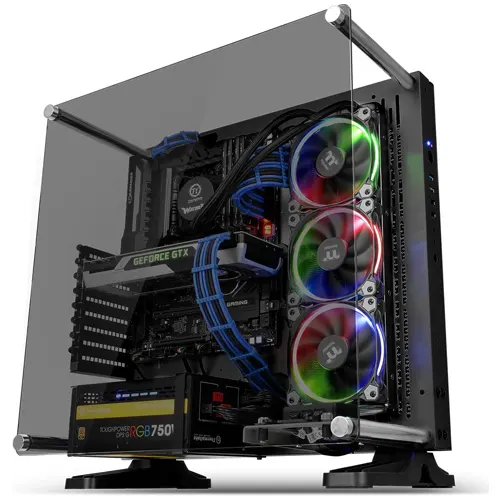 REASONS TO BUY
✓ Uninterrupted airflow
✓ Modular design
✓ Variable case placement, wall-mounted, horizontal or vertical
REASONS TO AVOID
✗ No dust prevention
✗ Not easy to build for beginners
The Thermaltake Core P3 is a unique open-style mid-tower chassis which can accommodate ATX, mATX, and ITX motherboards. Made for enthusiast builders from the ground up, it offers a panoramic view of all your hard work.
 The open frame design of the Core P3 allows for uninterrupted airflow. This is great if you have no qualms about cleaning the dust more often than you would with a conventional closed chassis. For users who prioritise less maintenance over airflow, this may not be the best option. 
The Core P3 frame is a completely modular chassis, giving us full freedom to arrange the panels, brackets, and mounting arrays according to your build. You will not be restricted by prearranged structural components, nor will you have any dead space left unused. The freedom granted through its modular design is great for experienced builders. There is over 40mm of hidden cable management space behind the right panel. You can choose to mount the case on the wall or place it either horizontally or vertically.
With no back panel, you may be worried about where you're going to fit your RTX 4080. The case has a fully supportive GPU tray with slots allowing both conventional and vertical GPU mounting. The tray has ample ventilation, preventing any heat from being trapped under your valuable GPU, and keeping temperatures satisfactory.  
There is only one panel to mount all your hardware, including any fans and radiators. However, you have the freedom to mount any AIO on the market without additional brackets. The modular brackets and racks also allow you to mount any kind of storage drive. As far as air coolers are concerned, there's 180mm of CPU clearance, leaving you with many options.  
The greatest selling point of this case is not its incredible airflow, or its versatile mourning options. It's the unique aesthetic quality this case offers. If you've been irritated with cases covering all the hard work you've put into your build, then this is the case for you. It has one black right panel and one glass window. The rest of the case is open. This case is truly one of the most unique cases on our list, perfect for an enthusiast RTX 4080 build.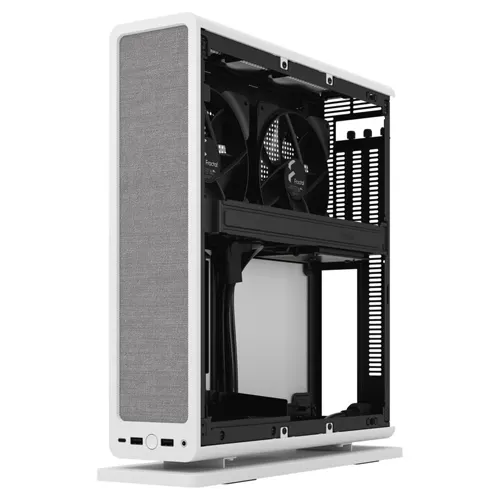 REASONS TO BUY
✓ Compact and elegant
✓ Preinstalled fans
✓ Preinstalled riser card
✓ 335mm GPU clearance
REASONS TO AVOID
✗ Not cool enough for high-powered CPUs
✗ Not quite under light loads
PC builders are always coming up with increasingly insane builds that defy the imagination. You wouldn't think ITX systems in compact cases fit a large card like the RTX 4080, but one search online would prove you wrong. There are even systems where the graphics card fills a third of a case's volume. If you want to try your hands at building a compact PC, we recommend the Fractal Design Ridge. 
It's a compact but full-featured computer case. This case is perfect for an elegant small form factor build with large GPUs like the 4080, leaving other builders shocked at your ingenuity. The ridge is a slim case that can stand vertically or lie horizontally. It's got a modest, minimalist style, so it blends into your interior, making it perfect for home theatre gaming systems, small bedrooms, or an office desk. The case has 12.6 litres of volume but can fit GPUs upto 335mm.
Designed to be convenient in every way, you can open any panel to access the inside. It's ventilated from all sides for superb airflow and has two 140mm fans preinstalled. The fans are placed strategically to cool the large graphic card. There's the option to add three 80mm fans on the top as well. You also get a PCIe 4.0 or PCIe 3.0 riser card with it.   
While the case is small, it's big on storage with four 2.5-inch drive mounts and three expansion slots. While it's a small chassis, it's designed to make the most of its space and is extremely easy to build with. 
Just because your system is small doesn't mean you shouldn't use a powerful CPU. To cool it, you have 70mm of clearance, ideal for low form factor air coolers or AIOs with discrete cooling blocks. Since you'll be using a large graphics card, you'll be limited to a 120mm side radiator, which is still enough for this well-ventilated case. 
Aesthetically the case seems like it was pulled out of an interior design catalogue. It would look great anywhere and doesn't distract from your living space. It has an elegant fabric front panel, allowing air to flow without dust entering the system. The remaining panels come in black or white. It's a great case and has a reasonable price.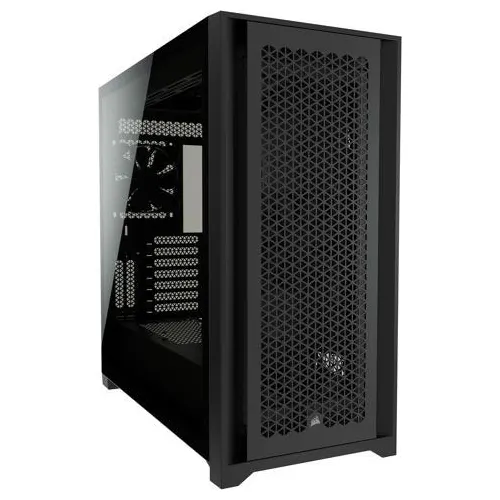 REASONS TO BUY
✓ One of the best cases in regards to cooling.
✓ Affordable
✓ Two pre-installed fan
✓ Pre-installed fan header
✓ Liquid cooling friendly
REASONS TO AVOID
✗ Heavily tinted glass panel
✗ Needs more pre-installed fans
This list wouldn't be complete without entries from Corsair. The 5000D Airflow was built for powerful cooling to keep GPU temperatures tame under high loads. This is a highly recommended case for your new RTX 4080. 
This roomy mid-tower chassis can comfortably fit mini-ITX, micro ATX, ATX, and E-ATX motherboards. Since it's got airflow in the name, you aren't wrong to assume the cooling potential of this case is huge. Both fans and radiator mounting are supported. You get one 120mm fan in the front, and one 120mm fan in the rear, pre-installed with the case, arranged to cool the GPU straight out of the box. You get a fan header capable of controlling six PWM  fans with the case.
However, there is room for three 120mm fans in the front,  three on the top, three on the motherboard tray, and one in the rear for superior airflow. The top panel is fairly open to promote airflow but comes with a dust mesh to reduce maintenance. While this is a mid-tower, it has plenty of room for cable management with provided velcro straps and plenty of storage. You get two 3.5-inch HDD drive bays and four 2.5-inch drive bays for SSDs
The RTX 4080 is about 310mm long. With the 5000D Airflow, you get 370 mm of GPU clearance giving your card ample breathing room. It also has verticle slots available, so you can also easily mount your graphic card vertically to show it off in all its glory. However, the PCI-Express 3.0 extension cable is sold separately. 
To ensure there's no bottlenecking, you are likely to pair a powerful CPU with your RTX 4080. You'll need powerful cooling to keep both of them under control. The 5000D Airflow has 170mm of CPU cooler clearance meaning most air coolers on the market are compatible. You have the ability to use two full-size 360 mm radiators anywhere in the front, top, or side simultaneously with another 120mm one in the rear. Not only are all available AIO CPU coolers compatible with this case, but you can also design your own custom loop to cool it as well. 
This case comes in black or white to suit the theme of your build. The front is a mesh to encourage plenty of airflow, similar in ways to the Fractal Design Torrent. On the left side, there is a stunning tempered glass window, allowing a view inside your system where you can show off your 4080 with pride. Considering its spectacular cooling capabilities, stunning looks, and graphic card compatibility, it's a steal for the price.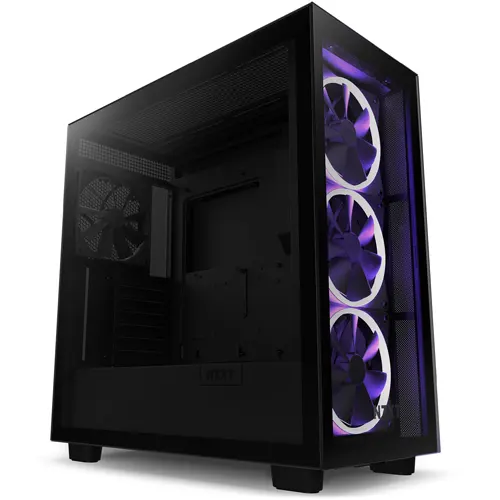 REASONS TO BUY
✓ Pre-installed fans with controller
✓ Tempered glass panels
✓ Ample GPU clearance
REASONS TO AVOID
✗ No verticle GPU mounting ability
✗ Warmer than H7 Flow
Onto our next entry, another mid-tower case, this time from NZXT. The H7 Elite is a premium case with everything you could want for a gaming system using your new RTX 4080. 
The case supports Mini-ITX, Micro-ATX, and ATX form factor motherboards. It has a perforated top and bottom to promote airflow and comes with three pre-installed F Series RGB 140mm Fans in the front and one 140mm F Series Quiet Airflow Fan in the rear for convenient cooling right as you buy it. You can update it with two additional 140mm fans or three 120mm fans on the top. You also get a fan and RGB light controller pre-installed with the case. 
This case is spacious, offering up to 400mm of GPU clearance, meaning there's room for your card to breathe, and you can upgrade to possibly longer cards in the future. However, it doesn't have any verticle expansion slots. The capacity for air or liquid cooling your CPU is great with H7 Elite. With 185mm of CPU cooler clearance, you can choose any air cooler on the market. Additionally, you can add two 360 mm radiators in the front and top simultaneously, along with one 140mm radiator in the rear. You could choose any top-od-the-line AIO liquid CPU cooler or go with a custom cooling loop. 
The case has two stunning tempered glass panels, one in the front to show off the pre-installed RGB fans and the other on the left side to showcase your valuable computer hardware. You can choose between matte white or black aluminium frames to match the rest of your build. 
Ultimately, we've got ample room for our RTX 4080, four pre-installed fans, of which three light up with their own controller, and two stunning tempered glass panels. What more could you want from an affordable yet featureful Computer case?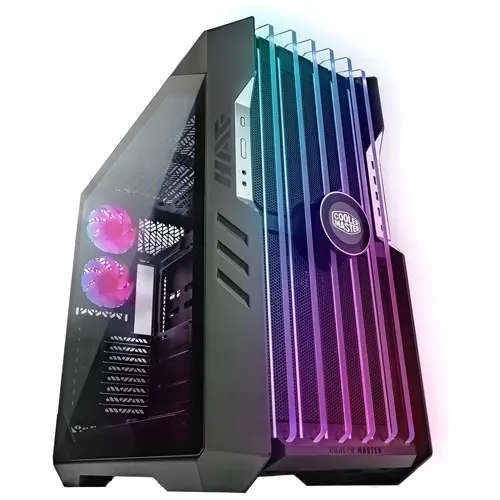 REASONS TO BUY
✓ Flexible for hardware and cooling options
✓ Spectacular cooling
✓ ARGB fans and hub pre-installed
REASONS TO AVOID
✗ Extremely large
✗ Heavy
HAF stands for High Air Flow, Cooler Master is known for making some of the coolest computer hardware with the best thermal performance in town. If you want your 4080 to run in perfect conditions, you should give the HAF700 'the Berserker' a shot. 
The HAF is praised for having no limits regarding its thermal and hardware potential. True the theme you can fit any motherboard including EATX boards inside it comfortably. You have complete freedom when deciding how to cool this PC case.First of all, it comes with two 200mm Sickleflow ARGB PWM "Performance Edition" fans and an integrated PWM/ARGB Hub capable of ARGB gen 2 devices. The hub also keeps cables neat in the case. 
The HAF700 was designed with custom liquid cooling in mind. You could design any dream loop with top, rear, botton, and side radiator support. You can place a 480mm radiator on the side, a 420 mm on on the bottom, two 360mm or one 420mm one on top, and a 240mm one on the rear. Can you imagine what epic cooling system you could come up with with this case? If you go the AIO ruote, you could add a big one on the top, side, or bottom of the case. A radiator at the bottom will probably also cool your GPU to some extent. 
Storage and cable management four USB Gen 3.1 Type A ports, a USB Gen 3.2 Type C, a 4 pin audio/mic headset jack as well as a dedicated mic jack, and a power button. 
You can place the largest GPU in horizontal or vertical position. That means you have lots of options on how you want to show off your brand new RTX 4080. 
The Berserker is a sight to behold. First off, its size dominates any space at over two foot tall. The black color is a great background for the gorgous two fans you can see lit up in the front. The front panel is a mesh allowing for superior airflow. The side panel can reamin open or you can add an optional mesh panel. Overall, it's a great case if you want absolute freedom building your dream PC.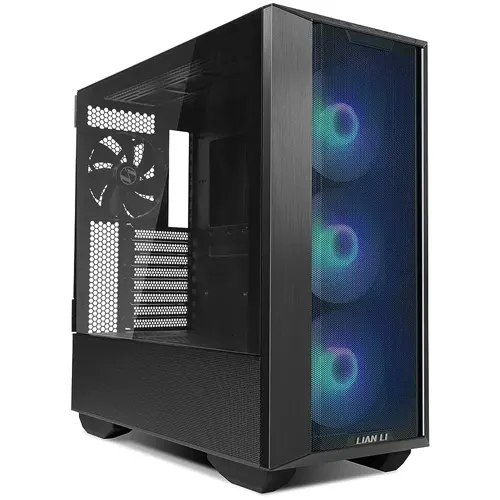 REASONS TO BUY
✓ Massive radiator support
✓ Compete cable management and hiding solutions
✓ Good GPU support for horizontal or vertical mounting
✓ Impressive Fans
REASONS TO AVOID
✗ Noisy to some
✗ Brushed aluminum surface is fingerprint prone
If you want a highteck case for your high teck RTX 4080, we don't blame you. Since you have a 40 series GPU, you deserve to get the best of the best to go with it. This case from Lian Li is sure to grab your attention with its interesting yet somewhat gimmicky tech features. The Lancool III is a spectacular case and let's talk about why.
First of all we have a mesh front which means lots of air. You'll notice that three of the four pre-installed fans available in the front are receeded to the back behind the mesh a bit so that they can pull air from a greater surface area, improving performance immensely. You can also remove the fans and flip them around as you could in the previous Lancool cases. 
There;s ventilation all around the case to get the best thermals possible. However, the mesh on the left, has drivemounts on it, impacting the airflow a bit. As a smart case, they designed it to be easy to build so it has several extra long velcro straps, making cable management super easy for even a novice. 
You can mount radiators at the front or ontop fo the PSU should. The top radiator can be as big as 420mm and a radiator on the bottom gives some airflow directly to the GPU as well. Speaking of the GPU, they have a A GPU anti-sag bracket so your GPU can hang perfectly horizontal and there's an optional verticle GPU kit for verticle mounting. That'the kind of support we want for your 40 series GPU. 
Than Lancool III comes in either black or white brushed aluminum with two tempered glass side panels. There are two metal doors that hide all the cables behind the motherboard, giving you a canvas for any personilization visible from the glass window. The tempered glass opens with a special latch in a cool way. The metal doors are also megnatic. This case has a very high-tech vibe to it and will impress you and your freinds when you see it in person.
REASONS TO BUY
✓ Pre-installed RGB fans
✓ Pre-installed RGB fan controller
✓ Triple slot vertical GPU mount
✓ Custom water cooling friendly
REASONS TO AVOID
✗ Expensive
✗ Unimpressive upgrade from the iCUE 5000X RGB
✗ Not the easiest build
Are you looking for a full-tower computer case that is 60% larger than your average mid-tower? The Corsair iCUE 7000X RGB is the ultimate showcase building option, combining style with efficient cooling effortlessly. 
The 7000X is a fully featured full-tower case which can accommodate E-ATX, ATX, mATX, and ITX motherboards easily, making it ideal for larger gaming builds or smaller builds with custom water cooling. The roomy case has support for twelve 120mm fans, four in the front, four on the right, three on the top, and one in the back. If you want to use 140mm, you can mount seven of them. 
Four RGB fans come pre-installed with the case, three in the front and one in the back for convenient straight-out-of-the-box cooling. Speaking of pre-installed goodies, The COMMANDER CORE XT is an advanced RGB fan controller for up to six fans which you can use to monitor temperature or run iCUE lighting products, giving you out-of-the-box fan speed and RGB control with Corsair's iCUE software. 
You have the option to add three 360mm radiators or two 420 mm radiators to this huge frame, meaning you have unlimited cooling potential. You can design your dream custom loop or get the biggest AIO cpu cooler available. With the 7000X RGB, you get a three-slot vertical GPU mount to show off your 4080 in all its glory. There's plenty of room to give it enough air.
Like ASUS's Helios, this also has three tempered glass panels for showing off your build. However, they are perfectly crystal clear instead of smoked out. The parts of the frame that aren't made of glass are coated with white aluminium for a bright look. The top panel is a metal mesh for increased airflow. Corsair's iCUE 7000X is a large case for an ambitious build. With the iCUE software, you can sync all your components for the perfect light show visible through the clear glass panels, all while giving your precious RTX 4080 more than enough airflow. 
If you want a bright aesthetic with all-around glass, plenty of space, and pre-installed RGB fans, this full-tower is difficult to beat!
Conclusion
That was our list for the best computer cases for the RTX 4080. We hope you enjoyed all these options. We know how hard it is to find the perfect case for your intended build, especially if you are limtied with the hardware your chose or your budget. That's why we have shared the best cases for every kind of build. There are full-tower cases for gamers who aren't afraid of size and tehre are compact options for gamers who want something to blend in with their living space. 
Most cases in a certain price range offer many of the same features. It is their look and specialized features that set it apart from the rest. Some cases come with huge 200mm fans while others come with fan and lighting software control out of the box. Some cases look exactly how you want them too. While it's difficult to find a case that has everything you'd want it to, it's not impossible. However, it usually does end up being expensive. Blanacing your desires with your budget was never easy, but we're sure one of the cases ceom our list will fit in that carefully balanced equation. You can easily compare any cases you've shortlisted from out list until you find the winner. 
If you still aren't sure which case to go with, we recommed the Corsair 5000D Ariflow. It has one of the best thermal performances on our list while being reasonably priced. You have several options for mounting fans and you can mount two full size radiators at once. If you want all that but bigger, you can try your luck with the Cooler Master HAF700. Its a mammoth when it comes to cooling options and a spectacular case if you can get over its huge size.