AMD's newest line of processors, the Ryzen 7000, includes some powerful CPUs. One of these processors is the Ryzen 7 7800X3D, an outstanding gaming processor which packs lots of raw power and is excellent for gaming, content creation, creative tasking, video editing, etc. It is a mid-range CPU capable of efficiently supporting games with up to 4K graphics. With the release of 3D-V cache in the 7000 3D series processors, they allow more fantastic in-game performance and substantially increase efficiency compared to their base version.
The Ryzen 7 7800X3D is a fantastic, average-priced processor with 8 cores and 16 threads and a TDP of 120W. It provides greater value for money than its competitors and has been a direct rival of the Intel Core i7 13700K processor. Moreover, this processor stands out because of its affordable pricing and lesser power consumption, making it ideal for many users. It caters perfectly to hardcore gamers and PC enthusiasts willing to push a CPU to its brink. Unlike its flagship, high-end counterparts, and competition, the Ryzen 7 7800X3D isn't power-hungry and doesn't require a behemoth CPU cooler to perform optimally at even heavier loads.
Many high-quality and highly effective CPU coolers are available in today's market at affordable prices. Third-party CPU coolers are more effective and deliver better performance than stock coolers. For a powerful processor like the Ryzen 7 7800X3D, pairing it with a suitable cooler is highly advised to extract every bit of its performance without worrying about overheating the processor. Also, highly customized CPU coolers have become a norm in gaming rig builds because they offer better thermal performance.
For this reason, in this article, we have listed the most compatible CPU coolers of the Ryzen 7 7800X3D processor and discussed their attributes in detail.
Best Cooler for Ryzen 7 7800X3D:
The Ryzen 7 7800X3D, known for its exceptional speed, requires effective cooling for optimal performance. To harness its capabilities fully, we recommend the following coolers:
Noctua NH-D15:

The Noctua NH-D15 is a high-performance air cooler known for its excellent heat dissipation and quiet operation. It is an ideal choice to keep the Ryzen 7 7800X3D running at optimal temperatures.

Thermalright Peerless Assassin-120-SE:

Featuring an advanced design, the Thermalright Peerless Assassin-120-SE is a top-tier air cooler with superior cooling efficiency. It is well-suited for maintaining the peak performance of the Ryzen 7 7800X3D.

Arctic Liquid Freezer II 360-ARGB:

For those seeking liquid cooling, the Arctic Liquid Freezer II 360-ARGB is a reliable choice. With its efficient cooling design, this all-in-one liquid cooler ensures the Ryzen 7 7800X3D remains cool under heavy workloads.
Choose from these recommended coolers to ensure optimal cooling and unlock the full potential of your Ryzen 7 7800X3D processor.
Ryzen 7 7800X3D CPU Cooler Summary
Ryzen 7 7800X3D CPU Cooler At a Glance:
Ryzen 7 7800X3D CPU Cooler Reviews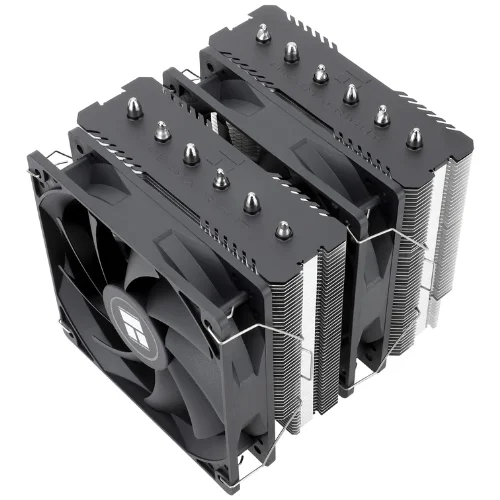 REASONS TO BUY
✓ World-class price-to-performance ratio
✓ Good performance
✓ Nice build quality
✓ Bearable noise levels
REASONS TO AVOID
✗ RAM Clearance could be improved.
✗ Not made for overclocking.
THERMALRIGHT is a company that specializes in making and manufacturing PC cooling solutions, ranging from thermal pastes to CPU coolers. Their products are efficient and highly affordable. The THERMALRIGHT PEERLEES ASSASSIN 120 SE is an exceptional CPU cooler that is perfect for mid-end processors while providing excellent value for money.
The heatsink consists of a dual tower configuration with a hefty number of fins that provides more heat transfer surface area. It also contains six heat pipes. These heat pipes feature diagonal cuts that create turbulence in the flow of air, which further complements the increase in heat dissipation. It has a simple outlook, with most of it covered in black with the entirety of the heatsink and the cooling fan. Despite having no RGB or other lighting, it is still a good-looking CPU cooler that will handsomely fit in a minimalistic build.
It only features a single 120mm TL-C12C fan that fits perfectly for this cooler. This fan can reach a maximum speed of 1500 RPM and creates an air draft of 66 CFM. This makes it capable of providing adequate and optimum airflow to the heatsink and performs well at even heavier loads. With fluid dynamic bearings, this fan can withstand noticeable static pressures. Moreover, this cooler is reasonably quiet, with a noise level rating of just 26 dBA.
ASSASSIN SE 120 isn't made for overclocking, but it can handle daily tasking and gaming loads of a mid-end processor like the Ryzen 7 7800X3D just fine. Its performance is on par with many of the premium and well-known Air coolers, costing around half their price. It provides good value for money compared to other CPU coolers on this list and will be a good pick for the 7800X3D if you want to save money on a CPU cooler.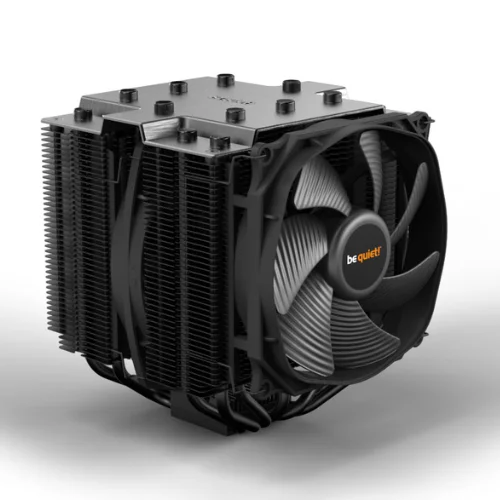 REASONS TO BUY
✓ Exceptional Noise-to-performance ratio
✓ Good build quality
✓ Remarkably efficient thermal performance
✓ Black color design at its best
REASONS TO AVOID
✗ Massive in size
✗ Little RAM clearance
At Be Quiet!, they are passionate about creating premium CPU coolers that are both high-performing and noiseless. Their products are renowned for their exceptional design, top-quality construction, and impressive results. Unlike other cooling systems, their air coolers are specially crafted to maximize thermal performance through ergonomic design. The Dark Rock series offers a wide range of products that cater to specific needs. After careful consideration, we have selected the Rock Pro 4 cooler as the optimal choice.
The Dark Pro 4 is a true masterpiece. Its dual tower design and sleek black finish, complemented by its base plate, make it a versatile product that stands out. With its seven 6mm heat pipes that run from top to bottom, it's no surprise that this cooler delivers impressive performance. Yet, what's truly remarkable is that it operates quietly at just 22 dBA. Its heat sinks have removable tops, making them easier to use and maintain. At the same time, its intelligent dual tower radiator design provides excellent heat dissipation surface area, resulting in top-notch thermal performance. This is innovation at its finest.
It boasts two powerful fans, one 120mm and one 150mm, with impressive RPMs of 1200 and 1500, respectively. These fans utilize cutting-edge "Silent wing PWM" technology for virtually inaudible noise levels. Despite their varying sizes and speeds, they effectively provide ample airflow to and from the radiator. Additionally, they are equipped with advanced fluid dynamic bearings and 6-pole motors, ensuring optimal performance and adequate airflow for exceptional heat dissipation.
The Dark Pro 4 is a great air cooler for the Ryzen 7 7800X3D. It's tall and may not fit smaller cases, but it should work well in mid-tower cases.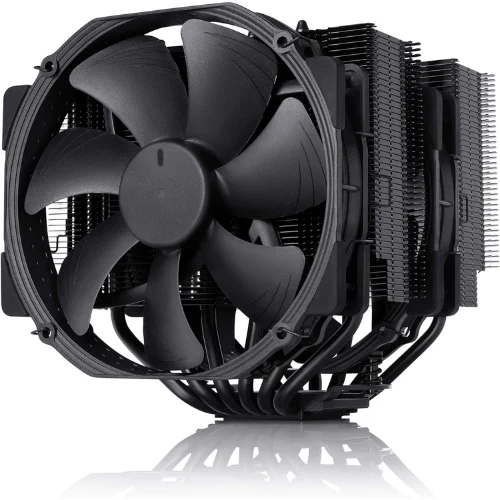 REASONS TO BUY
✓ Easy Installation
✓ Two fans are included with the cooler.
✓ Excellent build quality
✓ Nailed the black color design.
✓ Unmatched performance
✓ Six years warranty.
REASONS TO AVOID
✗ A bit expensive
✗ It might cause a clearance issue.
NOCTUA is a highly recognized brand in the gaming community, renowned for producing top-of-the-line products that offer excellent efficiency and long-lasting performance. Their products are designed with a sleek and minimalist look, devoid of RGB lighting. While this may not be ideal for those, who prefer a CPU cooler with RGB, the NH-D15 air cooler is the perfect choice for individuals who value exceptional heat dissipation efficiency and powerful airflow.
The NH-D15 stands neck and neck with an AIO cooler for performance, all thanks to its ingenious heat-sink design. Its dual tower design is armed with six heat pipes that ramp up heat dissipation efficiency by significantly increasing the overall surface area of the radiator. High-purity copper for both the base and heat pipes ensures top-notch heat conductivity. The NH-D15's design makes for an even more efficient heat transfer across a wider surface area, thanks to its 150mm-wide cooling fins and properly spaced heat pipes. Noctua's aluminum radiator and cooling fins create a strong and lightweight design. The dual fan mode improves heat dissipation and processor efficiency for demanding tasks.
This product is equipped with NF-A15 fans that can reach speeds of up to 1500 RPM. They also offer a stable 1200RPM mode for regular tasks and are quieter than a standard cooler, even when gaming or under heavy workloads. The varying fan speeds provide a strong airflow, resulting in an exceptionally effective CPU cooler.
The Ryzen 7 7800X3D is highly compatible with Noctua's air cooling, which provides excellent performance. Noctua is a good alternative for you to consider if you prefer something other than water cooling or AIOs.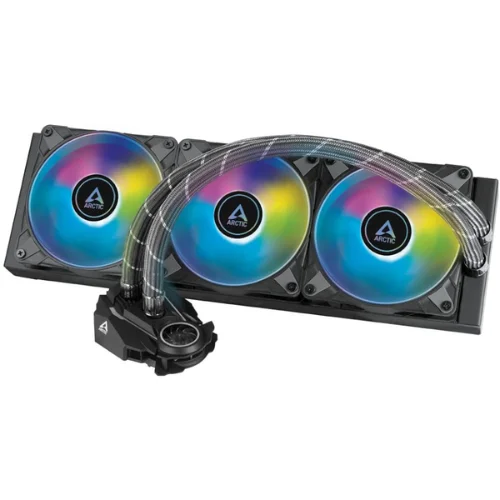 REASONS TO BUY
✓ Good value for money
✓ Six years warranty
✓ Excellent build quality
✓ Efficient cooling capability
✓ Integrated cable management
✓ Very quiet
REASONS TO AVOID
✗ Radiator clearance needs to be improved.
ARCTIC is a highly regarded name in the computer industry for its exceptional thermal products. Their fans, CPU coolers, and thermal pastes are expertly designed to deliver top-notch performance. The ARCTIC LIQUID FREEZER II 360-ARGB is a premium CPU cooler with a striking and elegant design.
One thing that makes ARCTIC unique is that they rely on something other than outsourced pumps from other manufacturers like ASTEK. Instead, they design and optimize their pumps to ensure better compatibility and the ability to customize to their specific needs. Additionally, their pumps feature a cooling fan that can reach a maximum speed of 3000 RPM but remains remarkably quiet with only a ten dBA noise level rating. The CPU fans are also designed to handle high static pressures, resulting in a seamless cooling performance. Plus, they support PWM, which makes it effortless to adjust the fan speed to suit your needs.
The ARCTIC cooler is truly exceptional, exceeding all expectations with its ability to handle a TDP of 250W and allowing for seamless overclocking. Its radiator showcases an impressive design, providing ample surface area for heat transfer and an ideal FPI. The pump is highly efficient, ensuring optimal performance by moving coolant throughout the radiator. Furthermore, the 3x 120mm ARCTIC P12 PWM ARGB fan can reach an incredible maximum speed of 1800 RPM. But with PWM control, you can easily decrease its speed to a nearly silent 200 RPM when not in heavy use.
Add the ARCTIC LIQUID FREEZER II 360-ARGB to your PC build for its captivating ARGB design and exceptional performance. Its artistic flair is a must-have.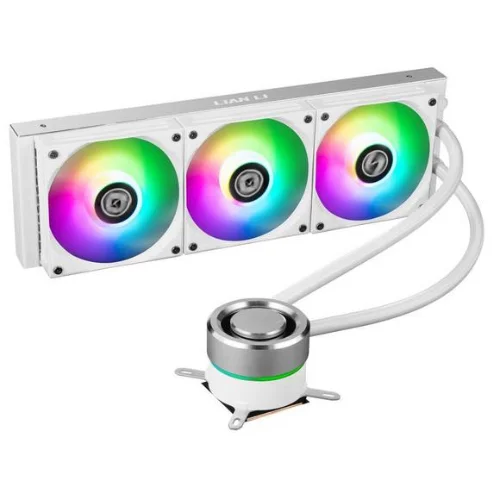 REASONS TO BUY
✓ Excellent thermal Performance
✓ Affordable
✓ Warranty
✓ Triple Chamber design
✓ Controllable RGB lights
REASONS TO AVOID
✗ Can get noisy
LIAN LI is a highly regarded Taiwanese brand within the PC community due to its reputation for producing high-quality PC cases. They offer a range of CPU coolers, including the GALAHAD 360, which boasts impressive efficiency and provides excellent value for money.
The GALAHAD 360 is a top-of-the-line liquid cooler that boasts three powerful fans. These fans are elegantly encased in a sleek and modern square design, with impressive RGB lighting for a truly stunning visual display. The cooler is expertly crafted with a premium white finish, while the fans are equipped with industrial-grade motors, fluid dynamic bearings, and anti-vibration pads for unbeatable stability and high-performance output.
These fans can reach a maximum speed of 1900 RPM, generating an impressive airflow of almost 70 CFM. This high level of airflow ensures that heat dissipates effectively, improving the radiator's thermal efficiency. It's worth noting that the fans may become louder at heavier loads, with a rated noise level of around 32 dBA. The radiator is made of durable aluminum and plastic, with 20 FPI fins, allowing it to absorb and dissipate heat efficiently.
The pump housing boasts a powerful pump that can effortlessly transport coolant through the radiator's 12 chambers and the diffuser RGB lights, which add a stunning aesthetic to the setup. Though the housing is larger than usual, installation of RAM may be hindered, but an experienced individual can easily manage. The cooler's most notable trait is its division into three parts - the Pump, Cold plate, and connecting chamber. These are intricately connected, resulting in minimal friction and seamless coolant flow.
Consider the size and space requirements of this large AIO cooler. However, if you can accommodate it, you'll benefit from its exceptional performance, 400mm tubing, white color, and diffuser RGB lights that will enhance your PC's appearance. This cooler is compatible with AM5 sockets designed for the Ryzen 7 7800X3D.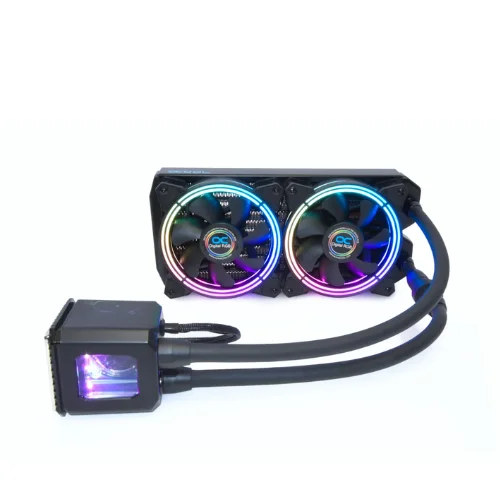 REASONS TO BUY
✓ Remarkable performance
✓ Thermally efficient
✓ Good clearance margin
✓ High-quality build
✓ Premium RGB lighting
REASONS TO AVOID
✗ Requires an experienced hand for installation
Alphacool has cemented itself as a reputable brand in the domain of CPU coolers. They specialize in liquid coolers that offer robust and premium build quality and outstanding performance, while their price can vary depending on the product. The  ALPHACOOL EISBAER PRO AURORA 240 is a high-end AIO CPU cooler perfect for a processor like Ryzen 7 7800X3D.
Alphacool takes the cake in their design department with this cooler, boasting a premium and visually pleasing look with customizable RGB lighting; this CPU cooler will be a complete package for many hardcore users. The PRO AURORA 240 offers a much larger heat transfer surface area with its 58 cooling fins. The radiator is deliberately designed to be more prominent and feature high-quality fins than its basic AURORA 240 version.
The radiator is fitted with two 120mm fans that can reach a high speed of 2500 RPM. These fans are designed with high-sleeve bearings, enabling them to deliver an airflow rate of 119 m3/hr, enough for the 15 FPI fin-density radiator. Moreover, they can handle high static pressures, and the bearings ensure a smooth and optimum operation throughout their lifetime. The noise levels are bearable, with a rating of 31.5 dBA.
The consistent clearance for both graphics card and RAM and the easy fitting of the copper radiator on a gaming PC case makes it an excellent choice for casual and experienced user alike. Overall, the PRO AURORA 240 is a worthwhile 240mm AIO CPU cooler for the Ryzen 7 7800X3D processor and will fit in your PC case like a breeze.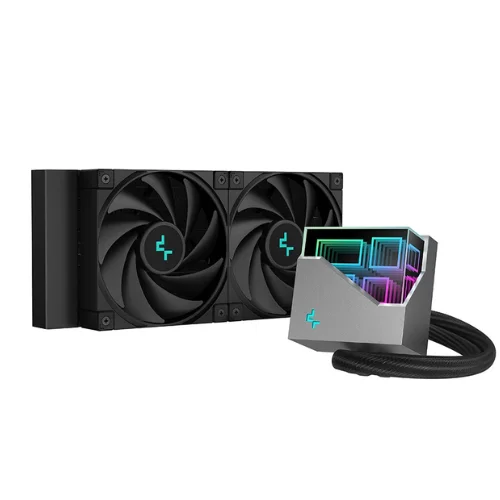 REASONS TO BUY
✓ High-performing fourth-generation pump
✓ Excellent price-to-performance ratio
✓ Outstanding build quality
✓ Five years warranty
✓ One of the best designs in AIO coolers
REASONS TO AVOID
✗ Noise levels are higher than usual
When it comes to manufacturing CPU coolers, there is no one better to consider than Deepcool. They have gathered a major following over the years and have managed to provide highly efficient CPU coolers and good customer support service to their users. They have been dubbed the industry's most influential PC component brand.
The DEEPCOOL LT520 is an AIO CPU cooler with a reasonably mid-range price tag and a compelling performance. The cooler is laced with a clean black coating with a blockier design that words don't do justice to. The cooler is visually appealing and aesthetic, with a uniquely fabricated pump with an infinity mirror look. The cooler features RGB only on its pump, which suits it perfectly.
This AIO cooler has an intricately designed Aluminum radiator with a higher fin density. The radiator features Deepcool's coveted two FK120mm fans. These fans can operate in-between speeds of 500 – 2250 RPM and are fitted with fluid dynamic bearings, enabling them to bear high static pressures and deliver an air volume of 89 CFM. But they can get noisy with a maximum noise level of almost 33 dBA. The standout attribute of this cooler is its fourth-generation pump. Equipped with a copper baseplate and a three-phase motor, this pump can reach a maximum rotation of 3100 RPM and still stay on the quiet side with its mere 19 dBA noise level.
The DEEPCOOL LT520 perfectly adds to the aesthetic of your PC with its selective RGB and thoughtfully designed body while performing exceptionally well. If you are willing to ignore its noise levels, this 240mm AIO cooler is affordable and will be a good choice for the Ryzen 7 7800X3D processor.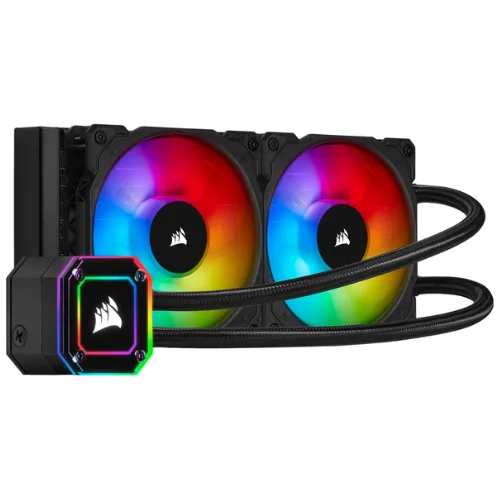 REASONS TO BUY
✓ Perfect design
✓ Excellent RGB lighting
✓ Tremendous thermal performance
✓ Five-year warranty
✓ Good Noise levels
REASONS TO AVOID
✗ Very expensive
Corsair manufactures premium PC components that deliver excellence in their products. They have been in the PC market for quite some time and have released many products over the years. Their CPU coolers are very effective and perform exceptionally well but come at a comparatively hefty price tag. The CORSAIR iCUE H100i ELITE CAPELLIX is a 240mm AIO cooler with outstanding build quality and performance metrics.
The iCUE H100i comes with a greyish-white colored body and features RGB lights on its fans and pump blockhead. The build of this cooler is very premium, and its RGB is fully customizable with their famous iCUE software. The 240mm radiator is intricately designed and features a high fin count, made from high-quality Aluminum.
The radiator is supported by highly robust Corsair's 2x ML RGB 120mm fans fitted with magnetic levitation technology. This allows them to reach high airflow speeds of 75 CFM with a rated maximum spin of 2000 RPM. These fans can provide substantial volumes of air to the radiator and remain perfectly efficient at higher stresses and CPU loads. However, the noise level of the fans can get a bit noisier as they reach higher spins, as they have been rated around 10 – 37 dBA, depending on the heat load of the radiator.
The pump of this CPU cooler is well-designed equipment with a speed of 2400 RPM with a copper cold plate. Its performance is highly optimized for this cooler and manages an adequate flow rate to dissipate noticeable heaps of heat.
Suppose you want a premium 240mm AIO cooler for the Ryzen 7 7800X3D that can handle higher processing loads and fits perfectly with the aesthetic of your gaming rig. In that case, iCUE H100i ELITE CAPELLIX is a highly viable option.
Ryzen 7 7800X3D Temperature
Ryzen 7 7800X3D is a powerful processor made purely for gamers all around. The V-cache technology has turned out to be another game changer for AMD CPUs, which were already a big hit. Being one of the fastest processors in the CPU marathon, we can't ignore the thermals, as the performance comes at the cost of higher power consumption and unusually high temperatures. The Ryzen 7 7800X3D, no doubt, can't work with any random budget air cooler or even an inexpensive AIO. 
Moreover, AM5 socket CPUs also have a lower temperature limit of 89C, after which they start thermal throttling. It reminds us to be more cautious with our cooler selection for the aforementioned processor. We used two distinct coolers to test how the Ryzen 7 7800X3D reacts with them. 
Firstly, we have the Thermalright Phantom Spirit 120 SE. The Ryzen 7 7800X3D idles at around 49C with this cooler, and the lowest we could record was 44C. As for the load, during the CineBench benchmark, the cooler was able to keep the processor well around 82C. 
Moving over to the Arctic Liquid Freezer II 280 AIO, we saw a slight reduction in idle and minimum temperature levels. The idle reading turned out to be 45C and 42 for the minimum. We also witnessed improvements in maximum temperatures during the CineBench benchmark testing. Arctic Liquid Freezer II 280 managed to keep the maximum temperature at 79C. 
Do note, though, that these testing sessions were done with an ambient temperature of 24C, so results may vary in your case. As for some gaming tests, the results, again, were quite similar. During our play-through of Star Wars Jedi Survivor, Thermalright Phantom Spirit kept the processor between 64C to 67C. Meanwhile, the Arctic Liquid Freezer II 280 was able to produce better results by providing us with temperature readings of 60C to 62C during the same play-through as the other cooler.  
Conclusion
One question that you might be pondering is why these processors need third-party, separately bought CPU coolers. The thing is that stock CPU coolers can be enough for many casual users who are building a PC out of necessity to tackle their daily tasks such as web browsing, watching streaming services, and reading emails. But when building a gaming PC that puts the ultimate load on your processor, these stock coolers aren't enough to provide the heat dissipation capabilities that your processor requires. All you are doing is limiting your CPU's potential to such an extent that you might not be able to tap into its full power. The third-party CPU coolers are designed to handle heavier heat loads that your CPU produces so that you can get the most out of them.
Selecting and buying a CPU cooler for a processor can be a hustle. Compatibility of a CPU cooler with the processor's TDP is necessary, as a cooler with enough heat removal capabilities will be a good choice for a powerful processor. The marketplace is filled with so many options that a new eye can easily be overwhelmed by them and might make a wrong decision that will cost you money without getting the desired output that you need. With these articles, we are keen on making the best guides for you, providing the best possible solutions to your problems, and helping you make good choices in buying suitable and compatible PC components.
These listed CPU coolers are all compatible with the Ryzen 7 7800X3D processor. While some might be better than others in some regards, the overall choice of CPU cooler from this list will perfectly match the processor in the discussion. We have compiled enough information so that you can make an educated decision for yourself. But for some reason, if you aren't feeling confident enough to decide for yourself, then fret not. We can decide for you.
The best CPU cooler for the Ryzen 7 7800X3D processor will be the ARCTIC LIQUID FREEZER II 360-ARGB. It is a complete package that can tackle overclocking your processor with whatever you can. It has arguably the best design and perfect RGB aesthetic for a gaming PC.
The best budget CPU cooler for the Ryzen 7 7800X3D will be the DEEPCOOL LT520. This AIO cooler has the best price-to-performance ratio and provides enough heat removal capabilities for your processor to run the most demanding games and tasks.