Intel Core i7 13700K is a powerhouse. This processor is Intel's answer to the AMD Ryzen 7800X, which would dominate the market otherwise. Fitted with 13th gen "Raptor Lake Architecture," the processor comes with sixteen cores. These cores are divided into eight Performance cores and eight Efficiency cores. With these cores and their variable clock speed, this processor results in excellent performance. It isn't costly like the i9 13900K, but it provides a similar gaming experience. So, without further ado, let's look at the best GPU for i7 13700K in 2023.
It easily tackles its competitors, like the high-end processors in AMD Ryzen 7 and 9 series processors. Also, its Raptor Lake architecture isn't much different from 12th gen technology but introduces consistency in its overall performance. Core i5 13700K, a high-end processor, should be used with a high-end GPU with exceptional performance. Many new-generation GPUs available today suit this processor. Compatibility between these two components is necessary because you want it to perform after spending a hefty amount of money on a system with good specs. A homogenized system will work perfectly and perform at its highest potential.
Because of these reasons, you must select a good and compatible GPU to go with your i7 13700K. We know choosing a GPU and researching its market can be a laborious task, and with so many options available, it is easy to get puzzled in the mumbo-jumbo of computer hardware.
So, for those who want a perfect GPU for their i7 13700K, we have compiled a list of graphics cards that will be an ideal match for your processor. These GPUs have been benchmarked for gaming and other tasks, and their performance can be compared to decide which GPU to go for.
Best GPU for i7 13700K Summary
Best GPU for i7 13700K At a Glance:
Best GPU for i7 13700K Reviews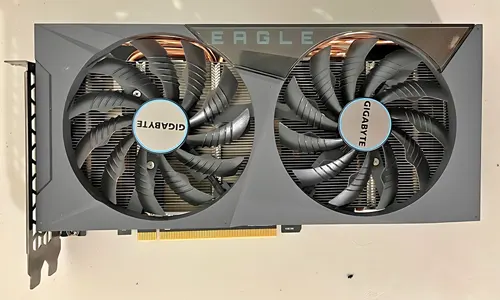 REASONS TO BUY
✓ Low price point
✓ Good Ray Tracing performance at 1080P
✓ Impressive thermals for this particular variant
REASONS TO AVOID
✗ Not future-proof for upcoming games
✗ Cannot provide stable 60 FPS on 1440P in modern games
GIGABYTE used to provide the best-value products, especially the motherboard and graphics cards. With increased popularity, the prices have surely risen but still, you get better value compared to other manufacturers. The GeForce RTX 3060 Ti GAMING OC is a mid-range variant of a mid-range graphics card, that is capable of playing most modern games at 1440P resolution at high settings. 
The performance of the graphics card is quite better than the RTX 3060, but the recent increase of VRAM usage in modern games causes a bit of stuttering. In this regard, the RTX 3060 provides a better value, as it comes with a 12 GB VRAM buffer. 
GIGABYTE RTX 3060Ti Gaming OC comes with a tri-fan design, having a silver and black fan shroud. The GPU is quite long, at around 12 inches, which is why make sure that it is compatible with the case you own. As for technical specifications, the RTX 3060 Ti comes with 4864 shader processing units. Moreover, there are 152 texture mapping units and 80 render output units. The Ray Tracing performance of the graphics card is not satisfactory at 1440P but it still does a fine job at 1080P resolution, thanks to 38 RT cores. 
As for the VRAM, you get 8 GB of GDDR6 memory that comes with an effective memory clock of 14 Gbps, which sums up to a memory bandwidth of 448 GB/s. 
The power requirement of the graphics card is around 220 watts, which makes it suitable for mid-range PSUs, as most high-end graphics cards these days consume more than 250 watts.
Overall, the performance of the graphics card is good if you own a 1080P or 1440P panel and can sacrifice ultra settings for performance gains.
REASONS TO BUY
✓ Great 1440P performance for current-generation games
✓ The RT performance suits 1440P resolution
✓ Available at a mediocre price
REASONS TO AVOID
✗ Consumes a lot of power for what it offers
✗ VRAM capacity is a bottleneck
GIGABYTE RTX 3070 Ti GAMING OC is yet another feasible option for a processor like i7 13700K. The performance of the graphics card is similar to AMD RX 6800 but the added benefit of good Ray Tracing performance makes it an attractive option.
Just like the GIGABYTE RTX 3060 Ti GAMING OC, the RTX 3070 Ti GAMING OC comes with a tri-fan design with a black and silver shroud. The heat sink of the graphics card, of course, is larger in this graphics card, as the graphics card consumes around 290 watts under 100% load. The cooling solution of the graphics card extends over the PCB, but at the back side, the backplate covers the whole GPU. The silver backplate looks mind-blowing and with horizontal GPU installation, the backplate is the only thing you would be looking at.
Theoretically, the RTX 3070 Ti is roughly 25% faster than an RTX 3060 Ti, as it comes with 6144 shader processing units. As for the TMUs and ROPs, there are 192 and 96 of them respectively. Unlike the RTX 3060 Ti, the RT performance of the graphics card makes it great for 1440P gaming at high settings. 
You would be able to play almost all the games at 1440P resolution using high settings. Some might require a lower texture resolution, as 8 GB of VRAM will cause a hindrance in some modern titles.
Overall, the RTX 3070 Ti is one of the best options for the i7 13700K, as it is available at a mediocre price and can game perfectly at 1440P resolution.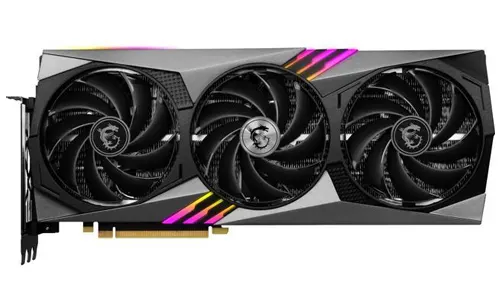 REASONS TO BUY
✓ Huge improvement from the previous generation
✓ DLSS 3.0 is a game changer
✓ Exceptional thermal efficiency
✓ Excellent 1440p experience in native mode
REASONS TO AVOID
✗ More expensive than previous-generation GPUs
✗ Some newer games give a poor performance on 4K natively
✗ 12 GB VRAM may cause stutters in some upcoming games
MSI GeForce RTX 4070Ti Gaming X TRIO 12G is our first no-compromise on this list. This GPU is mighty and equipped with Nvidia's latest features. It's one of Nvidia's flagship GPUs in their newly released RTX 4000 series. Like before, MSI presents us with a triple-fan configured GPU variant. It has good airflow and aerodynamic capabilities, made possible by MSI's signature "TORX FAN 5.0" design. With a copper baseplate and an integrated fin design, the GPU stays cool and shows good thermal behavior throughout a long gaming session.
RTX 4070Ti comes with whopping 7680 CUDA cores, with a boost clock rate at 2610 MHz. The memory of the graphics card is quite disappointing, as it comes with a 192-bit memory interface, resulting in a memory bandwidth of around 502 GB/s. Moreover, the 12 GB of GDDR6X VRAM might cause stuttering issues with games like The Last of Us Part 1. With the ADA Lovelace architecture and the latest Gen RT cores, you get excellent performance with high visual fidelity and realistic environments. This GPU is excellent for 1440p, and 4K gaming, with ultra settings enabled on almost all AAA titles. The DLSS 3.0 availability enables it to perform at a higher level than many previous-generation GPUs while allowing better frame rates with less demanding hardware.
RTX 4070Ti is an overall perfect GPU that will power your games with eye-soothing graphics, delivering an immersive and stunning experience without putting too much strain on your budget. Thermal performance is near perfect. It is a unique amalgam of flawless build, tremendous undertaking, and considerate pricing.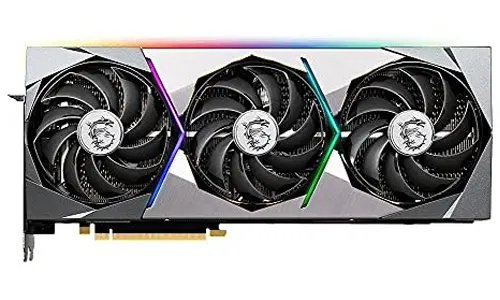 REASONS TO BUY
✓ Often available at very low rates
✓ Great RT performance at 1440P and 4K resolution
✓ Very low noise with this variant
REASONS TO AVOID
✗ Consumes too much power
✗ Does not support Frame Generation
MSI produces some of the best graphics cards whether you talk about aesthetics, performance, reliability, or acoustics. Especially, with a variant like SUPRIM X, you have nothing to worry about, as you are actually paying for superiority over other variants. In return, you get better thermals, lower noise, and higher clock speeds, not to mention the pleasant aura of a SUPRIM X graphics card.
MSI RTX 3080 Ti SUPRIM X 12G is one of the best graphics cards from the previous generation. The design of the graphics card feels very unique, as the silver color highly complements the RGB lighting. You get RGB lighting at the front of the graphics card, as well as at the backplate, which is also of silver color.
As for what it offers, you get 10240 CUDA cores, which is a count not too different from the RTX 3090. The TMU and ROP configuration of the graphics card is 320 and 112 respectively, which makes it extremely capable for 4K gaming in current-generation games, at least with DLSS. The RT performance of the graphics card is something to talk about, as you get 80 RT cores. The RT cores of this generation are not comparable to the RTX 4000-series graphics cards, as those run at a much higher clock rate, but still, this will give you a good perspective of the overall scenario.
The gaming performance of the graphics card makes it good for playing games like Spiderman Miles Morales, The Last of Us Part 1, Assassins Creed Valhalla, Modern Warfare 2, etc. at 4K resolution with DLSS, resulting in more than 60 FPS average.
Overall, MSI RTX 3080 Ti SUPRIM X seems an amazing option for i7 13700K, especially if you get it at a lower rate than RTX 4000-series alternatives.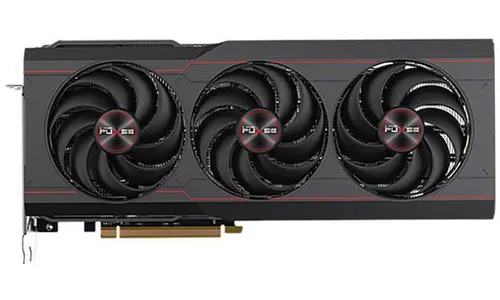 REASONS TO BUY
✓ 16 GB VRAM at this price seems impressive
✓ Great performance for 1440P and 4K gaming at medium settings
✓ Keeps improving with driver updates
✓ Shows promising results with overclocking
REASONS TO AVOID
✗ Ray Tracing performance is deal-breaking
✗ No competition to DLSS 3.0 so far
SAPPHIRE is arguably the best manufacturer for AMD graphics cards and we have seen huge improvements with each generation of graphics cards by the company. SAPPHIRE PULSE RX 6800 XT is a fantastic offering by the company that is not the flagship variant but still competes with flagship variants by other manufacturers. 
SAPPHIRE PULSE RX 6800 XT is a massive graphics card with a tri-fan design and a tall form factor. You should check the compatibility of the graphics card with the case before finalizing the purchase. The design of the graphics card does not feel over the board nor plain simple. It carries the Pulse Signature on the fan shroud and the backplate in red color. 
The performance of the graphics card has definitely improved in the past two years due to driver improvements. The graphics card now matches the performance of RTX 3080 in most titles, although the Ray Tracing performance is abysmal if you are using 1440P or 4K resolution. Speaking of 4K resolution, the graphics card can play current-generation games at 4K resolution but you will have to compromise on graphics settings in most games.
There are 4608 shader processing units on the graphics card along with 128 Render Output Units and 288 Texture Mapping Units. As for the video RAM, you get a massive 16 GB memory buffer with GDDR6 technology, which gets you a memory bandwidth of 512 GB/s. The boost clock rate of the graphics card is 2310 MHZ, but you can easily overclock the graphics card to surpass the 2500 MHz barrier.
Overall, SAPPHIRE PULSE RX 6800 XT is a fantastic graphics card that is available at a much lower price than NVIDIA alternatives.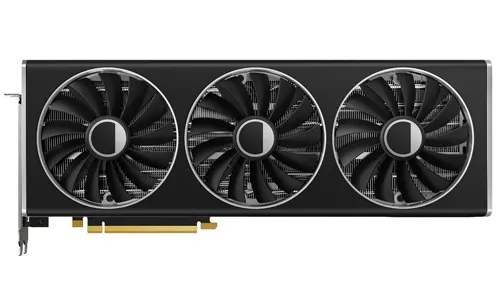 REASONS TO BUY
✓ 20 GB of massive VRAM
✓ Great Raw performance for 4K gaming
✓ Lower TDP from the previous generation at 300 watts
✓ Priced around RTX 4070 Ti while performing like a 4080
REASONS TO AVOID
✗ Not good enough Ray Tracing for 4K gaming
✗ Provides no technology like Frame Generation
XFX is a major manufacturer of AMD graphics cards and it gained a lot of appreciation with its RX 6000-series graphics cards. XFX SPEEDSTER MERC 310 RX 7900XT is one of the best offerings by the company for this generation and provides similar raw performance to RTX 4080. 
The graphics card's design is quite similar to the previous generation, with a tri-fan design. The middle fan, this time, is of the same size as other fans. The GPU is tall and it measures around 13.5 inches in length, making it among the largest GPUs. The gray backplate of the graphics card comes with a pattern of vertical lines, presenting a new look on the graphics card.
As for the SPUs, there are 5376 of them here, with a TMU and ROP configuration of 336 and 192. The boost clock rates have improved from the previous generation and now it comes at 2560 MHz. Another big improvement from the previous generation is the memory interface, where you are now getting a 320-bit interface, which, when coupled with 20 GB of GDDR6 memory, gives a total memory bandwidth of 800 GB/s. 
The RT performance of the graphics card is no doubt better than RX 6000 graphics cards due to improved raw performance but it is far inferior to RT cores of RTX 4000-series graphics cards. 
This graphics card is a great purchase for those who consider Ray Tracing to be a gimmick and want superior raw performance and a lower price point compared to NVIDIA counterparts.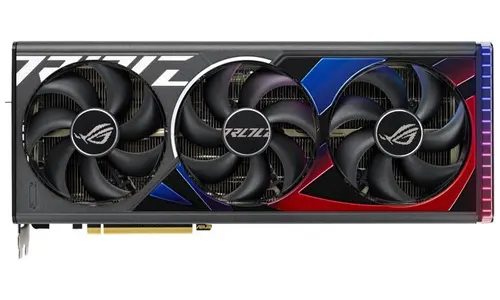 REASONS TO BUY
✓ Frame Generation results in unbelieve FPS boosts
✓ Extremely reliable cooling solution
✓ Very low noise due to axial fans
REASONS TO AVOID
✗ One of the pricier GPUs
✗ Ray Tracing still gives a big blow to performance
ASUS is one manufacturer that we can trust with our eyes closed and the reason is that we have never seen any bad product in the recent five years of PC products. We are used to getting reliability and high performance from ASUS products, especially when the product belongs to the ROG series. ASUS ROG STRIX RTX 4080 OC is one such product and it is no doubt the favorite of enthusiasts among all 4080 variants. 
The looks of the graphics card are simply mesmerizing, with perfect RGB lighting on the fan shroud. The backplate of the graphics card shows the ROG logo with its airy design. The large axial fans of the company are well-known for low noise, and the middle fan turns in the opposite direction to minimize turbulence.
There are 9728 CUDA cores on the graphics card that are managed at a boost clock rate of 2625MHz. With 304 Texture Mapping Units and 112 Render Output Units, you get astounding performance with such a high clock rate. There are 76 RT cores in this graphics card, and just like CUDA cores, the performance of these cores has improved quite a lot from the previous generation due to an improved clock rate.
In games, you would be able to play most games at 4K native using ultra settings. With some games, you will have to turn DLSS on, which will give a huge boost in performance, especially in games that are capable of handling Frame Generation technology.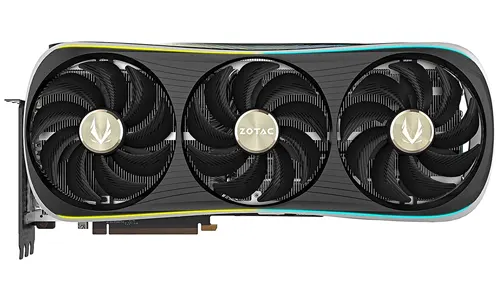 REASONS TO BUY
✓ 24 GB of high-capacity VRAM
✓ Lots of RT cores
✓ Capable of 4K 60 at Ultra settings in every game
✓ Future Proof with DLSS 3.0 support
REASONS TO AVOID
✗ Consumes more power than any other graphics card
✗ Mostly unavailable at MSRP due to scalping
The regular variants of ZOTAC are nothing special compared to MSI or ASUS but when it comes to flagship variants, ZOTAC goes over the board. We have always kept our eyes on AMP EXTREME variants. This generation, ZOTAC went overkill, as the RTX 4090 had a super-high power requirement. 
ZOTAC RTX 4090 AMP EXTREME AIRO is one of the biggest graphics cards that you would have ever seen, measuring 14 inches in length. It is one of the only graphics cards on the market with a quad-slot design.
The technical specifications of the graphics card are completely overwhelming, with 16384 shader processing units, 512 Texture Mapping Units, and 176 Render Output Units. Moreover, there are 128 Ray Tracing cores here and 512 Tensor cores. When it comes to memory, the VRAM buffer of 24 GB is similar to RTX 3090 and RTX 3090 Ti from the previous generation and the same can be said about the memory bandwidth, which matches the RTX 3090 Ti, using a 384-bit interface with GDDR6X technology, resulting in 1008 GB/s of bandwidth.
This is the best graphics card that money can buy right now. If you want a gaming system that is capable of 4K ultra in every game without DLSS, this is one such graphics card to consider for it. With DLSS 3.0, you can easily run demanding titles at a high refresh rate, providing an immersive and enjoyable gaming experience.
Conclusion
Intel Core i7 13700K is a high-end CPU that should be paired with a suitable graphics card. It is up to the buyer about what GPU they want to buy. As we try to provide you with a good understanding and comparison of many compatible GPUs according to the model and generation of your CPU, it still is your choice. 
The graphics card you buy depends on your budget and graphical task requirements. As long as your GPU doesn't cause bottlenecking when paired with the CPU, you can get good performance out of your system. We have listed many options for i7 13700K in this article, ranging from RTX 3060 Ti to RTX 4090. As for the best bang for the buck, we are now listing two graphics cards that can serve you well in the upcoming years.
MSI GeForce RTX 4070Ti Gaming X TRIO 12G seems to be a promising graphics card that is capable of handling 4K in the latest games with Frame Generation and will definitely last you many years before you feel the need to upgrade.
The other option is XFX SPEEDSTER MERC 310 Radeon RX 7900XT which provides better performance than RTX 4070 Ti but without RT and Frame Generation advantage. With this graphics card, you get better raw performance, and the upcoming driver updates are likely to improve its performance further.