Intel Core i9 13900K is a flagship processor, released in late 2022. The processor delivers powerful performance in games and content creation workloads. Based on the Raptor Lake 13th generation architecture, Intel presents you with its highest-performing processor and integrated UHD 770 graphics. It is suitable for high-end PC builds for Ultimate efficiency and is Intel's highest offering that you can get your hands on today. We have come up with a list of the best CPU cooler for i9 13900K, as it can be quite a hassle to make the right decision since there are a lot of options to choose from.
It is embedded with a total of 24 cores and 32 threads. These multiple cores are essential for its multitasking performance and enable it to outclass in single and multi-core benchmarks compared to previous-generation flagships. Intel introduced the world with its classification of processing cores back with its 12th generation Alder Lake series. The total number of cores in their processors was divided into two classes: the Performance (P) cores and the Efficiency (E) cores. You can also check out the Z690 & Z790 motherboards that you can pair with this Core i9 13900k.
These cores help the processor in the execution of tasks with better and faster outcomes. The i9 13900K has 8 P-cores and 16 E-cores with a boosted clock speed of 5.8 GHz for the P-cores; a marginal improvement over the previous generation's 12900K processor. However, this processor's increased performance and exceptional raw power come at the cost of higher power consumption. It has a power requirement of 384W at Turbo Clocks and generates excessive heat under load. Some benchmarks suggest this processor can reach a maximum temperature of 100C under extreme loads.
Such a powerful processor with a high potential for heat generation wouldn't perform well with mid-range CPU coolers. Hence, it is wise to equip such a processor with an equally robust and reliable CPU cooler that can siphon its heat to the environment without creating issues. For this reason, we have compiled a list of CPU coolers that will be best suited for this processor. These CPU coolers are designed to carry higher heat loads and work around the clock to keep the processor cool under a desirable temperature range. If you are looking for GPUs for the Core i7 13700K then make sure you check this list that we have as well.
So, without wasting any more time, Let's look at the list of suitable CPU coolers for the i9 13900K.
Best CPU Cooler for i9 13900K Summary
Best CPU Cooler for i9 13900K At a Glance:
Best CPU Cooler for i9 13900K Reviews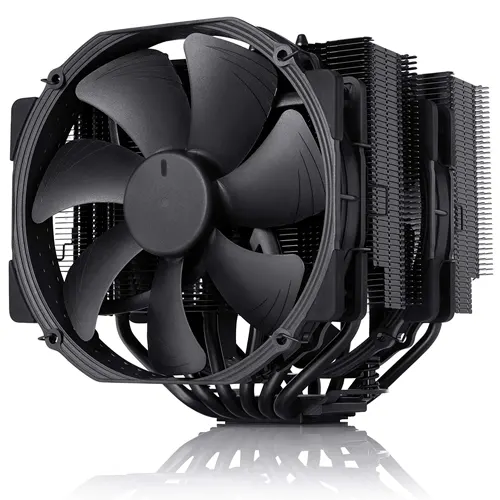 REASONS TO BUY
✓ Matches the performance of best AIO coolers
✓ Easy installation
✓ No risk of liquid damage
✓ Very low noise
REASONS TO AVOID
✗ Does not fit with tall RAM kits
✗ Very bulky
Noctua is the gold standard in the PC industry when it comes to CPU air coolers. The company has been designing tons of high-end products and specializes in air coolers. Noctua NH-D15 chromax.black is known as the world's best air cooler due to its sheer performance and low noise.
A great thing about Noctua products is that they produce very little noise despite providing excellent thermals. The NH-D15 comes with six heat pipes and a dual-tower design, which is capable of handling even the most power-hungry processors like the i9 13900K and the Ryzen 9 7950X. 
As for the size, it is a monstrous CPU cooler that does pose an issue for tall RAM kits, as the RAM clearance in this CPU cooler is only 32mm with two fans. However, if you opt to use a single fan, you have a great RAM clearance of 64 mm, allowing you to install any RAM kit in the market. 
The performance of the CPU cooler matches even the best of the best AIO coolers on the market, such as Arctic Liquid Freezer II 280, CORSAIR H150 RGB, NZXT Kraken Z73, etc. The only downside of using this air cooler is that it does not look as good as a sleek AIO cooler installed on the motherboard. 
Previously, Noctua came in a hideous dark brown color theme, which is why it was not very popular among users. Now, with the chromax.black variant, you get an all-black air cooler, which looks significantly better than the stock theme of NOCTUA NH-D15. The cooler comes with Dual NF-A15 140mm fans, which are well-known for low noise and high performance.
Overall, if you can spend a considerable amount of money on the cooler and don't care much about aesthetics, NH-D15 chromax.black is your best bet.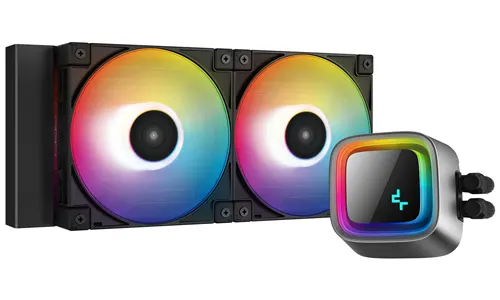 REASONS TO BUY
✓ Affordable price
✓ Highly Customizable
✓ High airflow
✓ Good build quality
REASONS TO AVOID
✗ Might struggle during overclocking
✗ Might run into installation issues
As the name implies, DEEPCOOL specializes in designing better CPU coolers. The LS520 is a budget, AIO cooler option for a high-end processor. It has decent heat removal efficiency and provides good value for money with its budget-friendly price tag.
It is a 240mm liquid cooler with high-quality fans. Its fans are embedded with RGB lighting to provide a gamer aesthetic to your system, and these fans can get up to 2250 RPM max. It supports LGA-1700 and AM-5 socket support for high-end AMD and Intel processors. It is virtually silent under load and highly customizable thanks to its built-in software support.
Its pump is fitted with a potent motor that ensures the flow of liquid coolant to the radiator from its baseplate. It works efficiently to dissipate a colossal amount of heat, and its pump is very good at removing any leftover hotspots that can accumulate unnecessary heat.
DEEPCOOL LS520 is a decent CPU cooler, and it's suitable for handling the average heat loads of your processor. Although it's not recommended for people looking to push their processors to their limit, it will still give satisfactory results under heavier heat loads. It provides a considerate option if you want to save money on a CPU cooler.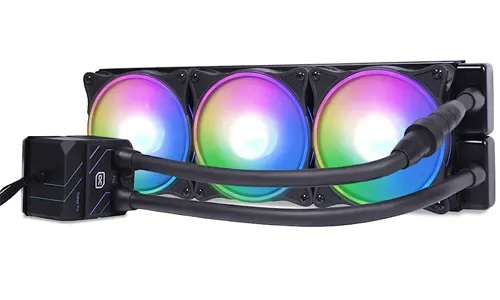 REASONS TO BUY
✓ Good thermal Performance
✓ Excellent Build quality
✓ Premium features
✓ RBG ready
REASONS TO AVOID
✗ Noise output is very high
ALPHACOOL Eisbaer PRO HPE AURORA 360 is the definition of a high-performance, efficient, and premium AIO cooler. Its characteristics make it exist in its league, and such a CPU cooler is perfect for a powerful processor like the i9 13900K. It provides fantastic heat dissipation capabilities. It is designed with boldness in mind, and its matte black finish with angular corners and RGB lighting delivers a gorgeous-looking cooler.
What makes the Aurora 360 unique is its chunky Copper radiator. It uses an HPE-series radiator that provides more than enough surface area for heat dissipation to the environment. With an FPI of 18, it has the highest heat transfer area and the wider radiator size of all the AIO coolers. The wider size helps the coolant flow more expansively through the radiator, enhancing its cooling capacity higher than other CPU coolers.
The broader and more significant-sized radiator does require equally powerful and high-flow fans. This cooler is equipped with three Aurora Rise RGB 120mm fans, which provide adequate airflow for the radiator. The Aurora 120mm fans can achieve an airflow of 119 m3/hr with a max pressure reading of 3.17 mm H2O. Depending on the load, they can operate from 0 to 2500 RPM to deliver an unhindered airflow for efficient cooling. However, these fans can get quite noisy and max out at a noise level of 54 dB(A). The circulation pump is another powerful cooler component with a remarkable design and a built-in reservoir. This pump is easier to maintain than most AIO pumps, and its 2600 RPM speed, along with 72 L/hr max flow rate, makes this pump highly efficient.
Although it is an expensive AIO cooler with high noise levels, if you can get around that, it will provide better cooling efficiency than most CPU coolers. While its remarkable design and RGB lighting make it an excellent addition to aesthetic-centric PC builds.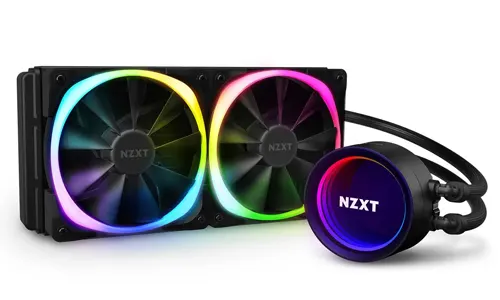 REASONS TO BUY
✓ Easy Installation
✓ Minimalist design
✓ Not too noisy under a load
✓ Perfect for gaming PCs
REASONS TO AVOID
✗ Not good for overclocking
✗ Expensive in comparison to other 240mm AIO coolers
NZXT is a well-known brand in the computer parts space. Most of their products are designed with minimalism in mind. They provide premium products with high-end features such as ARGB and customizable LCDs on their accessory equipment, such as CPU coolers. The NZXT Kraken X53 RGB is no exception to its minimalist design. It is a high-performance AIO cooler with an RGB-ready design.
The Kraken X53 natively supports the LGA-1700 socket, making it compatible with the i9 13900K. It has exceptional thermal performance and comes with a two-fan configuration, equipped with RGB lighting to add to the aesthetic of the PC build. The two AER P120 fans are adequately powerful for the given radiator. The speed of the fans can reach a maximum limit of 2000 RPM with a max noise output of 36 dBA, making them reasonably quiet compared to other AIO coolers. Moreover, these fans can achieve a static pressure of 2.93 mmH2O, which is very high and ensures the high cooling efficiency of the cooler.
Unlike other premium AIO coolers, the mid-sized radiator is designed to house only two fans. It has a comparatively higher FPI count and is made of aluminum, making its heat transfer area more extraordinary for a 240mm radiator. It comes with a powerful pump that can speed up to 2800 RPM and deliver a decent flow rate to the radiator and CPU for efficient heat dissipation.
With six years of warranty, the NZXT Kraken X53 RGB is a more than good CPU cooler for the i9 13900K, and it is easy to install with intelligent control over its fan speeds depending on the load on the CPU.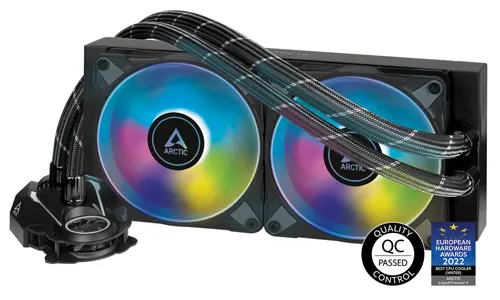 REASONS TO BUY
✓ An extra fan on the pump provides a great advantage
✓ Thick and dense radiator compared to competitors
✓ Offset mounting for AM5 for improved performance
REASONS TO AVOID
✗ Somewhat pricey
✗ No lighting on the pump
ARCTIC is a company that has been manufacturing CPU cooling accessories for a long time and its AIO coolers are leading the industry in terms of performance and reliability. ARCTIC LIQUID FREEZER II 240-ARGB is a mind-blowing cooler whether you talk about its performance, its design, its RGB lighting, or whatever. 
The design of the cooler is just jaw-dropping, as the ARGB lighting on the ARCTIC P12 PWM A-RGB fans looks phenomenal. The performance of these fans is excellent too, as they have a high static air pressure of 1.85 mm H2O and run at 200 to 1800 RPM. 
There are many exclusive features of this AIO cooler. First of all, you get a small PWM fan on the pump, which can bring down the thermals around the socket area by 15 degrees according to the company tests. Moreover, ARCTIC uses 38mm thick radiators having higher fin density than competitors. 
The performance of this AIO cooler is best among all the other 240 mm AIO coolers due to these features. That is why if you are looking for a powerful AIO cooler without breaking the bank, ARCTIC LIQUID FREEZER II 240 ARGB is one of the best options for you.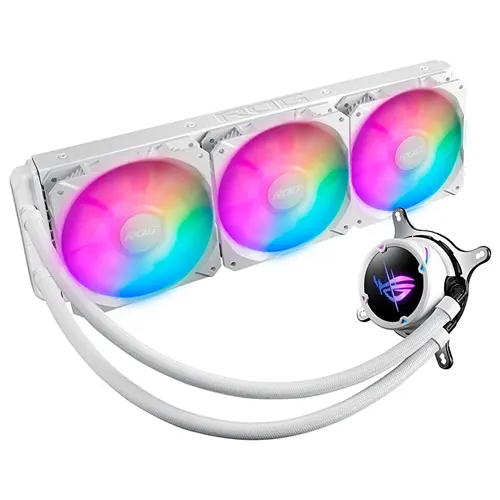 REASONS TO BUY
✓ AURA Sync software support
✓ Premium quality product
✓ Six years warranty
✓ Superb performance
✓ Aesthetically pleasing design
REASONS TO AVOID
✗ Too Expensive
✗ No display at this price
ASUS ROG Strix LC II 360 ARGB White Edition is a premium and fancy CPU cooler that you can buy for an i9 13900K. It is incredibly efficient when it comes to handling high heat loads. ASUS usually delivers premium and high-end products for high-end builds, and they excelled in the design of this CPU cooler.
This CPU cooler is built for the hottest processors on the planet. It comes in a unique Moonlight white design with exceptional liquid cooling. For gamers who are into minimalistic yet stylish-looking PC components, this CPU cooler will provide you with the best of both worlds. Its tremendous performance and aesthetics speak for themselves.
It is equipped with ASUS's top-quality fans, the ROG Strix Model 12 ARGB. These fans provide a high static pressure of 81 CFM and can reach an exceptional running speed of 2500 RPM. These fans can get a bit noisy at their max speed, but thanks to their PWM support, they can be kept at a minimal noise level by adjusting their fan speeds. Moreover, suppose you have any other ROG components in your build, you can use ASUS Aura Sync to synchronize the RGB lighting. In that case, you can adjust and coordinate the lighting pattern of these components for ultimate aesthetics.
ASUS 7th generation ASTEK pumps enable the cooler to provide an efficient flow of liquid coolant to every nook and cranny of the processor metal plate for maximum heat dissipation and little to no hot spots. This pump has a perfectly crafted pure copper plate with micro-channels that simultaneously enhance heat transfer and lower thermal resistance.
ASUS ROG Strix LC II provides the best experience for the money, and if you are willing to go out of your way to buy one of these, it will be worth the cash spent.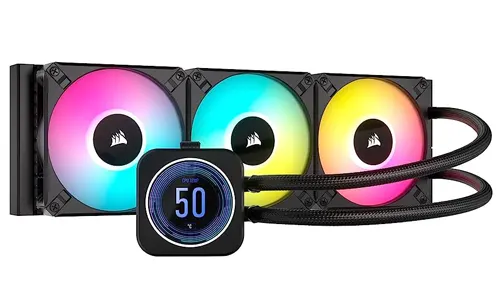 REASONS TO BUY
✓ Provides the best looks among all AIO coolers
✓ LCD display for customized graphics
✓ Low-noise fans at higher RP
REASONS TO AVOID
✗ Very pricey compared to alternatives
✗ The LCD is more like a gimmick
CORSAIR is among the favorites of hardware enthusiasts due to its performance-oriented products. CORSAIR designs some of the best PC products in the world, especially cases, PSUs, RAM kits, and CPU coolers. CORSAIR iCUE H150i ELITE LCD XT is the flagship AIO cooler by the company that comes with a 360 mm radiator. 
You won't find any shortcomings in this product apart from the high price, as the company has been improving this model for over a decade now. The cooler is available in both white and black colors, so you can choose according to the theme of your gaming rig. The design of the AIO cooler feels mesmerizing, as the pump comes with an IPS 24-bit LCD display, which you can customize with the software application. Moreover, there is an RGB LED ring on the pump along with the LCD display.
As for the fans, the company uses three AF120 RGB ELITE, as it is a 360 mm cooler. The fans have a high RPM range of 550 to 2100 RPM, which makes them faster than most AIO coolers on the market. The airflow of the fans is 65.57 CFM, while the static air pressure of the fans is also fantastic at 2.68 mm H2O. The cooler comes with long 400 mm tubing, which is why you can easily install the radiator on any side of the case, even on large full-tower cases.
Overall, CORSAIR iCUE H150i ELITE LCD XT is the epitome of cooling solutions and the performance of this CPU cooler matches the best 360 mm coolers on the market. If you can afford the hefty price of this cooler, you should not hesitate at all.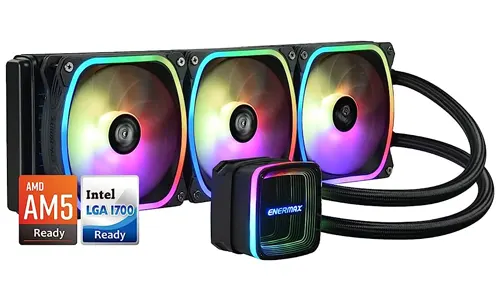 REASONS TO BUY
✓ Fans have a supreme performance
✓ The ARGB lighting looks amazing
✓ Much lower price than mainstream AIO coolers
REASONS TO AVOID
✗ Not very well-known for AIO coolers
✗ Noisier fans due to higher RPM
ENERMAX is a company that mainly manufactures PC power supplies, cases, and cooling solutions. The reason we have listed this product on our list is because of the sheer value of the ENERMAX cooling solutions. ENERMA AQUAFUSION ADV 360 A-RGB is a cheap AIO cooler that matches the aesthetics of some of the well-known products on the market. 
The design of the AIO cooler is definitely among the best AIO coolers, having an ARGB ring on the fans, along with ARGB lighting on the fins of fans as well. Similarly, an ARGB ring is present on the pump, along with multiple ARGB rings inside the pump, which seems a bit too similar to the NZXT Z-series coolers. The company calls this Luminous Aurebelt and Infinity Mirror Design, which seems a bit overboard, but naming doesn't hinder the performance at least.
As it is a 360 mm AIO cooler, the performance of the cooler is enough to handle an overclock i9 13900K. The AIO cooler uses AQUAFUSION ADV 24 fans, which are unbelievable in terms of performance. The fans have a super-high static air pressure of 3.6 mm H2O, while the airflow rating is high too, at 79 CFM. The RPM range of the fans is 500 to 2000 RPM, which is somewhat higher than other AIO coolers, which is why these fans might seem a bit noisier compared to competitors.
Overall, ENERMAX AQUAFUSION ADV 360 A-RGB is a great alternative to other 360 mm AIO coolers if you are short on budget and cannot afford an expensive 360 mm AIO cooler.
Conclusion
Intel's i9 13900K is a powerful processor with high power consumption and heat generation. These types of processors perform well in a high-end PC build. They can be beneficial in the long term as their flagship status comes with extreme performance margins. The i9 13900K generates very high heat under load, and it is crucial to remove this heat with the help of an efficient CPU cooler. Not doing so will cause drops in efficiency, system crashes, and, worst of all, component damage.
Selecting a component for your computer can take time and effort. Buying these things requires thorough knowledge and research, which can be overwhelming for many of you. With articles like these, we aim to impart knowledge about PC components and their compatibility so that it is easier for an average person to understand and decide on which component to buy for their desired application.
The CPU coolers in this list are highly compatible with the i9 13900K processor and provide good cooling efficiency. But the final choice depends on you and your requirements. We have listed the coolers' features, pros, and cons to give you the best idea of which product to pick if you have an i9 13900K processor. However, if you still haven't decided on what CPU cooler to pick for your processor and are still mulling over your decision, then we can decide for you.
The best CPU cooler for the i9 13900K processor will be the ALPHACOOL Eisbaer PRO HPE AURORA 360. This AIO cooler has the best value for money and better performance and cooling efficiency for a powerful processor.