Until Ryzen came out with the Ryzen 9 3D V-Cache lineup, the Ryzen 7950X reigned supreme as the king of gaming. Now you can get less bottlenecking and twenty to thirty more frames with an RTX 4090 using the 7950X3D in place of the 7950X, depending on the game being played. However, that doesn't mean you can't get an amazing 4k Ray Tracing experience using a premium graphics card alongside this top-of-the-line processor. 
With 16 cores and 32 threads, this beast is ready to take on any AAA title you can throw at it. However, for a proper gaming experience, you'll need to ensure the thermal stability of your processor. Powerful chips like this run hot. Maintaining thermal stability is important because overheating can make your system unstable and unpredictable, including suddenly shutting down. The CPU could become permanently damaged. If you avoid CPU damage, you will still experience a marked reduction in its lifespan and performance. Therefore, you must purchase a quality CPU cooler to protect your valuable investment. 
Choosing a CPU cooler is no laughing matter. You must consider several factors, including case size, RAM clearance, CPU TDP, CPU socket type, radiator size, number of fans, build quality, warranty, aesthetics, and price. It's usually difficult to find something that checks all your boxes. If you're looking for the cheapest fix, you'll have to compromise on performance or aesthetics. If you want the best-performing or best-looking AIO CPU cooler, you will have to fork over the dough. Ultimately you must set your priorities straight to choose the right cooler.  
Considering the challenges that gamers and content creators, both professional and amateur, face when searching for the right cooler, we've compiled a list of coolers, of which more than one could be the best CPU Cooler for Ryzen 9 7950X to fit your needs. The decision will be much easier after you've had the opportunity to shortlist and compare various coolers. This is possible because we have conveniently compiled all the required information in this helpful buying guide. Without further ado, here is our list of options for the best CPU cooler for Ryzen 9 7950X.
Best CPU Cooler for Ryzen 9 7950X Summary
Best CPU Cooler for Ryzen 9 7950X At a Glance:
Best CPU Cooler for Ryzen 9 7950X Reviews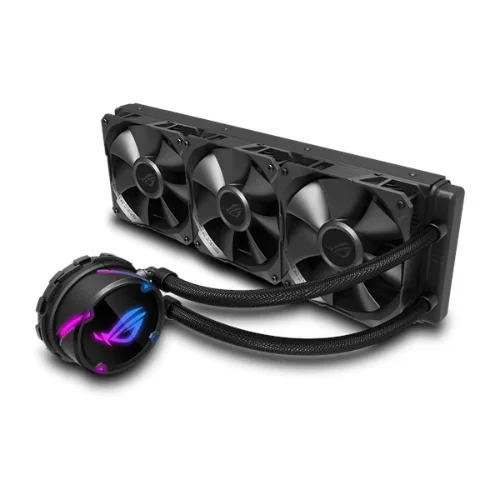 REASONS TO BUY
✓ Affordable
✓ Powerful fans
✓ RGB
REASONS TO AVOID
✗ No LCD
✗ No VRAM fan
✗ Loud at full speed
We're starting off with the best of the best of a mid-stack series from ASUS, the ROG STRIX LC2 360 ARGB is great when you're in the market for performance, quality, and looks in a moderate price range. 
This CPU cooler features the Asetek 7th generation pump, the same generation as the RYUJIN II, which prioritize temperature sensitivity, noise cancellation, and superior cooling performance for a five-star gaming experience. The 2800 RPM pump is PWM controlled for additional noise management. However, you must ensure your motherboard has the PWM option instead of being solely DC.  This CPU cooler has insane 2600 RPM fans, setting it well above its competitors when it comes to sheer power. These fans can cool the liquid faster and thus the CPU faster than others within the same price range and beyond. However, this does come with its own drawbacks. You se,e most AIO coolers have fans ranging from 1800-2000 RPM, which makes an acceptable amount of noise, which can be minimized by closing your CPU case. However, when you run the ROG STRIX LC2 360 ARGB at full speed, be prepared for a much 
This CPU cooler is mostly black, though white is sometimes available. The CPU cooler has the usual circular Asetek pump. However, it features an RGB logo on top and additional slashes of RGB around the pump. This RGB lighting can be synced with the three beautiful ARGB fans crowning the radiator. The Fans have standard RGB 4-pin RGB connectivity. However, the pump is exclusively connected via USB and relies on ASUS Armory-Crate software. 
While ASUS has better, more premium offerings, this is the best of the mid-tier CPU coolers that can keep up with the AMD Ryzen 9 7950X. In fact, it's the best CPU cooler for the AMD Ryzen 9 7950X if you want ASUS but can't afford the RYUJIN II. 
With immensely powerful and customizable fans, fancy RGB lighting, and software fan and pump speed control, this is a gem hidden among mid-tier offerings. You won't regret it purchasing it for the Ryzen 9 7950X by a long shot.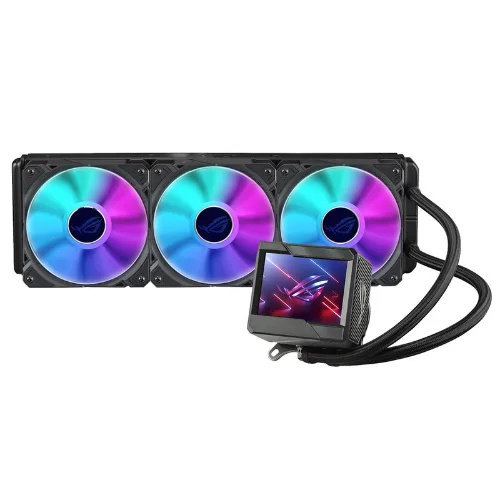 REASONS TO BUY
✓ 3.5-inch LCD Display
✓ Pump top embedded fan
✓ Extensive compatibility
REASONS TO AVOID
✗ Expensive
✗ No RGB fans
If you thought the previous offering from the king of gaming, ASUS was fire, then you're not ready for the RUJIN II 360. While we all expect quality from the brand, this is a whole other level. You're looking at one of the most advanced coolers on the market. 
With three 120 mm fans running at 600 to 2200 RPM, give or take 10%, providing 10.07 CFM, it will keep your power-hungry Ryzen processor ice cool. The only downside to water coolers is that you often can't cool the VRAM and components around the CPU like you can with tower coolers with overhang. However, the pump top for the RYUJIN II features a fan and vented design that also pushes air out and cools surrounding components, eliminating that problem entirely. With an entirely optimized CPU and VRM, you can game with more peace of mind, no matter how much power is drawn. This also lengthens the life of the motherboard as well as the CPU. 
The 36.45 dB fan is virtually noiseless and compatible with AM5, AM4, and TR4 AMD sockets, along with LGA 1700, 1200, and 115x sockets. 
While many coolers feature RGB fans, we all know that LCD or OLED displays are the new kid on the block. The RYUJIN features a 3.5-inch display on the pump top where you can play custom animations or monitor the system with a one-year free AIDA64 Extreme advanced monitoring software subscription. If you have a clear glass panel, which is a no-brainer if you're in the market for a cool-looking cooler, then this is the ultimate flex. Of course, if there were three gorgeous RGB fans as well, that would have taken this over the moon. It's a bit of a bummer for RGB fans that it doesn't feature them. However, it comes with the hardware for it if you buy RGB fans separately. 
As their flagship offering, the RYUJIN is priced accordingly at the luxury end of the cooling spectrum. It isn't the smartest choice if you're on a budget. However, if you aren't going to splurge when you have one of the most powerful CPUs around, when are you going to? 
If you plan on upgrading your system in the near future, it's great to think of something scalable to that, especially with its six-year warranty. If you're unafraid of indulging yourself with the flagship cooler from ASUS, this is a great option for you.
REASONS TO BUY
✓ iCUE software capabilities
✓ Wide array of sizes, performance, and aesthetic options
✓ Powerful and low-noise fans
REASONS TO AVOID
✗ No VRAM fan
✗ 420mm is difficult to accommodate in most cases.
Corsair is one of the largest computer hardware manufacturers with a cult following. It's no surprise that along with the memory modules it's famous for, you'll find their CPU coolers on our lists. 
When the big boys game, high temps are to be expected. Not only are top-of-the-line processors designed to take a lot of power, they are often pushed even further by skilled overclockers. There's nothing like the rush of gaming, knowing your system is fully optimized without any bottlenecks. Of course, for all that to be possible, you need a cooler that can handle this burden. The iCUE H170i can handle TDPs over 320W, making it ideal for premium CPUs. With its three powerful fans alone, it does a tremendous job. However, you'll be thrilled to know that with the assistance of the iCUE software, it can control another three powerful Corsair fans that you can place wherever you'd like to improve airflow in the entire system.
This software advancement makes this one of our list's most value-for-money CPU coolers. Not only are you getting premium features and performance, but you save money on purchasing a specialized case. The iCUE H170 transforms any case into a smart case. This fan is ninja silent, operating at just 10dB to 37dB. Superior software fan controls ensure the quietest gaming sessions ever. 
The H170i is a 420 mm cooler that's large enough to cool the hottest chips. However, you can find the H150i or H100i are more suitable for smaller systems. However, with a smaller size comes less cooling performance. The basic body is black with a black radiator and tubing. There are two available options for the pump. There's the H170i Elite Capellix offers you Corsair's well-known Capellix lighting with the option of a translucent cover or an opaque cover where the lights shine through a logo. The individually addressable capellix lights provide amazing customization oppurtunities. However, those pale compared to how the H170i Elite LCDs can make your system truly yours. The Capellix lights are replaced with a 2.1-inch IPS LCD screen where you can play your favorite GIFs, images, or lighting sequences. 
Of course, as a luxury three-fan cooler, the best Corsair has to offer, it has a steep price. However, its insane performance, thoughtful features, and software add-ons make it more than worth the price.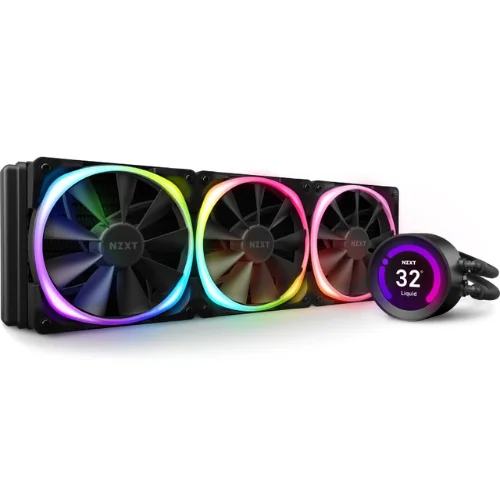 REASONS TO BUY
✓ Comparatively inexpensive
✓ LCD screen
✓ Powerful Aer Fans
REASONS TO AVOID
✗ Must choose between LCD or RGB model
✗ No VRM fan
NZXT is usually the first choice when looking at pre-built PCs. Of course, their PC components and accessories would be worth looking into. Their flagship offering, the crown of their Kraken series, the Kraken Z73, has it all! If you want powerful performance, a reliable build, an LCD screen, and a six-year warranty, this is the best CPU cooler for Ryzen 9 7950X! 
This CPU cooler is an actual beast, like its namesake. It has three 120mm seven-blade Aer P radiator fans capable of over 2000 RPM, exerting 2.93 mm-H₂O of air pressure. These impressive radiator fans can do all that while remaining within a 21 - 36 dBA range. That is fairly quiet. This cooler comes with a multi-finned cold plate made of the highest-grade copper, ensuring optimal heat conduction. In spirit with NZXT's motto of keeping things easy and hassle-free, the cooler comes with cooling gel pre-applied for immediate out-of-the-box installation. 
There's nothing as understated but powerful as a matte black or white finish over aluminum. The body has a simple but elegant look. The Z 73 doesn't come with RGB fans out of the box. That may be a deal breaker for some. However, it does come with a 2.36" rotatable LCD screen. Those more interested in NZ XT's Aer RGB fans can opt for the Kraken X73 instead. It has RGB fans and an infinity mirror pump top instead of an LCD screen. Unlike Corsair, you must choose one or the other and can't have both RGB fans and an LCD screen. 
This is another Asetek pump AIO cooler, like many on our list, other than a few which have their own proprietary pumps. Many coolers offer the same things at this price point, so what sets them apart from the rest, like aesthetics or software, pushes you to choose them. All things considered, this is a great choice while comfortably on the affordable end of the luxury AIO cooler spectrum.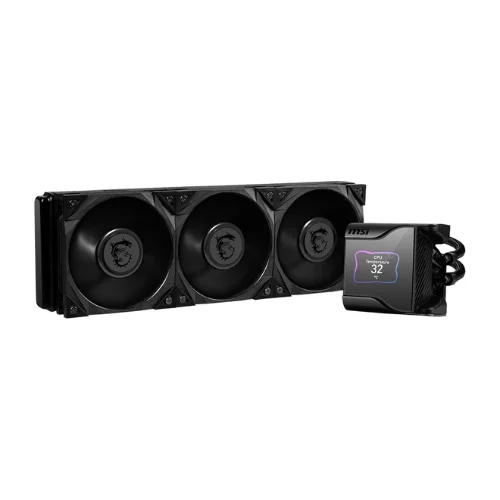 REASONS TO BUY
✓ IPS display
✓ Silent fans
✓ VRAM fan
REASONS TO AVOID
✗ No RGB
✗ Expensive
MSI has always been in the spotlight when it came to PC components like Motherboards and graphic cards. Their affordable gaming laptops are also quite popular. They were bound to make it to the CPU cooler market eventually, and we were very excited to try out their products as soon as they launched. Their MEG CoreLiquid C 360 will surprise you that they are relatively new in the CPU cooler game. 
To start off, the "S" in "S360" stands for "Silent." You've guessed it! This CPU cooler prioritizes silence and thermal performance above all else. If you want to experience complete zen while gaming, The MEG CoreLiquid S360 with its Silent GAlE P12 fans. The fans operate at insane RPMs while remaining ninja-level silent. You can expect it to make minimal noise even at the heaviest loads.
The MEG CoreLiquid S360 comes with three radiator fans and an additional 60 mm VRAM fan in the pump unit. The air reaches components like the M.2 SSD and the VRAM around the CPU through strategically placed vents. This put's in an exclusive list of CPU coolers that have both VRAM fans and LCD screens. 
Aesthetically, you get a smooth black radiator, tubing, and pump top. There are no RGB features in this offering from MSI. This is probably a downside for RGB fans. However, the trend is shifting toward LCD screens instead of RGB lighting, with very few companies offering both. 
The pump, which will lie on the heart of the motherboard, is at the center stage of any build. With transparent PC panels being almost standard in custom PC builds an LCD screen is a welcome addition. The screen is by no means a necessity. However, it opens a whole world of oppurtunities. You can display your favorite GIf or picture, display intricate light designs synced with other RGB-enabled PC components, or view real-time system information such as core temperature. The 2.4" IPS display can be controlled via software. 
With all these premium features, the MSI MEG CoreLiquid S360 is a brilliant, genuinely all-in-one option. It has everything tha you could desire. However, that means a premium price.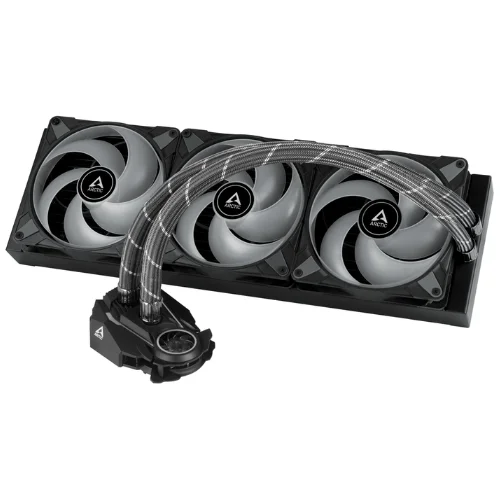 REASONS TO BUY
✓ Superior Cooling
✓ Pump noise control
✓ ARGB LED lighting
✓ VRAM fan
REASONS TO AVOID
✗ No LCD
✗ Fan and Pump powered by the same connection
Arctic is a great German PC component company known for reliable engineering and tough components. Their coolers are impressive, and we've chosen their best offering, the Arctic Liquid Freezer II 360, to be on our list. 
The Liquid Freezer II series comes in several sizes, but we recommend you choose the 360 or 420 option so you can benefit from three radiator fans. With three 120mm wide, 1900 RPM fans, you are sure to cool down the hottest chips. Like the AMD AM4 chips, the 7000 series AM5 chips have a multi-die layout. This layout has its benefits but creates a hot spot on the CPU. The Arctic Freezer II 360 is one of the first to notice and solve this problem, allowing the cold plate to be placed directly on the hot spot and cool it first. 
Arctic takes great care to consider everything in their designs. That's why they have included a VRAM fan that cools the hardware around the CPU as well. With this innovation, they make the only downside of AIO coolers vs air coolers disappear. With most AIO coolers, you get the generic Asetek pump. While that is great in its own right, Arctic has worked hard on its own unique proprietary pump design. Their Pump is PWM controlled, providing more efficient noise management. You can control the pump as easily as one controls the fans in AIO coolers. With more control comes greater peace of mind and even quieter gameplay. For user convenience, this AIO cooler has only one cable to manage. 
If a VRAM fan, proprietary pump, 38mm thick radiator, and convenient cabling weren't enough, this CPU cooler also has a six-year warranty. Aesthetically, this CPU cooler is a bit underrated. It comes in a fully black aluminum body with impressive curved fan blades. For the strict utilitarian, there are models in the Liquid Freezer II series without RGB lighting. However, most of us prefer the chance to make our PC reflect our personality. This cooler opted for a more powerful VRAM fan instead of an LCD display, but the pump top is still worth looking at. It has a futuristic aggressive shape. Imagine a German sportscar was converted into a spaceship. That's the look. All in all, this is a great option, especially if you're tired of Asetek coolers.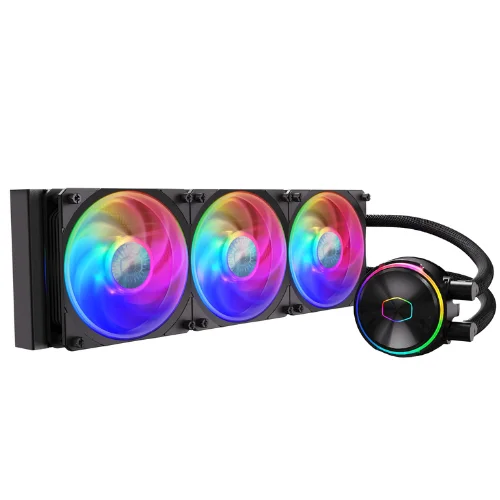 REASONS TO BUY
✓ ARGB controller
✓ Dual chamber proprietary pump
✓ Compact form factor
REASONS TO AVOID
✗ Expensive
✗ No VRAM fan
 Cooler Master is a solid CPU cooler company. In our list of choices, their flagship AIO is desirable for gamers who want a cooler that's great for overclocking, silent, and powerful. The MasterLiquid PL360 Flux is all that and boasts eye-catching ARGB lighting. 
Most CPU coolers are the same Asetek pump with different radiators and fans. However, Cooler Master has its own proprietary pump technology. The second-generation dual-loop pump in this CPU cooler has special features. The twin chamber promotes more efficient cooling while producing less noise, and a ceramic bearing impeller powered by a super-fast motor further enhances water flow. Their newest copper cooling plate features 20% additional fins to capture the heat coming from the CPU better. The premium ARGB fans may operate at up to 2300 RMP for maximum heat reduction.  With all thi, the cooler can take the heat of high TDP chips any day. 
Gamers who prefer smaller form factor cases can rejoice because this CPU cooler is a full 360 mm but, due to its design, is more compact than its competitors. Despite not being a standard Asetek pump, there is no problem mounting this CPU cooler to your system. It has a convenient mounting system with a backplate for additional structural stability. 
Aesthetically, you get a white or black body with a nice semi-glossy finish. The fans have cool, translucent curved blades since ARGB lighting runs through them. The same lighting is visible on the pump. There is a Cooler Master logo, and a couple rings around the pump illuminated with custom ARGB lights. The cooler comes with a Gen 2 ARGB controller, which is convenient if you lack motherboard support.  The Master Plus+ software can control and sync any devices connected to the controller, including other gaming peripherals. With 11 lighting options to choose and customize, you can create an effect and personalize your PC to your heart's desire. 
This is a great option if you're looking for a cooler that's not just another repackaged Asetek pump. It has powerful fans, silent working, ARGB light control options, and a proprietary pump with unique features available nowhere else. Although the price is steeper than its competitors, it makes up for it with quality.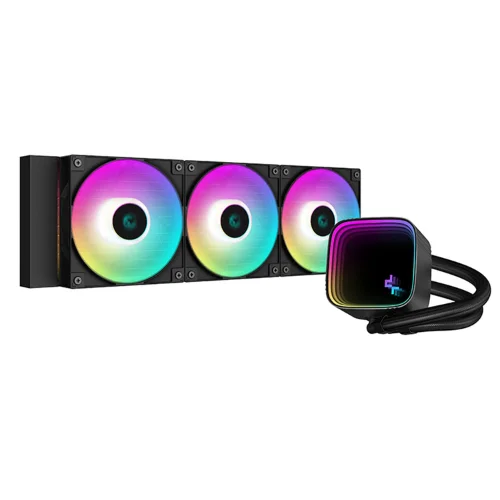 REASONS TO BUY
✓ Infinity mirror cooling block
✓ Fourth-generation DeepCool pump
✓ High cooling capabilities
REASONS TO AVOID
✗ Noisy at full capacity
✗ Power hungry
DeepCool's CPU coolers reflect the company's name in their tried and tested abilities to tame high TDP CPUs like the AMD Ryzen 9 7950X. When looking at their lineup, we couldn't think of anything other than the LS720, a formidable cooling machine. 
DeepCool's flagship offering bares their fourth generation pump with improved cold plate, noise control, and their coveted three-phase drive motor capable of running at 3100 RPM. This pump sets it apart from many of its competitors on the market, which are just repackaged Asetek gear. If you are interested in quality components, which are built to last, then look no further. With three FC120 fans capable of reaching 2250 RPM and providing 85.85 CFM of elite airflow for 50,000 hours, this CPU cooler is no joke! It has a thick copper cold plate that can conduct more heat to keep up with its insanely fast pump. On paper, it looks like it no CPU could defeat this cooler for some time. The full 360 mm radiator has a finned design to promote faster heat dissipation. 
As this is their most premium cooler, you can rest assured it is compatible with all the latest CPU sockets and is futureproof should you choose to upgrade to AMDs next generation of CPUs coming in 2024. 
Despite its power, this cooler is surprisingly silent. That is, until you run the fans and pumps at their top speeds. Then it is loud to some degree. However, with the freedom to overclock your Ryzen CPU without worry, a little noise isn't so bothersome. The cooler has a black radiator, tubing, and a silver Pump with an infinity mirror RGB top. The RGB infinity mirror can be synched with the three gorgeous RGB LED fans on the radiator. The unique shape of the cooling block adds to this CPU cooler's charm. DeepCool's cooling block is an endearingly rounded square shape that looks like it was pulled from a 3D animated cartoon. 
With cool looks and even cooler thermal capabilities, this cooler has a well-deserved spot on our list. Your decision will come down to form factors, budget, pump, and aesthetics. This is the one if you want a 360mm cooler with a cool silver infinity mirror top!
Conclusion
We hope that once you've gone through our list, you have a better idea of which CPU cooler best fits the requirements of your build. While each of these CPU coolers is compatible with the AMD Ryzen 9 7950X, they all have different things that make them unique. 
We shared mostly 360mm or 420mm triple fan models. However, if you want a smaller form factor motherboard and case, you'll find that most, if not all, of these CPU cooler series have a 240mm version. However, losing that fan would considerably affect how efficiently you can cool your system. You would have to keep your fans running at high speeds, which would mean some noise. 
One thing that will greatly influence your choice is whether you prefer RGB LED lights or an LCD screen. That and how greatly you value the addition of a VRAM fan in the cooling block. In our experience, you can either get a VRAM fan and RGB fans or a VRAM fan with an LCD pump top. It's rare to find all three in the same CPU cooler. Once you know what you want, finding the right CPU cooler is no problem at all!