Intel's new 14th-generation chips, codenamed meteor lake, will be wild. For the first time in a decade, they seem to be going head-to-head with AMD graphics-wise. We suspect that these chips will have a 50% performance efficiency increase, and their graphics capabilities will be two times better. With them finally offering a greater number of faster cores, you must be lining up for their release. Without further ado, here is a list of the best CPU cooler for i7 14700K in 2023.  
Although there are some rumours that Intel will not release desktop meteor lake CPUs or VPUs and instead, the Core i7 14700K will be a refresh of Raptor Lake architecture, and the 15th generation Arrow Lake will be the true next desktop successor. Whatever happens, it's our job to be prepared.
While a core reshuffle of raptor lake isn't as exciting as a meteor lake CPU, it's still amazing. You must be thinking, what cooler can tame this beast, whether it's a meteor lake processor or not? Choosing the right cooler is tough anyway, but choosing the right one for this particular launch is a doozy. In case you also need an i7 14700K graphics card we've already reviewed a few top options available on the market.
CPU coolers are necessary to maintain optimal temperatures while the chips work to ensure that high temperatures don't damage them or shorten their lifespan while maintaining system stability and great performance. CPUs run hotter the more you put them to work. As gamers, we want to squeeze out every ounce of performance from our chips, so a good cooler is necessary.
While choosing the cooler, we must consider the expected thermal requirements, size, socket compatibility, the case we desire, and the budget we must stick to. Keeping all of these things in mind, we have compiled a list of recommendations for the i7 14700K compatible CPU coolers for your perusal. You can easily compare and contrast different coolers' features and specs to choose the right one for your build.
Best CPU Cooler for i7 14700K Summary
Best CPU Cooler for i7 14700K At a Glance:
Best CPU Cooler for i7 14700K Reviews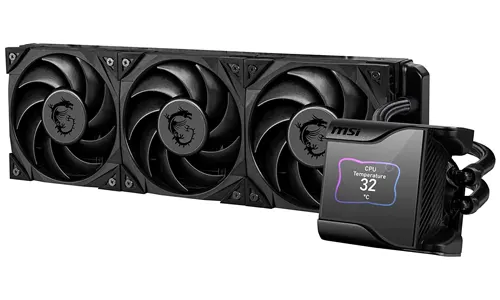 REASONS TO BUY
✓ Incredible Thermal Performance
✓ IPS Display
✓ VRM fan
REASONS TO AVOID
✗ Expensive
✗ No RGB lights
We all know MSI for their laptops and motherboards, but their expertise covers all PC components, including AIO coolers. The S in the MSI MEG CoreLiquid S360 stands for silence and is perfect for gamers who can't stand any noise from their PC. 
This cooler from MSI is no joke. With three MEG SILENT GALE P12 silent gaming fans, an additional pump top VRM fan, a 7th generation Asetek pump, and a customizable IPS display, it is ready to cool your CPU all the way, even on the heaviest loads more silently than a mouse. Its fans are specially designed to improve airflow. The MSI centre gives you complete software control, from fan speeds to the IPS Display. Empowered with convenient settings all in one place, MSI's cooler gives the ease of use they have been waiting for. Even without the fan controls, it was silent, but with the fan controls, it was stealthier than a cat. 
In the looks department, there are some wins and some losses. There is no RGB lighting. Depending on whether you're an RGB enthusiast or a utilitarian purist, you will either hate or love this cooler. However, The aluminum body of the cooler has sharp geometric patterns and a smooth metallic finish. In the center of each MEG SILENT GALE P12 fan is an engraving of the iconic MSI dragon, giving off a powerful impression. Most importantly, we cannot forget that it features a 2.4-inch IPS display. 
A display isn't a necessary feature as far as cooling is concerned. Albeit, the addition of a display brings with it a whole new world of possibilities. You can use it to monitor your hardware in real time or display a custom Gif or image, making your PC all the more truly yours. 
The MSI MEG CoreLiquid S360 is expensive. The price tag may make many users hesitate before buying it. Although, if you want complete software control, endless customization through the IPS display, Incredible thermal performance, and are a loyal MSI fan, there is no better cooler to use with the Intel Core i7 14700K than the CoreLiquid S360.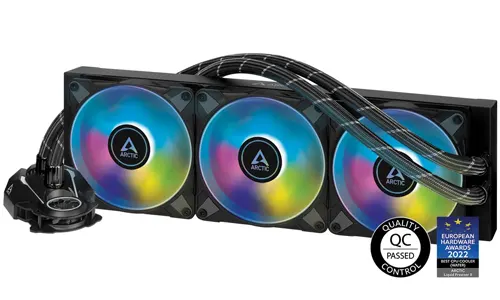 REASONS TO BUY
✓ VRM Fan
✓ In-house Pump Design
✓ Aggressive look
✓ High-Quality Fans
REASONS TO AVOID
✗ No LCD
✗ The radiator needs 2.5 inches of clearance.
When we visualize powerful fans, Arctic is one of the first brands to pop into our minds. We recommend their flagship offering, the Liquid Freezer II 360 ARGB. It has brilliant cooling performance as well as being one of the most silent CPU coolers on the market. 
The Artic Liquid Freezer II 360 is compatible with Intel's latest socket out of the box. We can enjoy out-of-the-box compatibility if the Core i7 14700K uses the same LGA 1700 socket. However, the hardware necessary would be easily available should they release a new socket. 
The Arctic is known for having the best stock fans on the market. This AIO cooler also features a specialized VRM fan. Since the Arctic design its own pumps instead of using Asetek ones, they have an optimized architecture to be quieter. Not only can you control the fan, but you can also control the pump for additional noise control, giving this cooler ninja-level stealth while running. 
Aesthetically, the pump top has a futuristic, aggressive look similar to technology from an alien space vessel. There are two options, one for higher performance, and the other comes with RGB lighting. The one opted for performance carries the same aggressive style on the radiator, while the one with RGB lights has smoother curves incorporated with its style. The RGB to performance trade-off is minimal but not negligible. 
Actic's offering offers superior leak-proof tubing, a futuristic-looking pump top with a VRM fan, supreme silence while running on the highest loads, and optional RGB lighting. It is very powerful, which means you can overclock your chip to squeeze out more performance without fear of damaging the CPU. Despite being a tad bit expensive, it offers great value for money.  This is a great choice for someone who values a VRM fan over an LCD screen or an infinity mirror. It also has RGB lighting for people who want both performance and style. Overall, it's a great choice.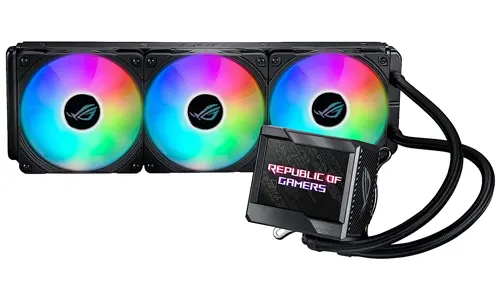 REASONS TO BUY
✓ Largest LCD Screen
✓ Hardware monitoring support
✓ VRM Fan
✓ Trusted Quality
REASONS TO AVOID
✗ Expensive
✗ No Stock RGB Fans
ASUS has always dominated the market as far as quality is concerned. Their flagship cooler, the RYUJIN II 360, is the king of the hill in the CPU cooler world with its supreme cooling performance. It is the most sought-after cooler on the market and one of the best to pair with Intel's next release. 
The RYUJIN II 360 is compatible with Intel's latest socket type, the LGA 1700. Previously it was suspected that Intel's 14-gen processors would come out with a new socket type. However, recent leaks suggest Intel is merely refreshing Alder or Raptor Lake CPUs with new architecture and core configurations. The Core i7 14700K will probably have an LGA 1700 socket type. Therefore, the ASUS RYUJIN will have out-of-the-box compatibility. However, in the case that the rumours are false and Intel does come out with Meteor Lake CPUs for Desktops with a new socket type, arranging for the mounting hardware will not be too difficult. 
This cooler has a solid, fully aluminum body that will stand the test of time, taming your beast of a PC. With 36.45 dB fan noise, the unit is fairly silent compared to most AIOs. Aesthetically it has a sleek, smooth black metallic finish and a pretty standard cooler body without any wacky accents. There are no RGB fans included though it comes with a controller for software RGB support. The star of the show is the 3.5-inch LCD Display, the largest on the market. 
You can use it to monitor your system's temperatures with a year's free subscription to the AIDA64 software, play custom gifs and images on it, or synch it with any RGB components in your build. This makes your PC truly become yours. The pump top also features a VRM fan to cool components around the CPU.
With arguably the best cooling performance on the market, The RYUJIN II 360 is great for overclocking, has many great features, and has a stunning screen. While it's pricey, it's worth it.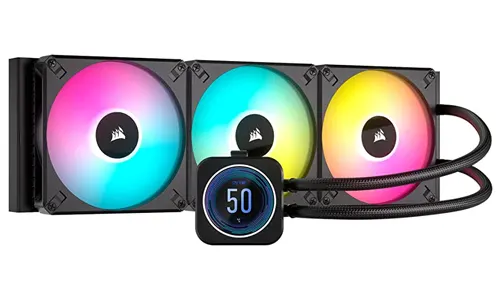 REASONS TO BUY
✓ Superior fan control adding three additional fans
✓ 2.1-inch High-quality IPS display
✓ Enough Clearance for the tallest ram
REASONS TO AVOID
✗ 420 mm radiator is too large for most cases
✗ Expensive
We cannot honestly complete any of our lists without naming some piece of hardware from Corsair. The iCUE H170i Elite LCD XT may be the best CPU cooler for Core i7 14700K when it comes to value for money. Let's give it a closer look! 
When we think of Intel, we immediately imagine high power consumption for the ultimate performance. Keeping that in mind, the Corsair iCUE H170i Elite LCD XT can tame any beast even beyond 320W. Corsair has hit the nail on the head with this series of coolers since they can transform any case into a smart case. Not only is the iCUE Commander CORE able to meticulously control the three fans on the radiator, but it can also control an additional three RGB Corsair fans placed strategically to optimize the airflow of the entire case for a total of six. You can also synch all the RGB lights together in harmony.  
You don't need to worry about socket compatibility here, although you will face a problem choosing a case for your build. The iCUE Commander CORE has a 420 mm radiator, meaning size matters. This, along with the fact that it has clearance for the tallest memory modules, means it was designed for larger systems. If you're a fan of smaller ones, this may not be for you. 
The 10dB to 37dB CPU cooler is more silent than its competitors. The level of fan control helps you easily find a setting at a noise level you're comfortable with. Aesthetically, the cooler is a simple black body with nothing fancy except the RGB fans and its 2.1-inch RGB Display. The display allows you to display real-time system monitoring or a customized animated Gif or image. 
This is one of the best AIO coolers for someone who only wants the fan and display to stand out and the rest of the cooler's body to blend into the back inconspicuously. If this is the aesthetic you're going for, you've found the best CPU cooler for Core i7 14700K.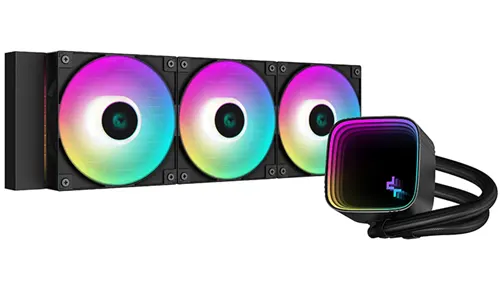 REASONS TO BUY
✓ In-house pump architecture
✓ Unique, customizable infinity mirror
✓ Effective cooling
REASONS TO AVOID
✗ Loud at full speed
When the name of the brand is DeepCool, you can't be surprised one of their products ended up here. The DeepCool LS720 is one of the best coolers for Intel's 13-generation processors. They are among your best bets to tame their successors, including the Core i7 14700K. 
This isn't another repackaged Asetek pump. This cooler uses DeepCool's fourth-generation pump technology developed in-house for better airflow, contact plate, and noise control. Being compatible with all the latest CPU socket types assures us the transition to Intel's 14-generation processor will be seamless. It also has enough clearance for taller RAMs. 
It has a 360 mm radiator with closely packed fins for efficient heat dissipation. The three 120mm fans run at 2250 RPM, providing 85.85 CFM of airflow, effectively cooling up to 315W CPU loads. The fans are designed to be low volume, but they do become loud as you reach full fan speed. However, a little noise shouldn't bother you if you're overclocking the latest Intel processor. 
The pump top is silver, and the radiator and tubing are black. DeepCool's signature curvacious pump top features an infinity mirror with two loops of light and your choice of a logo plate or a blank plate you can customize however you like. Another version without RGB fans has a sharper square-shaped pump top of the same color with a different infinity mirror design.  The infinity mirror is rotational, so you can orient it however you desire, according to how you install your AIO cooler. This is the perfect middle option if you want something more customizable than a plain solid color pump top but don't want an LCD. 
If you want something different than an Asetek cooler with amazing cooling capabilities and interesting design features from a reliable brand, then this is the best CPU cooler for Core i7 14700K. A true powerhouse cooler for the discerning eye.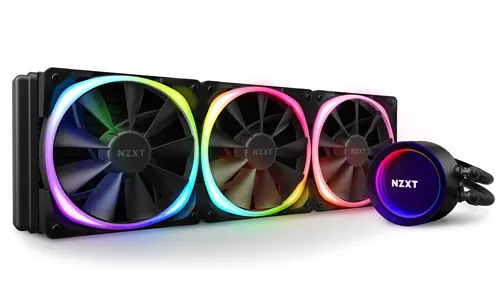 REASONS TO BUY
✓ Incredible thermal performance
✓ Low sound
✓ Rotational pump top to realign logo
REASONS TO AVOID
✗ No LCD
✗ Must Choose between Performance or RGB
NZXT always has something exciting to bring to the table. Their flagship cooler and the best of their Kraken Series, the Kraken X73, has everything you're looking for in a CPU cool. It has two options, one optimized for raw performance, and the other has traded some away for RGB lighting.  
Fully equipped with three 120mm fans and a 360mm radiator, this CPU cooler has the power to tame any of the latest chips, including Intel's upcoming 14-generation Core i7 14700K. This AIO CPU cooler is compatible with all the latest CPU socket types, including the LGA 1700, which will most likely be repeated on Intel's 14-gen chips, according to leaked information. You can trust NZXT when it comes to quality. This cooler model comes with a copper contact plate comes with pre-applied thermal gel and tubing that's reinforced by an additional nylon sleeve. 
With an impressive 22-33 dB noise range despite its extremely powerful nine-blade fans, this cooler is one of the least noisy around. Aesthetically, you can choose between two colors, black and white. The CPU cooler has two versions, one with RGB lighting and one without. The one without RGB lighting is known as the performance model. It has a better cooling capacity off the bat. The RGB model includes RGB lights but trades some of that performance for them. If you want a frill-less, ice-cold jailer to tame your new Intel Core i7 14700K, then getting the performance version of the Kraken X73 is your best option. 
In the RGB version, the pump features an RGB-lit logo, and the fans have RGB rings around them. Since the RGB lights are rings around the fans and not incorporated into the fan blades, you don't see the fans spinning in the dark. This is an aesthetic feature some would love, and others would hate. Since most coolers offer nearly the same things, even down to the same Asetek pump, it comes down to price, brand name, and aesthetics. Getting even two out of the three is a triumph. The Kraken X73 is a great contender for the best CPU cooler for Core i7 14700K, especially for people who prefer performance without fancy lights or RGB rings around fans.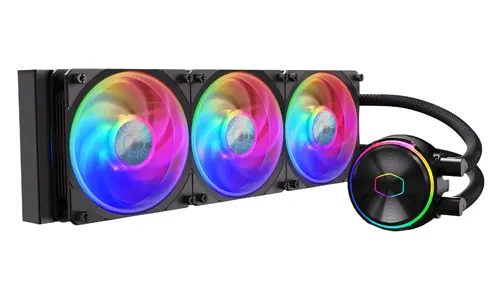 REASONS TO BUY
✓ Little Noise
✓ RGB software support
✓ Incredible cooling
REASONS TO AVOID
✗ Expensive
✗ No LCD
While Cooler Master has come out with many kinds of products, it started with coolers, and that's what they are most known for. The Cooler Master MasterLiquid PL360 Flux is an uber quite cooler with great overclocking capabilities and RGB lighting. Let's look into it. 
Cooler Master's flagship cooler has a special dual chamber pump that can channel air with less noise. That makes this a great pump for effective cooling with less noise. If you can't stand any noise while gaming, know this cooler has the edge over most Asetek coolers. The radiator is also slimmer than most. It has many fins stacked to add to its surface area, allowing it to reduce its size. That means it's easy to fit into many cases. 
The ARGB fans are also very impressive, reaching an RPM of up to 2300. The cooler has a ring of light on the pump top, along with a brightly-lit Cooler Master Logo. The cooler comes in black and white with a simple, sleek finish, relying on the lighting for its personality. You get a USB lighting controller with additional headers, so you don't have to rely on an RGB-empowered motherboard. It comes with multiple split cables allowing you to control up to seven RGB devices in total. If you're interested in a cooler with a simple overall design that lets the RGB do all the talking, this is the one for you. You have the freedom to customize them however you desire through software support. 
This cooler may be on the smaller side, but it packs a punch. It can easily handle chips consuming over 200W of power, making it great for overclocking your new 14-generation Intel Core i7 14700K. It may be more expensive than its competitors, but it makes up for it with its features and performance. A great buy for RGB enthusiasts who want to push their CPUs to the limit without thermal issues.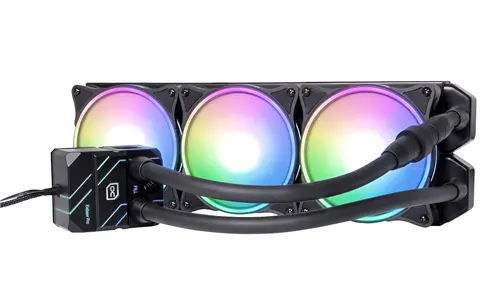 REASONS TO BUY
✓ Superior Build Quality
✓ Impressive Cooling Capacity
✓ Visible Coolant Reservoir
REASONS TO AVOID
✗ No Software Support
✗ Could be more silent
Alphacool has been a consistent and reliable provider of cooling components to the Pc water cooling industry. Now that they have added AIOs to their repertoire, we had to mention them. The Alphacool Eisbaer Pro Aurora 360 has many unique features that set it apart from the competition. 
The cooler has a nice black colored pump with white lines going across it with the logo at the center. It features acrylic windows so that you can see the coolant levels of the included reservoir within it. There is a single fill port allowing you to refill coolant as and when desired. What makes this pump truly unique is that you can expand the closed loop with more Alphacool components, customizing the AIO to your machine's specifications to a tee. It has a large pump and nickel-coated copper contact plate to ensure optimal heat transfer from the chip's surface.  All this, along with its powerful fans and copper radiators, make it a cooling powerhouse. 
While this AIO has many unique selling points, it lacks in two areas. The first is that it could be more silent, and the second is that it lacks software controls. It could lose many potential customers without the ability to sync RGB LED lighting or adjust fan speeds through convenient software. However, If that isn't a problem for you, this is an amazing cooler to tame the Intel Core i7 14700K just because of its build quality alone. Aesthetically, it has a basic black design with little geometric details on the pump top. If we don't consider the RGB lights, it's a great cooler to blend into the rest of the components. Then you can turn on your RGB lights, surprising everyone. 
Equipped with its fast-flowing pump and all-copper radiator, the Alphacool Eisbaer Pro Aurora 360 is the best CPU cooler for Core i7 14700K if you're looking for quality and incredible thermal capabilities.
Conclusion
Choosing the right cooler is always a hard decision. The last thing anyone wants is to overspend without meeting all their requirements or getting a cheaper cooler that doesn't fulfil their standards. To be satisfied with your purchase, you need to know what you're signing up for before you buy it. 
You also have to account for the size of your case, how much RAM clearance you need, and if you want an LCD or RGB light. All of this can make this process a head-spinning ordeal for the best of us. That's why we have compiled this buyer's guide with multiple options for the best CPU cooler for i7 14700K. You can easily look at what each cooler has to offer and where they end up lacking. You can narrow down your perfect CPU cooler according to your build specifications, aesthetic preferences, and performance priorities. 
However, if you still aren't sure which cooler to get after looking through them all and you aren't limited by your budget, then we suggest the MSI MEG CORELIQUID S360. It has everything you could desire, like a VRM fan, powerful MEG SILENT GALE P12 radiator fans, an IPS display, and software support. However, it lacks RGB lighting, but it more than makes up for it with its IPS display. This is a plus for some buyers who are tired of paying extra for RGB lights. 
If you are an RGB fanatic and can't live without it, then the Artic Liquid Freezer II 360 ARGB has most of these features and RGB lights to boot.