Whether it's Intel or an AMD-based build, you will definitely need a good pair of RAM to keep up with the system and let the data swap much faster and smoother. RAMs were and still are one of the most crucial parts of a rig, although, they used to be unpleasant looking back then, now they're a roadway towards beauty as well as performance. Memories now are a lot faster, mostly surpassing even the processor itself in terms of processing speeds. RAMs now not only come with heat sinks but also RGB LEDs at additional cost for those cosmetics. In the end, they do look great if the job is done right. 
Now for the processor, we will be reviewing RAM kits for the Ryzen 5 5500, which I've said earlier as well that spec and performance-wise correlates to the slightly older one of the best budget CPUs ever made - the Ryzen 5 3600. Similarities are quite evident if you take a look at the base clocks, boost clocks, and even the architecture which is Zen 3 in the case of both processors. What makes this refresh more appetizing is the affordable price. 
So, such a great processor surely deserves trustworthy companions, right? Well, that's why we're here because we will be picking and reviewing some of the famous and high-quality DDR4 memory kits out there and give you our two cents to help you decide which one to pick for yourself. Without any more delays, let's get started!
Best RAM for Ryzen 5 5500 Summary
Best RAM for Ryzen 5 5500 At a Glance:
Best RAM for Ryzen 5 5500 Reviews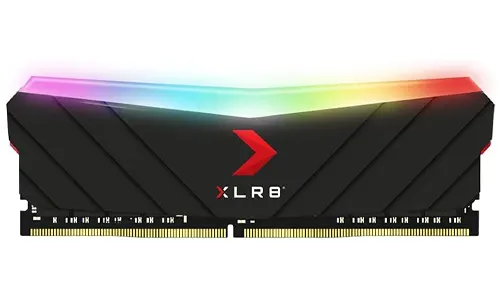 REASONS TO BUY
✓ Runs at a fast 3600Mhz frequency.
✓ XMP 2.0 support allows for easy OC.
✓ RGB effects are fluid and appealing.
✓ Highly affordable pricing.
✓ Sleek-looking heat spreaders.
✓ Comes in two different colors.
REASONS TO AVOID
✗ Not ideal for overclocking.
The PNY XLR8 EPIC-X RGB is the successor to the more generic XLR8 non-RGB kit. This one performs great like the predecessor and also comes at an affordable price of just $70. The DDR4 memory kits have gotten dirt cheap over time and who would have thought that you could get a whole 32GB kit with RGB integrated into it with decent specs for less than $100? Well, the release of new DDR5 memories has played quite a part in the price cut of the DDR4 kits. 
This PNY XLR8 EPIC-X RGB comes in a very sleek-looking design that isn't as aggressive as its predecessor but still stands out on its own. On the top, there's a long diffuser for RGB LEDs to flex their muscles with many different effects and colors that are baked into them. Moreover, these LEDs are fully addressable and you directly control them via any compatible RGB software like MSI Mystic or Gigabyte Fusion. One thing to keep in mind is that these memories are not low-profile so you have to keep the cooler clearance in check. 
In terms of specs, we get rather sophisticated hardware for the price. The memory has a 32GB capacity which is a must-have according to the modern standards that have changed drastically in the past few months. Additionally, since we're suggesting RAMs for Ryzen 5 5500, a 32GB kit is the sweet spot to avoid any inconveniences. Most notably, we're getting 3600Mhz speed support right out of the box with CL18-based timings which further can be tuned manually from the BIOS or if you do not desire to do such things then just use the XMP profile which it supports and set it to the rated 3600Mhz speed.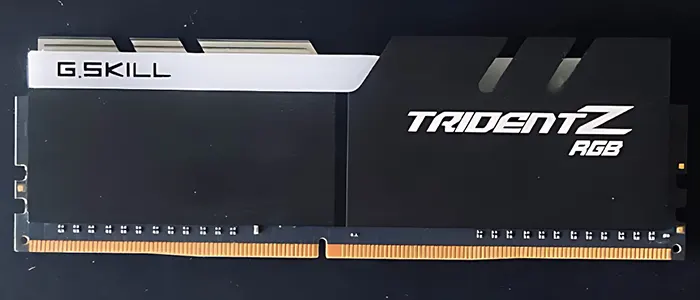 REASONS TO BUY
✓ 3600Mhz speed with CL16.
✓ Distinctive visuals.
✓ Reasonable price.
✓ Performs well.
✓ Overclockable.
REASONS TO AVOID
✗ Only available in one color scheme.
G.Skill has been making memories for a while now and Trident Z is one of their best-selling memory kits out there. The reason is a great performance and noteworthy design. In this new revision, the major noticeable difference is the color scheme which is now a mix of two different colors - black and white. Everything else seems to be pretty much the same. 
Now, for the price, well you can have one of these 32GB kits for $115 which sounds somewhat more expensive than the XLR8. However, you're also getting a lot better timings on this one which is 16-19-19-39 while running at 3600 Mhz instead of 3000 or 3200 Mhz. This is one of the reasons why G.Skill is charging a premium for these kits. Moreover, on the top, we get fully addressable RGB LEDs that are concealed under a diffusing roof. This helps the LEDs to output smooth and pleasing RGB effects. G.Skill suggests software like Armoury Crate, Gigabyte Fusion, MSI Mystic Light, etc for custom RGB effects. 
The 3600 Mhz and CL16 combo automatically places it over the 3600 Mhz CL18 memory kits because the lower and tighter the timing, the better the memory is going to perform. Not to mention the overclocking potential on this one, which individuals with the right expertise in memory overclocking can benefit from. And for a budget CPU like the Ryzen 5 5500, every little performance uplift which is attainable matters. So, without a doubt, this kit would contribute to that factor pretty well. Not to mention the 32GB capacity would make your system future-proof as far as modern gaming is concerned especially at 1440p resolution. Also, the manufacturer's lifetime warranty keeps you covered from all sides in case anything goes wrong with the memory.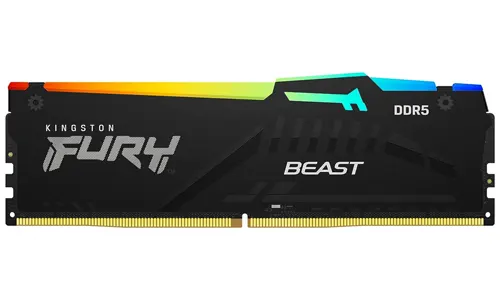 REASONS TO BUY
✓ Premium-class memory kit.
✓ Aggressive-looking design.
✓ Stunning RGB lighting.
✓ Can be overclocked beyond rated speed.
✓ Reasonably priced.
✓ Available in black/white colors.
REASONS TO AVOID
✗ Might be out of reach for budget builds.
Next up on the list we have Kingston FURY Beast RGB, this is from the slightly premium category and one of the finest choices as far as the memory kits are concerned. It's all because of the sheer focus of the manufacturers on delivering quality products to their customers. This RGB variant of the original FURY is priced at $102 nowadays which seems quite reasonable if you ask me because of the quality, performance, and capacity that we're getting in exchange. 
This specific model that we're taking a look at today for the Ryzen 5 5500 comes with a 32GB of memory capacity - 16GB for each stick to be more accurate and is pretty much a requirement as per new standards even if you're targeting 1440p gaming. On top of that, you get 3600 MT/s company-acclaimed speed that can be stretched manually if you know how to and have the spare time to do so. Moreover, we get 18-22-22-39 memory timing which is fine but you can also purchase CL16 and CL17 variants of this very same memory kit. Also, the voltage preset that this memory comes with is 1.35V and you can increase or decrease it according to your liking and as per the situation requires. 
As for the looks, the memory has aggressive-looking heat spreaders over the chip as well as integrated RGB LEDs which gives this RAM a more premium touch. Needless to say that the available LEDs are entirely addressable via the exclusively designed FURY CTRL or any other 3rd party software from the internet. Lastly, like many other brands, Kingston also offers a limited lifetime warranty for this FURY Beast RGB memory kit which comes in handy and gives enough surety to pick one of these without the fear of losing your money if somehow RAM becomes faulty.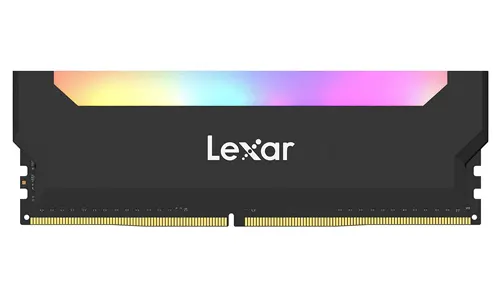 REASONS TO BUY
✓ Extremely affordable.
✓ Simple and appealing looks.
✓ Good performance.
✓ Features RGB as well.
REASONS TO AVOID
✗ Can be bought in black only.
When the budget is limited but you don't want to accept anything subpar, Lexar Hades RGB comes into action. This kit is one of the most affordable memory kits that you can buy for as low as just $57. This memory kit is simple and does the intended job while saving you some bucks. It sports a sleek-looking brushed aluminum heat sink to cool down the memory ICs underneath as well as increase the appeal factor. The RAM kit is only available in black color only so that's one thing where you have to compromise a little in case you're after a white-themed build.
Now for the specifications of the kit, you're getting 2x 16GB modules which mean 32GB in total to give you enough headroom for multi-tasking and hiccups-free gaming. The 32GB memory capacity is coupled with 3600 MHz speed here with somewhat acceptable CAS 18 timings that are 18-22-22-42. This isn't as tight as the likes of Kingston Fury Beast or PNY XLR8, however, for the price, it's bearable. Moreover, It is worth noting that you can tighten the memory timings to make up for lost performance due to loose memory timings by default. Also, in our Prime95 test, we were able to achieve 3866 MHz which is more than the rated 3600 MHz. 
For $57, you're also getting RGB lighting on top of the 32GB memory capacity, making this kit a much more alluring option. Additionally, the RGB on this one can be controlled using any 3rd party supported software. The last thing is the cherry on top, which is the lifetime warranty even at such an inexpensive price, so you're all insured from the memory side. This kit is an excellent substitute for more expensive RAM modules with less memory capacity for Ryzen 5 5500-based budget builds.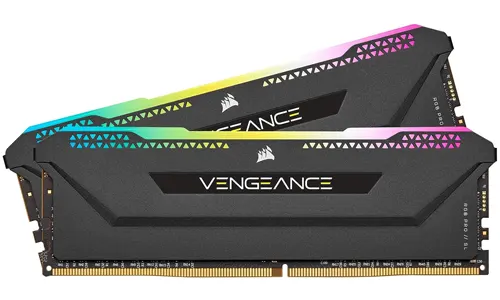 REASONS TO BUY
✓ One of the finest-looking designs.
✓ Premium quality material.
✓ Custom PCB for better signals.
✓ 10 standard RGB LEDs.
✓ Economical price.
✓ Available in two distinctive colors.
REASONS TO AVOID
✗ The timings aren't tight enough.
The Corsair Vengeance RGB Pro SL 32GB is the smaller depiction of the more common Corsair Vengeance RGB Pro. This kit is more suited for builds featuring big air coolers with less room underneath to work with. The memory, although, was released for a much higher price but currently, it can be found for around $83 in many online stores.
The memory kit comes in a single pair to allow dual configurations to be activated and you the most out of your PC. Moreover, the kit operates with 1.35V of power which is decent enough and can be altered if needed. Not to mention, you're receiving a 3600 MHz data transfer speed which helps a lot in memory-intensive software and demanding gaming titles. However, there's a catch, well at this price, you're getting slightly loose timings of 18-22-22-42. Not to worry though as it doesn't affect the performance much and you will still be getting a seamless experience regardless. Also, you always have the option to either just the XMP profiles or go the custom way to set power, speed, and timings accordingly. 
Needless to say, the 32GB capacity is the right one to go with because of the recent abhorrent increment in memory requirements for games. So, 32GB covers you up nicely for a few years to come. As for the cosmetics, the heat spreader is identical to that of the Vengeance RGB Pro but shorter in height and still houses an RGB diffusing bar on top. Corsair has used the same standard 10 RGB LEDs in these kits like the Vengeance RGB Pro. This isn't a bad thing but rather intriguing because we all know how catchy the RGB lights are on the Vengeance RGB Pro memory kits. In the end, as far as compatibility is concerned, you will have no issue using it with the Ryzen 5 5500, so you're good to go with this one.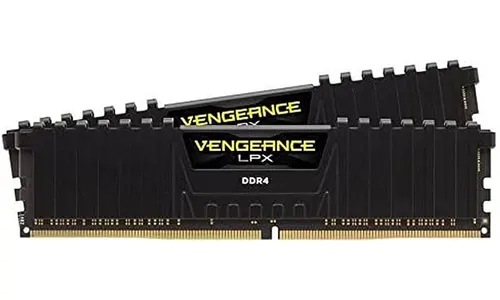 REASONS TO BUY
✓ Great performance and timing.
✓ Suitable for iTX build.
✓ XMP and DOHC enabled.
✓ The cost isn't ridiculously high.
✓ Available in three different color schemes.
REASONS TO AVOID
✗ Lacks RGB LEDs.
The last memory in our review is the Corsair Vengeance LPX 32GB C16 which is a low-profile memory kit that aims to be the best value and performer in its category. Well, to be honest, this kit is the one that performs the best among those that have been reviewed above, but there are certain compromises that you must make. One is the absence of RGB lights on the RAM, it only has a low-profile heat spreader to keep things nice and tidy underneath. And the second thing is the slightly higher price than other non-RGB memory kits, this one here cost $95 which is more or less the same as memory kits with RGB LEDs.
The memory comes in 32GB or 2x 16GB kit form and is compatible with overclocking profiles like XMP and DOHC. Moreover, what makes this kit faster than the rest is the combination of CL16 timing with 3600 MHz frequency. But wait, you might be wondering that the Trident Z Neo also has CL16 and 3600 MHz combination then how this one is faster? Well, the truth lies within the timings of each kit, the Trident Z Neo has CAS timings of 16-19-19-39, whereas this one has 16-19-19-36. This does make a slight difference in performance hence enabling it to outperform the aforementioned memory kit.
Another great feature that this memory kit holds is the compatibility with Corsair's iCUE software, through which you can adjust pretty much everything like its speed, timings, and much more. Last but not least, this kit would be the ideal choice if an iTX build is in your mind featuring a Ryzen 5500 processor. Since the Ryzen processors love high-speed memory kits, here both the CPU and the RAM kit will work excellently together.
Conclusion
Now after completing the full review of each RAM, things will be much clear now about which RAM would be the ideal choice for the Ryzen 5 5500 that is awaiting its new companion. We threw some of the best performing and value-for-money memory kits into the article so everyone can get what they actually want. 
Think of building the cheapest possible 1440p gaming rig? And not sure about the memory selection? Well, you can go with the Lexar Hades RGB 32GB kit which is the cheapest of the bunch but still packs compelling performance and looks for well-under $60. 
In case you're looking for something like the Beast and the Beauty and can spend a good sum for it, then you can get your hands on the likes of Kingston FURY Beast RGB, G.Skill Trident Z Neo, and Corsair Vengeance RGB Pro SL. All three of these cost more or less than $100 and boast 32GB memory capacity with decent latency and room for overclocking to get a worthwhile performance uplift. 
However, if you're someone who prefers performance more than aesthetics or the fancy RGBs. Then the Corsair Vengeance LPX 32GB kit is for you. It outperforms many similarly priced memory kits because of its tighter timings combined with the 3600 MHz memory frequency. In conclusion, I hope that this post will help you choose the kit that is suitable for your situation whilst you avoid falling for the wrong one.