AMD blew everyone away then they released their Ryzen X3D lineup. Enough that the X3D versions of last-gen CPUs stole sales from the 7000 series. Now that they've brought the 3D V-Cache technology into the 7000 series, gamers are itching to get their hands on it, especially the Ryzen 9 7950X3D, their most powerful and expensive flagship product. Without further ado, here's a list of excellent contenders for the best CPU cooler for Ryzen 9 7950X3D in 2023.
CPU cooling is essential to a smooth gaming experience. While handling graphics-heavy video games, several activities at once, or media manipulation software, the processor works hard under a lot of pressure and uses more power. This hard work heats it. If that heat is not appropriately dissipated, it impacts the CPU's performance, stability, lifespan, and overclocking potential. If you want to enjoy a hitchless gaming experience, long CPU life, and squeeze out some extra performance from the chip, you must invest in proper CPU coolers to keep temperatures in check. 
Choosing the right CPU cooler is tough, especially with a top-of-the-line CPU like the Ryzen 9 7950X. This power-hungry beast has a default TDP of 120W, while the maximum temperature it can reach before being physically damaged is 89.9C. AMD recommends using a liquid cooling system to reign this monster in, preventing it from getting too fiery. There are several things to consider while choosing the appropriate cooler for your Ryzen 9 7950X3D, including radiator length, number of fans, tubing length, customer support, material, aesthetics, and price. 
That's why we have compiled a list of the best CPU coolers on the market for the Ryzen 9 7950X3D. Being able to compare all relevant information in one convenient place makes it easy to compare and contrast different coolers and make your choice.
Best CPU Cooler for Ryzen 9 7950X3D Summary
Best CPU Cooler for Ryzen 9 7950X3D At a Glance:
Best CPU Cooler for Ryzen 9 7950X3D Reviews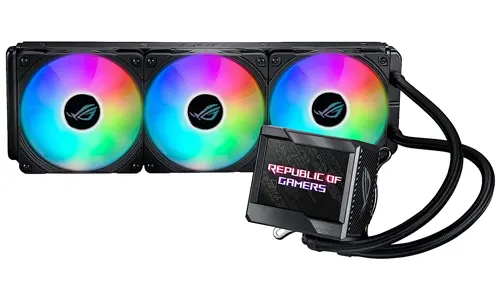 REASONS TO BUY
✓ 3.5-inch LCD Display
✓ Pump top embedded fan
✓ Extensive compatibility
REASONS TO AVOID
✗ Expensive
✗ No stock RGB fans
ASUS has the most sought-after cooler that goes with one of the most sought-after chips on the market. The ROG Rujin II 360 is arguably the most advanced AIO cooler on the market right now. We already expected nothing but the best quality from ROG, but this utterly blew us away.  
The CPU cooler has three 120 mm fans, each capable of attaining up to 2200 RPM, cooling down the processor king of the hill more than effectively. ADM has recommended using liquid coolers with this chip, and while most liquid coolers have the downside that they cannot cool the VRAM and other components around the CPU like tower coolers can, this one is the exception. The pump top has vents and an additional fan that blows air out 360 degrees, cooling parts close to the CPU as well. 
The stealthy 36.45 dB fan is compatible with AM5 CPU sockets like the one used for the Ryzen 9 7950X3D. Since it has a full 360mm radiator, it needs a taller case, but still, a smaller case than an air cooler would need, however, the fans need to be mounted right for proper ventilation.
Most gamers will rave on and on about how cool RGB components are. However, everyone knows that LCDs are now the most interesting aesthetic feature found on gaming components, making them entirely customizable. The Ryujin II 360 has a 3.5-inch LCD display covering the entire pump top, which you can use to display advanced monitoring information courtesy of the one-year free AIDA64 subscription, or customized media like animated Gifs. The stock fans are not RGB; however, an RGB controller is included should you want to upgrade to RGB fans. 
As the flagship ASUS cooler, this icy monster is appropriately priced at the luxury end of AIO coolers. Its amazing features, solid aluminium body, and innovative design make it worth the purchase for those who can afford it. If you want a top-of-the-line cooler to match your top-of-the-line chip, creating an incredibly enviable duo, this is the best CPU cooler for the Ryzen 9 7950X3D.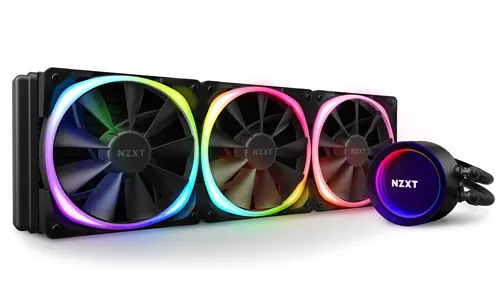 REASONS TO BUY
✓ Mounting considerations
✓ Silent action
✓ RGB lights
✓ Incredible thermal performance
REASONS TO AVOID
✗ Pricey
✗ No direct fan control
NZXT boasts a great lineup of AIO coolers. With its three 120mm fans and 360mm radiator, the X73 from the Kraken series can efficiently cool high TDP chips like the Ryzen 9 7950X3D. 
All companies have revamped their best lines of coolers with the release of AMD's AM5 platform. Most flagship coolers, like the Kraken X73, are compatible with AM5 sockets and can be easily installed. Like most AIO coolers, this cooler remains within the 22-33 dB noise range, which is not that high considering that it has three nine-blade fans. The copper contact plate comes with thermal gel pre-applied for hassle-free installation. 
NZXT tubing has an additional nylon sleeve for additional reinforcement to prevent leakage. The tubes are fixed at the radiator end and can rotate up to 90 degrees each at the pump-top end, allowing for a better installation. 
The CPU cooler is available in both black and white. It has a smooth, simple body with some intentional curves around the fans. The pump top features an RGB LED NZXT Logo with arcs around it. Understanding that everyone mounts their radiator differently, the pump top is rotational, allowing for logo reconfiguration once installed. The fans aren't RGB but are surrounded by an RGB LED ring. When gaming in a dark room, instead of seeing lit-up fan blades rotate, you only see a ring, and the blades rotate in the dark. This is something you'd either love or hate.   
Comparing the RGB to the older non-RGB version, it is much quieter, a great option for gamers who need pin-drop silence to concentrate with powerful cooling to boot.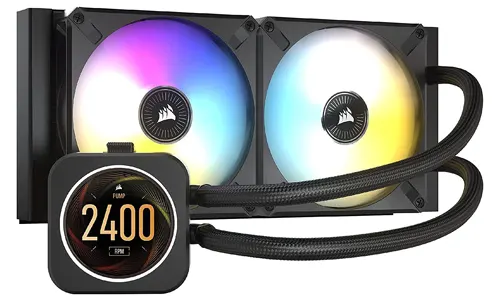 REASONS TO BUY
✓ LCD Screen
✓ Most Silent AIO cooler
✓ Supports temperatures reached at up to 200W and more with user discretion
REASONS TO AVOID
✗ On the pricy side for 240mm coolers
✗ Bulky software
Considering Corsair's history of consistently giving us premium PC products and laptops, we aren't surprised that they have made this list. The Corsair H100i Elite is an amazing AIO cooler that can tame any beast up to 200 W. 
Compatible with AM5 and most Intel chips, you'll have no trouble mounting this cooler on your Ryzen 9 7950X3D CPU. Competitively it cools as well as AIO coolers from Deepcool and Cooler Master. However, Corsair does have the edge when it comes to superior software control with its iCUE suite. While it is a bit of a heavy download, the benefits outway the 1GB of space it takes. With the most meticulous sound controls and fan settings available on the market, this is one of the most silent fans we've observed. With two powerful 120 mm fans, the 240mm AIO cooler is no joke. 
Design-wise, the main body of the cooler boasts nothing particularly special. It has a smooth, clean black look that we can all admire, though it isn't particularly striking. However, real visual magic is created with its stunning RGB fans and eye-catching circular LCD. The iCUE software can control the RGB fans and LCD display. With the addition of an LCD screen, you can customize your PC with animated Gifs or monitor things like CPU temperature in real-time. 
For the price, it's a great cooler with many interesting features. You can comfortably run any CPU, including the Ryzen 9 7950X3D, capped at 200W. While the CPU goes 150W on max loads, If you want to push it further, this cooler can still tame that beast. As a 240mm cooler, it can fit in most mid-tower cases and some of the larger micro-ATX cases, giving you more freedom concerning case size than a 360mm radiator cooler. 
The little brother of the H150i, the H100i is also a better-than-average cooler with cool customizable RGB fans and an LCD screen. You can game comfortably, showing your personality without breaking the bank.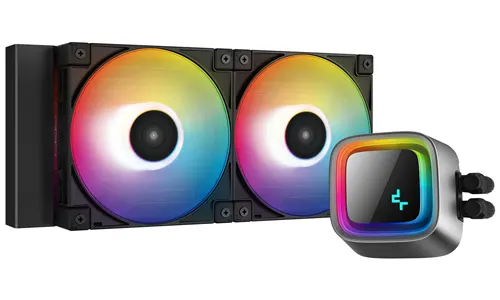 REASONS TO BUY
✓ The customizable pump cap plate
✓ Fourth generation unique pump design
✓ Powerful cooling
REASONS TO AVOID
✗ No software for lighting controls
✗ A little loud
As a company that came into the game with the best air coolers on the market, DeepCool was bound to be somewhere on this list. They stand out since they design their pumps instead of using Asetek designs. Their LS520 features DeepCool's forth generation pump design with a copper contact plate. This is the best CPU cooler for Ryzen 9 7950X3D and other high end processors without any compatiability issues.
It is compatible with AM5 CPU sockets, making it easy to attach to the Ryzen 9 7950X3D. The fans aren't particularly noisy at 32.9 dB, and the pump is almost ninja silent at 19 dB itself. This might not be the option for someone looking for the most silent option out there. 
Deepcool has vastly improved its design sensibilities, and it's reflected in the simple and elegant look of the LS520. Its pump top is a unique shape that leaves an impression. When facing it, it has a small light-up logo on its bottom right corner. Two square outlines of light further enhance its cube shape. On the top of the CPU pump, there is an additional plate on which you can customize any RGB design. This may sound like a dream, but it's not. While most companies use this as prime real estate for their logos, this was a considerate touch. The plate is rotational so that you can place your customized design at any angle. 
The CPU cap comes with pre-installed cooling gel, so you don't have to worry about it. All you have to do is align the cooling plate with the chip and start screwing the screws into the corners. The all-aluminum body makes it freaky strong. This small cooler packs a whopping punch. If you want something unique from its looks down to its architecture, this is the cooler for you.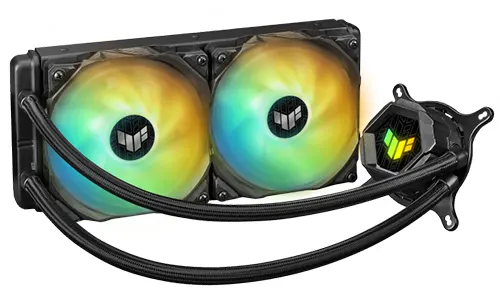 REASONS TO BUY
✓ Incredible RGB stock fans
✓ Space saving cooler
✓ Good looks with lights on and off
REASONS TO AVOID
✗ No manual RGB, the controller requires an RGB motherboard.
✗ The pump top logo is on our face
Asus has always been a reliable laptop and motherboard company. It was only inevitable that it would be mentioned twice in this list. The TUF Gaming LC 240 RGB is a great AIO cooler for Asus fans who don't want to spend as much on the Ryujin II 360
Equipped with two 120 mm RGB fans, single-looped sleeved tubing, and a 150mm radiator, the cooler is more than capable of cooling your new Ryzen 9 7950X3D for a long time. Enjoy reliable performance without giving up on too much space with a dual fan instead of a triple-fan radiator. If you want to keep your CPU at good temperatures without compromising on the noise factor, you'll be glad to know this cooler makes a maximum of 29 dB of noise.  
Asus has announced that the entire TUF Gaming LC series will be compatible with AM5 CPU sockets. That means that this can be used with any of the AMD Ryzen 7000 series chips, including the Ryzen 9 7950X3D. Remember that the fans need a 4-pin connection to the motherboard and the pump top. 
The all-black aluminium dual-fan CPU cooler has a sleek well-finished look. Eyes are immediately drawn to the TUF gaming logo illuminating the pump top. The LED logo is just as customizable as the two gorgeous ASUS RGB stock fans, also bearing the logo in the centre. The armory crate software can customize the fans and the logo to your desired look. 
For all its impressive features and a five-year warranty, this is one of the most reasonably priced RGB coolers available to use with the Ryzen 7000 series. Overall this will not disappoint. The fans are pretty silent, the look is sleek, the RGB is customizable, and the cooling capacity is sufficient. Altogether, not a bad choice at the end of the day.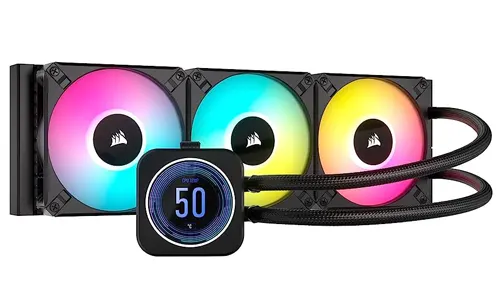 REASONS TO BUY
✓ LCD Screen
✓ Most Silent AIO cooler
✓ Supports temperatures reached more than 200W power consumption
REASONS TO AVOID
✗ Pricey
✗ Bulky software
Corsair outdid themselves with this one! The iCUE H150i Elite LCD cooler ticks boxes we didn't even know we had. This choice offers the most value for money among luxury AIO coolers, capable of transforming your entire case.  
This triple-fan, 360mm radiator liquid cooler is equipped to keep the 120W TDP Ryzen 9 7950X3D ice-cold through the toughest gaming session. Its specially designed cooling plate features 128 micro-skived fins per inch, making it capable of cooling quickly and effectively. While the Ryujin II 360 has a pump top fan to cool other components around the CPU, Corsair opted instead for the iCUE H150i Elite LCD to be able to control a total of six fans, three with the radiator, and three additional fans anywhere in the case, simultaneously, synchronized for optimal airflow. Adding new meaning to the term "complete cooling solution," this cooler can transform any case into a smart, optimized one. It's also worth mentioning that its 10 – 30.4 dB noise range is extremely low for pump-operated liquid AIO coolers. 
This AM5-compatible cooler, like others in its price range, has a solid aluminum body with a smooth finish. The pump top features a circular LCD Screen that displays real-time monitoring data, playful lights, or custom animated Gifs or videos. The cooler comes with three stunning RGB stock fans; you can purchase more strategically placed ones in the case. The screen, fans, and lights can all be controlled through Corsair's iCUE software, giving you complete customization, airflow, and noise control at a click's notice.  
Considering all this CPU cooler offers at its price, it's practically a steal. Unlike most premium components that just look nice, this CPU cooler has enough features that enhance user experience to the degree that the price becomes more than justified. While this is not a budget cooler by any means, it's still a reasonable purchase despite the high price tag. 
Now you can go ahead and overclock the Ryzen 9 7950X3D and make that 3D-placed V-Chache work its hardest without a care in the world. Knowing that the Corsair has your back, keeping the chip away from dangerous temperatures.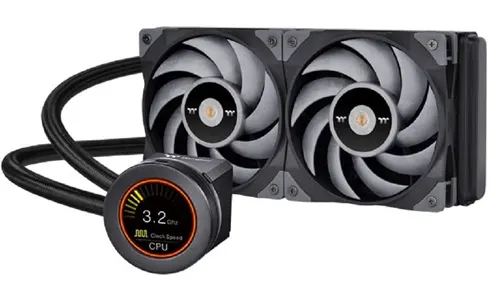 REASONS TO BUY
✓ Rotational 2.1-inch display
✓ Great stock fans
✓ The smaller size makes it fit into more cases
REASONS TO AVOID
✗ Inconvenient USB attachment of screen to the motherboard
✗ Less than impressive design, excluding the screen
The Toughliquid 240 has two TOUGHFAN 12 Turbo fans which can reach up to 2500 RPM, promising a top-of-the-line cooling experience. The pump is also impressive, capable of reaching 3200 RPM. Compared to most premium coolers, it works well to keep the CPU cool during complex or multiple tasks. 
Noise wise the Toughliquid is pretty silent compared to AIO coolers; however, someone with sensitive ears will hear the pump's action, which is the only downside of AIO coolers. It has a 240 mm radiator, so you can choose a case for the system you're building more freely. It should fit in most mid-tower cases. These are some of the best stock fans that come in the box available. If you do not mind them not being RGB LED fans, that is. The copper contact plate is perfectly smooth, allowing for unobstructed attachment to the chip and super-efficient cooling. 
This cooler has a black body with grey accents and fan blades. The stock fans are not RGB-enabled. However, that's not that much of a disappointment considering the cooler has an LCD display on the pump top or radiator cap. A screen is by no means a necessity for coolers. However, once you add one, you open a whole new world of possibilities. The radiator cap features a 2.1-inch rotational display that gives you real-time information or can play JPGs or Gifs with up to 480×480 resolution. The rest of the cooler is pretty basic when it comes to design, making the screen its aesthetic focal point. 
You should be able to overclock your processor with this best CPU cooler for Ryzen 9 7950X3D without worrying about such a powerful cooler behind you. While it might not be the coldest on the market, it can squeeze that extra performance from your chip without overheating.
Price-wise, it may seem a little high to some, though we believe it's alright with the balance of features and incredible stock fans that come with the cooler.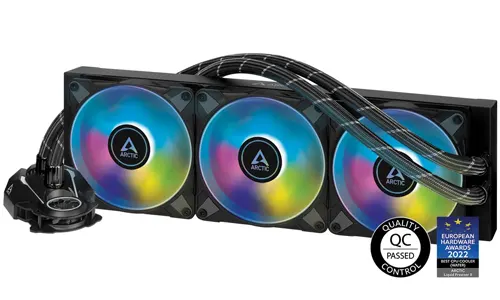 REASONS TO BUY
✓ VRM Fan
✓ Fantastic thermal performance
✓ In-house pump
REASONS TO AVOID
✗ Expensive
✗ No LCD elements
The German company Arctic has been coming out with some incredible fans and CPU coolers since 2001. We couldn't think of anything less than the company's most decked-out offering, the Liquid Freezer II 360 AIO, to tame the monster of a processor, the Ryzen 97950X3D.
Setting itself apart from the competition, the Arctic Liquid Freezer II 360 has a fan on the pump top to help cool components surrounding the CPU, like the VRM. The only cooler we've encountered with that feature is the Ryujin II 360. This feature eliminates the only downfall of AIOs which is that they exclusively cool the processors and nothing much else. Unlike most Asetek pump coolers, Arctic has its pump designed in-house, prioritizing quieter functioning and allowing for pump control and fan controls. Since you can control the pump, you can control the power intake and noise more efficiently.
DEsign-wise, while the body is black like most coolers, it has an aggressive build with sharp contours that are pleasing to the eye. The pump top has a futuristic sci-fi look with the exposed VRM fan. It looks like it was ripped off a spaceship and retrofitted into your PC. You have the option of getting the RGB controller for software RGB control. 
While it's on the more expensive side, it's a great cooler for an aggressive build. With powerful fans, leak-proof rubber tubing, and an extensive history of making customers happy, anyone would be glad to have Arctic's flagship AIO cooler at their disposal.
Conclusion
Choosing the right CPU cooler is a tough choice. You have to think about things like case size, CPU compatibility, TDP, quality, aesthetics, and warranty. You must agree that's just the tip of the iceberg. Sometimes coolers, like all PC parts, become difficult to acquire, and you have to go for your next best option just to get your PC running. 
To simplify this journey, we compiled all our recommendations for the best CPU Cooler for the Ryzen 9 7950X3D. By going through this list, you can compare different CPU coolers by price range, unique features, downsides, and all. Your budget may limit you, or you might prioritize a noiseless cooler over one with aesthetic frills. Either way, you can pick one up from this line-up according to your priorities and build requirements. 
However, if you still can't decide and money is no object, we would highly recommend the ASUS ROG Ryujin II 360. It is by far the most high-tech, innovative, and sought-after CPU cooler on the market. While a few coolers have adopted LED screens, it has the largest one on the market, and while it doesn't come with stock RGB fans, it does come with the RGB controller necessary to hook them up.
You also get a free one-year AIDA64 subscription with the purchase. It may be on the premium end of the price spectrum, but you'd be paying for ROG's trusted design skills, as the cooler was built for gamer satisfaction from the ground up. ASUS rarely disappoints when it comes to premium PC components, and we assure you, you'll get more than your money's worth with this awesome CPU cooler.