AMD has been making quite a lot of waves in the PC-building community due to its release of the 7000 series processors in the last quarter of 2022. Intel responded in kind with the 13th gen of its Core I series and took the performance crown for a while from AMD. We've got our hands on a few best graphics card for Ryzen 9 7950X3D and we will check out what options are worth considering.
AMD had an ace up its sleeves with its high-performing 3D cache technology processors. After the 7950X3D and 7900X3D were released, AMD was able to take the performance crown back from Intel.
The processors perform better than the competition and more importantly, they are also more efficient. AMD won on both fronts and so far, there hasn't been any answer from Intel.
If you are looking to build a PC powered by the 16 core Ryzen 9 7950X3D then you need to pair it with a GPU which won't result in any bottlenecks. It's a powerful processor and not many GPUs out there will be able to bring out its full potential which is why I am bringing you the list of the Best GPUs that you can pair with it.
So, without further ado let's dive straight into the list so you can make an informed decision.
Best Graphics Card for Ryzen 9 7950X3D Summary
Best Graphics Card for Ryzen 9 7950X3D At a Glance:
Best Graphics Card for Ryzen 9 7950X3D Reviews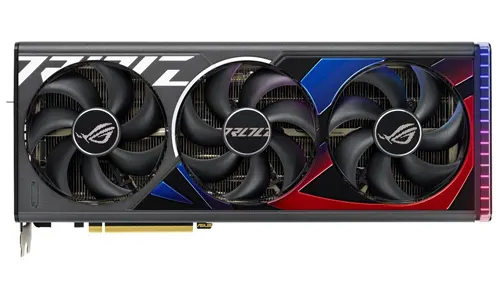 View on Amazon Read Customer Reviews
The ROG series is always present in our product recommendation list be it motherboards, GPUs, PSU, or casings, you will find our list with at least one product from the ROG lineup. This is why I am starting off the list with one of the best GPUs of this generation, the ROG Strix GeForce RTX™ 4090 OC Edition 24GB GDDR6X.
Powered by the RTX 4090 Chipsets, the card is the performance king of this gen. It comes with 4th-gen Tensor cores, 3rd Gen RT cores, a Boost clock speed of 2640 MHz, and a massive GDDR6X 24 GB VRAM the GPU just exudes performance.
It comes with triple Axial tech fans which keep the airflow running in and out of the chipsets so the card can give those high FPS while you are gaming at 4K and beyond resolutions. To further facilitate faster heat dissipation the GPU comes with a massive heat sink which makes it a 3.5-slot card.
There are more than 16000 Cuda Cores present on the card and with a Memory Speed of 21 Gbps, the card can also be used for productive purposes, other than gaming. You can hook in 4 Displays with it although it comes with 5 Display ports, 2 of them Native HDMI 2.1 and 3 of them Native DP 1.4, which will help you in completing Productive tasks. The max resolution the card supports is 8K and Asus is giving the ASUS GPU Tweak III software to monitor and tweak the card for more performance.
Make sure you have a PSU of 1000W or beyond as it's quite the power guzzler. Overall, it's one of the best graphics card for Ryzen 9 7950X3D, right now. But it comes with a hefty price tag so make sure you have the cash to splash in the bank.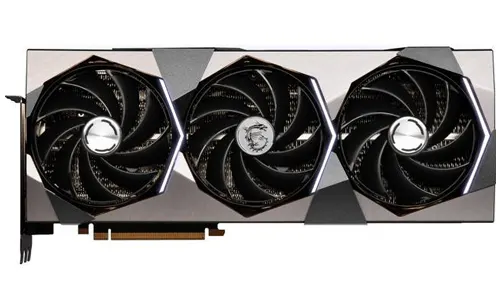 View on Amazon Read Customer Reviews
Next up on the list is another high-end GPU that you can pair with the top-end offering by AMD. The GeForce RTX™ 4080 16GB SUPRIM X by MSI is another high-end GPU that is part of the RTX 4000 series lineup.
Ranking only second to the 4090 the 4080 also comes with impressive specs, 16 GB GDDR6X VRAM, 3rd Gen RT cores, 4th Gen Tensor cores, and a Boost clock speed of up to 2640 MHz, the GPU is no slouch either it's a high-performance card that will give you decent FPS in modern titles.
Since it belongs to the latest 4000 series GPUs, you will be able to take advantage of the DLSS, and the Frame generation DLAA technologies that Nvidia has launched with its latest GPUs. Furthermore, if your Use case is content creation, the GPU will not disappoint in that department either as it comes with more than 9500 Cuda Cores which are used to improve the process of video rendering in video editing software.
The GPU thermals are quite good as well as it comes with the Tri Frozr 3S Thermal design which is the best Air-cooling solution that MSI has come up with up till now. The TORX Fan 5.0 technology is integrated into all three fans for maximum airflow which will allow for faster heat dissipation, along with the Metal Backplate and the massive heatsink the card temps are quite good when operational even in OC mode.
The card comes with 4 display ports with 3 DP ports and a single HDMI port giving you the option of hooking in 4 displays if you want, although 2 displays are more than enough in my opinion. It's a solid GPU that will give you a high-end experience that most PC-building enthusiasts desire and want from their PC, but once again it's on the expensive side so keep that in mind.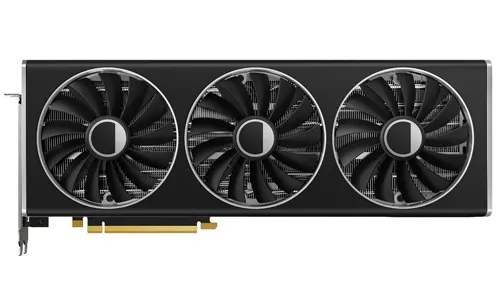 View on Amazon Read Customer Reviews
If you are looking to make an all-AMD ecosystem, and you want a high-performance GPU then the XFX SPEEDSTER MERC 310 AMD Radeon™ RX 7900 XTX Black Edition fits that description.
The GPU features the 7900XTX chipset by AMD and comes with a massive 24 GB GDDR6 VRAM, 2nd gen Ray tracing accelerators, AI accelerators, and a boost clock of up to 2615 MHz, which translates to quite impressive performance in real-world scenarios.
Based on the RDNA 3 architecture the GPU is one of the best when it comes to rasterization performance. In games like the God of War, AC Valhalla, Resident Evil Village, and Call of Duty Modern Warfare 2 it gave more than 100 FPS in everyone at 4K resolution with Raytracing enabled in titles that supported it.
For an additional performance boost, you can use the FSR 2.0 tech as well as the SAM technology since it's an all-team RED system. AMD has taken the fight to Nvidia in terms of GPU competition as it has come up with GPUs that give out identical performance and cost a lot cheaper. The thermals of the GPU are quite good as it comes with a massive heat sink and a triple fan design which are designed to dissipate heat at a faster rate to keep the GPU running calm and quiet.
It is one of the best GPUs out there in terms of Price to performance ratio and holds its own with the likes of 4080 and 4090 in some titles. This is the best graphics card for Ryzen 9 7950X3D will give you a PC that is designed to perform at the enthusiast level and also costs cheaper than the competition.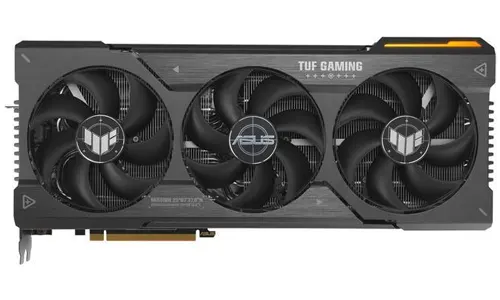 View on Amazon Read Customer Reviews
To finish off the list I have a GPU that has the best price-to-performance ratio among the above-mentioned GPUs. I have another entry from Team Red, the ASUS TUF Gaming Radeon™ RX 7900 XT OC Edition 20GB GDDR6.
Powered by the RDNA 3 architecture the Radeon RX 7900XT is a high-performing GPU that comes with a 20 GB GDD6 VRAM, 2nd gen Ray tracing accelerators, AI accelerators, more than 5000 stream processors, and a boost clock of up to 2535 MHz which helps it score quite high in terms of performance numbers.
The Card has one of the best thermals, so if you want your GPU temps to stay down even under full load it will not disappoint, as it comes with a triple Axial Fan design and a massive heatsink making it a 3.63 slot card.
Asus is giving the GPU Tweak III software utility that you can use to monitor and tweak the card for a little bit of extra performance. For an additional performance boost, you can utilize the FSR 2.0 and SAM technologies that the GPU comes equipped with. You can share your GPU's Computing power to earn extra money using the Quantum Cloud utility. Furthermore, you also get a free one-month trial subscription to the Adobe Creative Cloud which you can use for productivity purposes.
You will be able to form an all-AMD ecosystem with this GPU as well since you will be pairing it with a Ryzen 9 7950X3D and it will not result in any sort of performance bottlenecks. Last but not least, it comes cheaper than the competition and is capable of delivering a high level of performance in modern titles making it quite the feasible option from a price point of view.
Conclusion
It can be quite a difficult choice to choose the right GPU for a high-end processor like the Ryzen 9 7950X3D. There are so many options in the market right now that it can be quite an ordeal and can even result in making a wrong choice, which is why I have brought you this list so you can make the right choice.
If you have the money, I recommend going for the RTX 4090 as it is the performance king of this GPU and won't disappoint. If you have budget constraints and want to dedicate the overall budget to other parts as well, then the RX 7900XTX is also a great option as it provides you with the best Rasterization performance and improved Ray tracing performance as well at a cheaper price point.
No matter which GPU you end up selecting from the list it won't let you down and you will have an enthusiast-class PC on your hands that will perform at a high level. If you have any feedback let us know in the comment section we would love to hear from you.