Coolers are necessary and have been improving for some time now. This was done to provide processors with something that could manage them during operation as they grew hotter and more powerful. Otherwise, the processor would struggle to run at the point where it was intended to. This is why more powerful and chunkier coolers now exist that were out of the minds of many in the past. They ensure a healthy temperature environment for the processor which allows it to spread its wings as well as prologue its lifespan. We were looking for the best CPU cooler for Ryzen 7 5700G to check out what coolers can handle this budget processor.
The Ryzen 7 5700G is one of the most well-received APUs in the market and this one right here came back in Q1 of 2021. Even though it's an APU it's still an Octa-core chip offering the same 8C/16T configuration as a normal Ryzen 7 series processor. The APU also features Vega 8 graphics with a processing speed of 2GHz and can run many new titles that one could never think of playing over an APU. Moreover, the APU even though has some solid specs, still comes with a TDP of just 65W – making it efficient along the way.
The APU comes with the wraith stealth cooler in the box which is fine to handle in a chilly environment but struggles to keep the processor in adequate temperatures if the ambient temperature is a bit warmer. This is where the need for an aftermarket cooler comes into play, and you possibly start looking for some excellent APU cooling options. We do have options for your APU both in budget and slightly expensive categories to help you in future-proofing as well as just to get the temps down on the current chip. Now that we're ready, let's get into some testing and find out the best option possible.
Best CPU Cooler for Ryzen 7 5700G Summary
Best CPU Cooler for Ryzen 7 5700G At a Glance:
Best CPU Cooler for Ryzen 7 5700G Reviews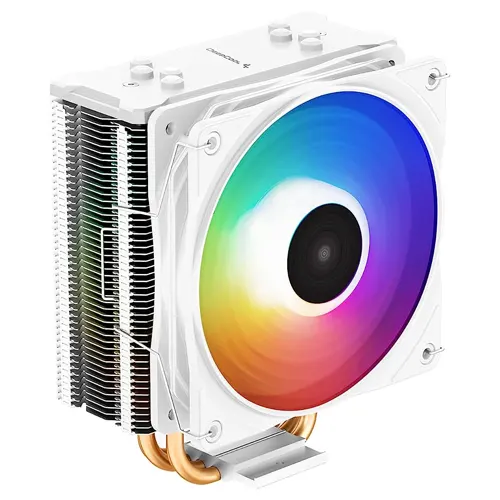 REASONS TO BUY
✓ Inexpensive.
✓ Sturdy enough for the price.
✓ Minimalistic looks.
✓ Keeps temps under control.
✓ Ease of installation.
REASONS TO AVOID
✗ The non-controllable RGB might be a letdown for some.
DeepCool's Gammaxx 400 XT is another great option for folks on a budget as it costs just around $50 and works fairly well. The construction and everything are simple with this cooler and nothing too fancy that could be a problem for a beginner. The cooler has the same four copper heat pipes design as many other coolers in the same budget and is compatible with both sockets so you don't have to worry even if you're not getting it for an AM4 socket-based platform. 
The cooler features a single tower design with a brushed aluminum top cover that is painted black, which helps with the aesthetics. Furthermore, it comes with a single 120mm fan with noise-damping rubbers around the corners and can spin from 500 to 1500 RPM. This provides more than adequate cooling and includes static RGB lighting with six unique colors that blend to produce an attractive appearance. However, this can be an issue for certain folks because some people detest RGB and may not like this cooler at all.
It's time for some testing, so we used AIDA64 to check out the CPU and the GPU. We first saw that the CPU alone reached 70C after 5 minutes of nonstop operation. Additionally, when we stressed the GPU along with the CPU for 5 mins, we got a reading of 74C. As for the idle, it was around 44C, the readings are impressive for what the cooler is worth so it surely is going into our recommendation list for the Ryzen 7 5700G.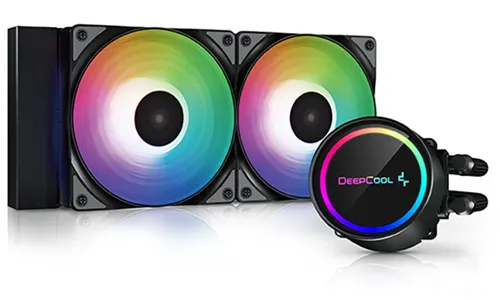 REASONS TO BUY
✓ The design is modern and catchy.
✓ Doesn't create much noise.
✓ Quality is applaudable.
✓ Brings the temperature down significantly.
✓ Full-fledged ARGB integration.
REASONS TO AVOID
✗ The tube could've been a little longer.
This cooler is one of my personal favorites because of its simplistic design which looks so rich and appealing. In addition, it can compete well with a variety of 360mm AIOs from other vendors. These qualities seem more alluring when we see the $115 price tag which is not ludicrous in the slightest because it justifies that with its quality, performance, and design. It has two 120mm fully ARGB fans that have cushioning on the corners to reduce noise and vibration. Even though it's uncommon in inexpensive coolers, it's still a welcome bonus nonetheless.
The fans do not create too much noise and often operate at or below 29dB due to the variable fan speed they're configured to run on. On paper, the fans spin at around 1800 RPM when set to max and this goes all the way down to 500 RPM on idle. These fans are also comparatively faster than the fans installed in the V2 variant of this AIO. Unlike some AIOs, this one also features ARGB lights on the pump that can produce various effects. This aligns the pump well with the aesthetics of the overall AIO. 
Enough of the design and quality, let's do some tests and see where this AIO stands in terms of its intended use – the thermal performance. After letting the Prime95 run for half an hour, the AIO managed to keep the Ryzen 7 5700G well into the initial 60s which peaked at 63C and then dropped to 62C again. The same behavior was observed during 7zip testing and we the APU to stay around 61C. These tests were done in a chill environment with AC turned on so you might see slightly different numbers in your case. At last, the AIO is worth it and has headroom for overclocking and a CPU upgrade over time.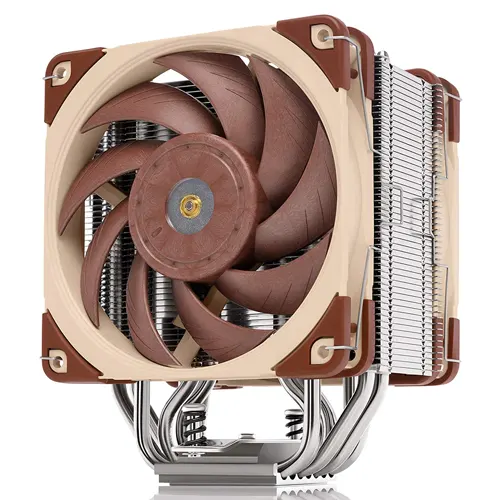 REASONS TO BUY
✓ Made with high-quality materials.
✓ Optimized for silent operations.
✓ The cooling performance is terrific.
✓ Looks unique.
✓ Highly airflow-optimized fans.
✓ No memory clearance issue.
REASONS TO AVOID
✗ Costs slightly more.
✗ RGB is out of the question.
The Noctua NH-U12A is a premium-class compact 120mm air cooler with plenty of power to cool some of the most powerful CPUs on the market currently. The performance is on par with the likes of Noctua NH-D15 and DeepCool Assassin III. It can be installed in most mATX chassis, which are the preferred option of many PC users, thanks to its decent 120mm compact size. In terms of pricing, well it is priced at around $120 which is to be expected since we're dealing with Noctua here.
It possesses not five or six but seven copper heat pipes to cool down the hot chip. This one, as opposed to the NH-D15, has a single-tower design that is sufficient for the performance required. Looking over the fans, the cooler comes with two of the NF-A12 120mm fans that are highly airflow optimized. They have variable fan speeds according to the situation to keep things nice and quiet. One thing to keep in mind is that the fans are non-RGB so don't expect those shiny fancy lights that have plagued the modern gaming PC components. As per the specifications, the fans can operate at 2000 RPM with as little as 22 dB of noise, which is pretty quiet and to be anticipated from Noctua.
When it comes to real-world performance, the cooler didn't let us down because it was able to provide some excellent results. The Noctua NH-U12A held the Ryzen 7 5700G at 62C after 20 mins of multi-core stress test. And for more precise results, we used the Noctua NT-H1 thermal compound that was already included. In conclusion, it is the best CPU cooler for Ryzen 7 5700G and is ready to even handle your next upgrade.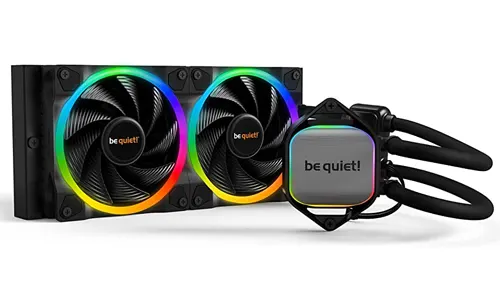 REASONS TO BUY
✓ Made with premium-grade stuff.
✓ Worthy thermal performance.
✓ The RGB lighting and effects are soothing.
✓ Compatible with any memory size.
✓ Good price considering the quality.
✓ Extra coolant refill out of the box.
✓ The control hub comes in handy.
REASONS TO AVOID
✗ Nothing as such.
be quiet! Pure Loop 2 FX addresses the setbacks of the previous Pure Loop 1 and is a much superior option in every aspect. This AIO costs slightly higher at around $129, which might seem a little overkill for the Ryzen 7 5700G. However, be rest assured because the cooler is definitely worth it. It boasts a 240mm rad that has a coolant refill hole that we don't usually see in AIO liquid coolers. Not only the refill option but be quiet! also bundles a spare coolant bottle to refill later in the future to ensure its longevity.
The AIO liquid cooler now also features a fully PWM water pump which was out of the question in the Pure Loop 1 as well as the integration of the beautiful high-grade RGB LEDs that create vibrant illumination and are now a part of the package. Now if we take a look at the fans, they are quiet's Light Wings PWM fans holding the potential to spin at 2500 RPM and only create 32 dB of acoustic noise. Not to mention, the build quality of AIO doesn't need any explanations as it's on point like almost every other be quiet! product.
In the end, when we ran some tests, the Blender Classroom benchmark, for instance, we got a max temperature reading of 68C in a situation where the ambient temperature was around 25C. We're recommending this one as well, although, you have to deal with the cable clutter because of the ARGB integration.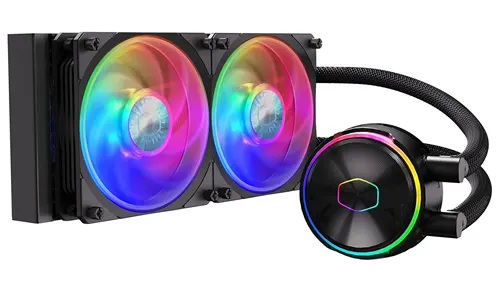 REASONS TO BUY
✓ Better pump than its predecessor.
✓ Fans are more high-pressure-focused.
✓ ARGB LEDs look good enough.
✓ Competitive cooling performance.
✓ Not overly expensive.
REASONS TO AVOID
✗ Fans create noticeable noise.
Cooler Master MasterLiquid PL240 Flux brings some major improvements over its predecessors, the most noticeable being the inclusion of the new PL-Flux fans instead of the old SickleFlow fans. These new fans have interconnected fan blades and are more airflow optimized. You might wonder, does this mean anything good? Well, yes it does as the new fans turn out to generate more air pressure than the SickleFlow fans which gives the Flux fans an edge over the SickleFlow fans in terms of cooling. 
The radiator is 240mm so we only get two of the 120mm Flux fans. However, this doesn't affect the CPU pump size and it's the same in the 360mm variant of the cooler too. You'll have to deal with a lot of cables because the CPU cooling block also has ARGB lights. So, to make things simpler for you to manage the clutter, the AIO incorporates a fan hub. Despite this little drawback, it's still a much more capable liquid cooler from Cooler Master as they're pretty confident about its quality which is one of the reasons why you're getting a 5 years manufacturer's warranty with it. 
Now in the same test as the Be quiet! Pure Loop 2 FX, this cooler performed surprisingly well with the Ryzen 7 5700G. We ran the same Blender Classroom benchmark with the same 25C ambient temperature and witnessed a slightly less temperature reading of 66C. One thing more that needs to be mentioned is the fan speed, which was around 1040 RPM. This isn't even 50% and says a lot about its cooling capabilities and seems to be a worthy option among many out there. However, it also costs slightly high as well, coming in at around $139. Additionally, we have got a dedicated guide on Ryzen 7 5700G motherboards so don't forget to check them out.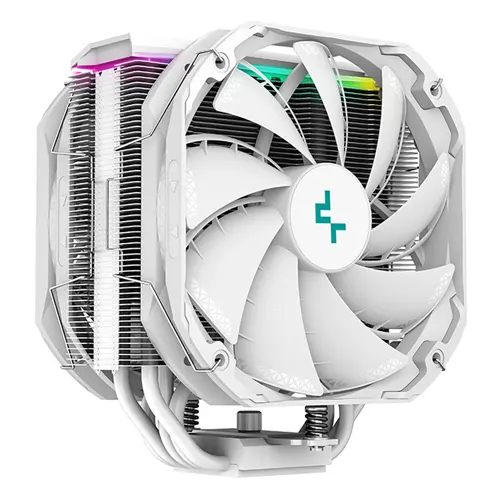 REASONS TO BUY
✓ The looks and quality are on point.
✓ No clearance problem for memories with tall heatsinks.
✓ Isn't plagued with lots of RGB.
✓ Handles the temperature pretty well.
REASONS TO AVOID
✗ A little pricey.
The DeepCool AS500 Plus is an answer to coolers like the DRP4 and NH-D15 while costing somewhat less. Which is $80 to be precise for the DeepCool AS500 Plus White. The price is a little high but isn't absurd, to say the least, because it possesses impressive build quality and design which is likable by many and enough of a reason to end up in the rig. Since some people prefer black color, you can easily get one of these in all-black as well so there's that.
Like many other air coolers, this one also comes in a single-tower design and has two 140mm DeepCool fans attached to its front and rear for a push-and-pull configuration. These fans are entirely white and lack RGB of any sort inside their bearing or around the case. Nevertheless, you still get a slight bit of RGB embedded above the heatsink, and as it's ARGB so you can adjust it with the included controller or software of your choice. In the heat sink, we get to see five of the copper heat pipes. The preceding heat pipe configuration is enough for mid-range processors and that makes it one of the best CPU cooler for Ryzen 7 5700G in 2023.
Now onto some testing, we ran CineBench R23 on the Ryzen 7 5700G using the DeepCool AS500 Plus and left everything to auto. Which in the end, gave us a peak temperature reading of 69C (very nice). So, if your intended use is just gaming then expect a lot cooler temperature because the game won't be stressing it like the benchmarking software. However, if you're planning to game solely on the APU then things can get a little messy but nothing concerning so you would be fine either way.
Conclusion
It's time to give my two cents and a quick summary of everything since we've finished reviewing and testing the best CPU cooler for Ryzen 7 5700G. All of the air and liquid coolers are quite competitive and difficult to ignore, but ultimately you have to choose one, and if we go by the budget, things can get pretty much easy. Like if you are not okay with spending a lot more and want to stick with something effective for well under $60 then in that regard your best bet is the DeepCool Gammaxx 400 XT. The only thing you have to compromise on is the static RGB of the cooler. 
And if you're not budget-conscious and can spare around 100 or two dollars, you're in for a treat as many great options like the Noctua NH-U12A, DeepCool AS500 Plus, Cooler Master MasterLiquid PL240 Flux, DeepCool Gammaxx L240 A-RGB, and be quiet! Pure Loop 2 FX 240 awaits. All of them cost between $80 to $139 and except for the Noctua NH-U12A, every other cooling solution features ARGB. 
Many individuals would like performance exclusively, while others might favor a mix of performance and visuals. This is the very reason why we included both kinds of coolers and variance in options can benefit a lot more than just a specific group of people. Each of them is great and distinctive in its way so get what would suit your build and budget more.