Can't forget motherboards because of their core involvement in a PC. The motherboard accommodates everything that one buys to build a PC like memory, graphics card, storage, and whatnot. Back in the day, motherboards were used to be simple bare PCBs in not-so-big form factors. However, it has changed drastically over the years as now the motherboards are bulkier because of so many things attached to them. We have a few best motherboard for i5 13600K and testing out which one gives better value for the price.
The Intel Core i5 13600K was released in Q4 of the year 2022 and is a major improvement over the last gen's 12600K. This time around, the processor also features more numbers of cores and threads giving us a total of 14 Cores in 6 performance and 8 efficient cores and 20 threads in total. This new budget chip easily matches and even beats the old flagship processor 12900k in most instances because of the more aggressive nature of its cores. This truly makes it a tempting option to consider while purchasing components for a new build.
This level of performance is only achievable if the processor is given the right companions like a powerful motherboard and a faster set of memory. Since this is an unlocked chip and further performance can get acquired when paired with the right chipset and a competitive CPU cooler, which is why the Z690 and Z790 exist. Both chipsets are built specifically for unlocked processors so they can be overclocked over them and you get the best out of them at no additional cost. But on the budget side of things, chipsets like the B660 and H670 are also available in the market. However, those chipsets has overclocking feature limited to the memory side only. 
So, in the grand scheme of things, which should go into your PC build? Well, we can only find that out once we examine some of the best options ourselves which would help you pick the right motherboard for yourself. Let's kick things off now.
Best Motherboard for i5 13600K Summary
Best Motherboard for i5 13600K At a Glance:
Best Motherboard for i5 13600K Reviews
REASONS TO BUY
✓ 6 PCB layered ATX design.
✓ Stealthy non-RGB approach.
✓ The WiFi-6E module is already present.
✓ Doesn't cost too much.
✓ Impressive VRM design for OC'ing.
✓ PCIe4 enabled.
✓ Multiple RGB headers.
REASONS TO AVOID
✗ The absence of RGB could be a minus for some.
The MSI MAG Z690 Tomahawk WiFi D4 is another addition to the Tomahawk family which has a well enough reputation to be the go-to choice of gamers. Again, the board manages to pull the same trick and doesn't offer any kind of RGB and stays good old stealthy boy design-wise and comes at around $240. Which is understandable considering it's a Z series motherboard.
Kicking things off with the basic and most important which is its performance and overall overclocking capacity. Needless to say that this board is one of the best ones in this regard as it comes with x18 70amps power phases from which 16 are only dedicated to the CPU implying a great level of processor overclocking if you have the required overclocking expertise. Such a high level of OC also means more heat generation which is why the board is built using the 6-layered PCB design that allows for better heat dissipation and is cooled down by pretty thick passive cooling blocks with thermal pads. 
As for the memory, the motherboard allows you to operate at a maximum of 5.2GHz with the DDR4 memories instead of the new and expensive DDR5. From a gamer's perspective, going for the D4 variant is a more viable option as there's little improvement in gaming performance from D4 to D5. Besides all that, the motherboard has all the fundamental features like Bluetooth and WiFi6E which is the fastest module to date as well as a 2.5Gbs Lan. Other than that, the motherboard is quite generous as it comes with 1 of the PCIe 3.0 and 3 of the latest PCIe 4.0 NVMe drives slot as well as one for the GPU. It also features many USB plugs for convenience and the motherboard in general is a great match for the new mid-range i5 13600K processor.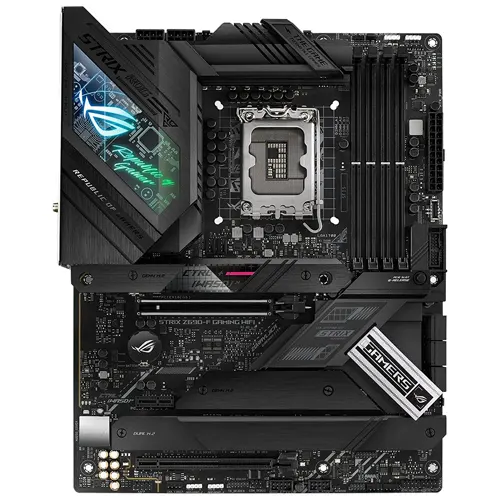 REASONS TO BUY
✓ The standard and sturdy 6-PCB layer design.
✓ The design is great as always.
✓ The usual fast WIFI6E is included.
✓ High-tier VRM solution.
✓ PCIe5 stuff baked in.
✓ Great passive cooling design.
REASONS TO AVOID
✗ Could be out of reach for some.
The ASUS ROG STRIX products are one of the hot-selling products out there especially their motherboards which are a work of beauty and fine craftsmanship. It's no different in this instance here as well because the ASUS ROG STRIX Z690-F GAMING WIFI is yet another premium mid-range motherboard for you to build your PC with. The motherboard currently comes in at around $305 which seems a little high than other motherboards like Tomahawk but since it's a ROG lineup product we can't argue because of the extra features that it holds.
The motherboard is built on a 6-layered PCB and has enough capacity to withhold the pressure that the available 17 x 70amps power phases are going to put in extreme conditions. This much serious VRM design makes it ready for the 13th gen processors which are much faster than the previous 12th CPU lineup. As for its cooling, ASUS has provided the VRMs with two big and quite thick blocks with a heat pipe for faster and optimal heat evacuation. Talking about the memory, the board gives us 4 DIMM slots that use DDR5 memory and can achieve 6.4GHz on all DIMM slots. Needless to say, this configuration makes it a better choice for developers as well as gamers even though the difference isn't day and night in games.
Moving onto expansion slots we get to see a PCIe5 x16 slot for the GPU however the x4 NVMe drive slots are limited to Gen4. No card currently utilizes Gen5 technology so giving us a Gen5 NVMe slot would have been much better instead. As for numbers, the board has 4 of the Gen4 NVMe slots in total which is great to see. Next, we see a quite rich I/O that features 2.5Gbs Lan multiple 10Gbps Type C and As as well as a great Audio Codec. This is enough information to assume that it's one of those future-proof motherboards.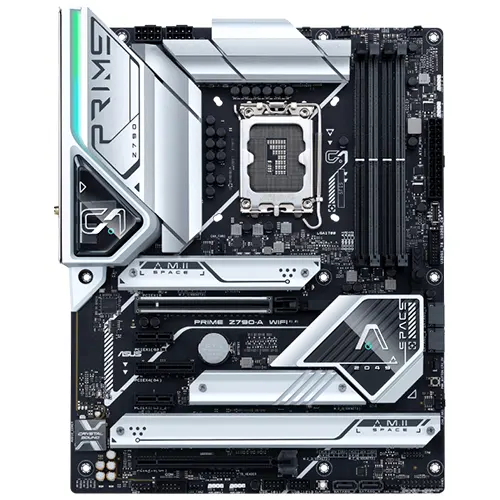 REASONS TO BUY
✓ Not one or two but four PCIe4 x4 slots.
✓ The catchy design makes it look refined.
✓ Same fast WIFI6E.
✓ Good enough VRM design.
✓ The cooling design is also impressive.
✓ Easy to remove NVMe and GPU buttons.
REASONS TO AVOID
✗ Not the old budget-friendly weak Prime.
The ASUS PRIME Z790-A WIFI just like its predecessor follows the same path of being a new competitor for quality motherboards that are strong and look great. The Z790 comes at around $299 and brings many new and some old same features to the table. Not to mention, it doesn't cut off on the wireless connectivity and provides us with a WIFI6E-enabled functionality as well as fast 2.5Gbs Ethernet.
Going for the obvious, the motherboard comes with the same VRM design that includes 17 60amps phases for the power delivery which is great but it's the same as the Z690's iteration. Since we're aware of it already we can expect great CPU overclocking potential from it that wouldn't disappoint at all. As for its cooling, we can see large wavy-kind-looking thick thermal padded blocks with wings on the other side as well depicting its extended design to help in the heat dissipation. 
For the memory, we see the same DDR5 pattern here, the motherboard utilizes DDR5 memories and can run them at an exemplary 7GHz which is 1GHz more than the Z690's Prime model. And for the storage, we get four of the PCIe 4.0 enabled x4 slots that can transfer data from NVMe drives at 64GB/s simultaneously. Other than that, the I/O has all the needed 2nd and 1st-generation Type-C and A plugs, and one of the Type-C can transfer data at 20GB/s which is double the amount of a standard Type-C port. The board also features the premium ALC 1220S Audio Codec that with the help of 6 PCB-layered design can provide the best possible sound experience. This all makes it a worthy future-proof match for the Core i5 13600K.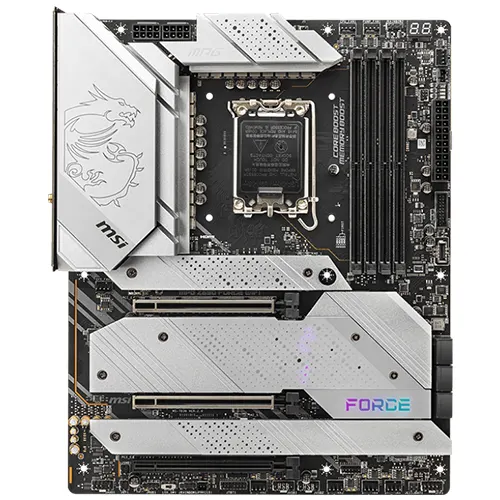 REASONS TO BUY
✓ Eye-pleasing design.
✓ Sturdy 8-layered PCB.
✓ 5x PCIe4 enabled M.2 drive slots.
✓ Blazing fast memory support.
✓ The OC potential is off the charts.
✓ Good enough price.
REASONS TO AVOID
✗ RGB placement could have been better.
The MSI MPG Z690 FORCE is the white version of the Carbon series motherboards from MSI as they share the same design and specs and only differ in the color of the overall motherboard. The FORCE that we have right here is going for around $315 and is based on the DDR5 technology instead of the DDR4 for extended future-proofing. This makes the cost of the system a bit high but makes it future-proof and more powerful in productivity software. 
The motherboard is built with a more sturdy 8-layered PCB that provides much better signal insulation and PCIe5 bandwidth. It houses a total of 20 75amps power stages in 18 + 2 configuration which enables the CPU like the i5 13600K to go beyond its limits with ease. This much powerful VRM design also means a lot of heat generation in action. So, to cool down that, MSI has opted for a heat pipe connected to two large VRM cooling blocks that cool down the chokes and power stages separately with the help of two separate thermal pads. Surprisingly this combo works great and keeps the VRM temps under 60C in most instances. As for the memory, we're dealing with DDR5 modules that can be installed in dual channel configuration and clock to a blazing fast 6.6GHz. 
Another thing that this motherboard does well while staying well under the $350 budget is that it provides us a whopping 5 NVMe drive slots with PCIe 4.0 standard. This is something really impressive at this price point and for the GPU, the board offers 2x PCIe5 enabled x16 expansion slots. For the rear I/O, the board has all the latest Type-A and C ports and a fast 2.5 Gigabit LAN along with WIFI6E functionality for wireless operation. These many features make it an impressive pick for the i5 13600K.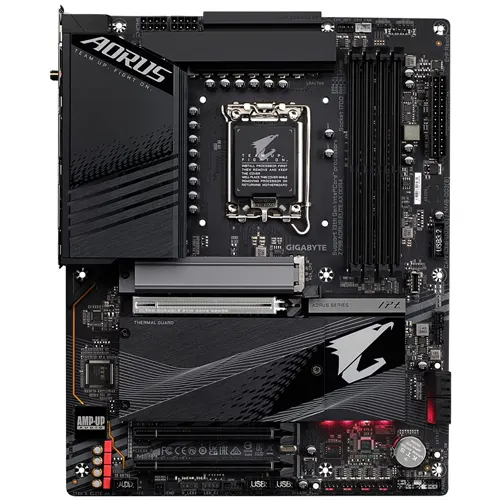 REASONS TO BUY
✓ Sleek and pleasing design.
✓ Strong 6-layer PCB.
✓ Offers 4x PCIe4 M.2 slots.
✓ Fast DDR5 memory support.
✓ Overclocking is possible to a great extent.
✓ Quite affordable being a DDR5 unit.
REASONS TO AVOID
✗ No decent-looking RGB.
The GIGABYTE Z790 AORUS ELITE is the most affordable model of the AORUS family and makes some sacrifices on the build quality, performance, and overall feature set to lower the price substantially. This AORUS ELITE variant of the Z790 is available for around $255 nowadays which is an impressive price for a Z series chipset. Even at such a budget-friendly price, the motherboard still comes with all the basic and much-needed features that one expects from a Z series chipset. 
As usual, let's take a look at the VRM design first, the motherboard comes with 19 70amps power stages that are placed in 16 + 1 + 2 orders. The numbers there are honestly impressive and can contribute to a great level of overclocking no matter which chip you're going to be using let alone the i5 13600K which is a budget-friendly one beating the old gen by a big margin. The board doesn't cheap out on the cooling side either and two full-size thermal blocks with fin arrays and double-contact thermal pads are installed over the chokes and power stages. 
This time around, the motherboard shows a great improvement in memory speed as it can let you go as high as 7.6GHz with the right DDR5 memory kit installed. This will improve the performance of production software by a great amount. In terms of what kind of features and functionality it comes with, let me tell you that it's worth it with the $255 price tag. Because the motherboard offers four PCIe Gen4 M.2 drive slots which are great to see and also come with a 20GB/s Type-C alongside 2.5Gb/s Ethernet and multiple Gen2 and Gen1 Type-As. Not to forget, WIFI-6E is also present in this one.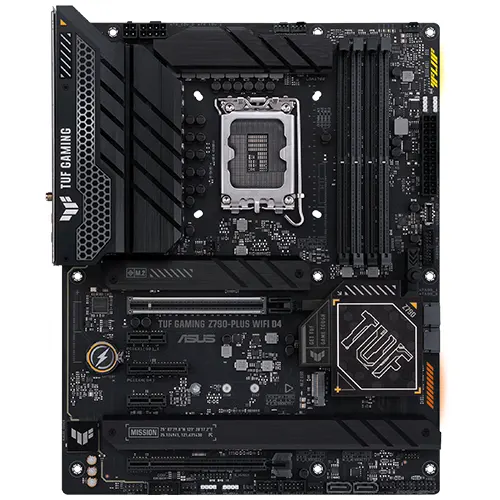 REASONS TO BUY
✓ TUF's gamery unique design choice.
✓ Built using the standard 6-layer PCB.
✓ Gives you the option to use 4x PCIe4 M.2 drives.
✓ Runs on old budget-friendly DDR4 memory.
✓ Thick and effective VRM cooling.
✓ 20Gb/s Type-C.
REASONS TO AVOID
✗ Stealthy design so minimal RGB.
The ASUS TUF Z790-PLUS WIFI D4 is one of its kind motherboard that offer unique looks and excellent performance for the not-so-high price. This Z790 right here can be bought for around $260 which sounds a little high considering we can get a DDR5-enabled AORUS ELITE or this same TUF variant for exactly the same price. Do keep in mind though that the DDR5 system would become more expensive because of the higher cost of the DDR5 memories. So, those who are concerned only with gaming should consider this one instead. 
Starting with the VRM design, the motherboard boasts a total of 17 60amps power stages that are more than enough to overclock a chip like the i5 13600K to its limits. For heat, the VRM is covered with well-designed large metal blocks that are in direct contact with the power stages and chokes with the help of thermal pads. This combination keeps the VRM temps well under control and saves them from heating up too much. Since it works with DDR4 memories, we can only tune them up to 5.3GHz which is blazing fast for DDR4 memory modules. 
The motherboard contains 4x M.2 slots and all of them run at PCIe 4.0 standard which is great to see that more and more budget-oriented motherboards are adopting this trend. While talking of expansion slots, can't forget the GPU one – here we get a Gen5 x16 which seems like a marketing gimmick since we all know that no card exists right now that utilizes Gen5 technology. The board also has built-in fast WIFI and Bluetooth as well as a 20Gbps Type-C on the rear I/O side. If things will be going like this, we will be seeing more premium features available on not absurdly priced motherboards.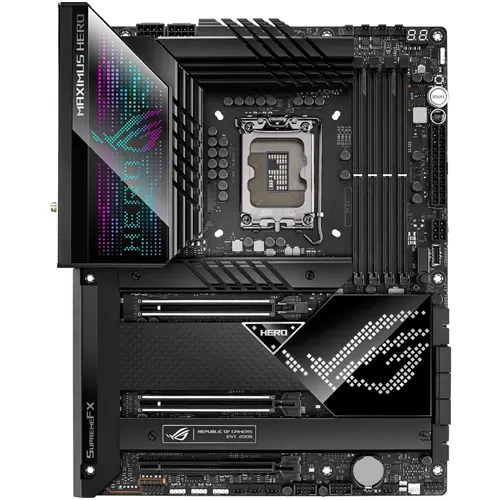 REASONS TO BUY
✓ Monstrous VRM design for OC enthusiasts.
✓ Has a 6-layer PCB.
✓ Memory slots clockable to 6.4GHz.
✓ PCIe Gen5 M.2 drives can be installed.
✓ Premium-looking design with animated display.
✓ Comes with 2 thunderbolt ports.
REASONS TO AVOID
✗ Expensive.
The ASUS ROG MAXIMUS comes from the premium series of motherboards that offers more benefits for the extra premium that ASUS charges its customers. The ASUS ROG MAXIMUS Z690 HERO is no exception and comes at a premium price of $540 which is by no means a budget-friendly demand. However, the motherboard is directed towards OC enthusiasts anyways and not the general users who just want to work or game without hindering the hardware settings. 
The ASUS ROG MAXIMUS Z690 HERO makes quite a big jump in terms of the VRM design as it comes with 21 90amps power stages and 20 power stages which translates to 1800amps of power that is exclusive to the CPU the only which is absolutely overkill from a casual user's perspective but would benefit the overclocking enthusiasts big time. Such power is enough to push the likes of the i9 13900K to its limits let alone a budget chip like the i5 13600K. But why we would suggest this motherboard for the i5 then? Well, that's for future-proofing reasons so you don't have to swap the motherboard too in the future.
The motherboard works with DDR5 memories and goes up to 6.4GHz which is high enough to make a big difference in memory-intensive tasks like content creation. Another instance where this motherboard shines is at the storage side, the motherboard offers 3x onboard PCIe 4.0 M.2 slots and along with that ASUS provides us with an x16 expansion card that lets you install 2 more M.2 drives but this time around those will be running on the extremely fast PCIe 5.0 standard. Besides all that, the motherboard also features thunderbolt ports as well as many Gen2 Type ports along with a high-quality ALC 4082 Audio Codec. All these features make paying that premium really worth it.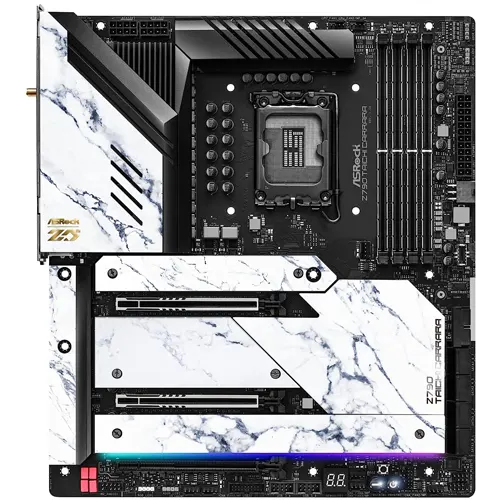 REASONS TO BUY
✓ Highly powerful VRM design for OC.
✓ PCB is built with premium 8 layers.
✓ High-quality ALC 4082 Audio Codec.
✓ PCI-E 5.0 enabled M.2 storage slot.
✓ Thunderbolt ports.
✓ Ultra-fast almost 8GHz RAM support.
✓ An exclusive Carrara edition cooling fan.
✓ Front Type-C with 60W fast charging.
✓ WiFi 6E and BT 5.3.
REASONS TO AVOID
✗ A 10Gbps Lan would've suited well.
The ASRock Z790 Taichi Carrara is ASRock's finest offering and comes under the premium motherboards category that holds almost nothing and provides excellent performance and features to the users. The ASRock Z790 Taichi Carrara that we're taking a look at is up for sale for around $500 which is a price point at which the consumers expect something extra to make themselves pay such a hefty amount for a motherboard.
The aforementioned motherboard holds nothing in terms of VRM and gives 27 105amps power stages and 20 of them are limited to CPU which implies a lot of room for an extreme level of overclocking if you have got the expertise that it requires to do so. This is one of the reasons why ASRock went with an 8-layered PCB instead of the standard 6 to make it more durable for such a high level of overclocks. And to maintain the temperatures of the VRMs, ASRock has done a great job there as well. The chokes and power stages benefit from two large metal blocks with a heat pipe and thermal padded bottom. All this makes up for the much-needed cooling and the temperatures of both don't go around the risk area.
The motherboard also allows faster DDR5 memory in the dual channel configuration that can run at a maximum of 7.4GHz which would highly contribute to the performance that is needed for memory-intensive tasks. Other than that, the motherboard gives us an onboard PCIe Gen5 M.2 slot as well as Gen4 as extras. The rear I/O is also heavily rich and filled with multiple Gen2 Type-A and Cs as well as 40Gb/s thunderbolt ports. The motherboard is ready to take on any processor and configuration you throw at it which is why it's one of our recommendations.
Conclusion
Buying motherboards can be confusing and tricky for those who do not possess the required knowledge and might end up wasting their hard-earned money on something useless or just more than what they actually need in reality. This is why we dig into the details and made this article by picking the best motherboard for i5 13600K and similar. We compiled this list and included some budget-friendly as well as some high-end options for everyone. 
Those who are solely looking for a motherboard just to game on it and not something else, we suggest you either get the MSI MAG Z690 Tomahawk WiFi D4 or the ASUS TUF GAMING Z790-PLUS WIFI D4. Both motherboards come for around $250 and operate with DDR4 memory which performs similarly to the DDR5 memory modules in games and due to the lower cost of the DDR4 memories, you will be left with more to spend on something else. Moving into the DDR5 category, the cheapest one is the Z790 AORUS ELITE costing around $255 and providing more than its worth. However, if you're looking for something more then ASUS ROG STRIX Z690-F GAMING WIFI, ASUS PRIME Z790-A WIFI, and MSI MPG Z690 FORCE are the ones to consider. All of them cost around $300 budget and offer beauty and performance more than the AORUS ELITE version of the Z790.
Still, if this isn't enough for you and you're looking for something premium and enthusiasts grade, then you would surely love ASUS ROG MAXIMUS Z690 HERO and ASRock Z790 Taichi Carrara. Both of them cost around $500-540 and possess some exclusive features that the budget ones lack and are an absolute monster when it comes to overclocking potential. So, pick whatever fits your budget and meets your preference.