The motherboard is a hard-to-pass component due to its utmost importance and role in a computer system. From pretty naked and open PCBs to fully hidden and chunky motherboards, we have come a long way. And this isn't even just for the cosmetics alone, the requirements of the modern-day CPUs have increased quite a bit which sets you in a situation to spend a good sum of money just on the motherboard alone. It wouldn't be wise to mismatch the CPU and the motherboard and completely ignore the tier thing that is why we've reviewed the best motherboard for Ryzen 9 7900X in 2023.
The processor is the Ryzen 9 7900X which is a 12 Core, 24 Threaded chip like the old 3900X and 5900X. Although this is released quite recently, dating a Q4 '22 launch. By default, it runs at around 4.7GHz which can boost itself to a whopping 5.6GHz if the situation requires it. As for the power draw, well it's a hot one since it's from the X series. It consumes 170W at peak and is open to overclocking in case your cooling solution holds the capacity to do so. 
Now such a powerful chip can't be handled with a stock or cheap cooler. How would it be fine to work with a cheap motherboard? The cheaper board would highly undermine this beast of a processor, so to avoid such a situation. You must choose the right motherboard for it and that requires a handsome budget. But which one to get? Well, worry not as we're here to help you in that regard. We will be reviewing some cherry-picked options that perform extremely well with a processor like the Ryzen 9 7900X.  Time to finally kick things off and get to work.
Best Motherboard for Ryzen 9 7900X Summary
Best Motherboard for Ryzen 9 7900X At a Glance:
Best Motherboard for Ryzen 9 7900X Reviews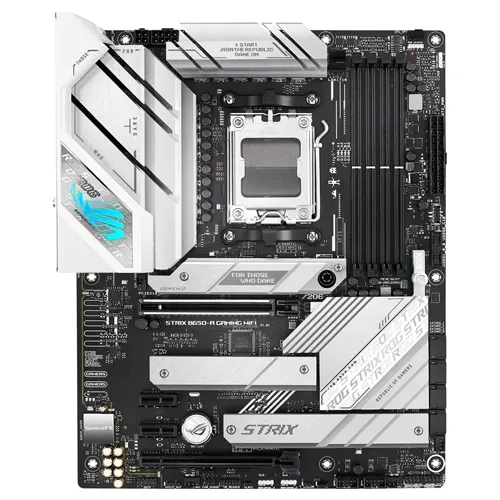 REASONS TO BUY
✓ The white color choice sure looks good.
✓ The motherboard is more than capable of OC.
✓ Agile memory support isn't an issue.
✓ Easy to release mechanism.
✓ Fastest Gen5 NVMe drive support.
✓ Doesn't cost as much.
REASONS TO AVOID
✗ Debugging lights are absent.
ASUS ROG STRIX B650-A GAMING WIFI is one of the better and cheaper options for your AM5-based Ryzen processor. The motherboard has seen a little decline in its price and now it can be bought for $275. This is quite reasonable if we take the prices of X670 boards into account. What, though, was given up to reach such a cheap price tag? Let's find out by looking at the details.
As usual, we will start by checking the board's overclocking potential. This board is fairly capable of doing so because it has 14x Power Stages and is rated for 60amps per stage, which is considerably lower than the Strix B650 E model. But fear not – this design is adequate given the price we're paying. Also, the board utilizes the same cooling blocks that are available in the more expensive Strix B650-E. This ensures safe and operational temperatures for the chokes and MOSFETS. 
Now, if we pay attention to the DIMM slots, ASUS has provided us with a generous amount of overclocking support because we can go up to 6400MHz with the EXPO or XMP profiles. Now we all know that looks are subjective and not everyone likes the same thing, but designs on the Strix motherboards have always been liked by the majority. Moreover, this white variant looks even better, especially in all-white builds.
Additionally, the RGB LEDs are still present over the I/O roof. Also, the rear I/O is nothing short of a surprise because it houses all the latest 1st and 2nd generation of USB plugs as well as the latest WiFi module and the famous budget-friendly ALC4080 Audio Codec. The Ryzen 9 7900X will work just fine even if you plan to overclock the already beast of a processor to its limits.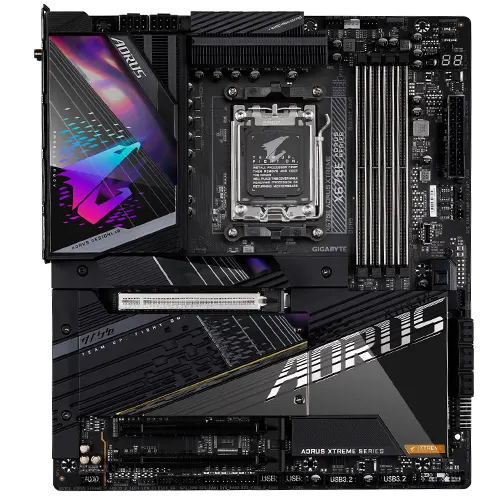 REASONS TO BUY
✓ The integrated screen has numerous animations.
✓ Xtreme level of OC is doable.
✓ Has an abundance of Gen-5 PCIe slots.
✓ Has 20Gb/s Type C on the front and rear.
✓ Includes a 10Gb/s ethernet port.
✓ Features DAC functionality.
REASONS TO AVOID
✗ The cost is high.
The Gigabyte X670E AORUS Xtreme no doubt falls under the premium motherboard offerings like ACE from MSI and Taichi Carrara from ASRock. The story is the same when it comes to price as it costs a whopping $690 which by no means is budget-friendly so this tier of motherboards isn't for everyone. It's built on an 8-layer PCB which ensures better Gen5 signal insulation and can withstand far longer than many counterparts built with a 6-layer PCB or lower. 
While it has an 8-layer PCB on one side, it also has some pretty robust VRMs as well. On this one, we have a total of 22 Power Stages with 105 amps MOSFETs to make sure that you get one of the highest possible overclocking experiences out there. Since we're dealing with a new socket, we have a change in the memory support too. The AM5 motherboard only works with DDR5 memories and can clock to well around 6600 MHz.
We do get the same audio codec that can be found in the slightly cheaper Master variants of the AORUS family which by no means is a cheap one. This bad boy is terrific and can output high-quality sound to turn the audio experience a lot better. And if that's not enough, there's a plethora of USB ports on the rear as well as an Ethernet port with 10Gb/s speed and a WiFi6E band along with the 2nd fastest 20Gb/s USB type-c for data transfers, HD audio/ video out, etc. After looking at each aspect of the motherboard, it suffices to say that processors like the 7900X or the 7950 are the ones worth pairing with this one.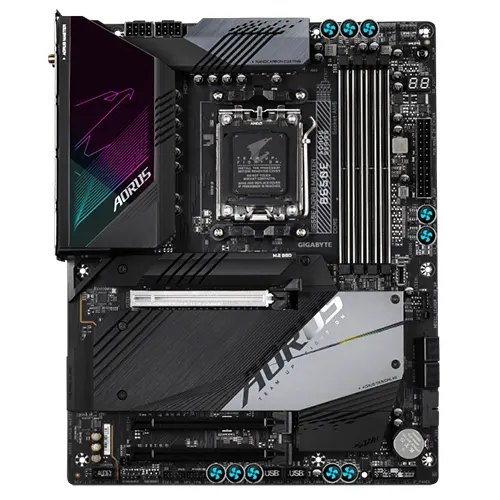 REASONS TO BUY
✓ A great bargain for $350.
✓ Easily one of the best overclockers.
✓ All Gen5 PCIe approach is welcomed.
✓ Handsome quantity of connectivity ports.
✓ Dedicated buttons make the experience effortless.
✓ Five ARGB headers.
REASONS TO AVOID
✗ Need an ATX chassis to fit in.
The all-new Gigabyte B650E AORUS Master is a praiseworthy addition to the AORUS family because of its characteristics and abundance of a lot of fascinating features that even the X670E AORUS Master lacks. This board even though beats the X670E AORUS Master in features but also costs $100 less by launching at an MSRP of $350. 
Now starting with the most common thing – the PCB. We are given an 8-layered PCB to maximize its endurance level because of the level of overclocking that is possible on this motherboard. We're saying this because the motherboard has exactly the same VRM design as the X670E Aorus Master which was 20 105amps power stages in total – a complete monstrosity and only makes sense only if you have a Ryzen 9 7900X/7950X otherwise it would be a complete waste.
Now if we divert our attention from here and focus on the memory side of things, we get a total of four DIMM slots and speed support of 6666 MHz. This can be done either with manual overclocking if you have the right skill set or just by using the already available XMP/EXPO profiles to get things done a lot faster and easier. 
Looking at its design, the story again is the same with minor changes, the board is all covered in space gray colored armor to provide cosmetic touch as well as an extra layer of protection. Furthermore, it provides you with all four Gen5 NVMe slots, unlike the X670E which has only two. Also, since the VRMs are quite powerful, AORUS has incorporated an equally robust cooling solution with a single heat pipe between the two cooling blocks. In our testing, this board remained slightly cooler than the X670E counterpart while running a Ryzen 7900X at 5.6GHz. Last but not least, the I/O is nothing uncommon either and has all the basic and advanced ports like every other premium offering.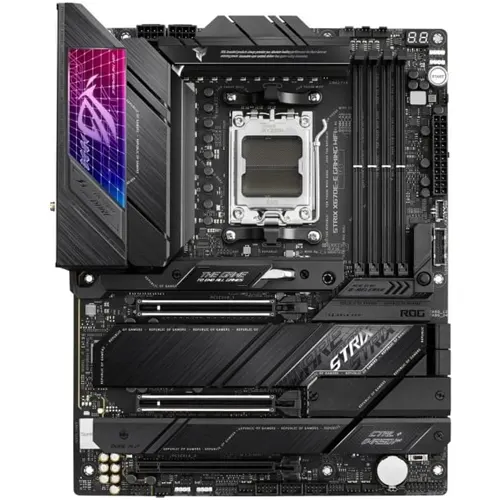 REASONS TO BUY
✓ Sturdy build quality.
✓ Damn solid overclocking support.
✓ Comes with Gen5 NVMe and GPU slots.
✓ Good power delivery cooling.
✓ RGB-lit emblem.
✓ Wi-Fi6E band.
REASONS TO AVOID
✗ Slightly expensive.
The ASUS ROG Strix X670E-E Gaming WiFi is the top variant in the Strix lineup which is a little more affordable than the Crosshair series by ASUS. The new motherboard with a weird naming scheme supports LGA1718 which is for the new AM5-based processors like the Ryzen 9 7900X. This behemoth form factor-wise is ATX so any ATX chassis would be enough to fit this in. Moreover, the motherboard costs almost half a thousand bucks – $483 to be more precise. For a flagship motherboard that's coherent enough because of the exclusive features and superior quality. 
The power delivery on this one is interesting and strong enough to work with the likes of Ryzen 9 7900X and upcoming 1-2 generation of Ryzen processors. In numbers, we get a total of 20 power stages to ensure enthusiast-level uplift in performance with overclocking. Furthermore, this motherboard also works with DDR5 memories only and can run 128GB of RAM simultaneously in the four DIMM slots that it has and the rated speed that it can support is 6.4-GHz which is plenty enough and helpful in memory-intensive software. 
Since we will be dealing with the pipping hot environment around the processor and VRM solution due to overclocking, so a capable VRM cooling solution is the need of the hour and that's what exactly we have here. The heat spreaders are big and have a heat pipe in between for better heat dispersion. Aesthetics-wise, the motherboard is pretty and gamery enough. It also has unprecedented 3x PCIe 5.0 powered NVMe slots and one being the more common PCIe 4.0. Lastly, every latest USB port is available on its rear along with agile WiFi and Ethernet connectivity.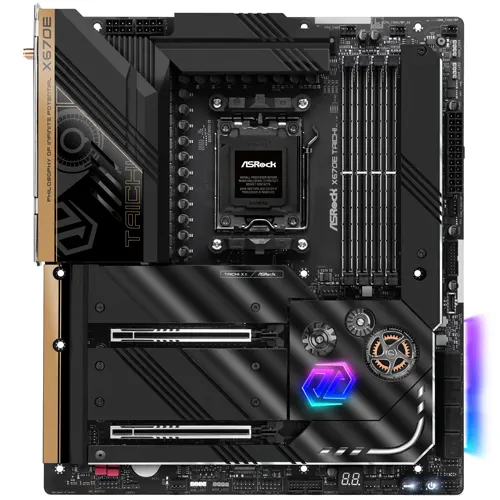 REASONS TO BUY
✓ Hard and strong build quality.
✓ Overclocking is one of the highlights here.
✓ PCIe Gen5 is widely used in this one.
✓ Handsome quantity of connectivity ports.
✓ Not-so-common design.
✓ Has thunderbolt.
REASONS TO AVOID
✗ Only one Gen5 NVMe slot.
ASRock X670E Taichi is one of ASRock's flagship offerings right behind the Taichi Carrara which is just another identical motherboard but more fancy-looking. The clock-like design on this one is unique and gives the much-needed charm that a motherboard should have inside a build. 
Other than the design, the motherboard goes all out when it comes to power delivery. This mid-ranger has an 8-layered PCB with 105-amps rated 26-phase SPS VRMs that can give you hefty headroom for overclocking the top-of-the-line AMD chips you can possibly get your hands on. Those phases are also beneficial in case of memory overclocking and let you go over 6600 MHz without much trouble by utilizing the incorporated AMD EXPO or XMP profiles. 
The VRMs and all other sensitive components over the PCB are concealed under the plethora of heat spreaders which gives it a rather premium look and keeps the component cool. Another highlighting feature of this motherboard is the inclusion of a thunderbolt port which is still quite rare if you're looking for a motherboard around $400 budget. As if it wasn't enough, you get two of the latest PCIe 5.0 x16 expansion slots that can work in x16 and x8 modes however, it's gonna take a while for the graphics card to start using PCIe 5.0 technology.
You also get a Gen5 PCIe x4 slot which you can actually utilize because the Gen5 storage drives are already a thing, unlike graphics cards. Anyhow you also get three PCIe 4.0-enabled NVMe drive slots for additional storage that is relatively cheaper than Gen5. At $400 after the $100 price cut, this board is one of the best motherboard for Ryzen 9 7900X.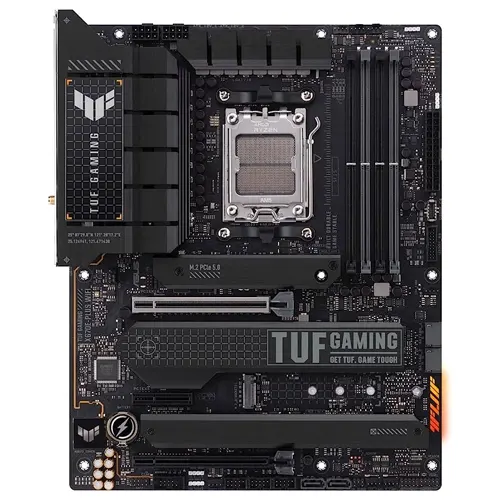 REASONS TO BUY
✓ The design is more aggressive.
✓ A good amount of OC support.
✓ Boasts an 8 PCB layer design.
✓ Filled with many great features.
✓ Great value.
✓ Faster storage supported.
REASONS TO AVOID
✗ No RGB lighting.
ASUS TUF series of components have gathered a cult-like following in such a short period of time like the ROG components. This was made possible only because of how good and unique these TUF components are, especially the motherboards, and do not cost a fortune like Strix and Crosshair. For the first time around, the TUF series motherboard has been built using 8 PCB layers that change the entirety of the motherboard which includes better signal insulation for PCIe 5.0 components and a prolonged lifespan. 
Other than that, the TUF X670E-PLUS WIFI also boasts a 16-phase VRM solution which is rated at 70-amps with an adequate cooling solution. On paper, it doesn't appear to be as powerful as the Strix or Taichi, but it is sufficient to provide us with excellent results when overclocking the CPU is the objective. This motherboard boasts four M.2 slots, one of which is PCIe Gen5 enabled while one is based on PCIe 3.0, and the remaining two feature PCIe 4.0 technology. Even though it has two PCIe x16 slots but only the first one which is Gen5 works on x16 mode and the 2nd one is restricted to running at x4 only while being from PCIe 4.0. 
The memory side is rather impressive because the motherboard costs only $300 and can support 6400MHz or even more right out of the box if your memory is eligible for achieving such numbers. For the audio and WiFi, we have the latest WiFi 6E installed on the PCB as well as a premium-grade Realtek S1220A 7.1 Surround Audio CODEC for exceptional sound effects whether it's for production or purely gaming. Moreover, the rear I/O has all the basic USB and video out plugs with a dual channel Type-C that can transfer at 20Gb/s. That's all about it for this one and for sure at such an affordable price we recommend this one as the best motherboard for Ryzen 9 7900X and similar chips.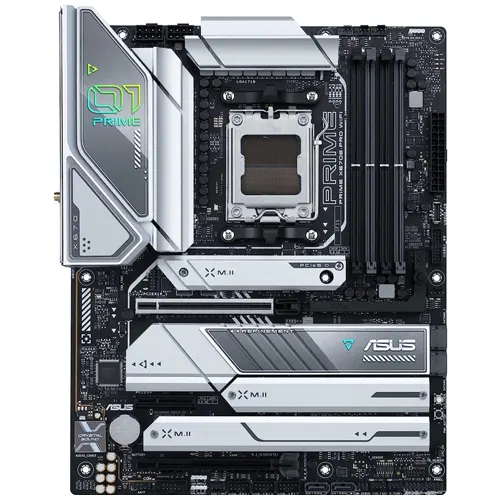 REASONS TO BUY
✓ Budget-oriented board.
✓ Good OC potential for the price.
✓ Incorporates all necessary features.
✓ VRM cooling wasn't ignored.
✓ VRM cooling wasn't ignored.
REASONS TO AVOID
✗ Lacks any sort of RGB.
ASUS PRIME X670 P is more of an entry-level motherboard that you could get your hands on for about $242 after the recent decline in the MSRP of this specific model. The motherboard although doesn't look as sophisticated as the other expensive models but that was due to the budget factor to lower the cost as much as ASUS can without compromising on the core components and features that could affect the demand for this motherboard as well as the price. 
For power delivery, the board comes incorporated with 14 DrMOS VRMs that are ample for an entry-level motherboard and would handle the big chips just fine. For smooth operation of all this, ASUS didn't forget the necessary VRM cooling and installed fairly large heat sinks over the chokes and MOSFETS. Additionally, the X670 chipset has been split into a north and south bridge this time, and each of them deals with unique capabilities. This was done to prevent overheating issues that were found in the X570 motherboards and active cooling had to be there in most of the variants to keep the chipset chilly.
The side where this motherboard didn't compromise is the memory side because we get full-fledged four DIMM slots capable of housing 128 GBs of all-new DDR5 RAMs and can at a ballistic 6400 MHz which we usually see in more expensive motherboards. Speaking of memory, we do get at least one PCIe 5.0-compliant NVMe slot that can swap data at 128GB/s with compatible drives, and the rest of the NVMe slots are PCIe 4.0 enabled. 
Moreover, only the PCIe 5.0-enabled slot has a thermal guard to keep the drive cool so make sure to install the main drive in that slot. Even though it's a budget board, it still has a fair amount of fast USB and Ethernet ports. So, if you're on a budget and can live with the compromises then surely go for it to save some bucks.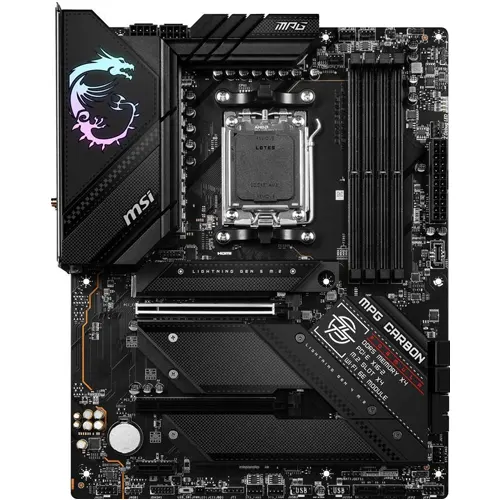 REASONS TO BUY
✓ One of the best values.
✓ Supports a high level of overclocking.
✓ Heat pipe-based VRM cooling.
✓ RGB illuminated board.
✓ Debug LEDs.
✓ NVMe slots with Gen5 technology.
REASONS TO AVOID
✗ Nothing as such.
The MSI MPG B650 CARBON WIFI is one of the best values currently. Why is that, you might ask? Well, it's all because of its reasonable price and pretty damn good features as well as how powerful this motherboard really is. It costs around $250 and is based on the 6-layer PCB design which is justifiable because of the $250 price tag and being from the mid-range segment. 
Going slightly technical, we see that MSI was generous enough to place 19-phase power delivery VRMs. This number is outright impressive and can favor big time during overclocking sessions. To top it off, MSI also made sure about the VRM temperatures which is why the motherboard also has beefy-looking cooling blocks with a single heat pipe for optimal passive cooling. 
For the memory, MSI like many others gave the option to utilize 128GB memory at once with data swap speeds exceeding the 6000+ MHz mark without even touching the manual overclocking section. Just like that, MSI doesn't forget about the inclusion of faster storage and gives us one Gen5 NVMe slot, as well as three Gen4 slots, and all of them, are well hidden under heat spreaders. 
Aside from that, the motherboard's aesthetics are well-balanced and finely done with minimal RGB that looks great, to say the least. Moreover, it doesn't lack behind in features and connectivity, the motherboard comes with three fully addressable RGB headers and the latest WiFi 6E and Bluetooth 5.3 band.
For the USB plug, we are again in for a treat as it's pretty rich and we get 2nd generation Type-As and the C one is actually a dual channel port that can swap data at twice the speed of USB Gen2. Being a mid-ranger, does it qualify for the likes of the Ryzen 9 7900X? Absolutely yes and you can proceed with one of these because of the bang for the bucks factor.
Conclusion
Now in the end like always, we will be concluding the reviewed motherboards along with a summary to help you understand things slightly better. After reading all of the motherboards, you must be confused as to which one to pick for yourself because each motherboard has its own bells and whistles. 
To assist you in that, let's divide them by budget, now if you're looking for a motherboard under $300 budget then you may get either the Asus ROG Strix B650-A Gaming WiFi, Asus Prime X670 P, or the MSI MPG B650 Carbon WiFi. All of these boards cost less than $300 and mostly between $250-275 precisely. All three of them are qualified in terms of reliability, performance, and aesthetics. If you prefer slightly more aggressive looks then skipping the Asus Prime X670 P is a better option. 
Now if you can spare a little more to make your budget around and under $400 then Asus TUF Gaming X670E-Plus WiFi, ASRock X670E Taichi, and Gigabyte B650E Aorus Master are one of the best values out there possessing looks, performance, features, and everything under $400. Now onto the last and most expensive motherboard options which include Gigabyte X670E Aorus Xtreme and Asus ROG Strix X670E-E Gaming WiFi.
The Aorus cost well under $700 and is superior in every aspect but the  Asus Strix X670E doesn't lag behind either even though it cost only $483 and has some intriguing features that you mostly find in expensive motherboards. So, get what your financial side allows you to and save yourself from any kind of trouble just for the sake of a better motherboard.