The Ryzen 5 5600G is one of the most popular mid-tier value Ryzen 5000 series processors, second to the Ryzen 5 5600X which is a gaming CPU favorite among gamers. Due to its attractive price point, powerful performance, and exceptional multitasking capabilities, this processor has taken the PC market by storm. Its exceptional iGPU gaming performance has also been one of the reasons why it's so popular. We were looking for some of the best motherboard for Ryzen 5 5600G so that you can take the maximum output out of this processor.
So if you're fully set on getting the Ryzen 5 5600G, it is important to select the perfect motherboard that complements the processor in order to unlock its full potential. For this several key factors come into play. It can include factors such as connectivity options, storage, form factor, overclocking needs, customization features, compatibility with various components, etc. Additionally, for many, performance, value for money, budget, and aesthetics can be many of the reasons for choosing one motherboard over another.
Since there are so many different models and variants of motherboards, it can get very confusing to decide which motherboard is the right one for you. So in this article, we will explore the top six motherboards with their pros and cons along with all their features and have you decide what's the best motherboard for Ryzen 5 5600G processor.
Best Motherboard for Ryzen 5 5600G Summary
Best Motherboard for Ryzen 5 5600G At a Glance:
Best Motherboard for Ryzen 5 5600G Reviews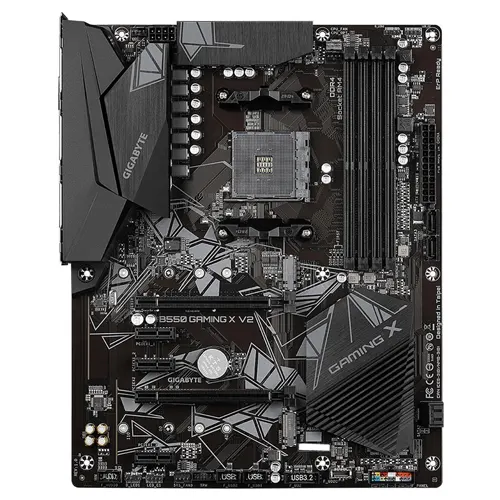 REASONS TO BUY
✓ Decent performance overall.
✓ Affordable due to decent pricing.
✓ Great value for the features provided in this price range.
REASONS TO AVOID
✗ Does not have USB-C port.
✗ Limited RGB support.
✗ Very basic design in terms of aesthetics and overall design.
The Gigabyte B550 Gaming X V2 has a very minimalistic design featuring a black PCB with gray accents all over the PCB in different patterns as well as the Gaming X branding in gray. The motherboard itself does not feature any RGB support either as Gigabyte tries to cut down on the costs of the Gaming X models in hopes of providing a more affordable gaming motherboard with better gaming performance and features. The Gigabyte B550 Gaming X is an ATX form factor motherboard with the dimensions being 13.18 x 10.62 x 3.14 inches overall which makes the motherboard complement an ATX-sized PC build.
The Gigabyte B550 Gaming X V2 motherboard features the B550 chipset which supports the AMD AM4 socket, making it a decent motherboard pick for AMD's Ryzen 5600G processors. The motherboard itself features 4 memory DIMM slots which can accommodate a total of 128GB of DDR4 ram at a memory frequency of 4733 MHz.
The board has full support for standard XMP profiles for the memory as well as dual channel support, allowing the memory sticks to achieve their maximum frequency and operate at their best performance level. The board features a 10+3 phase power design which allows for decent delivery of power as well as a potential overclocking capability within an affordable budget.
The Gigabyte B550 Gaming X V2 requires a 24-pin ATX main power connector to power the board itself coupled with a single 8-pin EPS power connector which requires it to be plugged in to operate the motherboard optimally. Additionally, the board is equipped with a single HDMI 2.1 port which is beneficial when it comes to utilizing onboard graphic solutions from an integrated graphic chipset. The HDMI 2.1 port can provide support up to 4k resolution with a cinematic aspect ratio of 21:9.
The board does not compromise on the audio quality and hence features a Realtek HD audio chipset with high-end audio capacitors that provide an immersive gaming experience with rich sounds. It has a Realtek Gigabit LAN RJ-45 port which allows for lightning-fast speed as well as connectivity, ensuring lag-free online gaming. The Gigabyte B550 Gaming X V2 comes preloaded with a decent number of features at an affordable budget which makes it a great pick for AMD Ryzen 5600G processors.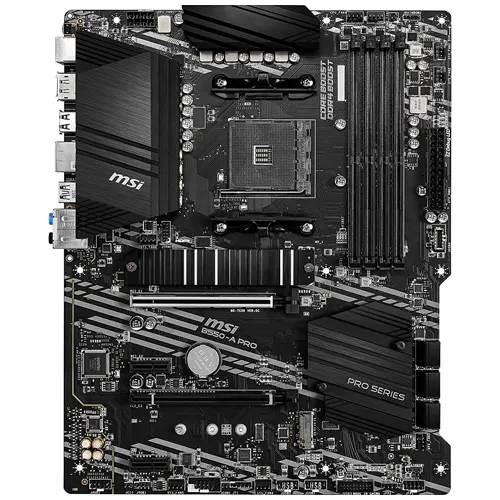 REASONS TO BUY
✓ Beautiful black design.
✓ PCIe 4.0 support.
✓ Supports AMD Crossfire.
✓ Great price point.
✓ Great overclocking capabilities.
REASONS TO AVOID
✗ Regular IO shield, not integrated IO shield.
The MSI B550-A PRO motherboard is a great ATX motherboard choice to pair with your Ryzen 5000 series CPU. With its extensive feature set, this motherboard does not disappoint. It has a beautiful, black sleek design which makes it a solid choice for users who want a clean black theme for their PC.
It has an enhanced PCB design with 2oz of thickened copper which provides great conductivity, heat dissipation, and performance especially when overclocking. It also has an aggressive VRM design with 10+2+1 power phases to sustain heavy loads and longevity. The B550-A PRO also supports great BIOS and software which allows full control of your fans along with MSI's proprietary M.2 SHIELD FROZR that provides a thermal solution for your SSDs.
The motherboard boasts four DDR4 memory slots with a maximum capacity of 128GB of RAM. Not only that, but it also supports memory overclocking to enable your RAM to run at its full potential. Storage capabilities are also impressive in this motherboard with six SATA 6Gb/s ports and two M.2 slots. Moreover, it also provides RAID support for both SATA and M.2 storage devices which ensures data redundancy and improved performance.
Coming to the expansion slots, the B550-A PRO PCIe slot is reinforced with PCI-E Steel Armor which protects graphics cards against bending and EMI. It has two slots, one supporting PCIe Gen 4.0 and 3.0 on x16 PCIe lanes and another supporting PCIe 3.0×4. Additionally, this motherboard also supports 2-Way AMD CrossFire™ Technology which allows you to install multiple AMD graphics cards.
Connectivity options are plentiful in this motherboard. It includes several USB Type-A ports along with a single Type-C which are USB 3.2 Gen 1, USB 3.2 Gen 2, and USB 2.0. It also features a Realtek 8111H Gigabit LAN controller along with Bluetooth and Wi-Fi 6E to provide seamless wired and wireless gaming experiences.
The audio experience on the B550-A PRO motherboard is excellent, owing to the Realtek ALC892/ALC897 Codec which supports 7.1 channel high-definition audio providing an immersive sound experience and quality for gaming and multimedia.
For those that fancy RGB for their PC build, this motherboard has two 3-pin ARGB connectors along with one 4-pin RGB connector. There are also multiple system fan connectors for easy fan installation and management. Additional features are a flash BIOS button so that you can use a USB key to flash any BIOS without the need to install a CPU, memory, or graphics card. Overall, this is a spectacular motherboard choice for Ryzen 5 5600G.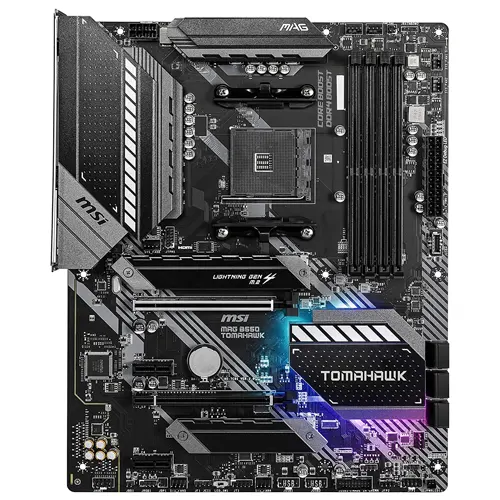 REASONS TO BUY
✓ Great power delivery of 13 phases 60A.
✓ Dual LAN capability (1/2.5G).
✓ Integrated IO.
REASONS TO AVOID
✗ Only 6 rear USB ports.
✗ Mediocre audio codec compared to high-end boards.
✗ No Wi-Fi or Bluetooth.
✗ Failed to operate at 4266MHz DDR4 RAM.
The MSI MAG B550 Tomahawk like all other Tomahawk motherboards has always been a popular motherboard choice among PC-building enthusiasts due to MSI always bringing stellar performance and features for the Tomahawk motherboards. The MAG B550 Tomahawk is no exception and is a great motherboard pick for the Ryzen 5000 series CPUs.
This ATX motherboard supports PCIe 4.0×16 and boasts a 6-layer PCB with 2 oz thickened copper for high performance and system stability. Configured with 10+2+1 digital power phases, it provides the great overclocking capability and is cooled by massive heatsinks. It has four DDR4 memory slots with a maximum capacity of 128GB and supports clock speeds of up to 5100+ but real-life tests show that it failed to operate at 4266MHz. So, if you plan on using very high speeds of RAM, I would consider getting a different motherboard.
This motherboard features an integrated IO with two ethernet ports, 1Gbps, and 2.5Gbps. However, MSI chose to use Realtek's ALC1200 codec which is a cut-down version of the more premium ALC1220 codec. If you are not an audiophile, chances are you won't notice a difference. This IO also has enough USB ports that most users would require. It comes with two M.2 slots and six USB ports two of which are USB 2.0, USB 3.2 Gen 1, and USB 3.2 Gen2. It also features a Flash BIOS button which allows you to flash the BIOS by only using a USB key. It also comes with a PS/2 jack for antique peripherals, and it is questionable why MSI would include this legacy port for this board.
Installing and building on this PC is relatively easy but you have to remember that the USB headers are set and stick out of the board while most people prefer headers that are set at a right angle to allow cleaner cable management. Thankfully, the SATA connections are right-angled.
For the aesthetics department, it has a sleek, black, and gray-themed, textured heat sink along with some tiny bling of RGB on the motherboard with the Tomahawk branding. Additionally, it comes with an integrated IO shield which makes installing the board on the case a much easier process. To install your fans and RGB, it comes with plenty of fan headers that are spaced evenly around the board to allow easy fan installation. Overall, this is a great motherboard to pair with a Ryzen 5 5600G CPU.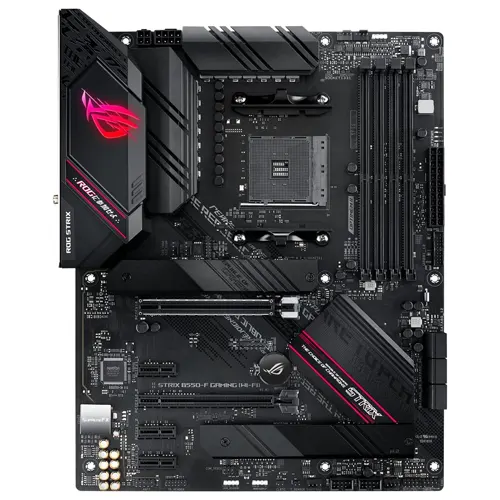 REASONS TO BUY
✓ Equipped with 802.11ax WiFi.
✓ Equipped with Powerful onboard audio solution.
✓ Premium ROG aesthetics.
✓ Intel 2.5Gbps ethernet port for blazing fast speed.
✓ Integrated DisplayPort & HDMI for APU.
REASONS TO AVOID
✗ Premium pricing being close to X570 Tomahawk.
✗ No sensors to monitor VRM temperature.
The ASUS ROG Strix B550-F Gaming WiFi comes with a beautiful dark black theme, featuring a black PCB, heatsink as well as black memory slots. The black theme of the PCB board is complimented by highlighted accents of ROG's own logo and styling. The black styling makes it an ideal motherboard that can be paired with almost any computer build that is designed around a black theme or is complimented by black components.
The motherboard itself supports the AM4 socket which makes it an ideal pick for the Ryzen 5600G processor. The board itself has an ATX form factor which makes the motherboard stand out in the case with its beautiful black theme. The board provides 2 RGB headers as well as 1 ARGB header in order to address all your RGB needs and provides you with the option of customizing RGB according to your taste.
The ASUS ROG Strix B550-F Gaming WiFi is powered by a single 8-pin EPS connector with an additional 4-pin EPS connector which is provided additionally as an option. It features four memory DIMM slots which can accommodate a total of 128GB of DDR4 memory at a memory frequency of 4400MHz (OC). The ASUS ROG Strix B550-F Gaming WiFi features a 14-phase power delivery design which allows for stable power and overclocking potential. It comes equipped with a DisplayPort as well as a HDMI port within the motherboard in order to allow the integrated graphics such as the APU of the processor to be able to provide display in the absence of a dedicated graphic card solution. 
It features an Intel-powered ethernet port which is able to provide speeds up to 2.5Gbps, allowing for blazing-fast internet connectivity and providing an edge in online games by reducing overall latency. One of the key features being that it comes equipped with a dedicated Intel Wi-Fi 6 AX200 card which allows for great connectivity and internet speed and reduces the latency during online gaming, providing an edge in esports games.
It is also equipped with a decent onboard audio solution as it is equipped with the SupremeFX audio chip which has been tucked under a Faraday cage in order to prevent any electromagnetic interference from ruining the quality of the audio. The ASUS ROG Strix B550-F Gaming WiFi is a great pick that can be paired with Ryzen 5 5600G processor.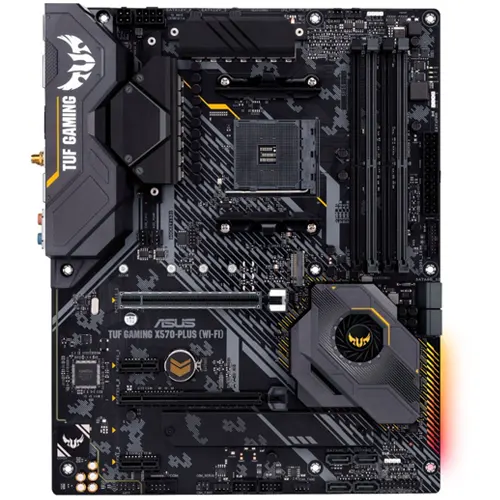 REASONS TO BUY
✓ Features a UEFI BIOS with nice features.
✓ Decently priced.
✓ Has USB 3.1 Gen 2 Type C Port.
✓ Comes equipped with Wi-Fi chip.
REASONS TO AVOID
✗ Missing USB 3.1 Gen2 port from front panel.
✗ Limited USB ports in the rear.
✗ The designing may not appeal everyone.
The ASUS TUF Gaming X570 Plus (WiFi) is an ATX form factor motherboard with support for the AMD AM4 socket. It features a 12+2 phase power delivery system which ensures smooth delivery of power throughout the motherboard and allows decent headroom for overclocking and has VRMs that are covered by the heatsinks. The motherboard itself features a black and gray theme with accents of yellow around some places due to the TUF G GAMING branding.
It features a total of four memory DIMM slots which are capable of supporting up to 128GB of DDR4 ram. Two of the four memory DIMM slots are featured in black whereas the other two are featured in gray, providing a mix of black and gray themes across the entire motherboard. The ASUS TUF Gaming X570 Plus has limited RGB lighting which is mostly featured around the chipset itself and the heatsink.
The ASUS TUF Gaming X570 Plus features a single HDMI 1.4b port as well as a Displayport to allow integrated graphic solutions to provide video display through the motherboard itself when a dedicated graphics card is not installed. It also comes equipped with an ethernet port which features the Realtek L8200A controller as well as an additional Intel AC9260 WiFi chipset which allows for wireless connectivity at lightning-fast speed. In terms of onboard audio solution, it features the Realtek S1200A 7.1 channel chip which is tucked nicely under a Faraday cage with the TUF branding on top of it. The Faraday cage prevents electromagnetic interference and provides an enhanced audio experience.
When it comes to a dedicated graphics card, the ASUS TUF Gaming X570 Plus features a PCIe 4.0 slot with X16 lanes as well as an additional PCIe slot with x4 lanes. The PCIe 4.0 X16 slot allows the motherboard to utilize the full potential power of even the latest graphic cards. The board itself also features two M.2 slots which are located above the GPU slot with the other M.2 slot positioned below the secondary PCIe slot and also features a heatsink.
Both of the M.2 slots are capable of providing lightning-fast speeds with support for PCIe 4.0 NVMe SSD as well as SATA-based SSD. The ASUS TUF Gaming x570 Plus will make a great addition to any build when paired with an AMD Ryzen 5600G processor.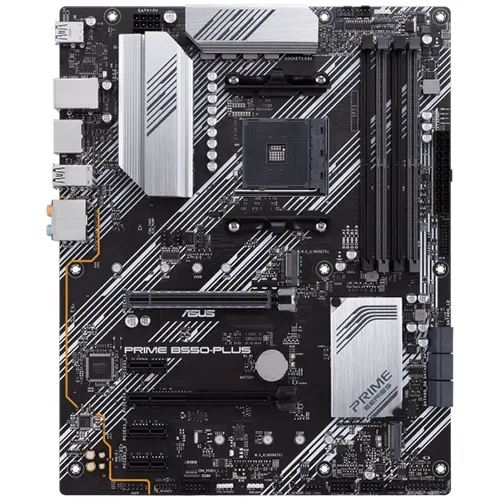 REASONS TO BUY
✓ Durable enlarged heatsinks.
✓ Affordable for budget builds.
✓ PCIe X16.
✓ Supports Ryzen 5000 Series.
✓ PCIe Gen 4 for graphic card.
✓ Aura Sync RGB.
REASONS TO AVOID
✗ M.2 slots do not have a shield.
✗ Limited overclocking potential.
✗ No inbuilt Wi-Fi Support.
✗ Dated audio codec.
✗ Does not have an integrated IO shield.
The ASUS Prime B550 Plus solid black PCB with accents of white that are patterned over the heatsinks and the PCB itself. The board is an ATX form factor making it a suitable pick for PC builds that are utilizing an ATX-sized casing. The ASUS Prime B550 Plus supports AMD's AM4 socket which makes it compatible with Ryzen 5000, Ryzen 4000, and Ryzen 3000 series processors. It features four memory DIMM slots in a black theme which support 128GB of DDR4 memory at a memory frequency of 4600MHz (OC) with support for dual channel configuration. The board has a PCIe 4.0 X16 slot which is used for a dedicated graphics card.
In terms of power delivery, the ASUS Prime b550 Plus incorporates an 8+2 phase design which does not make it suitable for overclocking as you risk overheating the motherboard itself and the lack of a strong power delivery system. It is powered by a 24-pin ATX power connector and additionally, an 8-pin EPS power connector that is used to power the CPU. It also has two M.2 slots but they do not have a shield on top of them.
In terms of LAN, the board has incorporated the Realtek RTL8111H RJ-45 Ethernet chip in order to provide a seamless and smooth online experience or while gaming. In terms of audio, it is equipped with the Realtek ALC887 7.1 Channel audio codec which is able to provide an immersive and enjoyable experience even for audio enthusiasts, and features audio shielding which prevents electromagnetic interference from destroying the quality of your audio experience.
The board itself sports a single DisplayPort as well as an HDMI port which can utilize onboard graphics to provide video display. It has 2x USB 3.2 GEN 2, 4x USB 3.2 Gen 1 Type A, and 2x USB 2.0 ports alongside 5 audio jacks. Overall, the IO at the back does not have a shield which does make the installation a bit more complicated than it has to be.
Overall, the ASUS Prime B550 Plus is targeted at mid-budget builds and manages to remain affordable while providing adequate features and support for AMD's Ryzen 5000 series processors, making it an ideal candidate for AMD's Ryzen 5600G processor.
Conclusion
To wrap it up, we know that selecting the best motherboard for your Ryzen 5 5600G can be a confusing yet crucial task as it could significantly impact your overall experience and it should be a decision made without any regrets. Therefore, the top five motherboards discussed in this article offer a variety of features and benefits to cater to your diverse needs.
Whether you prioritize overclocking features, connectivity options, a balance between price and performance, or simply just want the best bang for your buck, there is a motherboard on this list that will meet your needs.
For example, if you seek unparalleled overclocking potential and maximum customization options, the MSI MAG B550 Tomahawk is an excellent choice. If budget is a concern, the Gigabyte B550 Gaming X V2 provides an impressive set of features yet maintains an affordable price point. If you want a very aesthetic-looking motherboard, then the ASUS ROG STRIX B550-F Gaming has one of the most beautiful and premium black aesthetics with high-end features.
Ultimately, the best motherboard for your Ryzen 5 5600G processor is the one that will meet your budget, preferences, and specific needs and this list will have what you're looking for.