Ryzen 9 7950X is supposed to be the next top-of-the-line or top dog processor featuring Ryzens Zen-4 architecture, 16 cores, 32 threads, No shortcuts or anything just 16 cores with simultaneous multithreading that can go up to 5.7 GHz, and, indeed, even beyond that. We've got our hands on a few AM5 motherboards and reviewing the best motherboard for Ryzen 9 7950X in 2023.
This CPU features a new type of algorithm that monitors the temperature, and if the power limit is not maximum, it works harder. That's right guys, this thing is an auto-overclocking CPU. It has changed the game for CPUs since instead of identifying the two best cores for running high-performance tasks, every single core can hit 5.7 GHz, making it ideal for multi-core tasks. This is unprecedented, even in its highest competitor, Intel's i9-13900k CPU. 
A king deserves a worthy throne. Pairing the right motherboard with your new Ryzen 9 7950X feels like a lot of pressure. There's so much to consider, like power solutions, VRMS, Ram slots, and more. That's why I've compiled a list of the best motherboards for Ryzen 9 7950X for you to compare and choose from in this buyer's guide. Without much further ado, let's narrow down the field. Here are the best motherboards for Ryzen 9 7950X.
Best Motherboard for Ryzen 9 7950X Summary
Best Motherboard for Ryzen 9 7950X At a Glance:
Best Motherboard for Ryzen 9 7950X Reviews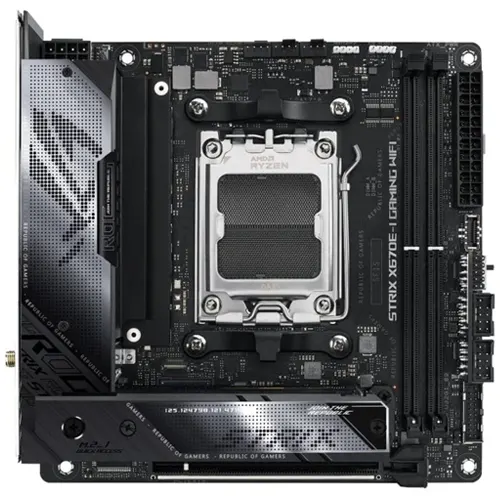 REASONS TO BUY
✓ Incredibly small size, possibly the smallest motherboard ever
✓ Dual fan cooling solution
✓ Thick Heatsink
REASONS TO AVOID
✗ No onboard sound meaning you must rely on ROG Strix Hive
✗ A limited number of slots
You already know you can expect something great from ASUS's Gaming centric ROG motherboards. This is a mini-ITX or small factor board measuring only 17x17cm, quite possibly the smallest motherboard ever. They have successfully crammed the latest tech into this tiny frame, making it perfect for gamers who want a mini but impressive PC. 
As a smaller board, it is equipped with fewer slots. However, for the skilled PC builder, less is more. First of all, we see that it's using the top-of-the-line X670E chipset. The board includes an AMD AM5 Socket for AMD Ryzen 7000 Series Desktop Processors, one 5-gen PCIe slot, and two M.2 slots, of which only one is 5th gen.
The Motherboard has two DIMM slots with base clock speeds of 6400 MT/s and also supports dual channel configuration for increased memory bandwidth. You can only run up to 64 GB of GDR5 memory on this board. All audio functions are supported on the ROG STRIX HIVE to keep its size small. 
This motherboard features a thick heatsink design that controls temps and keeps speed boost clocks high. It has not one but two fans blowing air to the heatsink. One focused on cooling the VRM, and the other on the storage area. To keep the board compact, they have combined ingenuity with precision by stacking both onboard M.2 slots with the heatsink over the chipset. The entire thing is then cooled with an embedded fan.
It comes with twelve USB Gen 2 ports,s of which ten are USB Type, A and two are USB Type B, one Intel 2.5 GB ethernet port, four 6GB SATA Ports, one USB 3.2 Gen 2×2 port, one USB Gen 2×2 Connector, one USB Gen 1 Header, and a built-in wireless network adaptor supporting WIFI 6E. 
Knowing everything is different with AMD this generation, and this motherboard is an engineering work of art to satisfy gamers looking for more compact motherboards.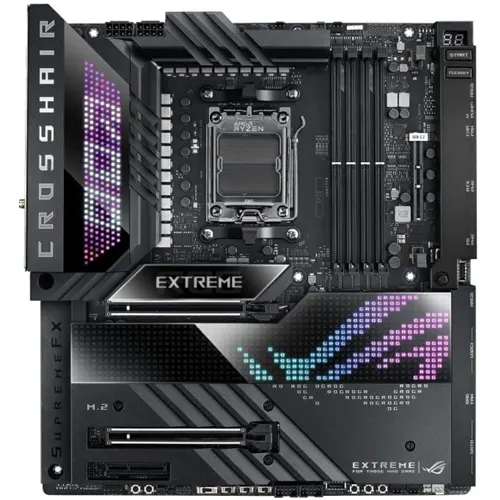 REASONS TO BUY
✓ Built for Overclocking in mind
✓ Impressive memory capacity
✓ Effective cooling solution
✓ Precise controls
✓ Aesthetic LED displays
✓ Resilient build
REASONS TO AVOID
✗ Expensive
✗ Lacks DisplayPort outputs
After the smallest board offered by ASUS, let's discuss a real beast. The ASUS ROG Crosshair X670E Extreme isn't called extreme for no reason. The E-ATX form factor board is the kingpin of the ROG AM-5 lineups.
Nearly in the centre of the board, you can see the AMD AM5 processor bracket, built to be compatible with various coolers. The ASUS ROG Crosshair Extreme has two 4+4 power connectors, ensuring enough power is available for overclocking. The VRM has twenty power stages, each rated at 110 amps, furthering your confidence in this board's capacity to overclock the Ryzen 9 7950X. This board allows you complete control of things like  CPU temp limit, EDC,  and more through the Ryzen Core Flex feature. This board allows gamers out there to fine-tune all overclocking settings down to the precise level. 
The board has three PCIe lanes, of which two are 5th Gen. The board has four DDR5 Memory slots, five Gen 5 M.2 Slots, and six SATA ports for Legacy Storage. For Cooling, the board has multiple 4-pin fan headers, two M.2 Heatsink, ROG water-cooling Zone, and a powder-coated metal shroud. 
The first thing you notice when unboxing this motherboard is that it feels incredibly solid and heavy, promising the use of high-quality materials built to last. The board comes with not one but two LED screens. One is called the anime matrix, and it allows you to place your favourite Gifs or videos on display in a pixelated style. The second one is smaller and can also display custom gifs or videos, but if left unchanged, shows you core information like CPU temps or postcode. The ROG logo is also lit up with RGB lights. The metal shroud on the lower part of the board gives off a cyberpunk look while also being part of the cooling solution. 
If you want to create a fully loaded build and money is no option, the ASUS ROG Crosshair X670E Extreme is the right choice.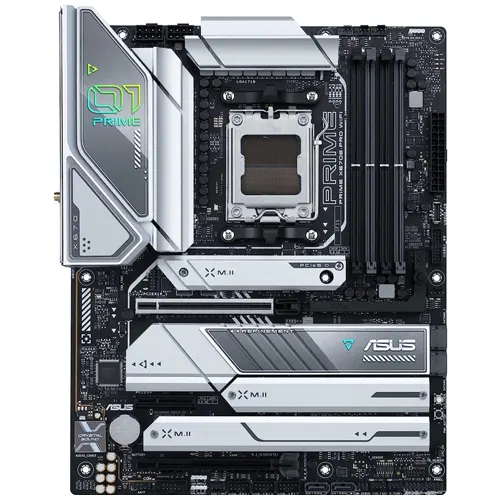 REASONS TO BUY
✓ Professional and conservative Aesthetics
✓ Includes WiFi E6 chip and comes with the antenna
✓ Great capacity for overclocking
✓ Less expensive than a similar-spec motherboard from the ROG lineup
✓ Features for both gamers and content creators
REASONS TO AVOID
✗ No Integrated I/O Shield
✗ Lengthy DDR5 training process
Another ATX Form Factor offering from ASUS, This time from the Prime series, which is more budget-oriented than the ROG series. 
The ASUS Prime X670E-Pro WiFi comes with a WiFi antenna, two SATA III cables, and, surprisingly a DVD driver disk in the box. The board has pretty decently sized VRM heatsinks. ASUS has included fourteen +2 power stages rates up to 70 A.
Dual chipset design. The board comes with four M.2 drive slots, of which two are Gen 5, each with its heatsink. It has four DDR5 Slots supporting up to 128GBs of Ram and AMD's Expo technology to facilitate more overclocking control. 
This is a more conservative board from the Prime lineup equipped with a front panel USB 3.2 Gen 2 Type C header, and a USB 3.2 Gen 1 Header supporting up to 2 USB 3.2 Gen 1 Type-A ports. The bottom edge of the board also has two front panel headers with support for 2 USB Gen 2 Type-A ports. There is a Clear CMOS Button
A CPU Over Voltage Jumper allows you to set higher voltages to overclock the Ryzen 9 7950X processor. There is a Q-Release feature that easily makes removing a graphics card painless. There is also a Q-Latch feature that makes installations of M.2 SSDs much easier.
The ASUS Prime X670E-Pro WiFi comes in a Silver on black theme, with an integrated I/O design and large prominent silver heatsinks. Grey plastic inserts on the heatsinks add a visual aspect to the board. The entire board looks futuristic, almost like a starcraft. There are built-in RGB LEDs in the integrated I/O shields.  
While this was not designed with gaming in mind from scratch like the ROG motherboards, it's a great option for someone that wants a heavy motherboard with plenty of technology in a less premium price range than ASUS's ROG lineup.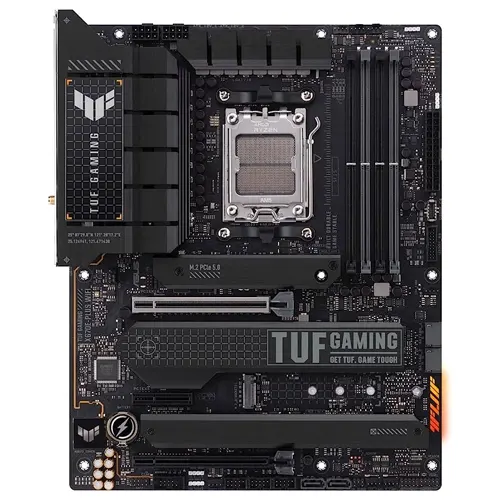 REASONS TO BUY
✓ Extremely economical considering the X670E chipset
✓ All expected features of X670E motherboards
✓ Modest Overclocking capacity
REASONS TO AVOID
✗ No support for previous Ryzen CPUs
✗ No Thunderbolt
Our final motherboard from ASUS in this buyer guide, the ASUS TUF X670E, is one of the cheaper X670E motherboards on the market. This motherboard is great for getting started or for a budget build. Let's discuss what this motherboard can do. 
This board has fourteen +2 power stages, each rated to handle 70A like the ASUS Prime X670E-Pro WiFi. While that is not the most impressive for overclocking, it still has two full 8-pins for CPU power making it the best motherboard for Ryzen 9 7950X.
The board has a primary 16x Gen 5 slot for a graphics card, as expected from all motherboards equipped with the top-tier X670E chipset. It is equipped with four M.2 memory slots, of which one is Gen 5.0, two are Gen 4.0, and one is Gen 1.0. This is more than enough for most people. The rear I/O has eight USB Type-A ports. All these are lightning-fast Gen 3 ports. There are also two USB Type-C ports, one 10 Gb and another 20 Gb.
As most AM-5 motherboards are, this one is equipped with a 2.5 GHz ethernet port and includes an internal WiFi 6E port for wireless internet connectivity. There is an integrated Display port, HDMI port, and five audio cables with a BIOS Flashback button next to them. This sort of connectivity is quite rare at this price point. 
Audio in ASUS TUF X670E is powered by the Realtek S1220A Codec, featuring a 120 dB SNR ratio for the stereo line out and a 113 dB SNR for the line in, ensuring pristine audio quality. Having onboard sound is a feature that's missing on some top-of-the-line luxury boards, so this is a great find. As the cheapest X670E board, it's a better option than going for a premium B650 motherboard, which is similarly priced. For the truly budget-limited PC builder, this is a heaven-sent low-price motherboard with all the expected features of an X670E chipset.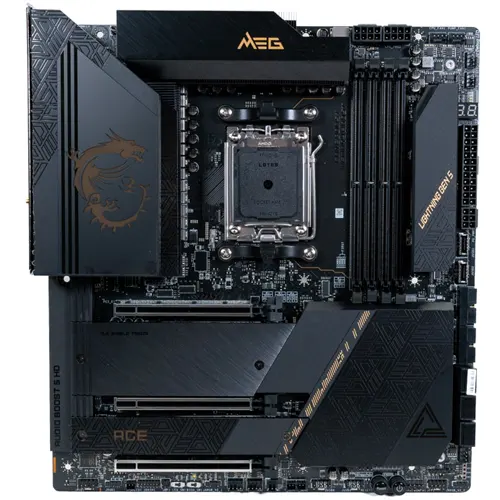 REASONS TO BUY
✓ Supports DDR5 and PCIe 5.0
✓ 10 Gb connectivity
✓ Wi-Fi 6E
✓ Massive Overclocking capacity
REASONS TO AVOID
✗ No HDMI
✗ No USB4
✗ No DisplayPort
MSI has always been known to understand what gamers are looking for. As usual, they have some power-packed offerings for the Ryzen 7000 series. Let's look at one of their top-spec motherboards to pair with the Ryzen 9 7950X CPU.
This board comes in an E-ATX form factor, with the typical stealthy, nearly all-black design. Subtle gold accents and etched geometric designs on the board give it a premium look.
Except for the matching black PCB, the board is practically covered in heatsinks with large surface areas to facilitate heat dissipation. The rear features a large backplate for structural stability as well as heat dissipation. There is RGB lighting in the different parts of the boards like the logos. 
The board itself has a large heatsink at the top and a second one that merges with the back I/O, there is ample room around the processor in the CPU socket to place many of the large air coolers on the market. 
The board is equipped with 4 Dimm slots supporting DDR5 memory handling speeds beyond 6666 MHz with a maximum capacity of 128 Gb. The board hosts six M.2 drive slots which are honestly insane and a huge improvement on the previous generation x570-based Ace. While PCIe 5.0 drives haven't been released to the market yet, most boards with the premium X760E chipset are stocked with a drive slot anticipating their release. 
To facilitate overclocking, there is a power, reset, and bios switch button at the bottom of the board. The rear I/O is pretty crowded with tons of USB 3.2 Gen 2 ports including 20 Gb Type-C ports. It also features tons of buttons a clear CMOS button, a Flash Bios Button, and a smart button The VRM is impressive with a 22+2+1 design. Out of these 22 are rated at 90 A. MSI used a duet rail system, doubling the power to provide a maximum continuous current of 180 amps on the v-core. All the phases are connected to a direct touch heatpipe design connecting to a stacked fin array heatsink, making all overclocking dreams come true.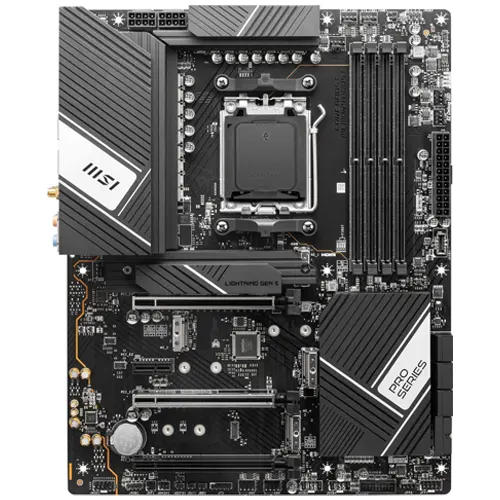 REASONS TO BUY
✓ Affordable
✓ PCIe and M.2 Support
✓ Great VRM Cooling
✓ X670 chipset
REASONS TO AVOID
✗ Problematic BIOS
✗ Less than desired RGB headers.
Up next we have another board by MSI, the MSI Pro X670-P WiFi packs a lot of features despite being an ATX board. First of all, we have two 8-pin or 4×4 CPU power to give the hungry Ryzen 9 7950X processor more than enough power. Surprisingly heavy for an ATX board, it has 4 M.2 drive slots, including one PCIe 5.0 Gen NVMe slot and three more PCIe 4.0 slots.
The ram support is pretty good as well. It's capable of supporting 6600 MHz of GDDR5 memory along with the new EXPO feature. The board can handle up to 192 GB Ram. 
There are a plethora of impressive features on this board like six SATA slots in the board. , USB type-C support, USB 3.0 support, DisplayPort, HDMI  2.1 support allowing you to play games in 4k, 2.5G network solution, and WiFi 6E internal chip for wireless connection. 
As far as cooling solutions go, the board has an extended heatsink, increasing the surface and allowing heat to dissipate faster.  There is a double-sided M.2 Shied Frozr which keeps M.2 SSD safe and maintains exceptional performance. The VRM heatsinks are thick and they cover the upper MOS. The board also allows you to control the speed and temperatures of all systems from a single interface. 
Of course, the board includes MSI's flagship 14+2+1 power design with 14 corps rated 80A, 2 SOC power phases and 1 phase for miscellaneous power needs. The power solution is not just ready for the processor but has room for overclocking it. The back has a high-quality 8-layer PCB made from server-grade material. 
For Audio it has the Realtek ALC 4080 Codec which supports up to 32-bit/384 KHz playback on the front panel, giving the user a studio-level audio experience. As expected for an AM-5 board, it supports up to Windows 11 64-Bit and Windows 10 64-Bit.
As one of the smaller and more affordable X670-P boards, it's great for someone with a moderate budget or who wants lots of tech for less money.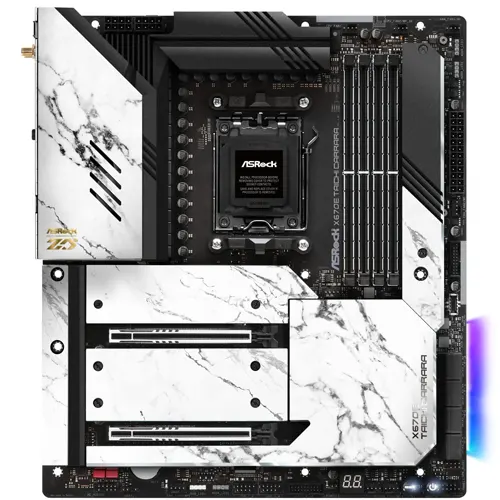 REASONS TO BUY
✓ Supports PCIe 5.0 drive
✓ M.2 slots
✓ USB4 Type C port
✓ Bold marble look
REASONS TO AVOID
✗ No Quick detach for M.2 boards
✗ E-ATX form Factor limits case options
Next, we'll look at ASRock's flagship motherboard, the Taichi Carrara. The board is named after Carrara marble and it's reflected in the aesthetics of the board as well as how strongly is built. As with all ASRock products, we know it's designed keeping user feedback and suggestions in mind. 
This is an E-ATX motherboard featuring a Carrara marble design over most of the motherboard and a black background. This motherboard features a 24+2+1 phase power design with 105 A smart power stage technology. VRM temperatures are maintained through heat pipes connected to an integrated fan. 
The center of the board features its crowning jewel the AM-5 processor socket. With four DDR5 Ram slots, the motherboard can handle up to 128 Ram at 6600 Hz. There are two PCIe Gen 5 x16 slots with steel armor reinforcement. It has four M.2 slots. There is one Gen 5.0 slot and three Gen 4.0 slots. 
The rear I/O has clear bios and bios flashback buttons, an antenna for WiFi 6E, an HTMI 2.1 port supporting 4k at 120Hz,  two USB 3.2 Gen 2 Type-2 ports, 2.5 Gb ethernet port, gold plated audio pin connectors supporting 5.1 Channel HD audio, 2 USB4 type-C ports supporting up to 40 Gbps, 3 USB 3.2 Gen 2 Type-A ports, and three USB Gen 1 Type-A ports. 
The back comes with a metal backplate and an 8-layer PCB. Aesthetically, the black and white board has a stunning bold Carrara marble print against a black background. Overall, it's a great all-rounder AM-5 midrange motherboard suitable for both gamers and content creators. With a unique black-and-white design, your build is bound to stand out. If you want something that's budget-friendly, looks different, and packs a punch performance-wise, this is a great option.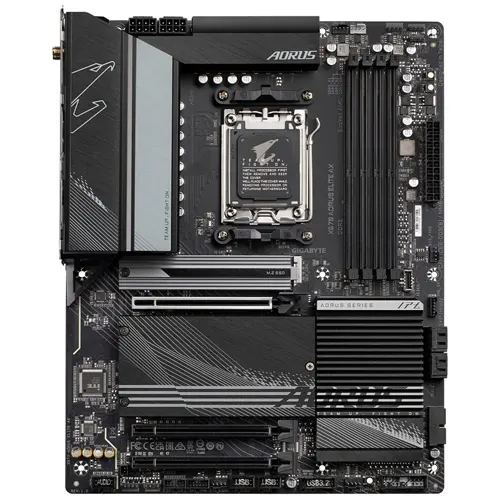 REASONS TO BUY
✓ 8-layer PCB
✓ Impressive VRM at a price
✓ PCIe M.2 storage
REASONS TO AVOID
✗ No PCIe 5 GPU slot
✗ Low Budget Audio Code
Let's finish off strong with a board from Gigabyte that's not just elite in the name. This is a beautiful board that they no doubt had fun designing for AMD's new Ryzen 7000 series. 
The Elite is Gigabyte's entry-level offering, and this time, they surprised everyone with amazing features. The Aorus Elite has a premium eight-layer PCB ATX board with two thick copper plates. The board comes in a dark grey metallic look with geometric grey lines over the components. They have opted to keep RGB strictly connector-based, letting us know they'd rather we spend our money on features instead of lighting. 
As for the VRM, the board has 1420 A in 12 phases, eight 140 A phases for the CPU, two SOC phase rates of 120 A, and two miscellaneous Phases rated at 90 A.  That means no less than 1280 A of CPU power for an entry-level motherboard. It's already overkill for the Ryzen 7000 series, meaning the board is hoping to accommodate the next Gen processors in the future. 
The VRM has its own premium two-stage cooling blocks with a copper heat pipe linking it. The main block has an extended heatsink for more surface area and faster cooling and the side block has a strong allow. This is the best VRM in its price range. 
Memory-wise the board can handle up to 128 GB of DDR5 Ram organized in double channel configuration. There are four M.2 storage drives, one of which is PCIe 5.0, Gen, allowing 128 Gb data swaps per second. The slots have thermal padded heat shields as an efficient cooling solution.  It has 4 SATA III ports. The Back I/O is fully stocked with both USB Type A and USB Type C 20 GB ports. There are however only three audio connectors. 
As far as entry-level motherboards go, we have a beast on our hands. This is a no-think buy if you're already a Gigabyte fan. It will allow you to run the Ryzen 9 7950X and most likely a couple of generations after it.
Conclusion
You must be beyond psyched to have gotten your hands on the new Ryzen 7000 series, especially the Ryzen 9 7950X. When it comes to choosing the best motherboard for Ryzen 9 7950X to attach it to, your head may be spinning as it transcends all performance standards. The current king of processors must be paired with the right motherboard to take advantage of all that power.
For that reason, we've noticed a trend that most boards supporting the Ryzen 7000 series support only DDR5 Memory Ram, including the newest 20 Gb USB Type-C ports, have 8-layer PCB, impressive VRMS, and PCIe 5.0 Gen graphic cards and storage. 
You should be able to narrow down the motherboard that fits your needs the most from the list we have compiled for you. However, if you are still on the fence, I recommend the ASUS ROG Crosshair X670E Extreme. As the name lets us know, it is an absolute beast with all the top-of-the-line tech you could fit in an E-ATX form factor board. However, if you want a compact build, then the ROG Strix X670E-I Gaming WiFi might be more your type. It's the smallest board in the market with all the necessary tech crammed in a mere 17×17 cm.